6 Best Medical Billing Franchise Opportunities in USA for 2022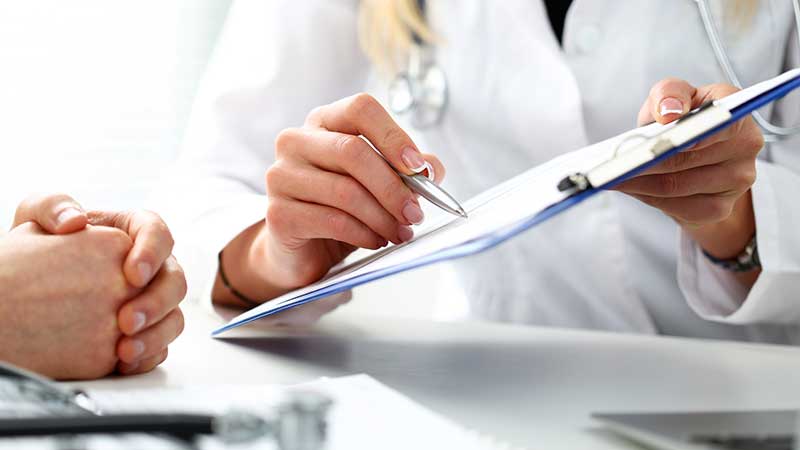 Medical billing franchises deal with billing patients of private hospitals for being tested, treated, and other procedures. They make a bill and send it as claims to insurance companies. However, there are plenty of related services operating in the segment. For example, it can be medical counseling or telecare. Such services can be provided by means of IT technologies. Therefore, there is an opportunity to be your own boss, set your own schedule, work remotely and earn the money you want. If you are interested in an innovative business that incorporates IT and medicine and comes at affordable initial investments, take a look at our top medical billing franchises for sale. We have made a selection of the leading companies on the market. It includes recognizable and reliable franchise brands who have already built a strong business and are ready to take you in their team. The franchisors offer substantial support and education to their partners. Don't hesitate to join them right now!
Here is top 6 Medical Billing franchise businesses in USA
ClaimTek Systems
Founded in: 1993
Franchising since: 1994
Franchise units: 1550
Initial investment: $12,000 - $28,000
Franchise Fee: $12,000
The two industries that continue to outperform even under the current economic times are IT & Healthcare services. Electronic Medical Billing combines them both! With ClaimTek, the setup fee is low and you'll have a business of your own that allows you to be the boss, set your own hours, set your own schedule, and earn as much as you want and need. Doctors are in desperate need of accurate claims processing to restore their cash flow. What's more, they are willing to pay well for it! In fact, they're happy to pay for it!! As an electronic medical billing professional, you will be in high demand. It doesn't take long for good claims processors to have more business than they can handle through doctor referrals alone. ClaimTek provides you with numerous professional learning and marketing tools that help assure your quick success.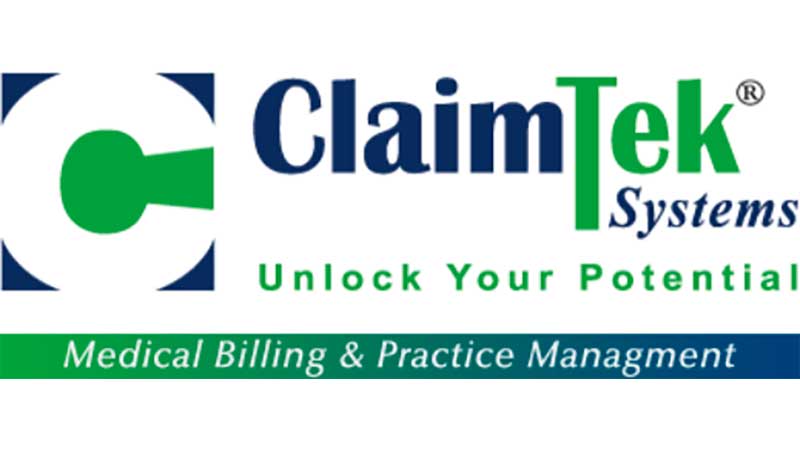 ---
Onyx - The Business of Medicine
Founded in: 2011
Franchising since: 2013
Initial investment: $16,500
Franchise Fee: None
Royalty Fees: None
The medical billing business is booming! It's easy to understand why — who doesn't want the ability to set their own schedule and work from home? COVID-19 has forever altered how we will work in the coming years. Our goal is to help you achieve your financial goals and improve your overall quality of life by getting started in the highly-profitable medical billing industry. There are not many businesses you can start-up with just $16,500 with no other underlying costs. After our training is complete the only additional costs to operate a medical billing business are a computer and an internet connection. It doesn't get more cost-effective than that to become a successful business owner.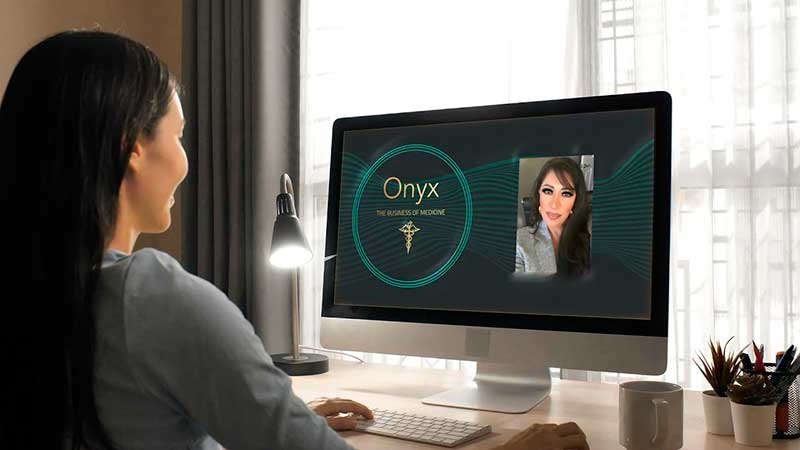 ---
American Business Systems
Founded in: 1994
Franchising since: 1994
Initial investment: $27,990
Franchise Fee: None
Royalty Fees: None
American Business Systems is the fastest way to start your own medical billing business, and we're the only company with Live Training, Lifetime Support, and a 100% Money-Back Guarantee. When you become an ABS Business Owner, you'll enjoy access to the most comprehensive toolbox of revenue cycle management solutions on the market. We have solutions for every aspect of practice management and cash flow optimization, including claims filing, collections, payment services, EMR, coding, automated marketing, digital records management, audit services, HIPAA compliance, and more. Unlike a franchise, there are no royalties or territorial marketing restrictions, and ABS Business Owners may offer their services anywhere in the United States.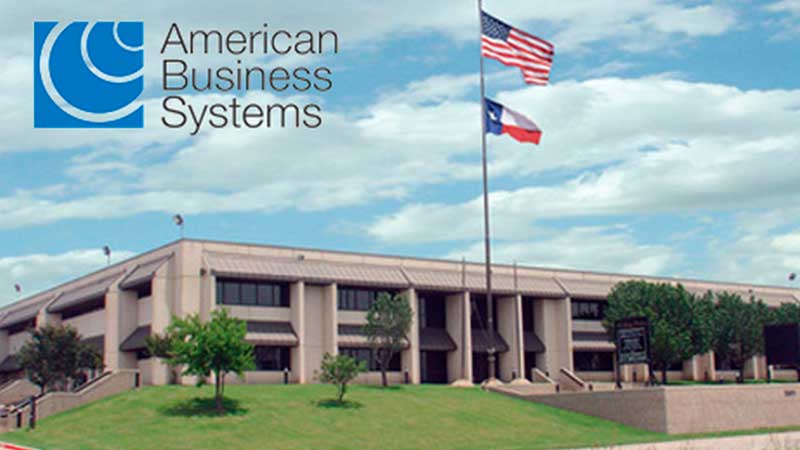 ---
GoTelecare
Founded in: 2012
Franchising since: 2014
Franchise units: 22
Initial investment: $100,000
Franchise Fee: None
Royalty Fees: None
Since 2012, GoTelecare has virtualized doctor visits by facilitating secure HIPAA-compliant video consultations combined with a comprehensive practice management platform and a low-cost medical billing service. It increases patient access to medical services while reducing office billing costs for medical practices and healthcare facilities. GoTelecare is a low-cost healthcare business partner opportunity for doctors, entrepreneurs & healthcare business developers in telemedicine & medical billing sectors. By considering our healthcare business opportunity you will get a 2-in-1 business partnership in the telemedicine business along with the medical billing business. In the realm of healthcare business opportunities, the GoTelecare strategic partnership opportunity stands tall by virtue of its profitability, sustainability and overall ease & convenience.
---
Thriveworks
Founded in: 2008
Franchising since: 2013
Franchise units: 16
Initial investment: $25,700 - $89,280
Franchise Fee: $10,000 - $20,000
Royalty Fees: 3%
A Thriveworks counseling franchise is a turn-key counseling practice. No re-inventing the wheel. Everything has been thought through thoroughly, from recruiting and retaining excellent providers, to offering a unique and high-quality experience to clients. Franchisees are mentored for the life of their franchises. This begins with 3 days of training at Thriveworks headquarters (including time at an active Thriveworks counseling location) and then on-site support at your location (yes, we'll fly out to your location!). After that, franchises receive unlimited mentorship, provided typically weekly.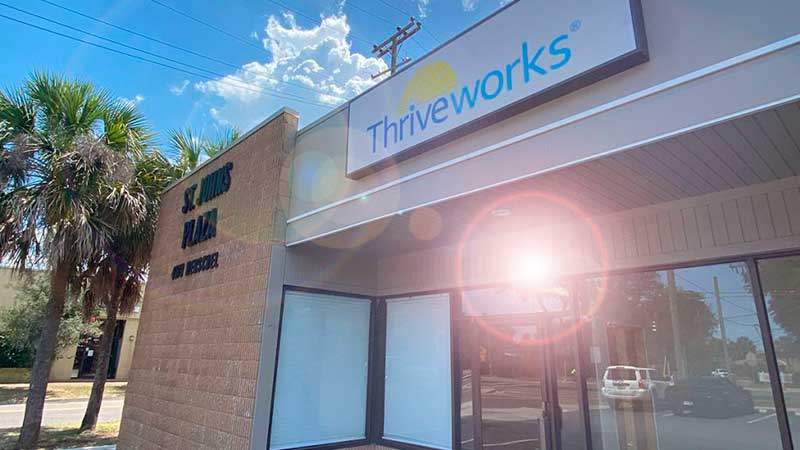 ---
WCH Service Bureau
Founded in: 2001
Franchising since: 2018
Initial investment: $45,000
Franchise Fee: None
Royalty Fees: None
WCH Service Bureau is a third-party medical service organization that has developed one of the most innovative software solutions in the healthcare industry. A leader in software development, medical billing, and audit/credentialing markets, WCH offers a ready-to-use business model with high growth potential. WCH Service Bureau represents a premier business opportunity to help franchise owners significantly raise their income by working closely with owners and their employees on effective work concepts and software, forming the basis of franchise success. WCH Service Bureau provides all the necessary information and training to help get you started in the shortest time possible.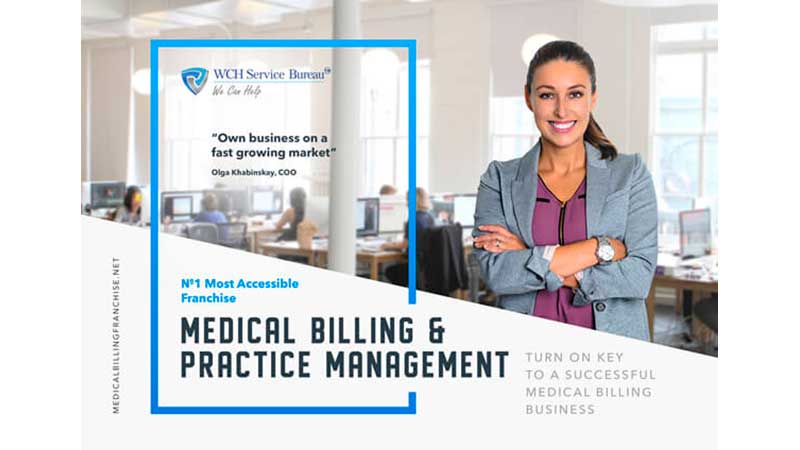 ---
Conclusion
To summarize, we can say any of the listed above medical billing franchises is worth buying. But there is a lot to consider while choosing the best one for you. Pay attention to the reputation of the brand, what training and support are offered, check if the other franchisees are successful. But the main thing you need to do is to align your budget with investment requirements of the brand. In order to ease the challenge, we have made the comparison flowchart of the best medical billing franchises in the USA for you. It shows the minimum estimated initial investment and initial franchise fee of each brand. By using it, you can figure out the difference in financial requirements for each franchise, and decide which one fits you the most.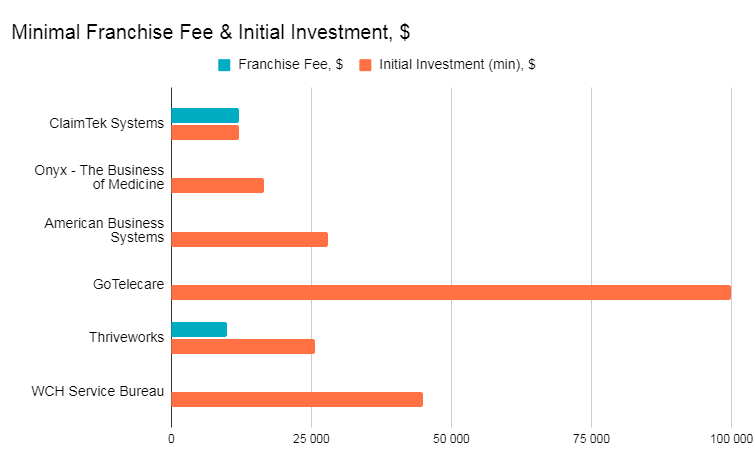 View all Medical Billing franchises
DIDN'T FIND WHAT YOU WANT?
ASK THE EXPERTS