The Top 10 Spa Franchise Businesses in Canada for 2023
Update: 10.01.2023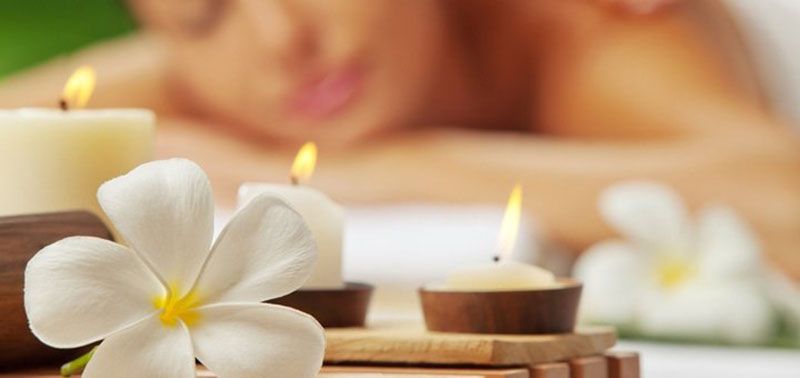 In the pursuit of staying healthy people in Canada use more and more spa services. The trend suggests the development of the Spa franchise industry in 2023. Our records show the same leaders on the list of Top 10 Spa Franchise businesses as previous years. It means immaculate reputation of the brands.
Dynamic life style of Canadians makes them look for the ways to prevent stress and improve health. Spa salons are a nice option for this purpose. The best spa franchises offer a broad range of services for relaxation and wellness. Some of them provide also medical treatment, beauty and skin care concepts and even tanning services. The top 10 spa franchises for 2023 given on the list below are looking for new talented franchisees with a business acumen and a desire to share their company values in order to get a good profit. When joining a respected spa franchise business, a novice will get all trainings, guidelines and assistance needed to run a successful business.
Here is the top 10 best spa franchises in Canada
Sol'exotica Tanning Spa
Founded in: 1996
Franchising since: 2007
Franchise units: 10
Initial investment: from $70,000
Franchise Fee: $20,000
Royalty Fees: 6%
Sol'exotica Tanning Salons have been in the tanning industry since 1994. With locations throughout Southwestern Ontario, it has become the tanning destination of choice in the region. With an ever-expanding target market of clients looking not only for a beautiful bronzed look, but also for a dose of the ever-important Vitamin D. Tanning salons have seen a tremendous resurgence in popularity over the past few years and this trend is here to stay. Sol'exotica Tanning is the industry leader, providing a unique franchise opportunity with a well-established brand.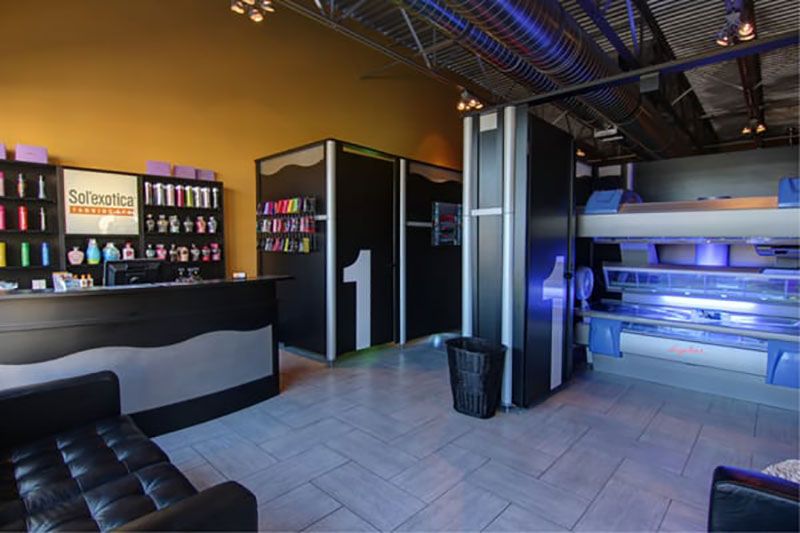 ---
Regal Nails Salon & Spa
Founded in: 1996
Franchising since: 1997
Franchise units: 854
Initial investment: from $170,925
Franchise Fee: $25,000
Royalty Fees: 10%
Through our parent company, Regal Nails Salon & Spa LLC, we have over 19 years of experience and are approaching 1000 salons located throughout the U.S., Canada, and Puerto Rico. Our salons are positioned in retail outlets. We are not just a salon franchise. We are a turn-key salon solution. We provide everything that our franchisees need to run a nail salon. We monitor all phases of the build out and set-up process to ensure that all salons are built to our specifications. Our experienced set-up crew ensures that our salons are set up in an efficient and effective manner.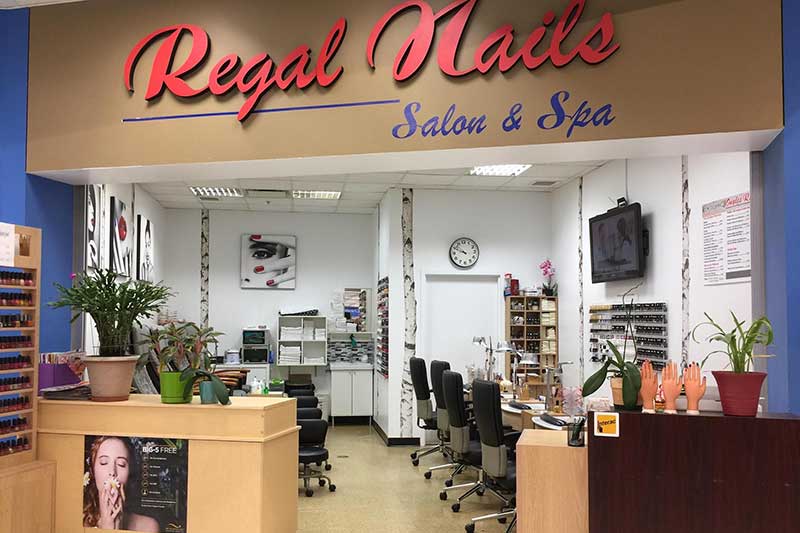 ---
Mane Society Salon & Spa
Founded in: 1998
Franchising since: 1998
Franchise units: 7
Initial investment: from $150,000
Franchise Fee: $35,000
Royalty Fees: 0%
At Mane Society we are passionate about customer delight. Our experienced artistic team ensures that our customers are pampered from head to toe, in luxurious, state of the art surroundings. We offer world renowned platform artists and medical grade aesthetics. Our organizations strives to exceed customer expectations by maintaining the highest possible standards of customer care and by educating our clients on the latest trends, techniques and products. The integrity and professionalism of our staff ensure Mane Society's position at the forefront of the beauty and wellness industry.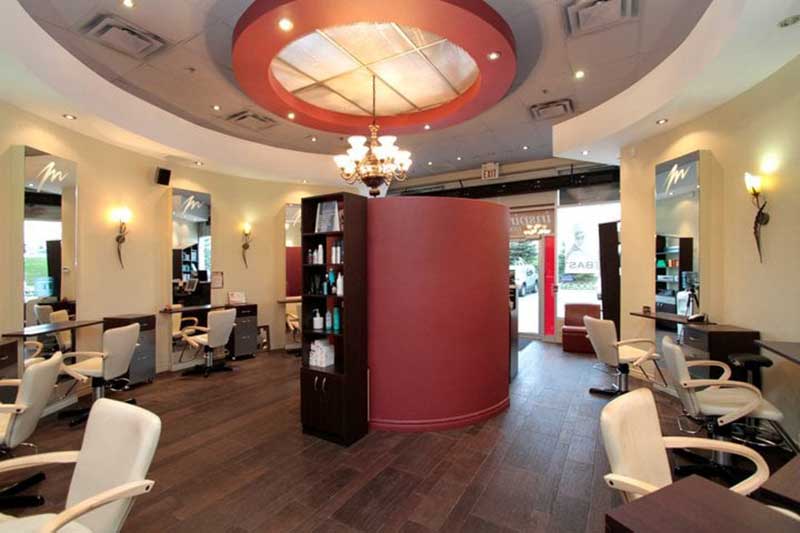 ---
Massage Addict
Founded in: 2008
Franchising since: 2008
Franchise units: 87
Initial investment: from $200,000
Franchise Fee: $39,000
Royalty Fees: 6%
Massage Addict is the country's largest and fastest-growing therapeutic provider of massage, acupuncture and reflexology with locations from coast to coast. This unique and proven membership-based business model offers consistent, predictable recurring revenue (approximately 80 per cent of treatments are paid for by insurance), low investment and startup costs, and a quick ROI. From the moment you enquire about becoming a Massage Addict Franchise Partner, we are here for you. This includes initial and ongoing support in real estate selection/buildout, training, recruiting, operational procedures/policies, and marketing.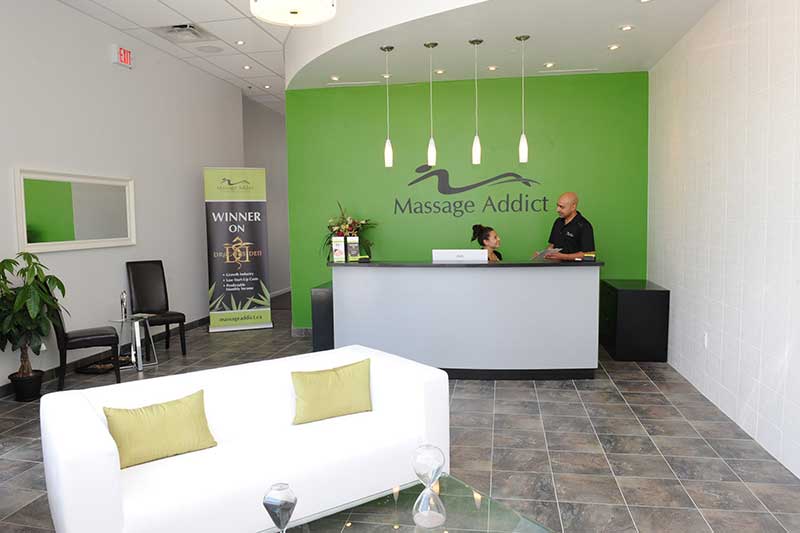 ---
Massage Experts
Founded in: 2013
Franchising since: 2013
Franchise units: 21
Initial investment: from $200,000
Franchise Fee: $35,000
Royalty Fees: 6%
Massage Experts is a business that you can be proud of – a business where you to help people, that provides you operational simplicity and peace-of-mind while still giving you time for family and friends. Massage Experts is your neighbourhood choice for membership massage therapy. Our concept is designed to make you feel better, more often. Massage Experts has developed a fresh, modern, gender-neutral concept which encourages return visits through its membership program. Our business model is easy to operate and provides you with a steady income with low start-up costs and minimal expenses. We have several exciting opportunities available throughout Canada.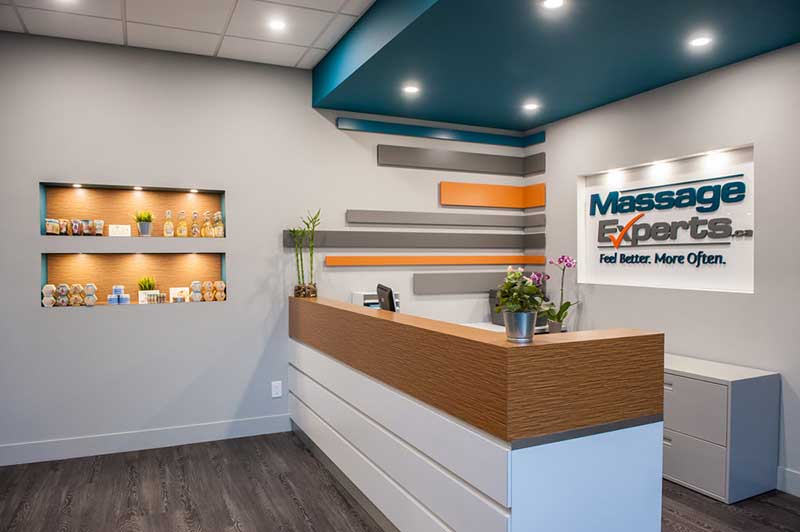 ---
Taylor & Colt Barber Spa
Founded in: 2011
Franchising since: 2013
Franchise units: 10
Initial investment: from $200,000
Franchise Fee: $10,000-$25,000
Royalty Fees: 6%
Taylor and Colt is an innovative barbershop and spa for males in Canada and will soon be a household name in North America. From the creator of Trade Secrets Beauty Shops, Taylor and Colt got its start in Toronto in 2012 and now it is the fastest growing male grooming franchise in Canada. The Barberspa combines an old English barbershop vibe-especially since it has revived the art of he straight razor shave - with other services such as hot towel treatments, massage, cut, wash styles, beard trims, manicures and pedicures all for a very reasonable price. Taylor and Colt represents an outstanding investment opportunity for franchisees that may want single unit, multiple units or even areas which are available.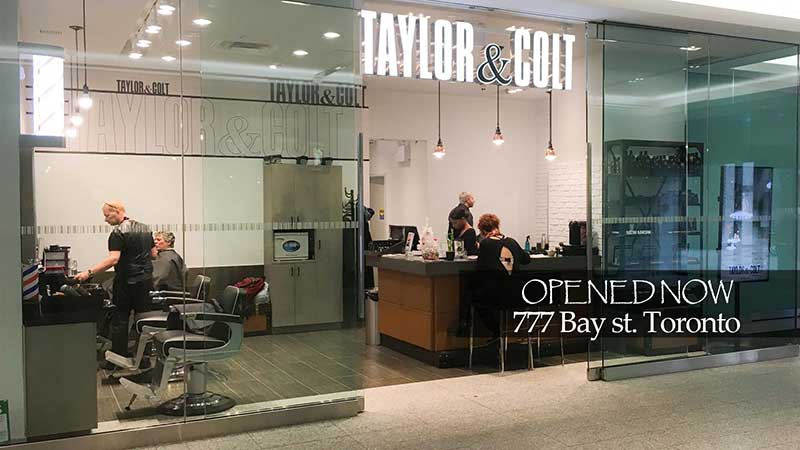 ---
Jon'Ric International
Founded in: 1983
Franchising since: 2002
Franchise units: 54
Initial investment: from $100,000
Franchise Fee: $39,500
Royalty Fees: 0%
Jon'Ric International is one of the leading franchisors of upscale specialty spa experiences. Known for high-quality services and products, Jon'Ric International selectively offers salon and day spa franchises and license agreements for national and international owners. For over three decades, Jon'Ric International has been a global leader in spa development, management and logistics simplification.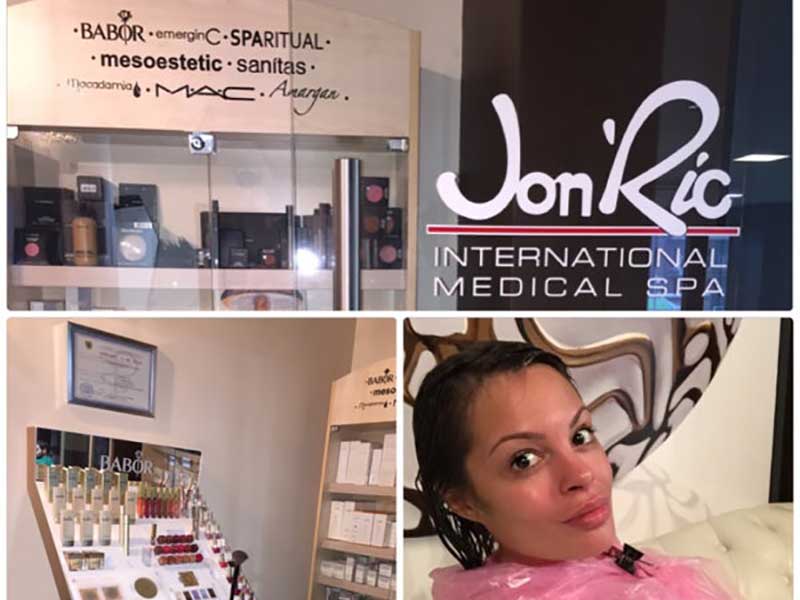 ---
Glamour Secrets Beauty Bar
Founded in: 2014
Franchising since: 2014
Franchise units: 6
Initial investment: from $250,000
Franchise Fee: $35,000
Royalty Fees: 7%
We offer franchisees a tremendous investment opportunity, capitalizing on the market demand for quick, quality and experienced beauty services. Franchisees will enjoy the advantages of partnering with Glamour Secrets. As a Glam-n-Glow Express Beauty Bar franchisee, you will look forward to our value added services such as: Site selection and lease negotiation. We help to ensure you select and secure Canada's most sought after, high-traffic, retail locations. We will provide you with design, build out, equipment & more!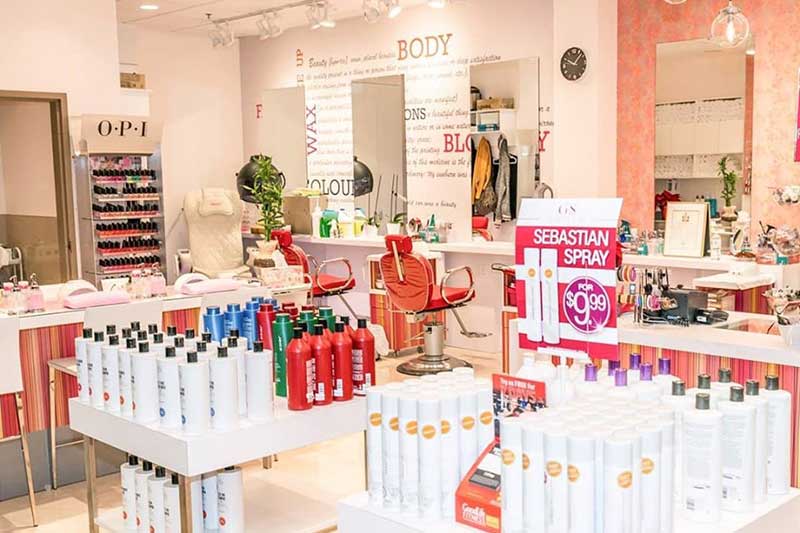 ---
Caryl Baker Visage
Founded in: 1969
Franchising since: 1974
Franchise units: 32
Initial investment: from $200,000
Franchise Fee: $20,000
Royalty Fees: 12% on Services
Caryl Baker Visage is one of Canada's leading beauty and skin care concepts. Caryl Baker Visage is serious about beauty! Our ongoing research and development efforts allow us to develop and introduce innovative products and services that keep us at the forefront of the ever-changing beauty and skin care industry. As a Caryl Baker Visage franchise owner, you offer your clients a professional skin care and cosmetics line. We train you and your staff so that they are fully qualified to instruct your clients with confidence, and can successfully promote and sell the product line as well as perform all of our facial services. We provide further assistance with regular visits from our training and support team, ongoing promotions, advice on inventory control and accounting.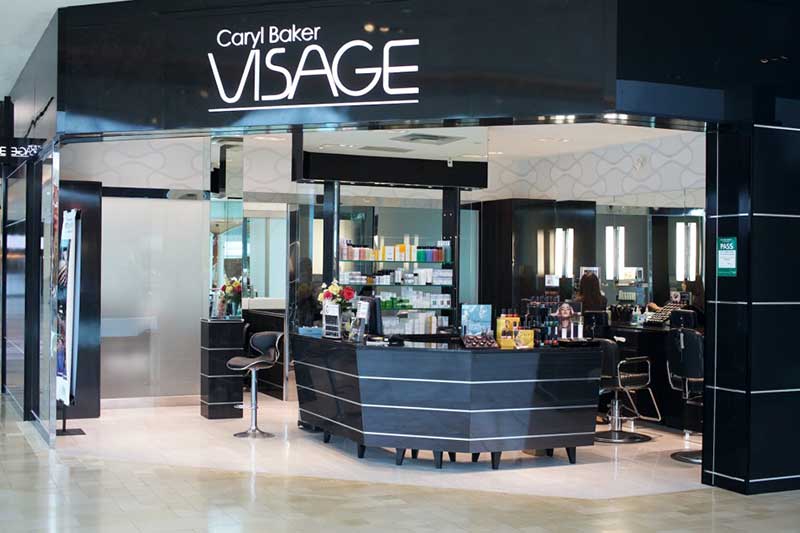 ---
Achieve Wellness Spa
Founded in: 2009
Franchising since: 2019
Initial investment: from $450,000
Franchise Fee: $35,000
Royalty Fees: 5%
Achieve Wellness Spa provides a broad range of services and products to help guests relax, feel healthier and be more in tune with their surroundings. We also offer medical treatments such as physical therapy, acupuncture and naturopathic medicine as well as 100% cruelty free high-end retail products that are free of harmful dyes or fragrances. The Franchisor and support team provides a full week of training at the corporate head office and two weeks of team training onsite (one week prior to opening and one-week post opening). The cost of training is $10,000 and does not include the franchisee's travel costs.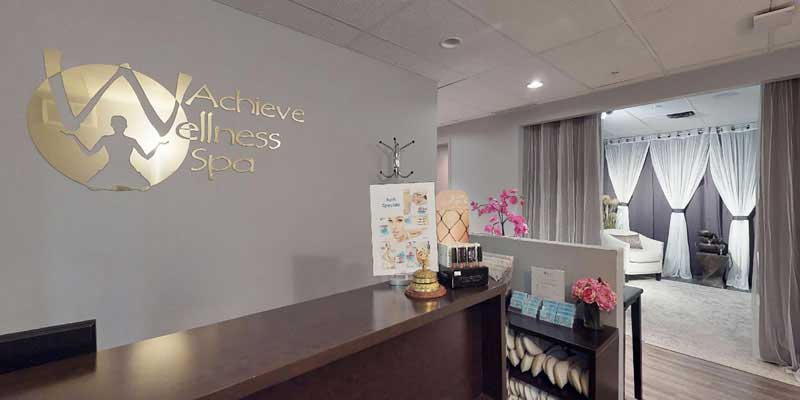 ---
Conclusion
To summarize, we can say any of the listed above spa franchises is worth buying. But there is a lot to consider while choosing the best one for you. Pay attention to the reputation of the brand, what training and support are offered, check if the other franchisees are successful. But the main thing you need to do is to align your budget with investment requirements of the brand. In order to ease the challenge, we have made the comparison flowchart of the best spa franchises in Canada for you. It shows the minimum estimated initial investment and initial franchise fee of each brand. By using it, you can figure out the difference in financial requirements for each franchise, and decide which one fits you the most.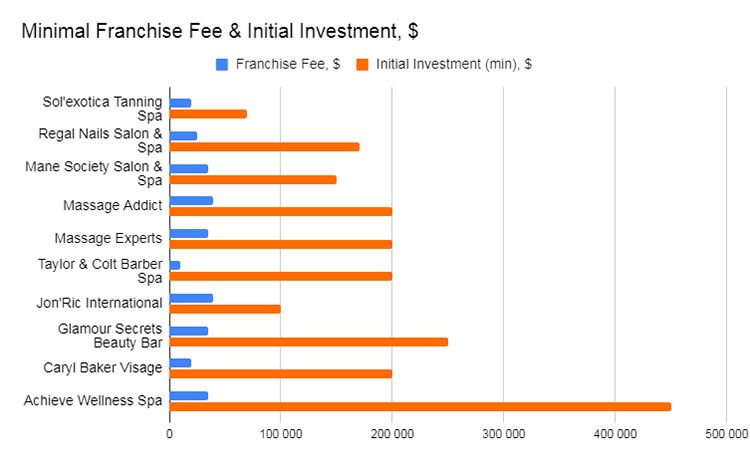 View all Spa Franchises
Want to advertise your franchise with us and successfully boost your business?
Please send us your request and we will get back to you shortly!
DIDN'T FIND WHAT YOU WANT?
ASK THE EXPERTS