The 10 Best Janitorial Franchise Businesses in USA for 2022
Update: 12.11.2021
The market size of the Janitorial franchise industry in the US has been increasing faster than the economy overall. In order to win the competition, leading brands maintain the highest standards. Analyzing our list of the best Janitorial franchises for 2022, we see the businesses which have been at the top for many years.
Janitorial Franchises offer absolutely different formats, concepts and ideas for their promising owners to choose from. Some of them are small businesses which are good for entrepreneurs on a tight budget as they don`t require an office or a big team. The other Janitorial Franchises can suit the people who are looking for an online business. Cleaning franchises deal with a variety of services, including traditional cleaning, environmentally friendly cleaning, cleaning for health" (getting rid of germs), etc. According to Statistica the demand for janitorial services is constantly growing and is expected to rise to 46.3 billion in 2022. Find a good Janitorial Franchise for you on the list below.
Here are the top 10 best janitorial franchise businesses in the USA
Image One Facility Solutions
Founded in: 2010
Franchising since: 2011
Franchise units: 107
Initial investment: from $43,025
Franchise Fee: $29,750
Royalty Fees: 10%
Image One Facility Solutions provides franchise opportunities for people looking to start a business in the janitorial services field. A franchise company that is very different than the rest of the janitorial franchises in the industry. Image One prides itself on training the franchisee in all aspects of the business, to help them reach their desired level of success. Many Image One franchise owners have grasped the idea of the American Dream of owning their own business and building a better life for themselves.
---
CleanNet USA
Founded in: 1988
Franchising since: 1988
Franchise units: 1746
Initial investment: from $14,777
Franchise Fee: $2,950
Royalty Fees: 10%
CleanNet USA is one of the fastest growing, most successful commercial cleaning companies in the nation. We have developed a one-of-a-kind master franchise program that offers you the rewards and freedom you want. And we provide the training, support and franchise system to help you capture your dream of business ownership and on-going success. CleanNet® provides a rare opportunity to own your own business. As a CleanNet® franchisee, you will work with clients to ensure their satisfaction and grow your business at your own pace.
---
JAN-PRO
Founded in: 1991
Franchising since: 1992
Franchise units: 8790
Initial investment: from $4,170
Franchise Fee: $1,000
Royalty Fees: 10%
JAN-PRO Franchising International is best known for our national network of nearly 5,000 Unit franchisees and 87 Master franchise owners. Join JAN-PRO and become part of the #1 commercial cleaning franchise company in the world. JAN-PRO provides home based franchise owners with a start-up package that includes your own cleaning accounts, initial equipment, education on JAN-PRO cleaning standards, constant support and the opportunity to build a sustainable business in the community. With a JAN-PRO commercial cleaning business, you control your future.
---
The Cleaning Authority
Founded in: 1978
Franchising since: 1996
Franchise units: 225
Initial investment: from $71,300
Franchise Fee: $15,000
Royalty Fees: 4 - 6%
A leader in the growing $46 billion cleaning service industry, The Cleaning Authority provides the tools and support you need to achieve your personal and professional goals. If you are looking for a Monday through Friday business, with few to no weekends or holidays, this opportunity is for you. Choose The Cleaning Authority and join more than 200 franchise owners across North America. The Cleaning Authority's business model combines simple business fundamentals with sophisticated technology and an unprecedented support infrastructure towards tremendous income potential.
---
Anago Cleaning Systems
Founded in: 1989
Franchising since: 1991
Franchise units: 1559
Initial investment: from $11,265
Franchise Fee: $4,590
Royalty Fees: 10%
One of the best parts of owning an Anago Commercial cleaning franchise is the fact that there is very low overhead. This is an ideal home-based business because you don't need a sales force, a billing department, or an administrative staff - Anago does it all for you! You can skip the paperwork and the sales calls that burden other types of businesses. All you need to do to be successful is follow Anago's proven time-tested system. Anago will provide you with all the coaching and support you will need to get your business off the ground - even if you have no prior janitorial experience. This program has everything you will need to be successful.
---
360clean
Founded in: 2005
Franchising since: 2008
Franchise units: 76
Initial investment: from $3,750
Franchise Fee: $2,500
Royalty Fees: 14%
Have you been searching for a franchise opportunity that offers high earning potential, low investment and the ability to run the business from home? You should consider a 360clean franchise. The 360clean franchise is a relatively low overhead business that is consistently ranked amongst the top low cost franchises and has provided many the ability to achieve their dream of business ownership. 360clean offers the most affordable and flexible start-up program of any cleaning franchise in the industry. And our franchisees love us!
---
ServiceMaster Clean
Founded in: 1947
Franchising since: 1952
Franchise units: 4467
Initial investment: from $92,985
Franchise Fee: $31,500
Royalty Fees: 7% - 10%
For more than 65 years, the ServiceMaster Clean name has represented the highest standard in cleaning. We've drastically exceeded expectations on jobs both big and small, all while building a satisfied clientele of commercial customers who require clean and comfortable spaces year-round. A Proven Model With decades of successful franchising, our proven business model allows franchisees to provide outstanding professional cleaning services to businesses in 12 countries. As a ServiceMaster Clean franchisee, you'll receive training to pass along to your technicians so that they can provide a range of cleaning services for general office areas, floors, walls, restrooms, and public areas.
---
Mint Condition
Founded in: 1996
Franchising since: 1996
Franchise units: 344
Initial investment: from $4,644
Franchise Fee: $3,000
Royalty Fees: 9%
Over the past four years the Entrepreneur Magazine has ranked Mint Condition as one of the Low Cost Franchises. There is minimal risk associated with owning a commercial cleaning franchise through Mint Condition – and our initial fee is as low as $1000 down. When you buy a franchise with us, Mint Condition provides thorough classroom training, followed by additional training and support at your accounts. We also offer premium chemicals and equipment so that your franchise will operate to the quality standard of service that represents Mint Condition. The Mint Condition support staff along with our highly trained franchisees work together to create a extremely high retention rate with our customers.
---
Stratus Building Solutions
Founded in: 2004
Franchising since: 2009
Franchise units: 1787
Initial investment: from $4,450
Franchise Fee: $3,600
Royalty Fees: 5%
Stratus Building Solutions® provides an environmentally friendly commercial cleaning experience driven by entrepreneurial, small business owners and regional support centers. Since 2006, Stratus Building Solutions® has developed into a household name in janitorial services and is the industry leader in green facilities maintenance. Stratus offers multiple franchise options that generate significant recurring revenue each month; A Stratus Building Solutions franchise provides you with the management expertise, sales models, brand familiarity and an opportunity for growth.
---
Buildingstars
Founded in: 1994
Franchising since: 2000
Franchise units: 900
Initial investment: from $2,245
Franchise Fee: $995
Royalty Fees: 10%
At Buildingstars, it's not just about building a cleaning business, it's about building your business opportunity the right way. We offer several proprietary programs that give our franchise owners more options, flexibility and control. In short, we improve your ability to tailor your business to your needs and succeed. There's never been a better time to start your own commercial cleaning franchise business. If you're ready to get started, the Buildingstars franchise model will help you achieve your goals, however modest or ambitious.
---
Conclusion
To summarize, we can say any of the listed above janitorial franchises is worth buying. But there is a lot to consider while choosing the best one for you. Pay attention to the reputation of the brand, what training and support are offered, check if the other franchisees are successful. But the main thing you need to do is to align your budget with investment requirements of the brand. In order to ease the challenge, we have made the comparison flowchart of the best janitorial franchises in the USA for you. It shows the minimum estimated initial investment and initial franchise fee of each brand. By using it, you can figure out the difference in financial requirements for each franchise, and decide which one fits you the most.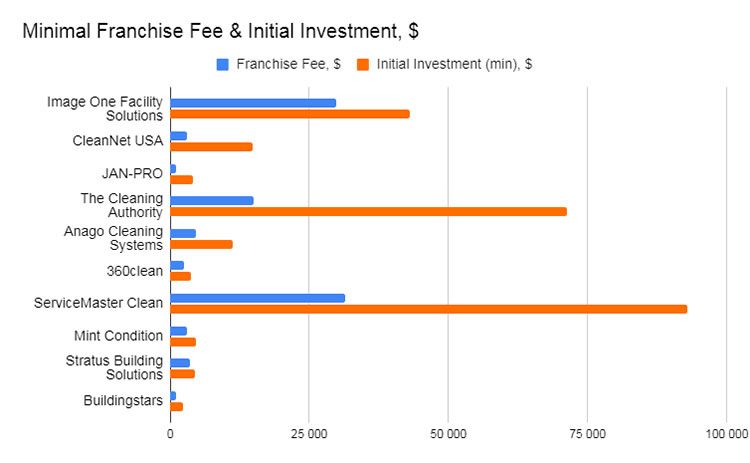 View all Janitorial Franchises
DIDN'T FIND WHAT YOU WANT?
ASK THE EXPERTS