The Top 10 Barbecue Franchise Businesses in USA for 2022
Update: 20.11.2021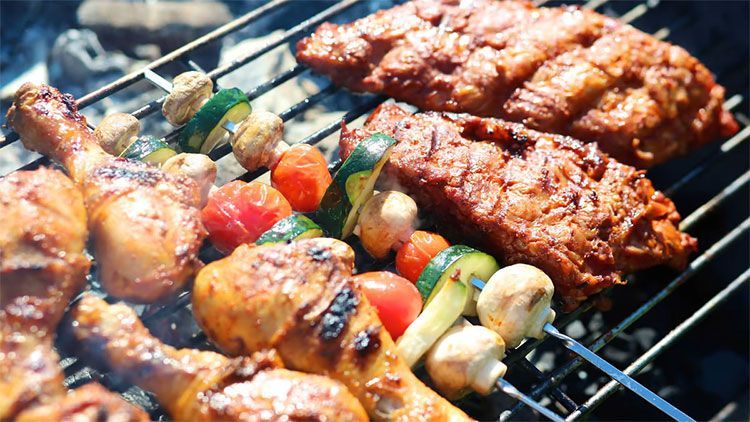 Barbeque franchises never lose their popularity in the USA due to the love of Americans for BBQ parties with family and friends. Our records show that in 2022 the market will grow. We are absolutely sure that The Top 10 Barbeque franchise businesses listed here are tried and true concepts worth investing into.
Americans adore BBQ, nearly 95% of US citizens said that they love barbeque and one-third of them eat BBQ every week. No wonder that Barbecue franchises are very popular on the USA market. There are many various concepts offered by Barbeque Franchise owners. Some of them sell Japanese BBQ Restaurant services, the others Hawaiian inspired restaurant food. The best of Barbecue Franchise Businesses in USA have significant experience and provide extensive business training programs as well as share their successful recipes with their franchisees. Take a glance at our collection of Top 10 BBQ Franchises in the USA.
Here are the top 10 best franchises serving BBQ in the USA
Mighty Quinn's Barbeque
Founded in: 2011
Franchising since: 2018
Franchise units: 13
Initial investment: from $495,000
Franchise Fee: $45,000
Royalty Fees: 6%
Mighty Quinn's Barbeque is currently one of the fastest growing fast casual barbeque restaurants in the country. The Mighty Quinn's BBQ experience can only be as good as the people behind it. Our focus on training and the operating systems that support the restaurant are in place to make our team and our franchisees efficient and successful. We're looking for franchisees and qualified investors with a passion for food who want to invest in a brand that will lead the fast casual barbeque category.
---
Red Hot & Blue
Founded in: 1988
Franchising since: 1990
Franchise units: 25
Initial investment: from $267,000
Franchise Fee: $35,000
Royalty Fees: 5%
Red Hot & Blue is a Memphis style barbecue restaurant franchise. The Red Hot & Blue mission is to "serve only the best quality authentic Memphis-style Barbeque in a fun, casual atmosphere surrounded by blues music and memorabilia." Now you can be part of our fast growing family of restaurateurs who love going home with barbecue sauce under their fingernails, the smell of hickory smoke in their clothes and a look of intense joy on their faces.
---
Gyu-Kaku Japanese BBQ
Founded in: 1996
Franchising since: 1997
Franchise units: 706
Initial investment: from $1,200,000
Franchise Fee: $50,000
Royalty Fees: 4-5%
Gyu-Kaku Japanese BBQ Restaurant is a chain of Japanese restaurants with over 700 locations across the globe. Customers sit at tables that come with their own miniatures grill. Franchisees train at the company headquarters for two months. Thereafter, they receive support in the form of a customized grand opening, newsletters, purchasing help, and meetings.
---
VooDoo BBQ & Grill
Founded in: 2002
Franchising since: 2006
Franchise units: 12
Initial investment: from $600,000
Franchise Fee: $35,000
Royalty Fees: 5%
Welcome, and thanks for requesting a taste of the most exciting restaurant franchise in the industry. You're on your way to becoming a part of a revolution in BBQ, and VooDoo's experienced franchise team will be with you every step of the way. During training, you are given our detailed manual covering a wide array of topics key to operating your restaurant. Our store opening team is on site with you several days before you open to help you set up your store and train your staff. We stay for several days after you open to assist in the transition.
---
Billy Sims BBQ
Founded in: 2004
Franchising since: 2008
Franchise units: 48
Initial investment: from $169,200
Franchise Fee: $30,000
Royalty Fees: 6%
The success of Billy Sims Barbecue is attributed to the collaborative relationship we have with our franchisees. We are developing markets across the United States and are always interested in meeting with those who would like to become a part of the Billy Sims Barbecue franchise system. At Billy Sims Barbecue, we know the recipe that has made us successful involves more than just great food and service. We incorporate proven systems, time-tested, effective business practices, and operational support for franchisees. We are here to help you succeed and that is why we offer support at every level.
---
Urban Bar-B-Que
Founded in: 2003
Franchising since: 2013
Franchise units: 8
Initial investment: from $183,000
Franchise Fee: $30,000
Royalty Fees: 6%
Urban Bar-B-Que was founded in 2003 by Dave "Urban" Calkins and Lee "BBQ" Howard. The estimated investment required to open an Urban Bar-B-Que Franchise is between $182,650-$365,150. There is an initial franchise fee of $30,000 which grants you the license to run a business under the Urban Bar-B-Que name. It's time to give yourself permission to build your days around what's important to you!
---
Crave Hot Dogs and BBQ
Founded in: 2018
Franchising since: 2018
Franchise units: 4
Initial investment: from $186,000
Franchise Fee: $25,000 - $40,000
Royalty Fees: 6%
Crave is now looking for franchise partners throughout the U.S. as well as Internationally. If you want to own your own business, encourage creativity and still have time for your family, Crave could be the opportunity you've been waiting for. At Crave we offer: real estate assistance, training programs, marketing assistance, operational support, systems in place, ongoing training. Join the Crave family!
---
Bar-B-Cutie SmokeHouse
Founded in: 1950
Franchising since: 2003
Franchise units: 11
Initial investment: from $664,000
Franchise Fee: $35,000
Royalty Fees: 5%
Bar-B-Cutie franchise is an iconic family-owned BBQ business, with over 65 years of experience in the BBQ restaurant business. Since our founding in 1950, Bar-B-Cutie has served up world-class BBQ to millions of customers in the American South. Running a successful BBQ restaurant requires a lot of passion, hard work, the desire to provide exceptional customer service and a commitment to the community at large. While we do not require previous restaurant ownership experience, we do prefer a background in restaurant management. Bar-B-Cutie franchise owners are supported from the very moment the franchise agreement is signed.
---
L&L Hawaiian Barbecue
Founded in: 1976
Franchising since: 1991
Franchise units: 185
Initial investment: from $134,000
Franchise Fee: $30,000
Royalty Fees: 3-4%
L&L is the largest Hawaiian inspired restaurant chain in the world, and one of the largest restaurant chains serving asian cuisine. As the owner of an L&L Hawaiian Barbecue restaurant franchise, you're part of a global chain with an international reputation for excellence. We provide extensive business training programs and proven food franchise operating systems. Our support team will help you to streamline operations and create a business that's simple — and fun — to run.
---
Dickey's Barbecue Pit
Founded in: 1941
Franchising since: 1994
Franchise units: 549
Initial investment: from $269,000
Franchise Fee: $20,000
Royalty Fees: 5%
Dickey's Barbecue Pit is global leader in the QSR barbecue category. Become part of a family tradition since 1941. Dickey's Barbecue will assist you during multiple phases of the development process from site Viewion to design and construction. We provide a comprehensive training program at Barbecue University, an intensive four-week training program that teaches the skills needed to open and operate a Dickey's Barbecue Pit.
---
Conclusion
To summarize, we can say any of the listed above barbecue franchises is worth buying. But there is a lot to consider while choosing the best one for you. Pay attention to the reputation of the brand, what training and support are offered, check if the other franchisees are successful. But the main thing you need to do is to align your budget with investment requirements of the brand. In order to ease the challenge, we have made the comparison flowchart of the best barbecue franchises in the USA for you. It shows the minimum estimated initial investment and initial franchise fee of each brand. By using it, you can figure out the difference in financial requirements for each franchise, and decide which one fits you the most.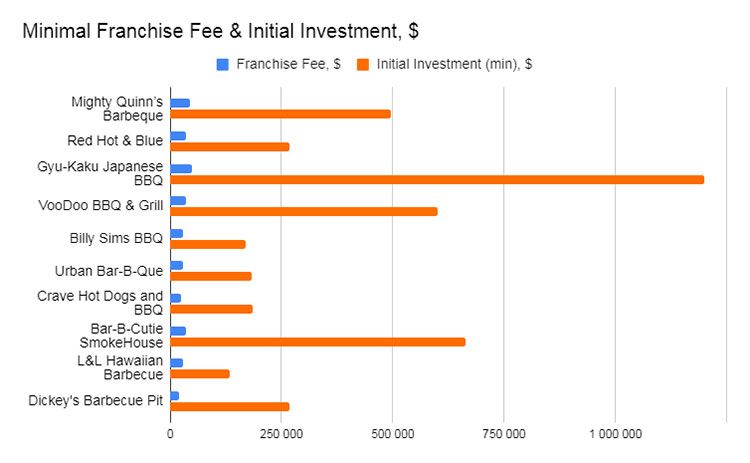 View all Barbecue (BBQ) Franchises
DIDN'T FIND WHAT YOU WANT?
ASK THE EXPERTS