The TOP 10 Best Automotive Franchises in 2023 in Canada
Update: 04.12.2021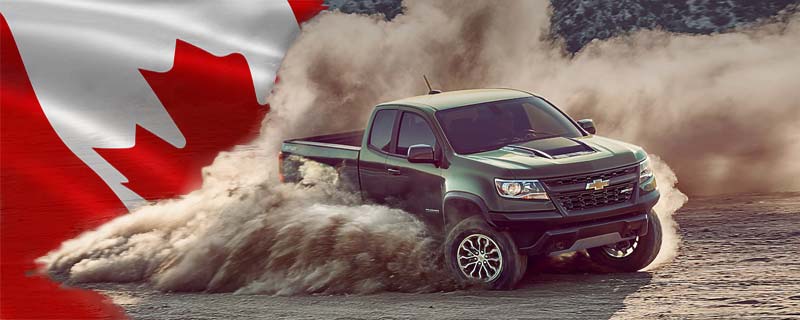 As well as a couple of years ago, Automotive franchises are profitable and successful in Canada. 2022 offers only very promising prospects for the industry. If you are wondering what franchise is worth your investment now, we`d recommend you to choose one out of the top 10 list here. They have been consistently expanding on the market so far.
One of the most vibrant business sectors in Canada is automotive industry which provides a lot of jobs as well as opportunities for entrepreneurs. Canadians change their cars once in 6-9 years which is not so often compared to the USA citizens, for example. It means that there is a huge demand for car maintenance services and car-related products. Automotive franchise are especially helpful for Canadian economy as they can satisfy the needs of the car owners. If you are looking for an automotive franchise to buy in Canada, consider our listing of Top 10 Best opportunities for your future success.
Here is the 10 best automotive franchises in 2022
Master Mechanic
Founded in: 1982
Franchise since: 1983
Franchise units: 39
Initial investment: from $175,000
Franchise Fees: $30,000
The business provides full-service automotive repair and maintenance services to both retail and commercial clients through its franchisees, with special emphasis on drivability and engine performance. This is an excellent opportunity for existing independent garages looking to rebrand.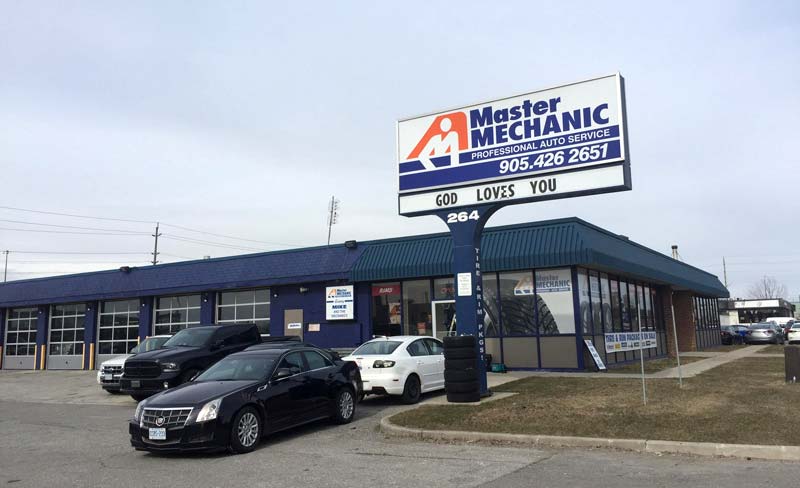 ---
Fine Details
Founded in: n/a
Franchise since: 1998
Franchise units: 9
Initial investment: $50,000 - $200,000
Franchise Fees: $30,000
Fine Details provides the highest quality detailing services and protection products available. Our service menu offers finely detailed car cleaning packages as well as individual specialized services to satisfy the needs of every individual. Investing in a Fine Details franchise gives you the avenue to tap into this growing market.
---
Corporate Rent-A-Car
Founded in: 2008
Franchise since: 2017
Franchise units: 15
Initial investment: $100,000
Franchise Fees: from $50,000
Corporate Rent-A-Car provides car rental and Luxury car rental services to leisure & business travelers, dealer replacement and Insurance replacements. We have an established reputation for providing top quality and luxury vehicles and service at competitive prices that not only meets, but exceeds our customer's expectations.
---
Pro Fleet Care
Founded in: 1984
Franchise since: 2007
Franchise units: 37
Initial investment: $33,000 - $70,000
Franchise Fees: $20,000
Pro Fleet Care offers a mobile rust control service at your door and on your time schedule. Pro Fleet Care is also a unique mobile franchise business opportunity, which allows franchisees to develop and own a stable residual business with low financial commitment.
---
Speedy Auto Service
Founded in: 1956
Franchise since: 2004
Franchise units: 66
Initial investment: from $100,000
Franchise Fees: $35,000
Speedy Auto Service is a long-standing, trusted brand that Canadians have some to rely on for their automotive repair and maintenance needs. Having been in business for over 60 years, Speedy franchise owners increase their revenues and build equity in their businesses year after year.
---
Active Green + Ross
Founded in: 1983
Franchise since: 1986
Franchise units: 70
Initial investment: $115,000 - $200,000
Franchise Fees: $25,000
Active Green + Ross offer our customers a complete line and selection of passenger and light truck tires from the worlds premier tire manufacturers. All Active Green + Ross locations offer complete general automotive service and repairs to most car and light truck models. An Active Green + Ross franchise offers individuals an opportunity to be in business for themselves while benefiting from the experience of the Company's management team.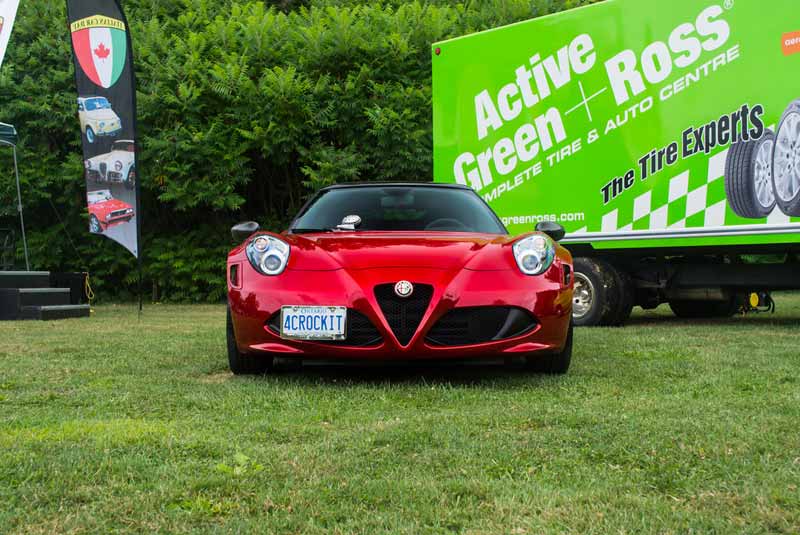 ---
CARSTAR
Founded in: 1994
Franchise since: 1994
Franchise units: 700+
Initial investment: $30,000 - $250,000
Franchise Fees: $40,000
Specializing in cosmetic auto body repair as well as restorative and preventative services, we apply the same premier CARSTAR experience to even the smallest of services. Whether it is detailing, paint repair, paintless dent removal, installing your winter tires or performing oil changes, visit CARSTAR for your regularly scheduled and preventative maintenance services.
---
Mister Transmission
Founded in: 1963
Franchise since: 1969
Franchise units: 62
Initial investment: $120,000 - $150,000
Franchise Fees: $35,000
Mister Transmission Ltd. is a Canadian franchise company specializing in repairing transmissions. With more than 60 locations coast-to-coast, Mister Transmission is Canada's longest and most recognized of established chains in transmission, technology and related drive line repairs.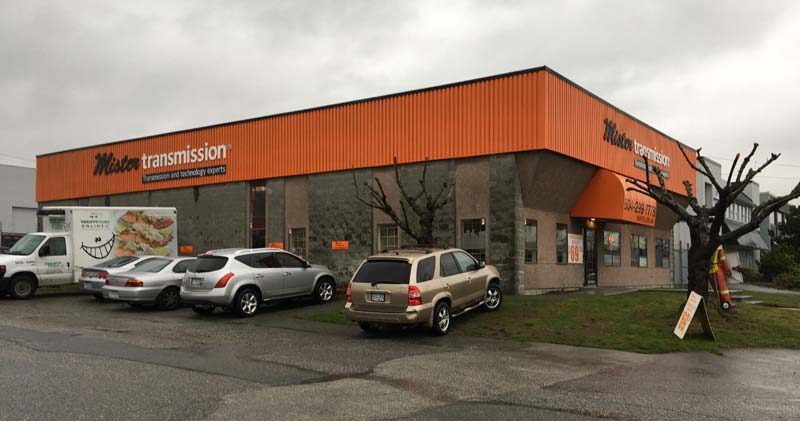 ---
Mr. Lube
Founded in: 1976
Franchise since: 1999
Franchise units: 170
Initial investment: $234,000 - $450,0000
Franchise Fee: $50,000
Mr. Lube is Canada's franchise leader in the automotive maintenance services sector, offering fast, warranty-approved, vehicle maintenance. Mr. Lube provides franchisees a respected brand name, established operating systems, industry-leading training, national purchasing power, national fleet partnerships and more.
---
Repare-Brise Inc
Founded in: n/a
Franchise units: 26
Initial investment: from $150,000
Franchise Fees: $10,000
Royalty Fees: 5%
Automotive reconditioning franchise (Glass repair, paint touch ups, bumper and wheel repair/repainting, polishing, detailing), exclusive products and techniques. Minimum investment, maximum return. Full time business, 26 units in Quebec to date.
---
Conclusion
To summarize, we can say any of the listed above automotive franchises is worth buying. But there is a lot to consider while choosing the best one for you. Pay attention to the reputation of the brand, what training and support are offered, check if the other franchisees are successful. But the main thing you need to do is to align your budget with investment requirements of the brand. In order to ease the challenge, we have made the comparison flowchart of the best automotive franchises in Canada for you. It shows the minimum estimated initial investment and initial franchise fee of each brand. By using it, you can figure out the difference in financial requirements for each franchise, and decide which one fits you the most.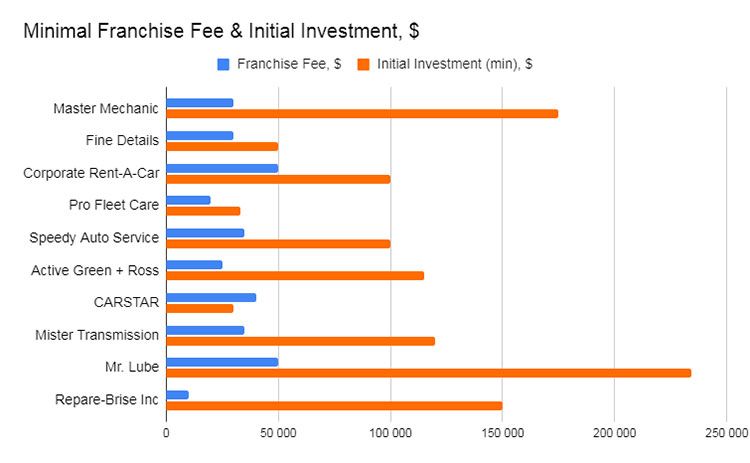 View all Automotive Franchises
Want to advertise your franchise with us and successfully boost your business?
Please send us your request and we will get back to you shortly!
DIDN'T FIND WHAT YOU WANT?
ASK THE EXPERTS