Top 7 Сleaning Franchise Opportunities in Nigeria of 2023
Update: 26.12.2021
Nigeria is a country with a developing residential and commercial cleaning industry. There are even some events which take place in the country in order to provide the best cleaning service franchise opportunities. The industry incorporates a lot of approaches such as restoration, fumigation, disinfection, carpet cleaning, hardwood floor care, window washing and power washing, etc. The best franchise cleaning businesses to buy also focus on innovative, eco-friendly, little water and wastes products and services. We have built a list of top cleaning franchises for 2022 for you to consider. It includes exceptionally profitable and successful brands which are looking for new franchisees. The companies have already established working management and marketing strategies as well as a profitable approach to providing the services. Thus, they are ready to teach their partners how to do it by sharing their best practices and providing constant support.
Here is the best 7 сleaning franchise businesses in Nigeria
Anago Cleaning Systems
Founded in: 1989
Franchising since: 1991
Franchise units: 1,719
Initial investment: from 4,630,000 NGN
Franchise Fee: ₦2,100,000 - ₦12,700,000
Royalty Fees: 10%
Founded in 1989, Anago Cleaning Systems is a commercial cleaning franchise system supporting more than 1,700 unit franchisees in the United States and internationally. With over 30 years of experience as a leader in the commercial cleaning franchising industry, Anago Franchisees have faced the majority of challenges. No experience is necessary to start your cleaning business with Anago! Our comprehensive orientation program provides you with all the strategies and techniques you need to efficiently clean clients' facilities – all at no additional cost to you. When you start your Anago Franchise, you are guaranteed initial contracts so you don't have to worry about finding new clients to clean right away.
---
Jan-Pro Cleaning and Disinfecting
Founded in: 1991
Franchising since: 1992
Franchise units: 10,476
Initial investment: from 1,700,000 NGN
Franchise Fee: ₦1,000,000 - ₦18,000,000
Royalty Fees: 10%
If you have the drive and desire to make a better life for you and your family, let Jan-Pro Cleaning & Disinfecting take care of you while you take care of your business and lifelong dreams. As the #1 commercial cleaning franchise, Jan-Pro Cleaning & Disinfecting has a stellar brand reputation and thorough set of cleaning processes, support systems, and customer service standards that can help you keep your clients happy and your business flourishing. This premier cleaning franchise brand provides the customers, certification, and support you need, plus the freedom and flexibility to invest and grow at a rate that suits you and your goals—even if you don't have any prior business or cleaning experience.
---
Rainbow International Restoration
Founded in: 1981
Franchising since: 1981
Franchise units: 374
Initial investment: from 64,000,000 NGN
Franchise Fee: ₦16,400,000
Royalty Fees: 2 - 8%
Buying a commercial cleaning franchise puts you on the fast-track to running a successful business, especially when it's built on solid foundations like Rainbow International. With us, you'll have all the autonomy you want, as well as the support you need to prosper. Seize a business opportunity with Rainbow and you're one step closer to achieving your personal and financial goals. Specialist restoration and commercial cleaning services will always be in demand, and we'll give you all the right training to help you make our global brand flourish locally. Our franchisees have access to industry-leading equipment, attractive finance options, and a network with a proven track record. Learn more about becoming your own boss with a Rainbow International franchise.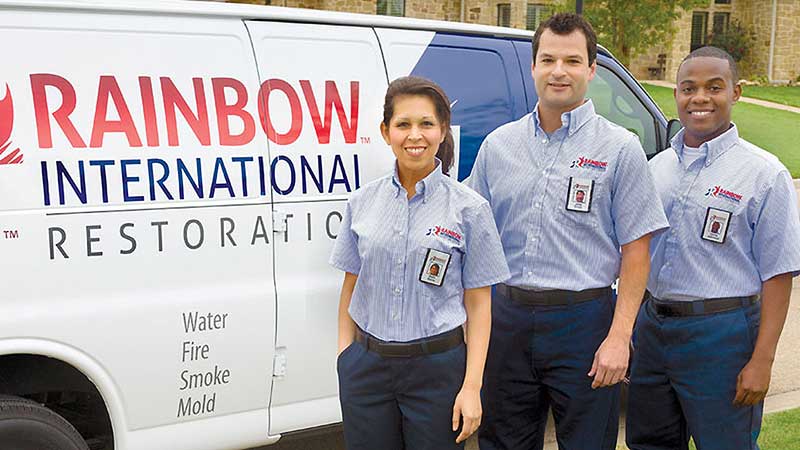 ---
ChemStation
Founded in: 1965
Franchising since: 1983
Franchise units: 62
Initial investment: from 133,000,000 NGN
Franchise Fee: ₦20,550,000
Royalty Fees: 4%
Today over 60 ChemStation Manufacturing Centers deliver high-quality, custom cleaning solutions into refillable containers with a high priority placed on customer service. Our business-to-business franchise opportunity offers enormous earning potential. The business model is based on strong B2B connections and the ability to service a broad range of industries throughout the world. Our network provides a wealth of connections and resources to help move your business forward while still allowing you the space and freedom to grow your way. As a ChemStation Owner, you will hire, manage, motivate, and direct your sales organization to build a customer base in an exclusive geographic territory. The factors used to compute price are known only to you. Proof that you're in business for yourself but not by yourself.
---
Coverall
Founded in: 1985
Franchising since: 1985
Franchise units: 8,526
Initial investment: from 7,650,000 NGN
Franchise Fee: ₦6,400,000
Royalty Fees: 5%
Coverall is a leading franchised brand in the commercial cleaning industry and one of the most respected franchisors of professional office cleaning companies focused on killing germs, removing soil and helping to create cleaner, healthier work environments. We help people start their own franchised businesses using the Coverall brand, and processes, so they may deliver excellent commercial cleaning services to their customers. Imagine being an independent business owner, setting your own schedule and supporting your family with a business that's as big as you want it to be. Coverall's commitment is to put you, our independent business owner, first. Enjoy the freedom that only comes with owning your own business, Coverall is here to support you each step of the way.
---
Vanguard Cleaning Systems
Founded in: 1984
Franchising since: 1984
Franchise units: 3,118
Initial investment: from 2,260,500 NGN
Franchise Fee: ₦2,055,000
Royalty Fees: 11,5%
Vanguard Cleaning Systems is a company that provides corporate cleaning services in 38 states and Canada. The company cleans offices and businesses for small, mid-sized and large companies. Vanguard Cleaning Systems provides office cleaning services, as well as carpet cleaning, hard wood floor care, window washing and power washing. International companies like Amazon, Coca Cola and Toyota have used their commercial janitorial services. Vanguard Cleaning Systems uses only the highest quality of product and equipment to complete their cleaning services. The company offers two types of opportunities: a janitorial franchise and a master franchise. Interested people can choose between hands-on, owner and operator type of work or a more business-minded master franchise opportunity.
---
Chem-Dry
Founded in: 1977
Franchising since: 1978
Franchise units: 2,616
Initial investment: from 28,000,000 NGN
Franchise Fee: ₦9,660,000
Royalty Fees: ₦170,000 per month
Chem-Dry is the world's largest carpet cleaning franchise for a reason. We've offered professional, environmentally safe service and cleaning from our founding in 1977; using a hot carbonated water extraction cleaning method that removes dirt and stains from surfaces efficiently, with little water and rapid drying time. Our Master Franchisees have been establishing Chem-Dry in the Global marketplace, since 1987. Chem-Dry cleans more spaces than any other floor-care company. What's more, our patented products and extensive experience in the industry also enable us to make people's homes and workplaces healthier. Our brand has the lead in market share in-home carpet cleaning, and our distinguished franchise owners are dedicated to providing top-notch service.
---
Conclusion
To summarize, we can say any of the listed above cleaning franchises is worth buying. But there is a lot to consider while choosing the best one for you. Pay attention to the reputation of the brand, what training and support are offered, check if the other franchisees are successful. But the main thing you need to do is to align your budget with the investment requirements of the brand. In order to ease the challenge, we have made the comparison flowchart of the best cleaning franchises in Nigeria for you. It shows the minimum estimated initial investment and an initial franchise fee for each brand. By using it, you can figure out the difference in financial requirements for each franchise, and decide which one fits you the most.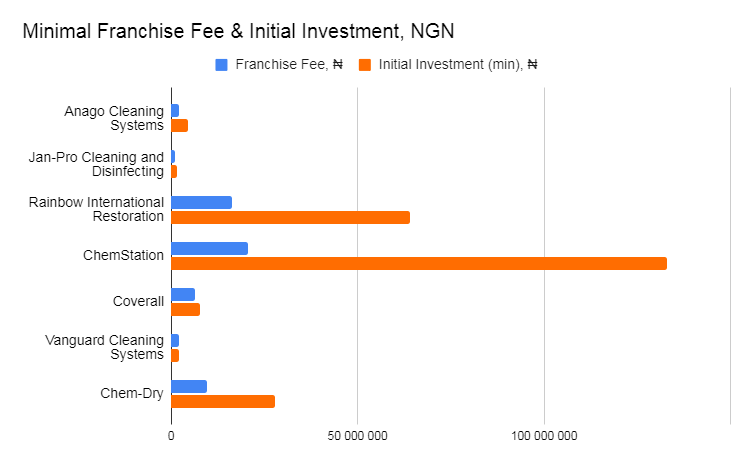 View all Cleaning franchises
Want to advertise your franchise with us and successfully boost your business?
Please send us your request and we will get back to you shortly!
DIDN'T FIND WHAT YOU WANT?
ASK THE EXPERTS