Top 5 Dog Daycare Franchises For Sale in USA in 2022
Update: 04.11.2021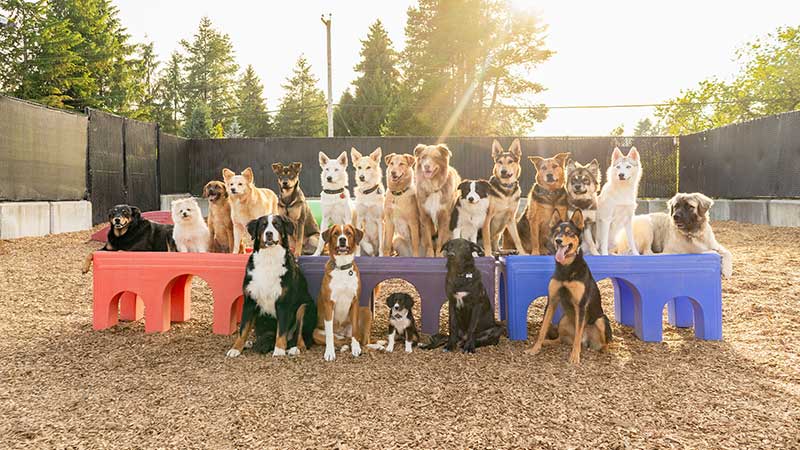 The pandemic made people spent more money on their dogs. It can be explained by the fact that people stayed at home and became closer to their pets. Moreover, those ones who hadn't had pets before got the one during the lockdown time. Therefore, today pet care businesses including dog daycare franchises are at the top of their popularity and it is high time for entrepreneurs to invest into the industry. Which, by the way, offers a wide variety of opportunities and involves absolutely different services. A dog care franchise business concerns not only looking after pets but also educating, socializing, grooming, boarding, and even retailing. As a rule, the most successful companies operating in the US dog industry are expanding by means of new franchisees. They are ready to share the best practices and a proven and successful business model with their partners. Here is the list of the best dog daycare franchise companies to join.
Here is the top 5 dog daycare franchise businesses in USA
Dogtopia
Founded in: 2002
Franchising since: 2005
Franchise units: 156
Initial investment: $543,193 - $1,489,801
Franchise Fee: $49,500
Royalty Fees: 7%
Dogtopia offers dog daycare and boarding services with an emphasis on education, exercise, and socialization. The company also provides franchise opportunities. Dogtopia was founded in 2002 and is based in Phoenix, Arizona. As of 2018, the company owns and operates 58 franchises in the United States and 11 ones outside the country.
---
Camp Bow Wow
Founded in: 2000
Franchising since: 2003
Franchise units: 171
Initial investment: $718,500 - $1,457,500
Franchise Fee: $50,000
Royalty Fees: 7%
Camp Bow Wow is a dog daycare and boarding franchise headquartered in Broomfield, Colorado. The company was founded in 2000 by Heidi Ganahl and it operates over 140 locations in the United States and Canada. The company offers a variety of pet services including, day care, boarding, grooming, training and retail.
---
Central Bark
Founded in: 1997
Franchising since: 2004
Franchise units: 27
Initial investment: $520,063 - $874,556
Franchise Fee: $45,000
Royalty Fees: 6%
For those dog lovers with a desire and commitment to own their own business, Central Bark franchise ownership offers personal and professional satisfaction. Central Bark Doggy Day Care takes the approach of offering franchisees a fully-integrated, proven and successful business model managed by a team of business and marketing experts in dog day care and related industries. In addition to working with licensed veterinarians to approve and support the company's systems, Central Bark also offers volume purchasing power due to its over 20 years of experience in the doggy day care business.
---
K9 Resorts
Founded in: 2005
Franchising since: 2011
Franchise units: 10
Initial investment: $998,748 - $1,891,990
Franchise Fee: $49,500
Royalty Fees: 7%
As the finest boarding and daycare environment in the industry, K9 Resorts is bringing stress-free, guilt-free care to dogs and families everywhere. The company offers a variety of pet services including, day care, boarding, grooming, training and retail. K9 Resort was founded in 1999. With guidance from SMB Franchise Advisors, one of the top consulting firms in the country, K9 Resorts began franchising in 2011.
---
Camp Run-A-Mutt
Founded in: 2008
Franchising since: 2010
Franchise units: 15
Initial investment: $343,375 - $691,300
Franchise Fee: $35,000
Royalty Fees: 6%
Camp Run-A-Mutt® has changed the standard of dog care by learning and improving the existing industry. The company has taken the same approach to its dog grooming franchise by examining the competition and raising the bar. Since the inception of the franchise in 2010, all of the original corporate and franchise businesses are still in operation, winning dozens of awards and delighting thousands of dogs and their owners. Camp Run-A-Mutt has been in business since 2008, gaining local and national attention, including being listed as an Inc. for three consecutive years. 5000 (America's Fastest Growing Private Companies) Inc. Magazine's Inc.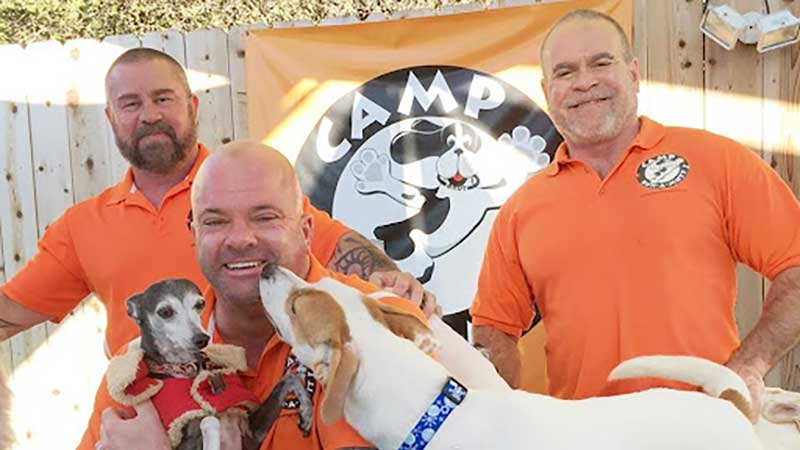 ---
Conclusion
To summarize, we can say any of the listed above pet daycare franchises is worth buying. But there is a lot to consider while choosing the best one for you. Pay attention to the reputation of the brand, what training and support are offered, check if the other franchisees are successful. But the main thing you need to do is to align your budget with investment requirements of the brand. In order to ease the challenge, we have made the comparison flowchart of the best dog daycare franchises in the USA for you. It shows the minimum estimated initial investment and initial franchise fee of each brand. By using it, you can figure out the difference in financial requirements for each franchise, and decide which one fits you the most.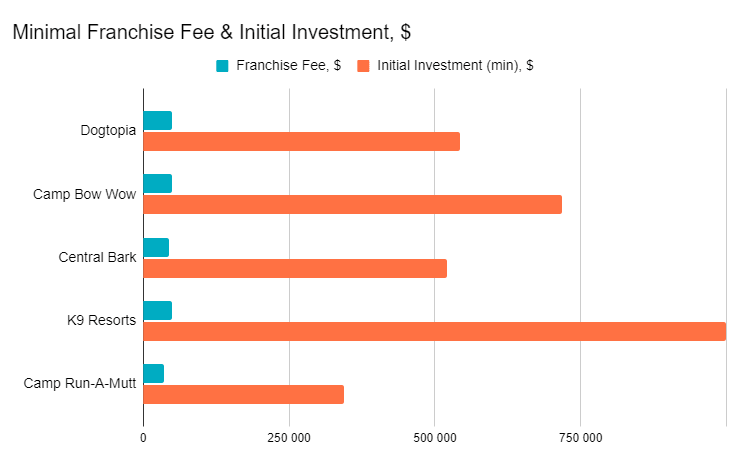 View all Dog Daycare franchises
DIDN'T FIND WHAT YOU WANT?
ASK THE EXPERTS