Top 5 ATM Franchise Business Opportunities in USA for 2023
Update: 04.11.2021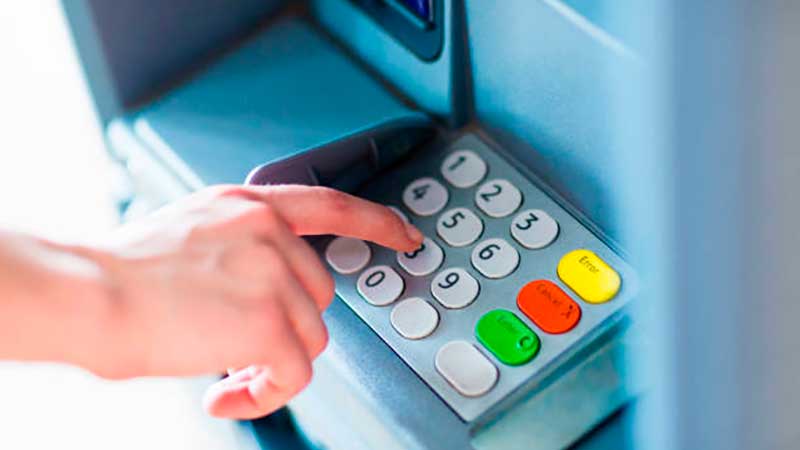 Brick-and-mortar businesses including convenience stores, cafes, hotels, gas stations, etc. can have additional benefits from having ATMs. It allows the owner to attract more customers and have extra income. However, an ATM franchise can also bring some commission to its owner. And it requires neither huge investments nor much time commitment to do the business. There are ATM machine franchise concepts which offer full service packages such as machine placement, technical support and even digital locks. If you decide to connect the business, and browse through the most attractive offer, have a look at the best ATM franchise opportunities here. The franchisors are ready to share their valuable experience with their franchisees by means of extensive training and support. Since you buy a program, they will handle it all. Things you need to do is just to monitor the performance of your machines from phone or laptop, and make revenue from them.
Here is the best 5 ATM machine franchise businesses in USA
ACFN
Founded in: 1996
Franchising since: 2003
Franchise units: 229
Initial investment: $39,230 - $63,820
Franchise Fee: $25,000
Royalty Fees: 1%
ACFN is North America's only ATM franchise providing services to hotels and other travel and entertainment based businesses. We have been providing ATM services since 1996, began offering ATM franchise opportunities in 2003, and we now have more than 250+ franchises that own and operate 2,750+ ATMs in the United States and Canada. Many of our franchisees say that the ability to start the business without interfering or interrupting current job was one of the main reasons they decided to join ACFN. Our business model can be scaled to fit an individual's specific situation allowing owners to grow at the pace which suits them. Franchisees join ACFN for different reasons and from various backgrounds.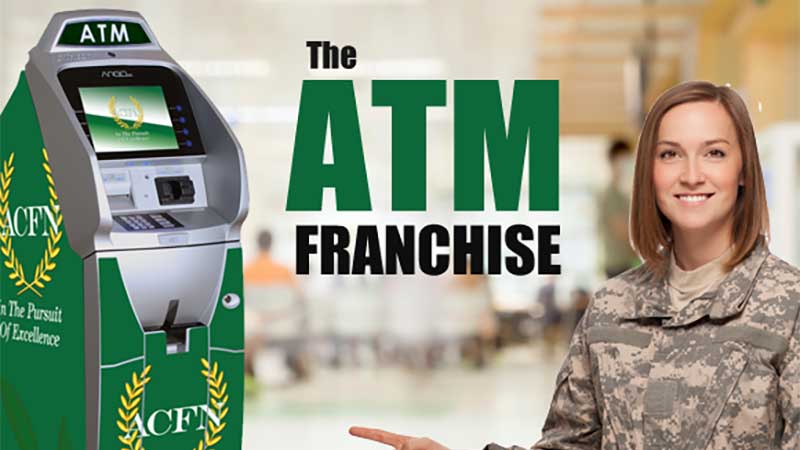 ---
Bitbox ATM
Founded in: 2019
Franchising since: 2019
Franchise units: 189
Initial investment: $38,590 - $157,980
Franchise Fee: $38,590
Royalty Fees: None
Bitbox offers investors an opportunity to start their Bitbox ATM business for a minimal investment of $38,590. This investment provides two Bitbox ATM machines and the brand's franchise "Done for You" service package, which includes machine placement and ongoing servicing, as well as digital locks. Your main responsibility as the franchise owner is to monitor the performance of your machines, which you can do on your phone or computer. Bitbox takes care of all the ins and outs with extensive knowledge, thorough training and superior support. Once you purchase the franchise program from Bitbox, we handle everything. Start generating revenue as soon as your first Bitbox is installed.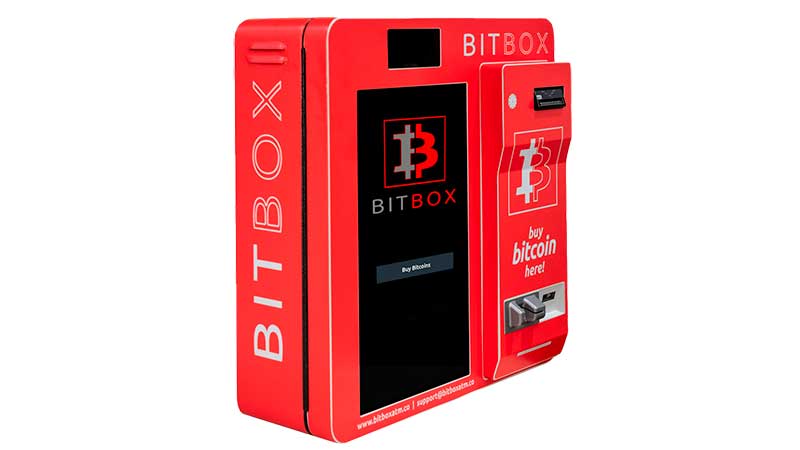 ---
Mr. Payroll Corp.
Founded in: 1988
Franchising since: 1990
Franchise units: 91
Initial investment: $68,800 - $328,000
Franchise Fee: $10,000
Royalty Fees: 10%
Mr. Payroll Corporation ("Mr. Payroll") consists of a nationwide network of company-owned and franchised check-cashing facilities located inside convenience stores, neighborhood service centers, or in stand-alone facilities. In as little as 48 square feet of operating space, a Mr. Payroll check-cashing franchise provides fast check cashing, money orders, bill paying, money transfers and other financial services in one convenient location-and at a minimal cost. Our franchisees are provided with all the necessary tools and continued support to help them get their financial services business started and running successfully.
---
ATM Money Machine Inc.
Founded in: 1996
Franchising since: 1996
Initial investment: from $2,100
Franchise Fee: None
Royalty Fees: None
ATM Money Machine provides wholesale cost ATM Products, while providing the best customer service you will find! We sell ATMs, as well as process ATMs in all 50 states. We are an authorized ATM distributor of used atm machines, as well as provide technical support on every model. ATM Money Machine can provide service in every single aspect of the ATM machines industry. Every time you place an ATM machine you earn 100% of the transaction income for as long as the ATM machine is there! You can get into this business with very little cost and virtually no limit to the money you can make.
---
BitCash USA
Founded in: 2021
Franchising since: 2021
Initial investment: $13,500 – $250,000
Franchise Fee: None
Royalty Fees: None
BitCash USA offers a complete, turnkey system for setting up a Bitcoin ATM business. It's a hardware, software and service platform. You can brand your Bitcoin ATM with any logo or brand. All BitCash ATMs are "two-way" by default, allowing them to support both buying and selling bitcoin. Our ATMs can also offer additional currencies ("altcoins") to reach a wider audience. Having all of this taken care of allows you to focus on offering value for your customers and scaling your business, instead of stressing over complicated technical issues. The tech support we offer is second to none, from techs deeply experienced with the ins and outs of all our machines. They'll have you set up, ready for your first customer in no time, and getting you back on track when you need help.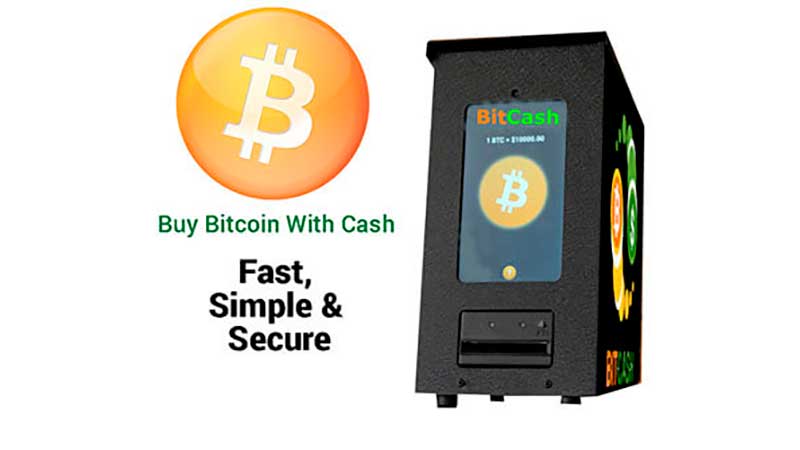 ---
Conclusion
To summarize, we can say any of the listed above ATM franchises is worth buying. But there is a lot to consider while choosing the best one for you. Pay attention to the reputation of the brand, what training and support are offered, check if the other franchisees are successful. But the main thing you need to do is to align your budget with investment requirements of the brand. In order to ease the challenge, we have made the comparison flowchart of the best ATM machine franchises in the USA for you. It shows the minimum estimated initial investment and initial franchise fee of each brand. By using it, you can figure out the difference in financial requirements for each franchise, and decide which one fits you the most.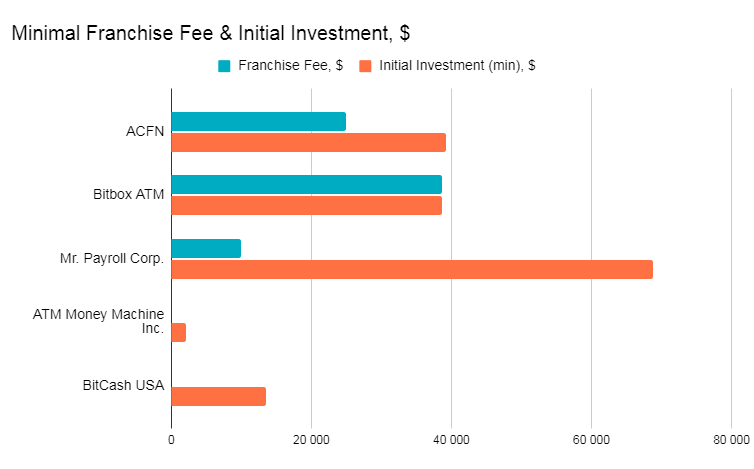 View all all ATM franchises
Browse franchises by countries

USA

India

Canada

The UK

Indonesia

The Philippines

Australia

The UAE

Saudi Arabia

South Africa

Germany

Pakistan

Singapore

Malaysia
Other countries
Want to advertise your franchise with us and successfully boost your business?
Please send us your request and we will get back to you shortly!
DIDN'T FIND WHAT YOU WANT?
ASK THE EXPERTS