Franchise & License Expo Indonesia (FLEI) 2022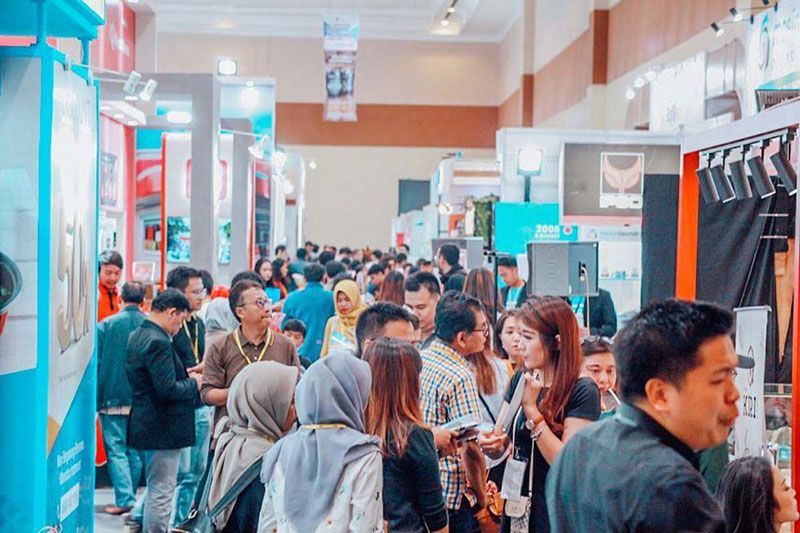 From 3 to 5 June in Jakarta Convention Center was held the biggest franchise and licence event in Indonesia. All three days the visitors can meet with the local brands and new entrepreneurs could find new opportunities for business.
Franchise & License Expo Indonesia (FLEI) 2022 showcases more than 200 franchise brands, licences and various other business opportunities.
Levita G. Supit, Chair of the Kamar Dagang & Industri Indonesia (KADIN) for Franchise, Licensing & Networking Marketing told us: "We didn't organise this event during a pandemic, only online sessions and meetings. Even for this year the FLEI exhibition was scheduled in February but had been postponed to June due to sanitary reasons. FLEI is the biggest franchise exhibition in the region. Similar franchise fair in Kuala-Lumpur shows less number of participants. We are happy to see each other live after two years of suspension."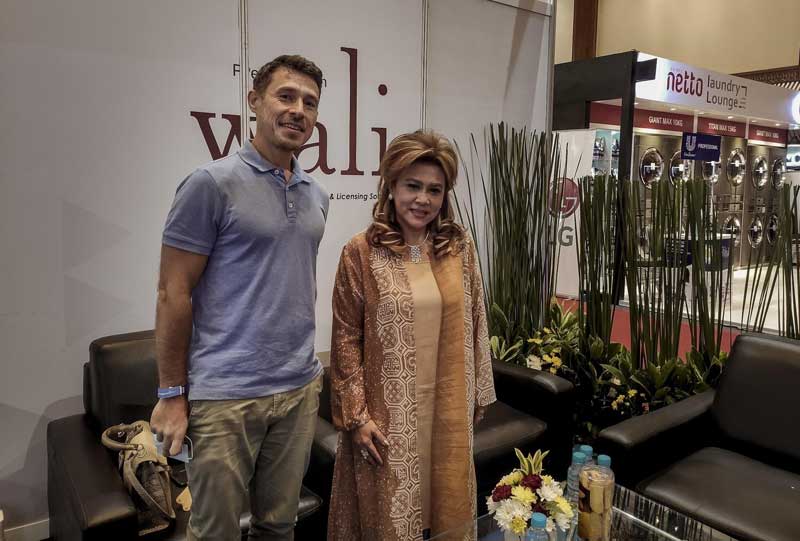 South East Asia is famous for their exotic cuisine and it's not a big surprise that the biggest number of franchises are presented in the Food and Restaurant category. You can find here a variety of food from street kiosks with tofu snacks to sweet bakery shops. And you wouldn't starve here because all brands brought their cooking pans inside the exhibition hall.
MusimBeku Indonesia group that specialises on Korean street food presented their locomotive brand Topoci and they made a crowd around their stand where the chief cooked fresh and juicy beef sotu.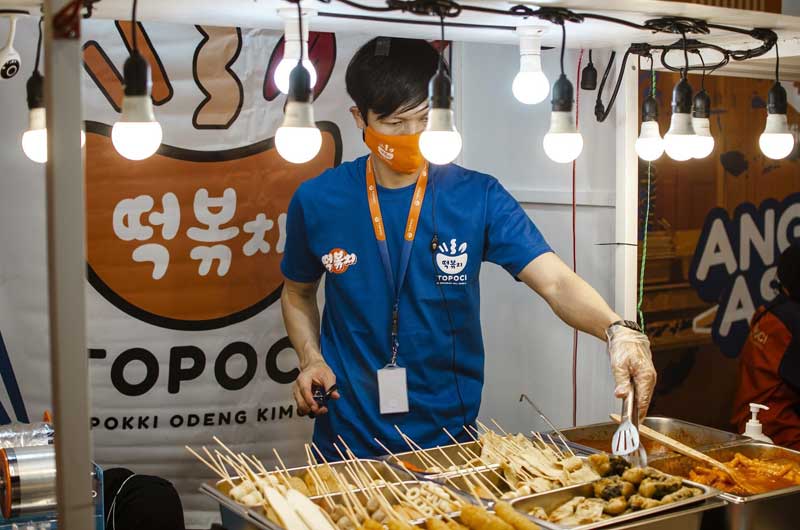 Most delicious cakes and bakery you could find at Amor Cakes stand. The business of cooking fresh bread and sweet pies was established in the town of Bogor - a neighbour of big Jakarta. Now you can find Amor Cakes in every Jakarta district and major town. The network of branches keep extending with franchise stores and definitely will get new partners on FLEI exhibition.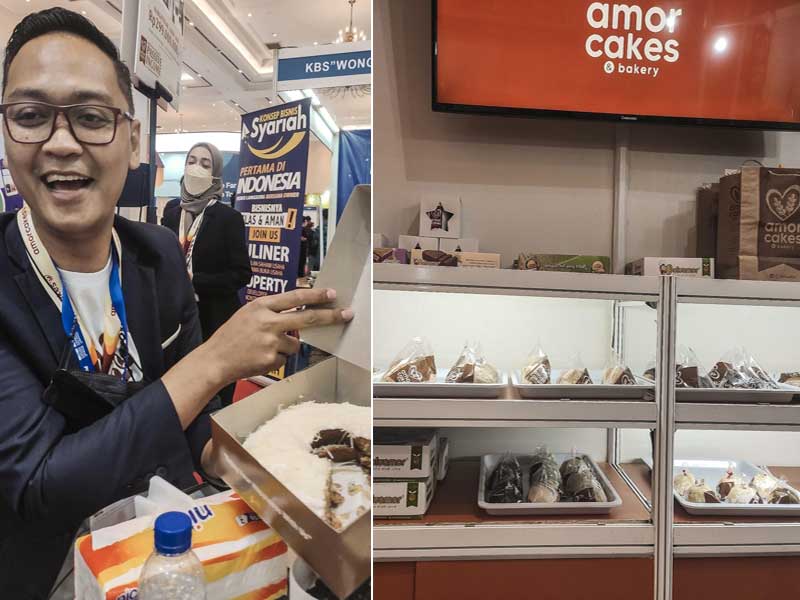 B.R.E. corp presented their brand of fruit and herbal teas Menantea which now consist of 91 stores in Jakarta and 200 stores across Indonesia. There were more stores before the pandemic. But not every business survived and the brand looks forward to a fast recovery this Summer when all quarantine restrictions were lifted. The founder of Menantea - Jerome Polin brought the idea of iced tea from Japan where he used to study in University.
Ngikan is another fast food brand in the BRE portfolio that specialises in fish snacks and hot spicy fish with rice and lemon.
Fried Tofu is quite a popular street food trend in Indonesia. We saw three or four different franchises that offer small kiosks on the wheel to cook and sell hot tofu on the busy streets. Indonesians call this snack 'tahu'. The biggest one is Tahu Go already spread across Indonesia with more than 500 cafes and mobile kiosks.
The interesting concept has been presented by designers of Sour Sally Group - another big fast food holding selling frozen yoghurt and national dishes with rice. The stand is divided into two parts - the biggest one to present samples of food and drinks to visitors and the sales area with walls covered in sheets with all available locations for master franchise. If you wanna start the business in your town or district just leave the contacts in a field against the preferred area. They even listed all major national universities. Sure, students are always hungry, not only for knowledge.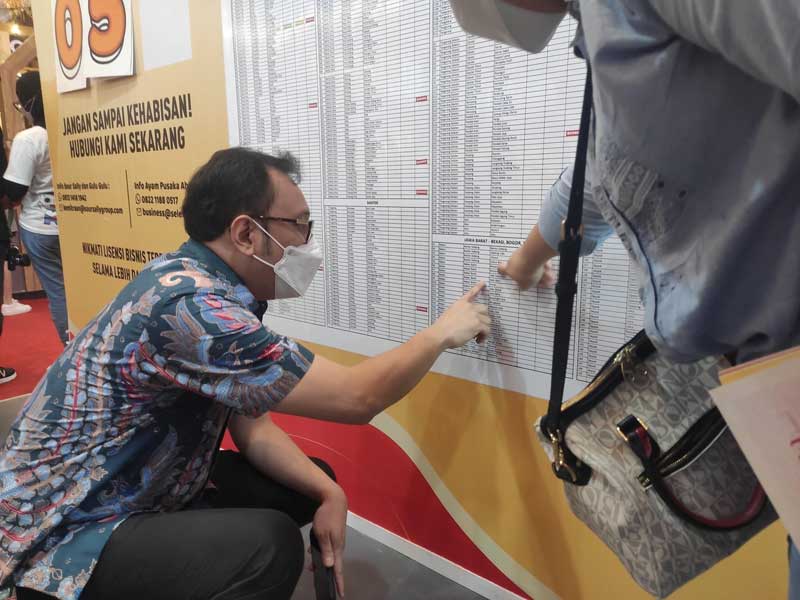 Roti Kopi is a franchise business with only one product. Seems like simplicity is a key factor to accelerate a growth of business. Roti Kopi cooks and sells donuts.
But only one type of solid donut without a hole. This month Roti Kopi started their invasion of the Middle East with the opening of their first store in Mall of Emirates, Dubai. I guess we don't have to say that all food suppliers in Indonesia are Halal certified and it makes these brands welcomed in the Middle East region.
Apart from pizza, snacks, burgers there were few coffee franchises. And here you can find a good supplier because Indonesia is famous for their coffee beans and plantations.
Beside the food and drinks business we saw three brands of self-service laundry on exhibition. And one IT company IZILOH that is developing software for laundry stores.
We spent almost half an hour at IXO stand. IXO created a barbershop business version 2.0 in Indonesia. As a new entrepreneur you can choose a format of your barbershop from an ordinary IXObox for 2-3 seats to advanced IXObox pro format. In every package are included: IXO management software, Apple/Android apps, academy courses for staff and vacuum cleaning system that replace an ordinary bathroom. That means you can open your barbershop even in the corner without water supply. We couldn't resist staying aside and had used IXO service. Hair stylist made a new haircut for our manager Alex.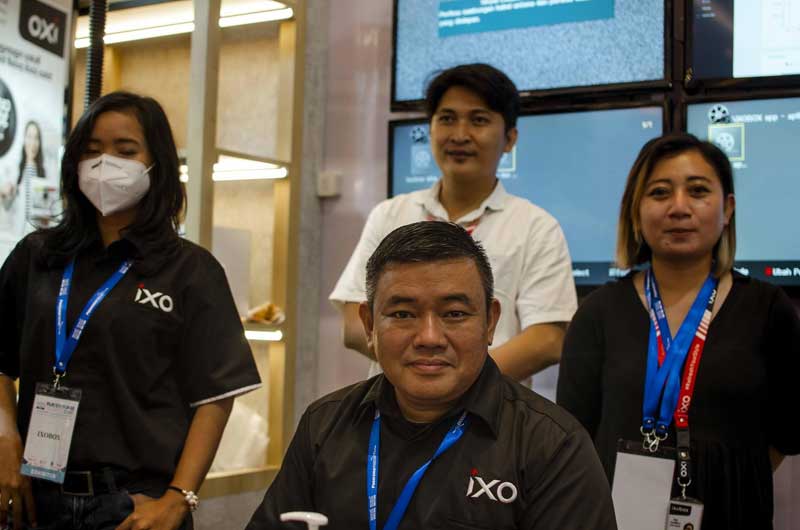 Sure you can find service providers for small and middle business on the exhibition like that. IT company Webly offers web-development of ecommerce websites. Webly can create a landing page or build a full-service online store. The main advantage of Webly service is an integration with all major suppliers: delivery service GoJek or Grab, payment and online acquiring, customer review module and outsourced call centres. You can start selling online next week after the launching offline store.
Education and child learning niche was presented by only one major player on the Indonesia market - Mitra Indonesia Cerdas Group. There are 10 educational brands in the portfolio for different ages and for various language and art classes. From drawing school for kindergarten kids to Chinese language courses.
What looks like a missing on this exhibition? Unfortunately, no one fitness or health brand except the only one dental clinic. We understood that locals like to eat and enjoy delicious food. So what about your body? Only one beauty salon. Hey guys, it seems like we found a niche for a new franchise in a quite competitive market. Nail and lashes services will be welcomed here.
Usually, such events attract new brands and recently founded businesses as a start point to build a network of branches. But we see that after the pandemic even established brands are looking for recovery. On the 2nd day of exhibition the number of visitors doubled and we were the witnesses of growing communication between brands and new entrepreneurs. We keep our eyes on the Indonesian franchise market. The new Asian Lion is rising and ready to conquer other continents.
Topfranchise team has a deep expertise in adaptation of your business to new markets. If you are planning an expansion to Indonesia we are ready to provide consulting and marketing support to your brand. Our qualified manager will localise your business plans to the target market, publish it on Topfranchise global catalogue and will launch a 360-degree marketing campaign.
---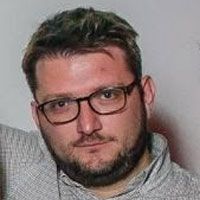 DIDN'T FIND WHAT YOU WANT?
ASK THE EXPERTS