Popular 10 Coffee Franchises in Indonesia in 2023
Update: 20.11.2021

The demand for quality coffee becomes higher and higher. Thus, Coffee franchises are always profitable and worth to be invested in. 2022 is seen as a successful one for the industry. We are pleased to see that the latest list of the most popular Coffee franchises in Indonesia includes the same proven brands as a couple of years ago.
If you'd like to set up a business which requires low investments but brings a substantial profit, consider a coffee franchise in Indonesia. Coffee is one of the most favourite drinks. Besides, coffee business has many various concepts and formats. In addition, Indonesia is seen as one of the leading coffee producers in the world. An lastly, Indonesian government is very supportive of the development of franchise businesses. Which means very positive outlook for the entrepreneurs who are willing to operate the franchise company in the country. Feeling interested in opening a coffee franchise in Indonesia? If yes, consider our list of the most popular franchise businesses in the country.
Here are the popular 10 coffee franchises in Indonesia
OLD TOWN WHITE COFFEE
Founded in: 2005
Franchising since: 2005
Franchise units: 50 - 100
Initial investment: From 1800 - 2200 million IDR
Old Town White Coffee is one of the five proud Malaysian franchises that have gone international. This business has begun to be familiar to Indonesian consumers. Entering Indonesia is not only looking for investors, but also as an operator. And OldTown is not an old player even though it has become Malaysia's proud brand. This brand continues to grow and successfully expands to various countries such as Singapore, China and Indonesia.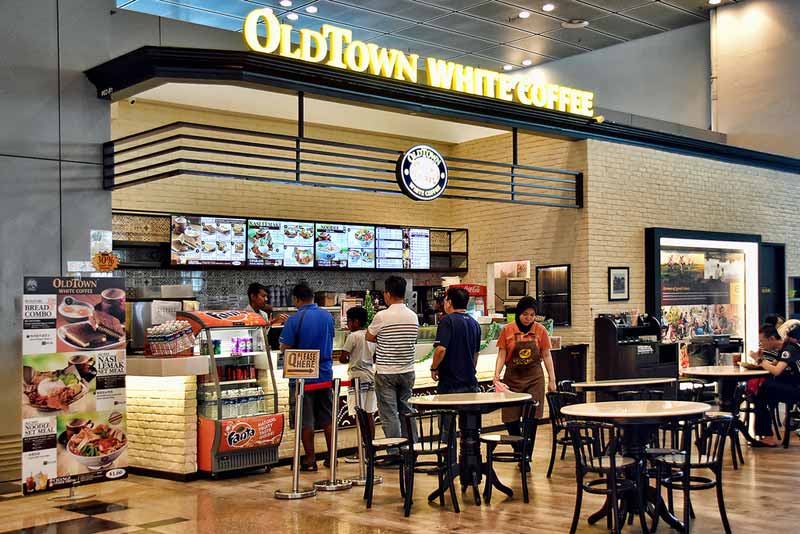 ---
Eccesso
Founded in: 2014
Franchising since: 2014
Franchise units: 10 - 20
Initial investment: 14 - 257 million IDR
Royalty Fees: 6%
Eccesso is an Italian-style coffee franchise. The franchise's head office is located in Semarang, Central Java. Eccesso offers standard Italian barista equipment as well as a very typical secret recipe for Italian coffee flavor.
---
Ayo Kopi
Founded in: 2016
Franchising since: 2018
Franchise units: 10 - 20
Initial investment: From 185 million IDR
Royalty Fees: 6%
Ayo Kopi (Come on Coffee) offers a variety of processed coffee, such as espresso, machiato espresso, affogato, cappuccino, coffee latte, and ice cream coffee milk. In addition, there is also a menu of pull tea, lemon tea, lychee tea, green tea latte, and so on. With this capital partners will get a partnership partnership forever, coffee machine packages, coffee shop equipment, initial raw materials, and barista training head.
---
Coffee Shop WAKE CUP
Founded in: 2013
Franchising since: 2015
Franchise units: 10 - 20
Initial investment: 430 - 660 million IDR
Royalty Fees: 5%
Wake Cup Coffee offers a variety of coffee menu variants such as Black Coffee, Cappuccino, Caramel Machiatto, Mochachino, Single Espresso, Expresso Machiatto, Caramel Latte, Green Tea Latte, to Black Forest Latte. Kama, founder of Coffee Shop Wake Cup, is optimistic that the franchisee will be able to achieve a return on investment (ROI) within 2 years.
---
Rolling Coffee
Founded in: 2011
Franchising since: 2011
Franchise units: 10 - 30
Initial investment: From 15 million IDR
Royalty Fees: 30%
Rolling coffee comes from original coffee beans. In order to keep the coffee taste good, Founder Bugi stated, Rolling Coffee recipe is a blend of one of the famous coffee cafe baristas in Jakarta. Association of young businessmen in Jakarta is being aggressively offering business partnership opportunities flagged coffee shop Coffee Rolling.
---
COFFEE TOFFEE
Founded in: 2005
Franchising since: 2006
Franchise units: 10 - 20
Initial investment: 72 - 200 million IDR
At first Coffee Toffee was only a small coffee kiosk that was intended for a gathering place of its own, friends and close associates. Over time, from frequent meetings and from mouth to mouth, it turns out that the market's acceptance of the products and concepts offered is quite good. Armed with this, in 2006 Odi added two Coffee Toffee outlets in Surabaya. In its development, Coffee Toffee penetrated the concept of franchising and successfully developed its outlets to various cities in Indonesia.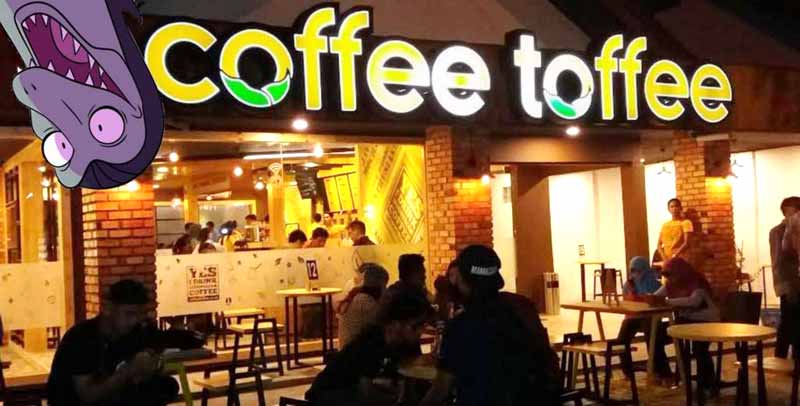 ---
EXCELSO
Founded in: 1991
Franchising since: 2008
Franchise units: 15
Initial investment: From 357 million IDR
EXCELSO is an original coffee shop from Indonesia and a part of Kapal Api Group, the largest coffee producer in Indonesia. At present Excelso has become one of the coffee shops that has taken into account the development of its business in Indonesia. This can be seen from around 80 outlets spread throughout Indonesia that are owned by this original Indonesian brand.
---
Maxx Coffee
Founded in: 2017
Franchising since: 2017
Franchise units: 10 - 20
Initial investment: 70 - 215 million IDR
Royalty Fees: 0%
Maxx Coffe is a local brand which sells more local coffee than imports, with a composition of 80% local coffee and 20% imports. Imported coffee is only used for a mixture of capuccino and espresso. In addition to expansion in the country, Maxx Coffee also opens opportunities for expansion abroad because there are already offers.
Maxx Coffee is one local café franchise in Indonesia, under Lippo Group Co. flagship, who introduced café similar to Starbuck café but with local taste and Indonesia specialty coffee drink. As result, it revolves as a unique café with Starbuck atmosphere while serve local coffee beans, such as, Aceh gayo, Java, Bali Kintamani and Flores Manggarai. Recently, the café open new branch at Batu Town Square (Batos) in Batu, Malang, East Java, Indonesia.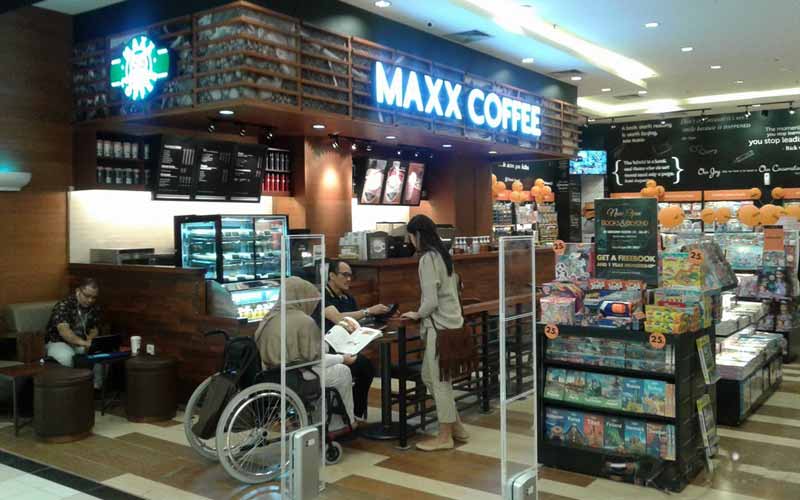 ---
Caffè della Terra
Founded in: 1921
Franchising since: 2011
Franchise units: 20
Initial investment: From 5720 million IDR
The Caffè della Terra chain offers a warm and elegant atmosphere, with rich, natural elements. Our coffee is made to standards taught at our internal "Accademia del Caffè". Caffè della Terra is looking for dynamic people to invest in its 100 years of passion for authentic Italian coffees by becoming franchise partners and running their own state of the art stores.
---
COFFEE-BIKE
Founded in: 2010
Franchising since: 2011
Franchise units: More than 220
Initial investment: From 1000 million IDR
Royalty Fees: 6%
Coffee-Bike is one of the fastest growing franchise systems in Europe with more than 220 Coffee-Bike franchise partners worldwide which create high-quality, organically-certified speciality coffee in 18 countries. Unique mobile selling point is a promising feature for successful international business partnerships.
---
Conclusion
To summarize, we can say any of the listed above coffee franchises is worth buying. But there is a lot to consider while choosing the best one for you. Pay attention to the reputation of the brand, what training and support are offered, check if the other franchisees are successful. But the main thing you need to do is to align your budget with investment requirements of the brand. In order to ease the challenge, we have made the comparison flowchart of the best coffee franchises in Indonesia for you. It shows the minimum estimated initial investment of each brand. By using it, you can figure out the difference in financial requirements for each franchise, and decide which one fits you the most.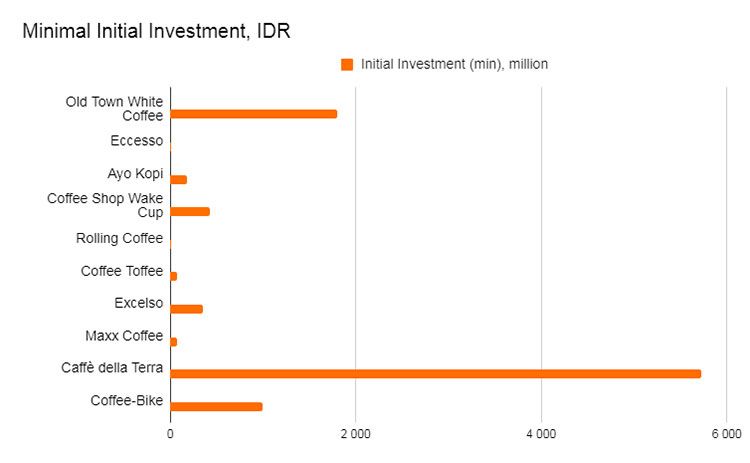 View all Coffee Franchises
Browse franchises by countries

USA

India

Canada

The UK

Indonesia

The Philippines

Australia

The UAE

Saudi Arabia

South Africa

Germany

Pakistan

Singapore

Malaysia
Other countries
Want to advertise your franchise with us and successfully boost your business?
Please send us your request and we will get back to you shortly!
DIDN'T FIND WHAT YOU WANT?
ASK THE EXPERTS