Popular 10 Burger Franchises in USA for 2023
Update: 04.12.2021
Burger franchise market in the USA has been very competitive. The leading brands remain far away from the rest in terms of popularity. Useless to say that the most popular Burger franchise businesses in 2022 are still the same brands as the past few years. You may only see some slight change in the ranking among the leaders.
Americans adore burgers which made the burger-related business a multimillion dollar industry. Burger segment involves both huge franchise brands leading on the market and small businesses which fill in the missing gaps. Burger franchises are represented by an abundant choice of concepts. There are restaurant chains that specialize in organic hamburgers menus, soft serve ice cream, traditional American fast casual services, etc. To ensure long-term success for your burger business, choose a proven franchise concept out of the list below.
Here are the popular 10 burger franchises in the USA
Dairy Queen
Founded in: 1940
Franchising since: 1944
Franchise units: 7,085
Initial investment: from $1,200,000
Franchise Fee: $45,000
Royalty Fees: 4%
Dairy Queen (DQ) is a chain of soft serve ice cream and fast-food restaurants which menu includes Grillburgers, Cheesburgers, Chicken Sandwiches, Ice Creams and other delicious desserts. Dairy Queen is looking for qualified individuals or groups to help company continue their story and help DQ delight their fans with the refreshing atmosphere, delectable food, and chocolate-dipped happiness.
---
Elevation Burger
Founded in: 2005
Franchising since: 2008
Franchise units: 40
Initial investment: from $459,000
Franchise Fee: $50,000
Royalty Fees: 6%
Elevation Burger is a fast casual restaurant chain that specializes in organic hamburgers menu of which offers hamburgers made with organic beef, french fries cooked in olive oil, shakes and malts. Restaurants use energy efficient equipment and recycled and recyclable materials and are typically LEED certified. Elevation Burger is the first and largest organic burger chain in the world and is growing rapidly in prime markets across the United States and in select global markets.
---
Freddy's
Founded in: 2002
Franchising since: 2004
Franchise units: 338
Initial investment: from $761,000
Franchise Fee: $30,000
Royalty Fees: 4.5%
Freddy's Frozen Custard & Steakburgers is more than traditional American hamburger restaurant. They are known for their tasty steakburgers and custards. It's menu also includes Vienna Beef hot dogs and chicken sandwiches. Anyone has a chance to enter the world of franchising with their simple but delicious menu and proven systems of execution.
---
Mooyah Burger
Founded in: 2007
Franchising since: 2007
Franchise units: 88
Initial investment: from $552,000
Franchise Fee: $40,000
Royalty Fees: 6%
Mooyah is a new franchise concept from founders Rich Hicks & Todd Istre. Mooyah franchises are fast casual restaurants serving hamburgers, turkey burgers, veggie burgers, french fries and shakes. They are known for their beef hamburgers which use Angus Beef® Brand beef and their french-fries which take 24 hours to cook. Company is looking to welcome in potential new MOOYAH Franchise Owners to help share brand with new communities across the country.
---
BurgerFi
Founded in: 2011
Franchising since: 2011
Franchise units: 104
Initial investment: from $630,000
Franchise Fee:$45,000
Royalty Fees: 5.5%
BurgerFi is a fast-casual hamburger restaurant chain which uses only 100% natural Angus beef patties with no steroids, antibiotics, growth hormones, chemicals or additives. BurgerFi is among the nation's fastest-growing better burger concepts with profitable franchise model. But the ideal partner should meet some criteria to gain consideration for a BurgerFi Franchise.
---
Cheeburger Cheeburger
Founded in: 1986
Franchising since: 1986
Franchise units: 44
Initial investment: $175,000
Franchise Fee: $24,000
Royalty Fees: 5%
Cheeburger Cheeburger is a 1950s-style burger restaurant chain which specializes in cheeseburgers, french fries, onion rings, and milkshakes. The restaurant's motto is "big is better" and it features giant burgers made of 100% all natural Angus beef. Cheeburger Cheeburger does not consider itself "fast food", as the meals – which are prepared to order – take longer to serve than typical fast food restaurants. The franchise owner must be willing of follow a system developed over 26 years that helps them become a success and maximize their profitability. The franchisor and its franchisees work together as a cohesive unit and the prospect needs to be a team player.
---
Smashburger
Founded in: 2007
Franchising since: 2008
Franchise units: 114
Initial investment: from $546,000
Franchise Fee: $40,000
Royalty Fees: 5 - 6%
Smashburger is an American fast-casual hamburger restaurant chain which uses market research to determine where to open new restaurants, and the restaurant has favored opening new locations next to many major college campuses and casinos in the United States, it has also opened locations in high-traffic airports as well. Smashburger offers customers cooked burgers and a variety of bun and topping choices, chicken and veggie burgers, hot dogs, salads, sides and shakes. Franchisor is seeking new franchise units throughout the U.S. and worldwide.
---
Wayback Burgers
Founded in: 1991
Franchising since: 2006
Franchise units: 146
Initial investment: from $209,000
Franchise Fee: $35,000
Royalty Fees: 5%
Wayback Burgers, previously known as Jake's Wayback Burgers, is an American fast casual restaurant chain which serves typical hamburger restaurant foods such as hamburgers, hot dogs, chicken sandwiches, milkshakes and salads along with a variety of regional selections. Wayback Burgers continues its international master expansion into 35 countries.
---
Fatburger
Founded in: 1952
Franchising since: 1990
Franchise units: 183
Initial investment: from $459,000
Franchise Fee: $50,000
Royalty Fees: 6%
Fatburger is a fast casual restaurant chain created by Lovie Yancey in 1952 with unique culture and idea. The Fatburger menu is centered primarily on hamburgers, in which it offers patties of varying size, small to large, and in varying number patties, along with add-ons such as cheese, bacon and eggs. Classic oldies music playing in the background helps to establish an authentic diner atmosphere.
---
Burger King
Founded in: 1954
Franchising since: 1967
Franchise units: more than 18,600
Initial investment: $333,100 - $3,398,600
Franchise Fee: $15,000
Royalty Fees: 4.5%
Burger King (BK) is an American global chain of hamburger fast food restaurants which menu consists from a basic offering of burgers, French fries, sodas, and milkshakes to a larger and more diverse set of products. Burger King currently has three different forms of franchise agreement, corresponding to three different types of franchise ownership: Individual (or Owner/Operator); Entity; and Corporate. Burger King offers meetings, evaluations, a grand opening event, and a toll-free phone number to call for problems to its franchise owners.
---
Conclusion
To summarize, we can say any of the listed above burger franchises is worth buying. But there is a lot to consider while choosing the best one for you. Pay attention to the reputation of the brand, what training and support are offered, check if the other franchisees are successful. But the main thing you need to do is to align your budget with investment requirements of the brand. In order to ease the challenge, we have made the comparison flowchart of the best burger franchises in the USA for you. It shows the minimum estimated initial investment and initial franchise fee of each brand. By using it, you can figure out the difference in financial requirements for each franchise, and decide which one fits you the most.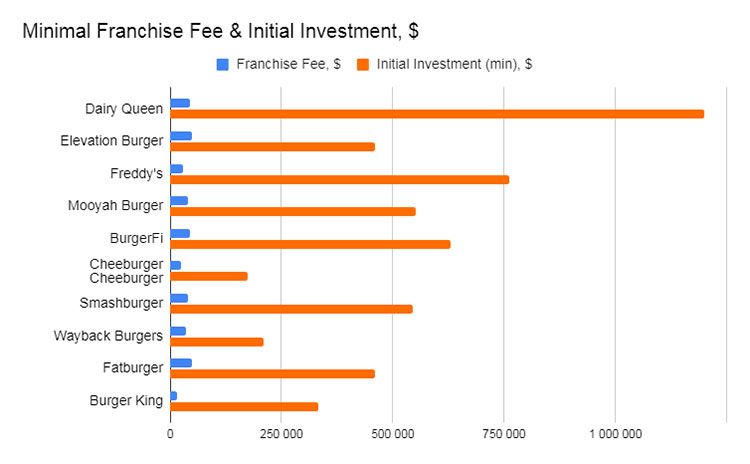 View all Burger Franchises
Want to advertise your franchise with us and successfully boost your business?
Please send us your request and we will get back to you shortly!
DIDN'T FIND WHAT YOU WANT?
ASK THE EXPERTS