Most Popular 5 Appliance Rental Franchise Opportunities in USA for 2022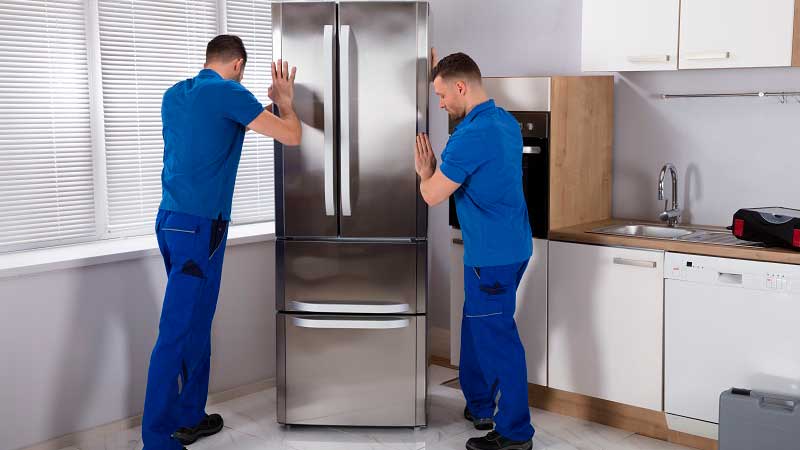 The appliance rental franchise segment is really diverse and offers a lot of low cost concepts as well as more expensive ones that can bring a hefty profit very quickly. A list of appliance rental franchise businesses includes electronic rental shops, car rental centers, online rental businesses and a number of other concepts. The choice is really wide and depends only on your preferences and requirements. But if you want to make sure that your business will have a good reputation on the US market, pick one of the most popular appliance rental franchises for sale listed here. It consists only of businesses that are worth your attention. The franchisors are willing to take new members in their franchise family and promise to train you, assist you at opening and support whenever you need it. They will also provide you with extensive guidelines on how to promote your brand and get more loyal customers. Take advantage of a very demanded appliance rental business now!
Here is the best 5 Appliance Rental franchise businesses in USA
Buddy's Home Furnishings
Founded in: 1961
Franchising since: 2009
Franchise units: 307
Initial investment: $399,570 - $926,870
Franchise Fee: $40,000
Royalty Fees: 6%
In 1961, Buddy's founder Norman Slatton decided to use his experience in sales at Sears, Roebuck and Co. to pioneer the rent-to-own business with a single aim: to make appliances in a retail setting more affordable. Since then, Buddy's has adopted the franchising model and grown its footprint to approximately 300 stores throughout the U.S. and Guam. The brand also expanded its product line to include furniture, electronics and home accessories while offering a new program that allows consumers to attain ownership of these goods through affordable payments without the constraints of traditional credit or financing. When you invest in a Buddy's franchise, you're also leveraging the power of our team with more than 80 years of combined industry experience.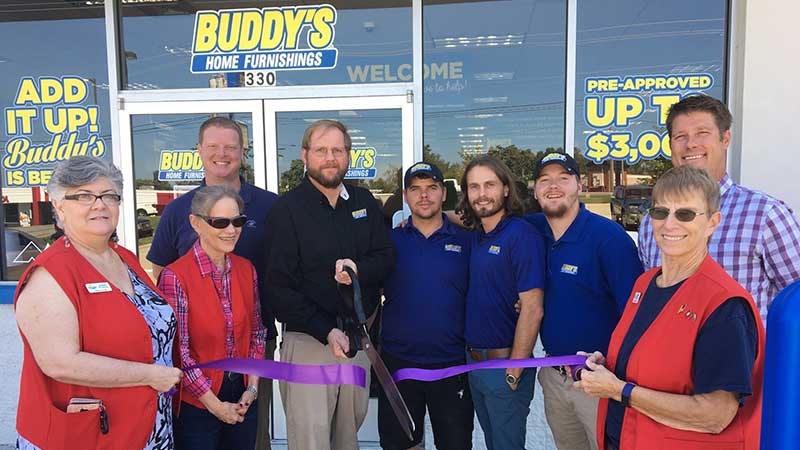 ---
Rent-A-Center
Founded in: 1980
Franchising since: 2013
Franchise units: 2,362
Initial investment: $355,150 - $559,775
Franchise Fee: $35,000
Royalty Fees: 5,5%
Rent-A-Center is a rent-to-own industry leader with a mission to improve the quality of life for our customers. 85% of Rent-A-Center stores are corporate-owned and approximately 15% franchise owned. With approximately 2,400 corporate and franchised across the U.S., Puerto Rico and Mexico our experience in the industry is 2nd to none. From 2018 – 2020 Rent-A-Center engaged in an ambitious re-franchising program creating numerous successful 20 to 100 store multi-unit franchisees across the country. We also have many franchisees with 1 to 15 stores that we equally value. Our franchisees benefit from our brand and model that perform quite well across many types of economic cycles including 2020 and the foreseeable future.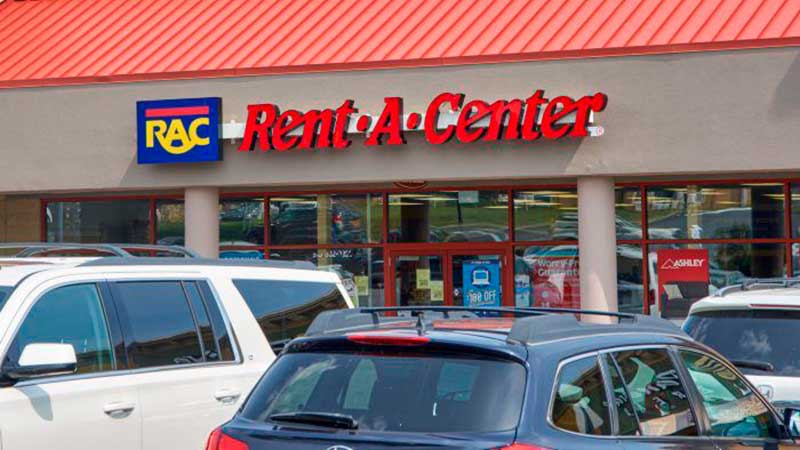 ---
Aaron's
Founded in: 1955
Franchising since: 1992
Franchise units: 1,943
Initial investment: $283,270 - $852,820
Franchise Fee: $15,000 - $50,000
Royalty Fees: 6%
Headquartered in Atlanta, Aaron's is a leader in the lease ownership of name brand furniture, consumer electronics and home appliances through its 1,300+ Company-operated and franchised stores in 47 states and Canada. Aaron's was founded in 1955 and has been publicly traded since 1982. Charlie Loudermilk, Aaron's founder, developed a unique lease-to-own model with a vision to fill a void for the underserved customer by providing them the best deal on the highest quality products. Aaron's services are available through multiple channels to approximately 40-50 percent of the U.S. population who make less than $50,000 annual household income.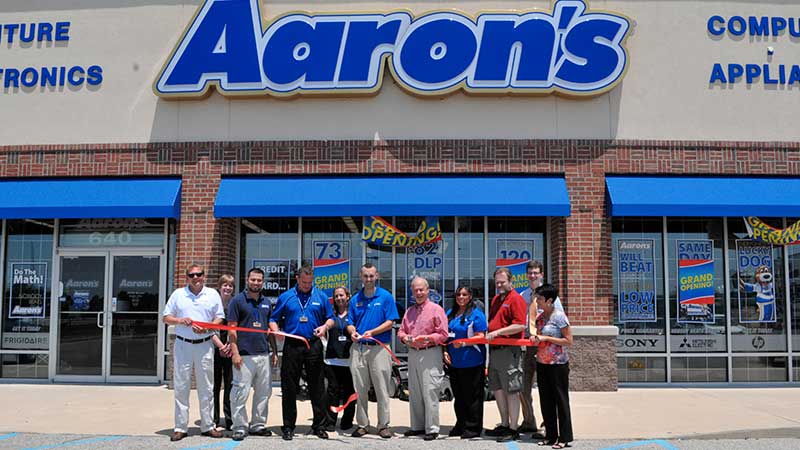 ---
The Premier Companies
Founded in: 1994
Franchising since: 2005
Franchise units: 55
Initial investment: $500,000 - $1,000,000
Franchise Fee: $15,000 - $25,000
Royalty Fees: 3%
Premier Rental-Purchase was founded in 1994 to provide consumers with the opportunity to purchase new, high-quality, name-brand merchandise without the use of credit. Premier Rental-Purchase has perfected the Rent-to-Own (RTO) franchise model. Our proven strategy has made it possible for entrepreneurial-minded people to open their own RTO business, operate their stores, and realize their dreams as thriving entrepreneurs. Perhaps our greatest strength is flexibility and a belief in our franchisees. Premier's unique philosophy gives franchise owners the freedom to run their business independently with the security of knowing that our support systems are in place for them at any time.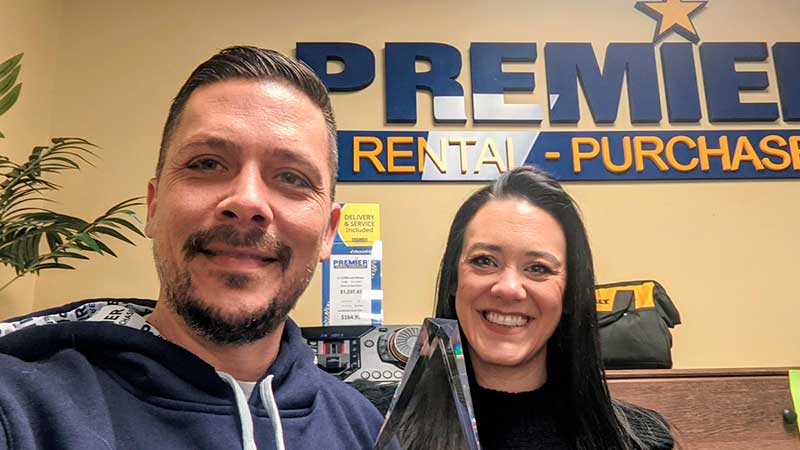 ---
HardHatRentals.com
Founded in: 2013
Franchising since: 2016
Franchise units: 4
Initial investment: $217,200 – $411,000
Franchise Fee: $35,000-$110,000
Royalty Fees: 7%
HardHatRentals.com is a provider of high-quality well maintained construction equipment to the rental market. Most of our customers are small to medium-sized contractors that rent equipment on a regular basis, but we also serve the residential market. We offer our customers the ability to book and pay for their rental online through our proprietary website. This also significantly reduces overhead costs and stream lines the business process for our franchisees.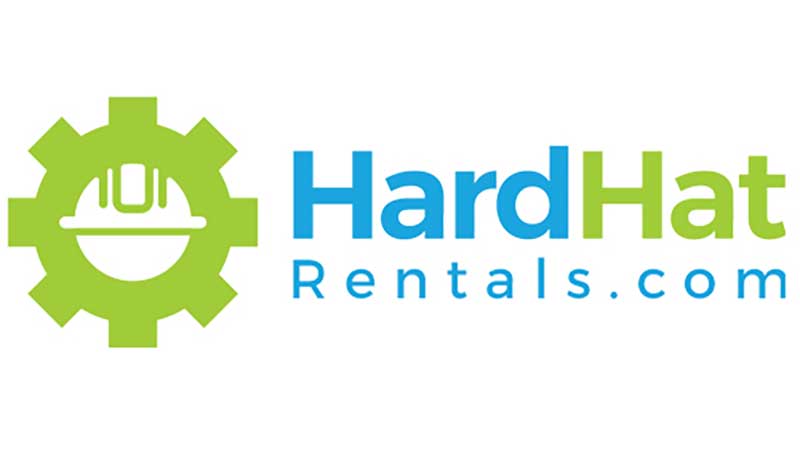 ---
Conclusion
To summarize, we can say any of the listed above appliance rental franchises is worth buying. But there is a lot to consider while choosing the best one for you. Pay attention to the reputation of the brand, what training and support are offered, check if the other franchisees are successful. But the main thing you need to do is to align your budget with investment requirements of the brand. In order to ease the challenge, we have made the comparison flowchart of the best appliance rental franchises in the USA for you. It shows the minimum estimated initial investment and initial franchise fee of each brand. By using it, you can figure out the difference in financial requirements for each franchise, and decide which one fits you the most.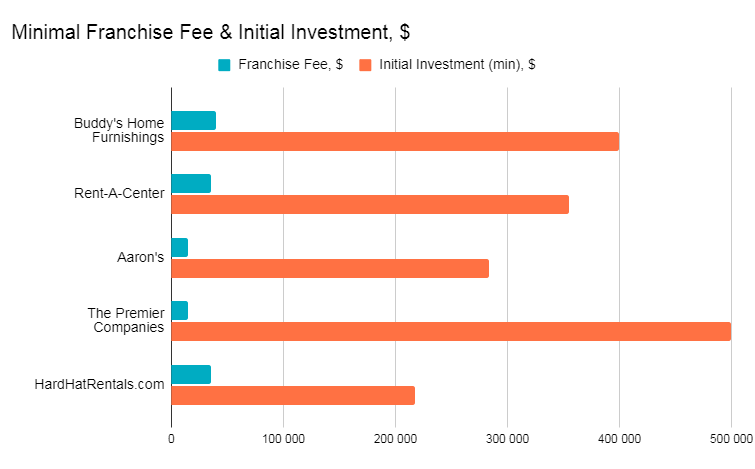 View all Appliance Rental franchises
DIDN'T FIND WHAT YOU WANT?
ASK THE EXPERTS