Popular 10 Auto Dent Repair Franchises in the USA for 2023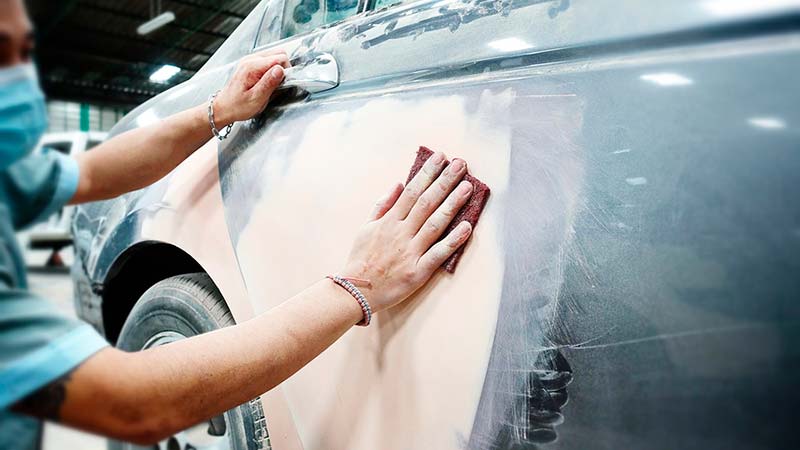 The Сar dent removal service allows car owners to restore a good look of a car without damaging the factory paint. The paintless dent and scratch repair approach helps save money and time. Thus, the service is in high demand in the USA in 2022. The demand creates attractive car dent repair opportunities of franchising for new entrepreneurs willing to start their business in the segment. Speaking about the range of services the segment offers, it is worth mentioning that it´s quite wide. Besides dent repair, the franchises specialize in a lot of other car maintenance services. If you are considering one of the auto dent repair franchises to own, choose the one which aligns with your budget, values, and requirements. However, it is also important to carefully analyze what a franchisor can offer you. How many hours of training, what kind of support, and what marketing assistance would you receive? In order to get the most, choose a concept out of our list below.
Here is the top 10 most successful auto dent repair franchise opportunities in the USA
Colors On Parade
Founded in: 1989
Franchising since: 1991
Franchise units: 224
Initial investment: $16,100 - $84,000
Franchise Fee: $2,500 - $5,000
Royalty Fee: 7 - 30%
Ad Royalty Fee: 1%
Colors on Parade is the recognized global leader in on-site vehicle decoration. Colors on Parade trademark was registered by Robert Lowery in 1988. Lowry has developed a groundbreaking, cutting-edge technology for automotive paint and repair of dents, cracks and scratches on body and bumpers, which allows them to be repaired inconspicuously without the need to paint the entire panel or the entire body of the vehicle. In addition, the company strives to provide the highest quality car repairs with the lowest environmental impact. With over 220 offices and over 30 years of successful track record, Colors On Parade is a great opportunity for every aspiring business owner.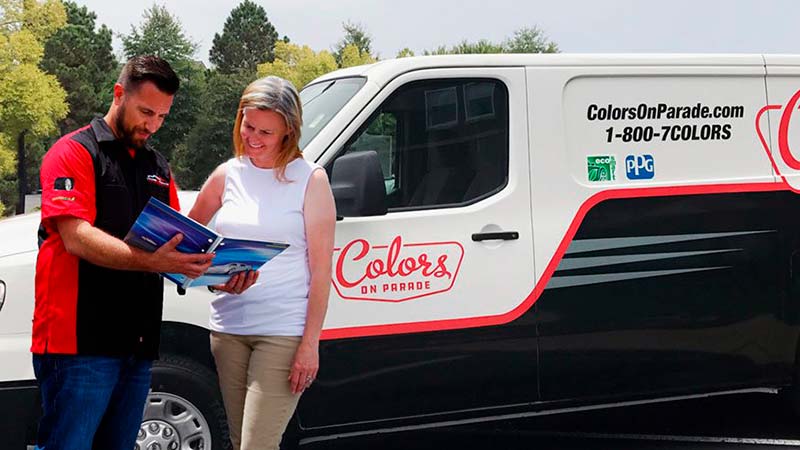 ---
Carstar
Founded in: 1989
Franchising since: 1989
Franchise units: 719
Initial investment: $298,200 - $804,300
Franchise Fee: $20,000
Royalty Fee: 1,5%+
Ad Royalty Fee: 1%
Carstar is one of the largest MSO networks in North America and a leading industry leader in disaster repair. The company provides high-quality car body repair services after various damages. CARSTAR's network of more than 700 independent repair shops in 35 states and 10 provinces in Canada. The company was founded in 1989. In the same year, Carstar became a franchisee. In fact, CARSTAR is a big family. The company's partners have worked diligently for decades on their independent emergency centers, which is why CARSTAR is committed to supporting their business and helping them grow. Today Carstar is the largest car crash repair franchise in North America. Store owners reap a number of tremendous benefits from partnerships.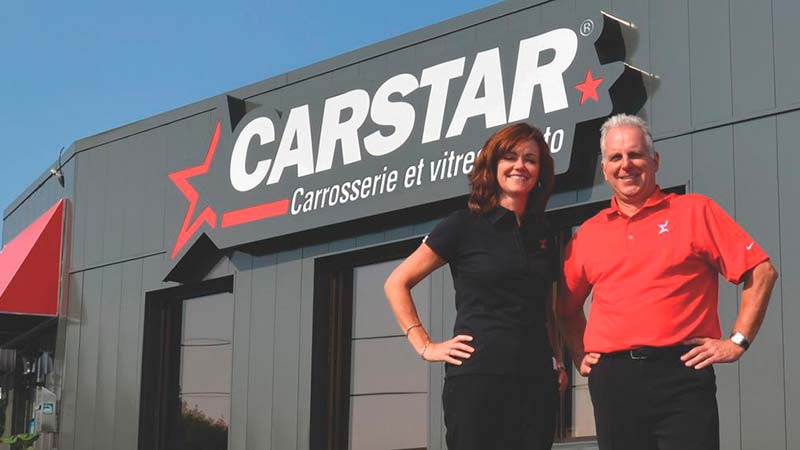 ---
Altracolor Systems
Founded in: 1988
Franchising since: 1991
Franchise units: 107
Initial investment: $37,500 - $53,950
Franchise Fee: $8,000 - $19,950
Royalty Fee: $95/wk.
Altracolor was founded in 1988 and since 1991 has been offering its unique mobile system franchise for car painting and body dent repair. They currently operate in 27 states with over 105 service centers. The Altracolor System offers a user-friendly system, providing everything you need to start a business from scratch with absolutely no experience required. With an intensive training program in the industry, every franchisee will be able to get started and earn income in the first week after completing the training course.
---
Collision on Wheels
Founded in: 1989
Franchising since: 2006
Franchise units: 65
Initial investment: $75,000 – $195,000
Franchise Fee: $50,000
Royalty Fee: 10%
Collision on Wheels was founded in 1989. CW is a unique type of franchise specializing in the niche market of the mobile auto repair industry. Collision on Wheels is a body shop on wheels. The repair shop goes to the customer at the agreed breakdown or parking place. CW specializes in repairing small dents that are removed and professionally painted to keep the car looking new without any signs of damage. Professional employees of the company provide their franchisees with support at every stage, provide full training in sales, management and maintenance. The franchisee does not need to have any experience in the automotive business.
---
BumperDoc
Founded in: 1998
Franchising since: 2008
Franchise units: 19
Initial investment: $151,345 - $290,095
Franchise Fee: $34,995
Royalty Fee: 7%
Founded in 1998 in San Diego, California, BumperDoc is a recognized leader in body repair, providing customers with fast, friendly and quality service. BumperDoc can repair a range of vehicle damage, from minor collision repairs, bumper repairs to body overhauls. The company's specialists can repair a wide range of vehicle damage, from minor scratches and bumps to large dents and cracks in the body. The use of high-quality procedures and tools, combined with the expertise of the technicians, ensures that the customer's vehicle is restored to its pre-accident condition. BumperDoc guarantees high-quality repairs and long-term results. BumperDoc franchisees receive a proven business model, professional training, operational and marketing support, and a range of benefits. Owning a BumperDoc franchise gives each franchisee the opportunity to do business for themselves, but not alone!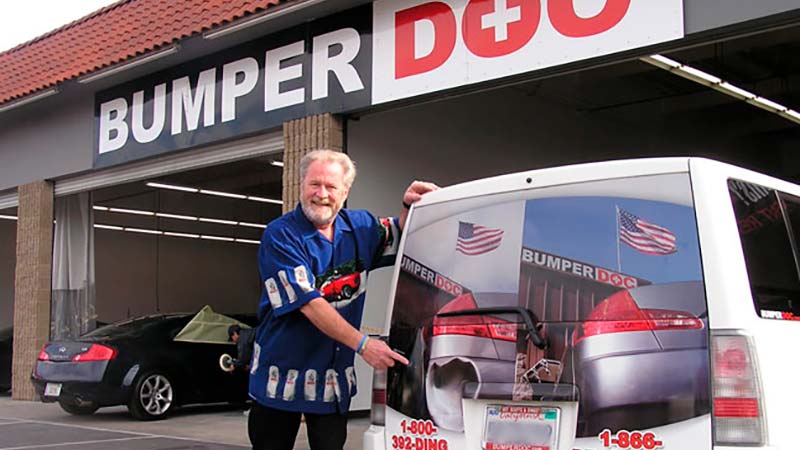 ---
Dent Doctor
Founded in: 1986
Franchising since: 1990
Franchise units: 13
Initial investment: $62,250 - $163,600
Franchise Fee: $13,900 - $23,900
Royalty Fee: 10% off franchise fee
Ad Royalty Fee: 6%
Dent Doctor is the leader in unpainted dent repair. The company was founded in 1986 in Little Rock, Arkansas. The company is co-founded by Tom Harris. Dent Doctor started franchising in 1990. The Dent Doctor franchise is an opportunity to organize your own business with mobile and store services that provide a repair of dents without painting for consumers, garages and car fleets. Dent Doctor has franchises nationwide serving retail and wholesale customers on a mobile basis and in retail repair shops. Garage owners add the Dent Doctor franchise to increase their own profits. Dent Doctor franchises are now available worldwide. Work experience is not required to open a franchise business in a car service or body repair.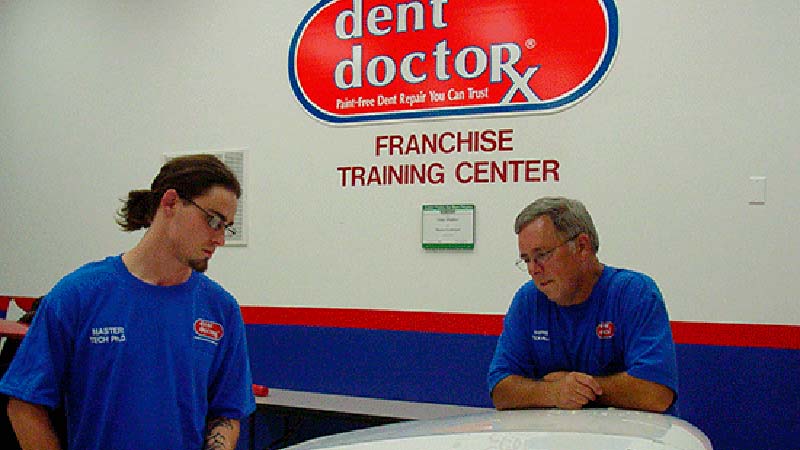 ---
Tint World
Founded in: 1982
Franchising since: 2007
Franchise units: 85
Initial investment: $230,000 - $340,000
Franchise Fee: $39,950 - $49,950
Royalty Fee: 6%
Paintless dent repair allows customers to get rid of dents without paying for expensive repaint jobs. With a Tint World Franchise, you get a complete paintless dent repair business franchise, allowing you to make big profits by providing in-demand paintless dent repair services. With the proven Tint World Franchise System, starting a paintless dent repair business is possible for anyone with the drive to get started. With just one low initial investment, Tint World guides you through the entire licensing process, including location selection and development, product displays, and hiring procedures. Tint World support is second-to-none and includes unmatched buying power, management support, and comprehensive marketing programs, granting you the look of an automotive franchise and the freedom and profits of running your own business.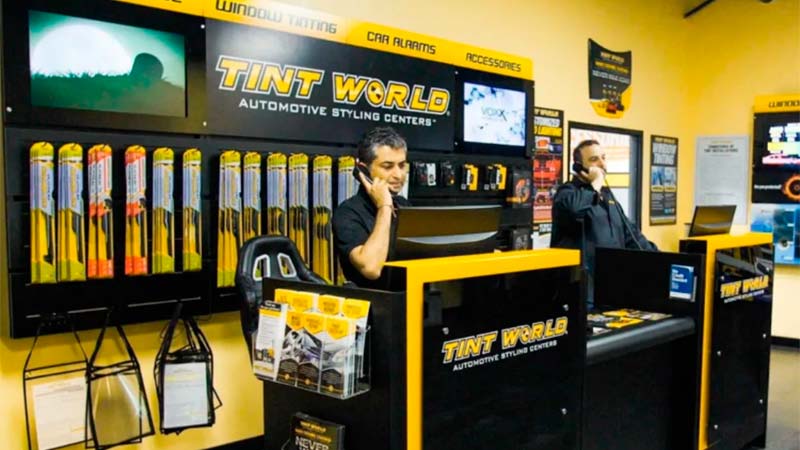 ---
Drive N Style
Founded in: 1985
Franchising since: 1993
Franchise units: 61
Initial investment: $75,000 - $86,000
Franchise Fee: $45,000
Royalty Fee: 7,5%
Ad Royalty Fee: 1%
We bring a full range of vehicle appearance and reconditioning services directly to our customers. Franchise owners benefit from our proven business model with multiple revenue streams and customer types. Drive N Style leverages our national footprint to solicit national and regional accounts on behalf of our franchisees. As part of Driven Brands, North America's largest automotive franchisor, we have unrivaled purchasing power compared to our competition. As a mobile, business-to-business platform, you don't have to worry about real estate or advertising expenses. The result is a high return on a low initial investment.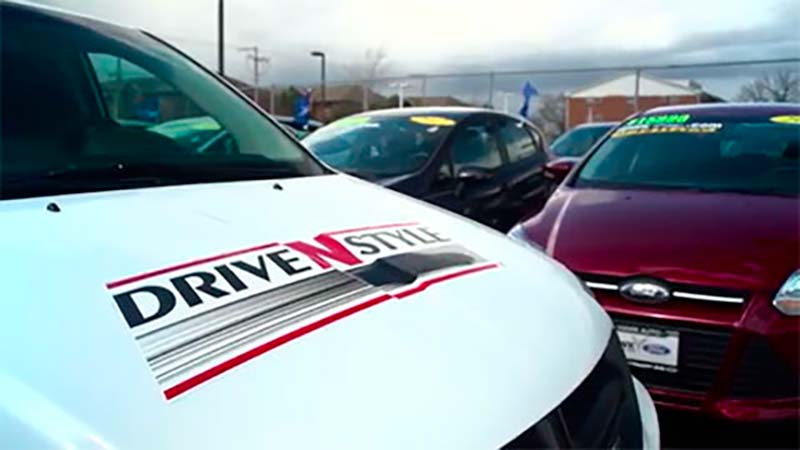 ---
Fix Auto USA
Founded in: 1997
Franchising since: 1998
Franchise units: 162
Initial investment: $168,000 - $3,100,000
Franchise Fee: $10,000
Royalty Fee: 4%
Ad Royalty Fee: 0,75%
Fix Auto USA was founded by collision repair visionaries Erick and Shelly Bickett. Their goal: create a national network of high-performing independent body shops and support it with a unified infrastructure of systems and processes to ensure the best quality and service. Local trusted businesses transformed into a trusted and recognizable national brand. Our mission of delivering a world class collision repair experience across the U.S. is far from over, however. We continue to recruit the best, most established and reputable collision repair businesses and hold them accountable to an unparalleled standard of excellence on behalf of the vehicle owners and insurers we serve.
---
Maaco
Founded in: 1972
Franchising since: 1972
Franchise units: 425
Initial investment: $302,000 - $620,000
Franchise Fee: $40,000
Royalty Fee: 9%
Ad Royalty Fee: $1,000 per week
Maaco is one of ten aftermarket automotive brands owned by Driven Brands, a leader in automotive repair, paint and collision, quick lube, and distribution. Maaco has been running a proven business model for over four decades. Combine this with new technology, a turnkey online portal to help run your business and support from dedicated team members, you have a trusted model to drive success. As a Maaco Franchise Owner bringing a trusted national brand to your local community, you'll be providing valued services and employment to the people of the area, quickly establishing yourself as a respected business leader. You'll be able to use your resources and partner with other business leaders to positively impact the community.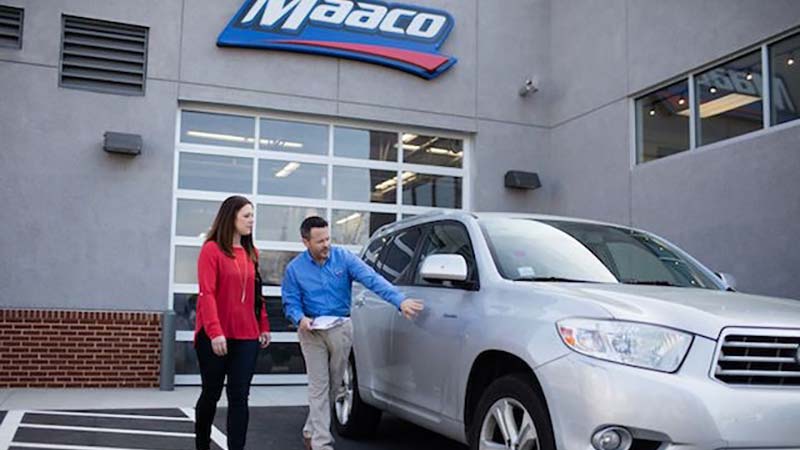 ---
Conclusion
To summarize, we can say any of the listed above auto dent repair franchises is worth buying. But there is a lot to consider while choosing the best one for you. Pay attention to the reputation of the brand, what training and support are offered, check if the other franchisees are successful. But the main thing you need to do is to align your budget with the investment requirements of the brand. In order to ease the challenge, we have made the comparison flowchart of the best car body dent and scratch repair franchises to own in the USA for you. It shows the minimum estimated initial investment and an initial franchise fee for each brand. By using it, you can figure out the difference in financial requirements for each franchise, and decide which one fits you the most.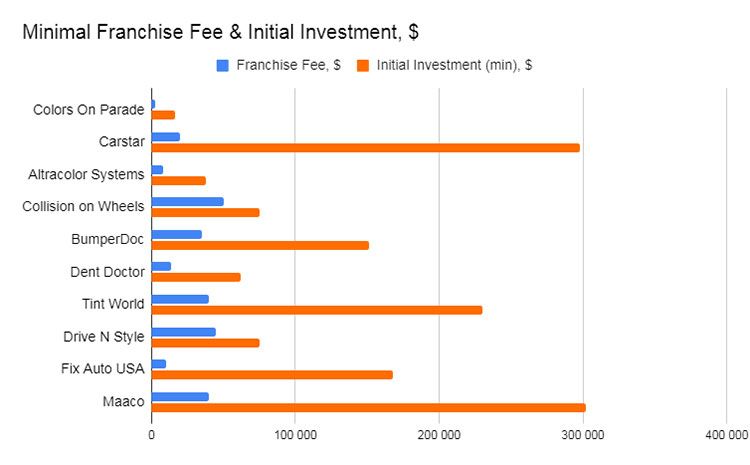 View all Auto Dent Repair franchises
Want to advertise your franchise with us and successfully boost your business?
Please send us your request and we will get back to you shortly!
DIDN'T FIND WHAT YOU WANT?
ASK THE EXPERTS