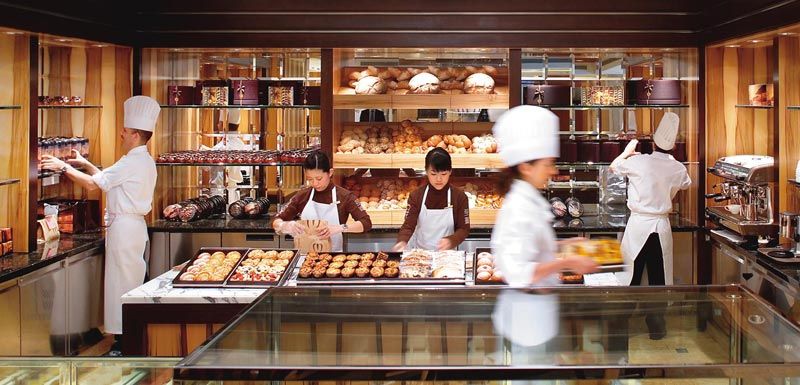 Is there anybody in the world who doesn't like fresh bread, buns, cup cakes, honey cakes or other baked delicacies? Hardly! The love for bread makes the bakery segment constantly growing all over the world. Indians have loved baked food since ancient times. It means that bakery could be a good option for an entrepreneur willing to start their own business in India. There are international franchise brands operating in the segment which offer non-traditional for Indians business ideas. Donut franchise is one of the concepts which made a boom among Indians and could be a good business to run. Have a look at our listing of Popular 10 Bakery Franchises in India to choose from.
Here are the Popular 10 Bakery Franchises in India
Frontier Biscuits
Founded in: 1921
Franchising since: 1995
Franchise units: 50
Initial investment: $7,000 - $15,000
Frontier Biscuit Factory was established in 1921 in West Pakistan by Late Mr. Mangal Sain. A small west Pakistan shop became a chain of bakeries in North India in the post-independence years. Their handmade, eggless bakes remain popular to date. Frontier Biscuits - a very renowned name in Bakery sector wants franchise for expansion!
---
Millie's Cookies
Founded in: 1985
Franchising since: 2018
Franchise units: 50 - 100
Initial investment: $43,000 - $72,000
Royalty Fees: 6%
Millie's Cookies is an international chain of small format retail bakeries based out of the UK. It specialises in gourmet cookies, muffins, milk shakes and hot drinks. The brand has raving fans worldwide including self confessed cookie lovers, carefree teenagers & adults. Retail bakery Millie's Cookies has launched its franchise model and is looking for someone to enter into a franchise agreement to expand the brand.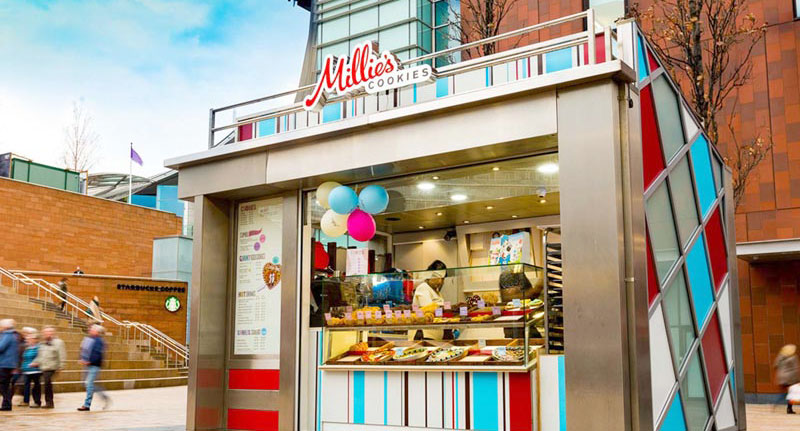 ---
CK's Bakery
Founded in: 2015
Franchising since: 2017
Franchise units: 50
Initial investment: $7,000 - $15,000
Royalty Fees: The company does not charge any royalty. Bakery products must be purchased from us.
In 2015, started by Mr. Manu Ranganathan with a vision of providing 'Fresh, High Quality, Delicious' bakery products at an affordable price in a 'Hygienic Environment' the brand 'CK's Bakery' has been received positively by the people of Chennai and this led to open 60+ Outlets. CK's Bakery chain, which sells sandwiches and paninis along with cakes, is expanding pan India through the franchise model.
---
7th Heaven
Founded in: 2011
Franchising since: 2015
Franchise units: 100 - 200
Initial investment: $15,000 - $30,000
Royalty Fees: 15%
7th Heaven is India's Ultimate Cake & Dessert chain with products like 3D Cakes, Cakes, Cupcakes, French Macarons, Donuts, Tarts and much more! 7th Heaven is the only Cake Shop Franchise with LIVE KITCHEN - Fresh Cakes made in 7 Minutes. Kitchen Fragrances India LLP operates 7th Heaven Franchise.
---
Mr. Puff
Founded in: 1950
Franchising since: 2002
Franchise units: 30
Initial investment: $29,000 - $44,000
Royalty Fees: 25-30%
Mitesh Food Products Pvt. Ltd. (Shree Gandhi Bakery) is one of the largest bakery chains of Vadodara selling its products under the brand name of "Mr. Puff". If you are looking for a significant franchise opportunity with a low cost of entry and a high profitability potential, you may be a great candidate to be a Mr.puff franchisee owner.
---
Great American Cookies
Founded in: 1977
Franchising since: 1978
Franchise units: More Than 360 Worldwide
Initial investment: $2,900 - $7,300
Royalty Fees: 6%
Founded in: 1977 on the strength of an old family chocolate chip cookie recipe, Great American Cookies@ has set the standard for gourmet cookie sales in a fun, celebratory environment. From one family chocolate cookie recipe, it added a complete line of cookies and brownies and began franchising in 1978. In addition to regular cookies, most stores feature large plate- or pan-sized cookies with personalized messages for parties or special occasions.
---
WS Bakers
Founded in: 2014
Franchising since: 2014
Franchise units: 50 - 100
Initial investment: $3,000 - $7,300
Royalty Fees: 25%
WS Bakers (Way to HappinesS) is a renowned chain of pastry & confectionery shops based out of Pune, who provide specially baked, pure vegetarian cakes, pastries and desserts that are available for shopping and delivery throughout the city. All of products are pure vegetarian. Here's your chance to be your own boss, own a WS Bakers franchise.
---
99 PANCAKES
Founded in: 2017
Franchising since: 2017
Franchise units: 10 - 20
Initial investment: $30,000 - $45,000
Royalty Fees: 7%
"99 Pancakes" is first and India's fastest growing business of mouth watering pancakes, thick shakes, desserts etc. and is set to expand all over India through its franchise business also.
---
CookieMan
Founded in: 1958
Franchising since: 2000
Franchise units: 50+
Initial investment: $7,000 - $15,000
Cookie Man is easily recognized by its distinctive, bright decor and the unique traveling oven, which bakes fresh, mouth-watering cookies synonymous with the Cookie Man trademark. Cookie Man intends to bring fresh baked Australian cookies to all the major metros of India on a franchise basis. Cookie Man is committed to becoming the largest fresh baked cookie chain in India.
---
Dum Dum Donutterie
Founded in: 1997
Franchising since: 2000
Franchise units: 20 - 50
Investment Range: $160,000 - $320,000
Dum Dum Doughnuts are the world's first artisan baked doughnut / croissant doughnut brand. Made with only natural ingredients and yet uncompromising on irresistible deliciousness, Dum Dum offer beautifully baked (not fried) and handmade doughnuts to a growing legion of our loyal of fans across the UK. Now company is approached on a regular basis to franchise across Asia and the rest of the world.
View all bakery franchises