The Top 10 Tutoring Franchise Businesses in USA for 2023
Update: 04.12.2021
Tutoring franchises have changed their approaches by adding online services. It leads to the opportunity to attract students from other countries and have more revenue. The top 10 Tutoring franchises in Canada for 2022 have quickly adapted to changes and remain on the list of the best as 2 years ago.
Tutoring franchise business in the USA is expected to be even more profitable by 2022. The tendency is due to the ever growing desire of American parents to give their kids the best education. Besides, technologies and methodologies are constantly evolving which brings the demand for consistent education even for adults. Moreover, online tutoring becomes more available and affordable. Tutoring franchises operate in absolutely various segments including educatement, supplementary education, test preparation, teaching Maths, English learning programs, etc. View 10 tutoring franchises listed below which have proved successful.
Here are the top 10 best tutoring franchise businesses in the USA
GradePower Learning
Founded in: 1984
Franchising since: 1991
Franchise units: 153
Initial investment: from $98,000
Franchise Fee: $40,000
Royalty Fees: 10%
GradePower Learning® has a unique approach to learning through a methodology not found at any other tutoring franchise in North America. Join our team today to earn personal success, to help students get better grades, and be a reliable support network for parents. With our extensive and comprehensive training, no previous experience in teaching or operating a franchise business is necessary. You will receive your complete set of Operating Manuals and video materials covering all aspects of the business. As a GradePower Learning® franchisee, you'll receive ongoing marketing support including: weekly emails, monthly webinars, and bi-annual franchise owner conventions, and more.
---
The Tutoring Center
Founded in: 1994
Franchising since: 2005
Franchise units:89
Initial investment: from $106,000
Franchise Fee: $30,000
Royalty Fees: $1,100 per month
With the growth of supplemental education in the United States today, The Tutoring Center® is a great choice for a new career. If your dream is to enjoy a fun and rewarding work environment while enriching the lives of children, consider The Tutoring Center® franchise today. Our Franchise Orientation is designed to give you all the information you need to find your location. We will assist you every step of the way, including with site selection, lease negotiation, and layout and design. Our comprehensive Franchise Training Program teaches you everything you need to know to operate one of our centers.
---
Club Z! In-Home Tutoring Services
Founded in: 1995
Franchising since: 1998
Franchise units: 370
Initial investment: from $33,800
Franchise Fee: $19,750 - $34,750
Royalty Fees: 6 - 8%
Club Z! Tutoring is a leading tutoring franchise with over 400 locations across the United States. Club Z! Tutoring Franchise owners receive their initial training from Top Franchises within our franchise network. As a franchisee, you will get access to industry leading software that will give you the confidence to manage and grow your business as a large as you desire. We also know that you need an exceptional local staff to stand out and thrive in your community. That's why Club Z! assists its franchise owners with initial and ongoing tutor recruitment. Become your own boss, and join our multi-billion-dollar tutoring industry.
---
Tutor Doctor
Founded in: 2000
Franchising since: 2003
Franchise units: 727
Initial investment: from $84,000
Franchise Fee: $44,700 - $59,700
Royalty Fees: 8%
Private tutoring franchises are one of the fastest-growing industries worldwide, and Tutor Doctor was rated the number one in-home tutoring franchise worldwide by Entrepreneur magazine. Tutor Doctor's proven in-home tutoring business model has created over 500 units in 16 countries! We offer support to our education franchisees every step of the way, because we understand that we only succeed when you do. One the very best things about the Tutor Doctor education franchise opportunity is that it is a low initial investment franchise.
---
Sylvan Learning
Founded in: 1979
Franchising since: 1980
Franchise units: 560
Initial investment: from $70,000
Franchise Fee: $24,000 - $30,000
Royalty Fees: 16%
Sylvan helps young students realize their full potential and achieve their dreams. With more than 750 points of presence across the globe, 5,000 school relationships, and over 40 years of great results for students, Sylvan Learning has perfected its consumer model, its growth plans, and business opportunity. Along with the highest level of franchisee support and advancements in technology, Sylvan has created a best-in-class franchise opportunity. Franchisees are offered a flat royalty rate with all costs built in so operations run smoothly with no surprise expenses.
---
JEI Learning Centers
Founded in: 1977
Franchising since: 1992
Franchise units: 217
Initial investment: from $70,000
Franchise Fee: $22,500
Royalty Fees: $23 - $33 per subject per month
JEI has guided millions of students toward their fullest potential since 1977. It offers one of the most effective supplementary educational programs in the world. JEI provides comprehensive professional training, support, and guidance for the franchise owners. JEI is committed to increasing consumer awareness through creative and proven marketing campaigns utilizing various mediums. Our administrative and franchising departments will offer you full support in your daily operations.
---
Huntington Learning Centers
Founded in: 1977
Franchising since: 1985
Franchise units: 271
Initial investment: from $147,000
Franchise Fee: $36,000
Royalty Fees: 9.5%
Huntington Learning Center is a well-established education franchise that provides valuable tutoring and test preparation services to K-12 students. When you operate under the Huntington Learning Center brand name, you'll enjoy the benefits of our strong reputation. Even if you have no experience as an entrepreneur or educator, your career experience doesn't disqualify you from owning a Huntington Learning Center tutoring franchise. We've developed a step-by-step path to ownership that includes comprehensive training and support from start to finish.
---
Eye Level Learning Centers
Founded in: 1976
Franchising since: 1976
Franchise units: 745
Initial investment: from $52,000
Franchise Fee: $5,000
Royalty Fees: $32 - $36 per subject per month
Eye Level offers excellent business opportunities in more than 22 countries to those who have passion and ambition in education! Eye Level is the global leader in math and language education. In an increasingly competitive world, academic achievement is at the forefront of parents' priorities for their children and the Global private tutoring market is expected to surpass US$102.8 Billion in 2018. As a premier supplemental education and enrichment program, Eye Level offers a competitive franchise opportunity for its partners with its effective program, backed up by the headquarters' strong business related support.
---
Mathnasium Learning Centers
Founded in: 2002
Franchising since: 2003
Franchise units: 1,075
Initial investment: from $113,000
Franchise Fee: $49,000
Royalty Fees: From 10%
Mathnasium Learning Centers specialize in teaching children in communities across America and in countries around the world, providing neighborhood environments where humanity combines with math expertise. No other franchise combines extraordinary financial opportunity with the power to change lives like Mathnasium. At Mathnasium, we've worked hard to create a successful tutoring franchise system. We understand the process of operating a business may seem intimidating, and that's why we are here to provide you with the necessary training and support throughout the entire process. You are not alone.
---
Kumon
Founded in: 1954
Franchising since: 1958
Franchise units: 26,321
Initial investment: from $64,000
Franchise Fee: $2,000
Royalty Fees: $34 - $38 per student per month
Kumon tutoring & education franchise is the world's largest after-school math and reading program for kids K–12. Created over 60 years ago and proven with over 4 million students, the Kumon Method helps you guide your students to success. Our training and support begins on day one, and never ends. Kumon has helped thousands of franchisees start and grow their businesses. Plus, our Franchise Fee is just $1,000, one of the lowest in the industry. We're ready to do the same for you. Take the first step in making a profound and lasting impact on the lives of children in your community.
---
Conclusion
To summarize, we can say any of the listed above tutoring franchises is worth buying. But there is a lot to consider while choosing the best one for you. Pay attention to the reputation of the brand, what training and support are offered, check if the other franchisees are successful. But the main thing you need to do is to align your budget with investment requirements of the brand. In order to ease the challenge, we have made the comparison flowchart of the best tutoring franchises in the USA for you. It shows the minimum estimated initial investment and initial franchise fee of each brand. By using it, you can figure out the difference in financial requirements for each franchise, and decide which one fits you the most.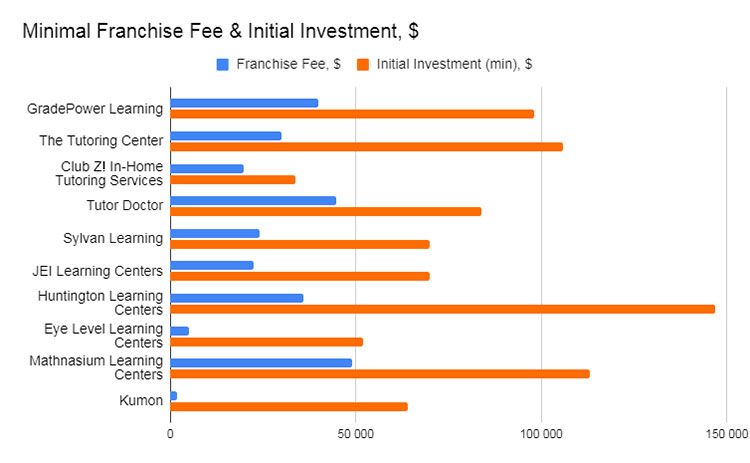 View all Tutoring Franchises
Want to advertise your franchise with us and successfully boost your business?
Please send us your request and we will get back to you shortly!
DIDN'T FIND WHAT YOU WANT?
ASK THE EXPERTS