TOP 10 Hot Dog Franchise Opportunities in USA for 2022
Update: 25.12.2021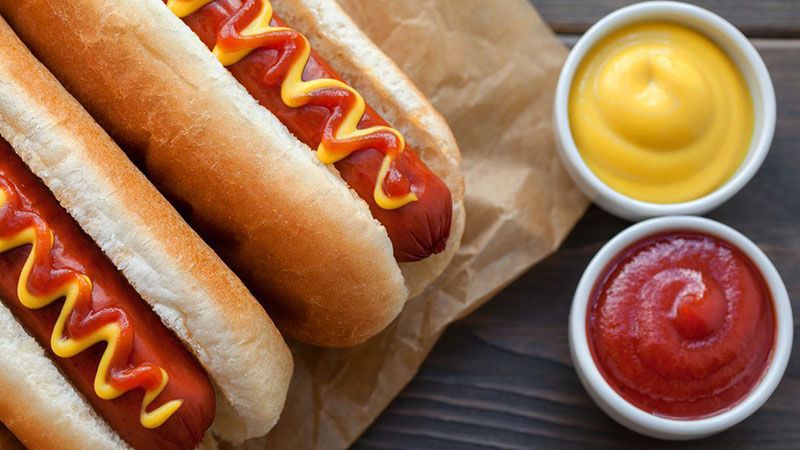 Hot dog franchises remain among the most popular businesses in the USA. Although the market is quite saturated with famous brands, the demand for quality services continues to grow in 2022. We see the reliability and stability of the Top 10 hot dog franchises listed here. As they have been leading on the market for several years.
No doubt that Hot Dog is one of the most popular fast foods in the USA. Americans eat billions of them each year. Hot dogs vary drastically in toppings, rolls, and sausages depending on what part of the country you buy it. The best hot dog franchises in the USA have developed their unique recipes and menus of signature hot dogs. This way they became the most famous brands which offer this delicious fast food worldwide. Now they are looking for new opportunities for international expansion, and ready to share their unique recipes and valuable experience in doing business with new partners. Scroll down the list of top 10 hot dog opportunities of franchising of 2022, and pick up the best concept for you.
Here are the top 10 hot dog franchises in the USA
Sonic Drive-In
Founded in: 1953
Franchising since: 1959
Franchise units: 3,223
Initial investment: $1,200,000 - $3,500,000
Franchise Fee: $45,000
Royalty Fees: 2-5%
SONIC Drive-In is an iconic brand with over 65 years of rich heritage. The company offers new dishes on a regular basis to keep visitors interested. Guests of the establishment can enjoy a variety of dishes from the menu to quench their thirst from morning till night, whether they want chili-cheese mastiff, cherry limada, or traditional burger.
---
The Original Hot Dog Factory
Founded in: 2010
Franchising since: 2018
Franchise units: 3
Initial investment: $98,000 - $518,000
Franchise Fee: $20,000
Royalty Fees: 5%
Original Hot Dog Factory - Offers a wide selection of mouth-watering hot dogs that will make you ask for more. All hot dogs are served steamed, grilled, or fried with a filling inspired by world traditions. Friendly staff and delicious food are what sets Original Hot Dog Factory apart from the rest. The menu includes not only hot dogs but also many different drinks and desserts. All this makes the Original Hot Dog Factory one of the most beloved American hot dog restaurants.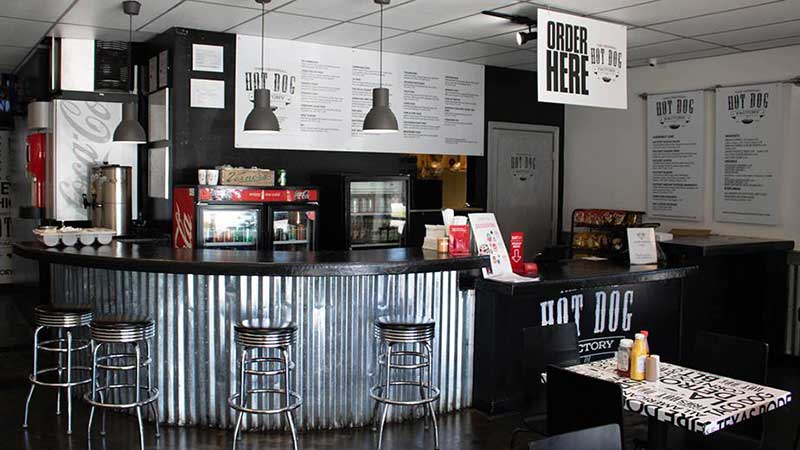 ---
Crave Hot Dogs and BBQ
Founded in: 2018
Franchising since: 2018
Franchise units: 12
Initial investment: $186,000 - $695,000
Franchise Fee: $25,000 - $40,000
Royalty Fees: 7%
Crave has set itself the task of providing a menu where everyone will find something for themselves, and every customer would be satisfied, not hungry! The company's policy is based on the desire to give visitors not only great food but also to make them have fun. Crave is a unique fast food BBQ and hot dog restaurant that offers BBQ sandwiches, platters, and sliders as well as 100% All Beef hot dogs, sausages, and sausages grilled to perfection. We also offer some delicious favorites like BBQ tacos, Mac n 'Brisket sandwiches, large chicken wings, loaded potato tortillas, and more.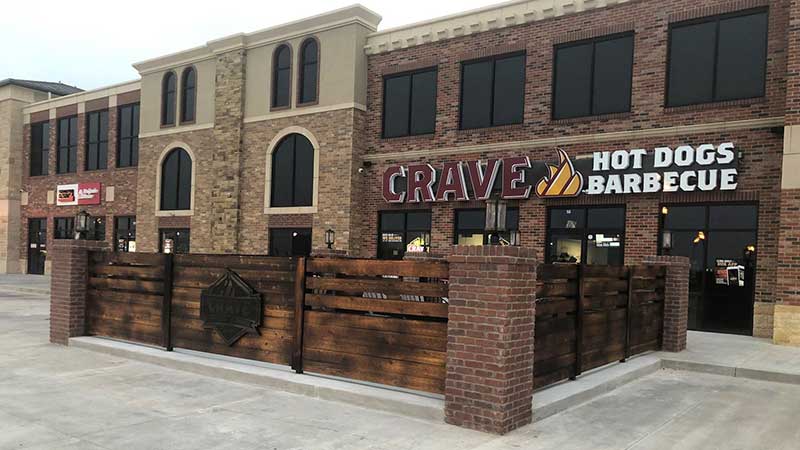 ---
Dat Dog
Founded in: 2011
Franchising since: 2016
Company owned units: 4
Initial investment: $502,000 - $928,000
Franchise Fee: $50,000
Royalty Fees: 6.5%
Founded in 2011, Dat Dog operates a modern, high quality, fast and casual craft beef hot dog workshop, award-winning fries, premium spirits, and samples of local craft beers and handcrafted cocktails. The restaurant has received acclaim from critics such as The New York Times, USA Today, The Wall Street Journal, and others.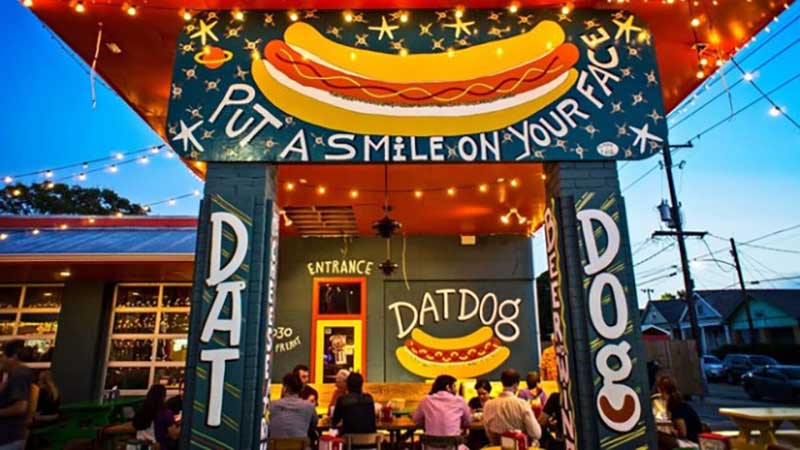 ---
Dave's the Doghouse LLC
Founded in: 2002
Franchising since: 2014
Franchise units: 4
Initial investment: $25,000 - $246,000
Franchise Fee: $25,000
Royalty Fees: 6.5%
In Boston, a man named Howard Johnson started a business on the beach offering hot dogs and 28 different flavors of ice cream (think of the 32 flavors of Baskin Robbins). His hot dogs were grilled. Cut buns from the loaf with a cut in the center of this cut to make a dog's nest. Howard Johnson founded a chain of restaurants and hotels that can still be found throughout the country. Doghouse claims to use the finest hand-made beef hot dogs and make a special dough for their buns and essentially follow the example set by Howard Johnson over 100 years ago.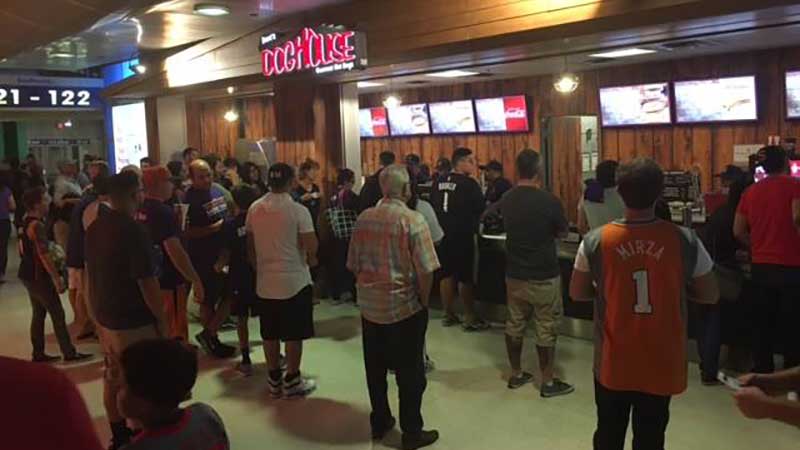 ---
Umai Savory Hot Dogs
Founded in: 1993
Franchising since: 2015
Franchise units: 2
Initial investment: $118,000 - $227,000
Initial Franchise Fee: $20,000
Royalty Fees: 5%
Umai Savory Hot Dogs® offers unique gourmet hot dogs, sausages, and fusion style sliders. The menu offers unlimited combinations and settings for even the most die-hard fans. Umai Savory Hot Dogs® will definitely find something for everyone - and they are all cooked fresh to order. The company's products are gluten-free, naturally smoked, free of MSG, by-products, fillers, and artificial flavors or colors.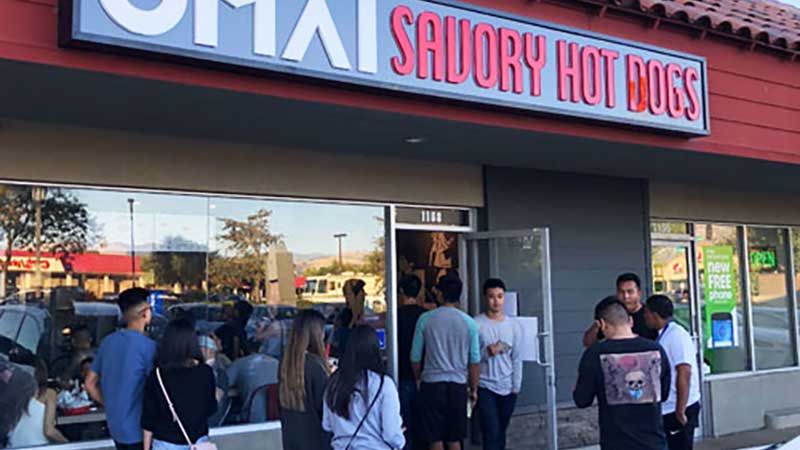 ---
Dog Haus
Founded in: 2010
Franchising since: 2013
Franchise units: 47
Initial investment: $316,000 - $969,000
Franchise Fee: $40,000
Royalty Fees: 6%
Founded by three friends who share a passion for creativity, quality, and commitment to society, the first Dog Haus opened in Pasadena, California in 2010. With its products, consisting of Haus Dogs beef and Haus' patented handmade sausages, it has won critical acclaim and national attention. A special feature of the company is the fact that the entire assortment is made from 100% genetically tested, humanely grown Black Angus beef without hormones and antibiotics from Creekstone Farms, which is served on grilled King's Hawaiian rolls. Visitors can choose from exclusive Haus specialties or make their own with a unique palette of toppings.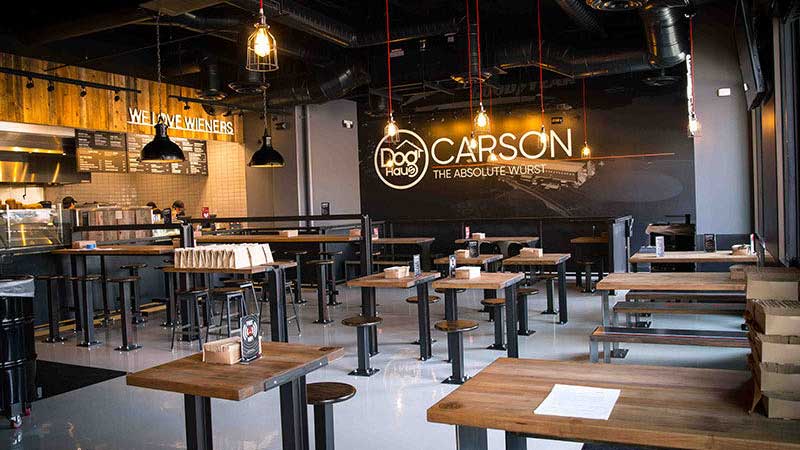 ---
Hot Dog on a Stick
Founded in: 1946
Franchising since: 1997
Franchise units: 21
Initial investment: $349,000 - $582,000
Franchise Fee: $25,000
Royalty Fees: 6%
Hot Dog on a Stick ™ originated in 1946 as an entrepreneurial dream of Dave Barham. It all started with a small beachfront store in Santa Monica, but now there are over 75 hot dog locations in the United States as well as Korea. Hot Dog on a Stick ™ offers its own exclusive lemonade and hot dogs on a stick, fries, cheese on a stick, and even Nathan's famous beef hot dogs! What made it possible to gain such popularity? Delicious hot dogs, fresh lemonade, quirky uniforms, and a fun atmosphere are the recipe for the company's success. Hot Dog on a Stick ™ provides the training and resources franchisees need to start and operate an American Hot Dog franchise.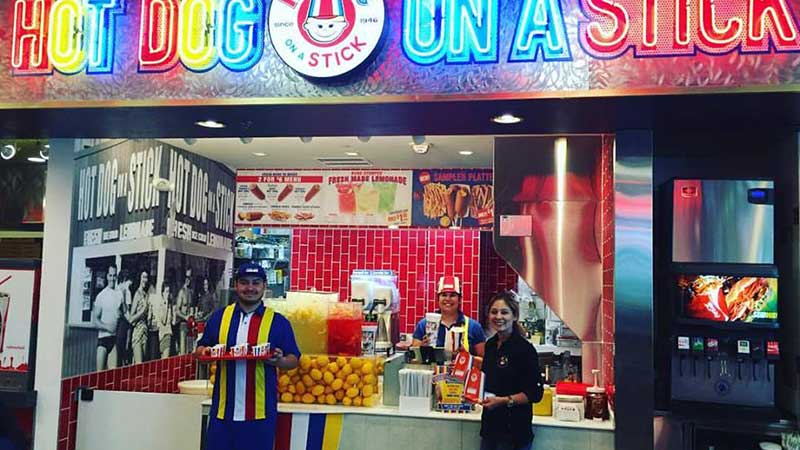 ---
Nathan's Famous
Founded in: 1916
Franchising since: 1988
Franchise units: 190
Initial investment: $326,000 - $1,200,000
Franchise Fee: $30,000
Royalty Fees: 5.5%
Nathan's Famous hot dogs came about in 1916 when Polish immigrant Nathan Handwerker took his wife Ida's hot dog recipe and began selling it on Coney Island. Nathan's Famous Hot Dogs contest, which started the same year, continues every July 4th to this day. The company went public in 1970 and began franchising in 1988. The menu includes burgers, chicken, cheesesteaks, and fries. Today Nathan's is the most famous hot dog in the world, with a chain of restaurants around the world and millions of fans.
---
Wienerschnitzel
Founded in: 1961
Franchising since: 1965
Franchise units: 330
Initial investment: $304,000 - $1,400,000
Franchise Fee: $10,000 - $32,000
Royalty Fees: 5%
Since its founding in 1961, Wienerschnitzel has developed a unique recipe for entrepreneurial success that has made it the most sought after company. Wienerschnitzel offers an extensive menu of signature hot dogs such as Cheese Dog, Green Chile Chili, and Junkyard Dog. Each of their suggestions can be ordered with veal or Polish sausage. The franchisor is constantly looking for new opportunities for international expansion.
---
Conclusion
To summarize, we can say any of the listed above hot dog franchises is worth buying. But there is a lot to consider while choosing the best one for you. Pay attention to the reputation of the brand, what training and support are offered, check if the other franchisees are successful. But the main thing you need to do is to align your budget with investment requirements of the brand. In order to ease the challenge, we have made the comparison flowchart of the best hot dog franchises in the USA for you. It shows the minimum estimated initial investment and initial franchise fee of each brand. By using it, you can figure out the difference in financial requirements for each franchise, and decide which one fits you the most.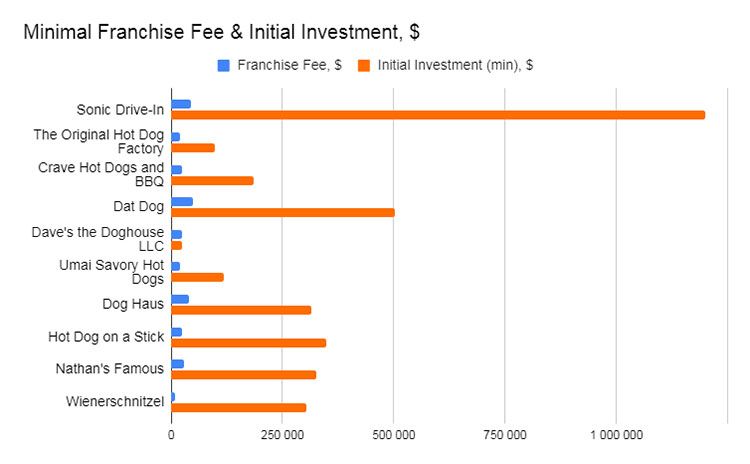 View all Hot Dog Franchises in the USA
Want to advertise your franchise with us and successfully boost your business?
Please send us your request and we will get back to you shortly!
DIDN'T FIND WHAT YOU WANT?
ASK THE EXPERTS