Top 10 Restoration Franchise Business Opportunities in USA for 2022
Update: 04.11.2021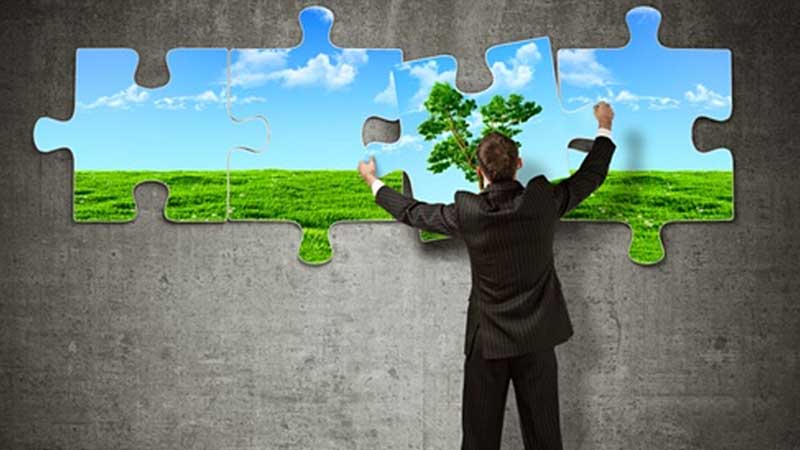 Restoration franchise business is a relatively new segment but very rapidly developing, especially in the USA. Global climate changes have caused a lot of weather disasters for the last decades and the tendency unfortunately continues. In many cases houses, apartments and premises are damaged and require quality restoration services. There are a lot of restoration franchises for sale in the USA. Some of them specialize in property damaging, the others offer water and fire recovering services, yet the others do mold removal, drying, dehumidification. Restore franchise cost and fees also vary depending mostly on the format, size and concept of the business. If you`d like to own a restoration company, choose the franchise which offers a proven business model, a good training program, a good marketing strategy, support of a franchisor, and a reputable brand name. Here is the selection of the best businesses operating in the field in the United States.
Here is the top 10 best restoration franchise businesses in USA
Servpro
Founded in: 1967
Franchising since: 1969
Franchise units: 1841
Initial investment: $167,575 - $221,450
Franchise Fee: $60,000
Royalty Fees: 3% - 10%
Since 1967, Servpro has helped individuals realize their dreams of business ownership. With over 1,700 Franchises nationwide in the U.S. and now dynamically expanding in Canada, the Servpro franchise professionals provide 24/7 Emergency Services. Servpro has created the brand, system and support to help people from diversified educational, vocational and financial backgrounds take control of their own future and live their dreams. The SERVPRO Franchise opportunity allows you to take advantage of our proven track record while being in business for yourself, but not by yourself. This is the opportunity to build a business to fit your personal goals and lifestyle.
---
PuroClean
Founded in: 1990
Franchising since: 1991
Franchise units: 263
Initial investment: $72,732 - $190,582
Franchise Fee: $50,000
Royalty Fees: 3% - 10%
PuroClean is one of the fastest growing franchises in Canada, specializing in property damage emergency services. PuroClean Franchisees provide specialized mitigation services for homes and businesses following water, fire, smoke and mould damage. PuroClean has become a property restoration provider of choice for insurance professionals and property owners, having the highest customer satisfaction ratings in a B2B recession-proof industry. Imagine yourself in a career with unlimited potential for personal, professional and financial growth. PuroClean offers a unique franchise business opportunity to entrepreneurs who possess excellent interpersonal skills and business experience.
---
911 restoration
Founded in: 2003
Franchising since: 2007
Franchise units: 220
Initial investment: $70,100 - $226,900
Franchise Fee: $29,000 - $49,000
Royalty Fees: 3% - 10%
911 Restoration is currently ranked among the leading restoration companies in the country. Starting as a small carpet cleaning business that was taken over by two of its former employees: Idan Spieser and Peleg Lindenberg 1967 Servpro helps people solve problems in removing mold, repairing water damage and services caused by water, in 24 mode / 7.
---
Restoration 1
Founded in: 2008
Franchising since: 2009
Franchise units: 261
Initial investment: $87,000 - $195,000
Franchise Fee: $54,900 - $59,275
Royalty Fees: 7%
Restoration 1 offers a variety of services such as water recovery, fire recovery, general maintenance, mold removal, drying, dehumidification, fire and smoke damage repair, storm recovery services, and general maintenance and cleaning services for home and business owners. The company, based in Waco, Texas, was founded in 2008 and began franchising in 2009. Services are available for both residential and commercial clients, as well as more specialized services for industrial sites such as factories and refineries.
---
Steamatic
Founded in: 1948
Franchising since: 1967
Franchise units: 184
Initial investment: $114,411 - $195,561
Franchise Fee: $50,000
Royalty Fees: 2% - 8%
Steamatic is one of the industry leaders and brings together the best of individual carpet cleaning, duct cleaning, commercial floor cleaning and restoration franchises and brings them together into one business. Steamatic started with a partnership of two progressive Fort Worth, Texas, businessmen and the best Friends Bill Blackmon and Scott Moring. They discovered a furniture and dye shop in 1968 called Blackmon Mooring and quickly added carpet and carpet cleaning services after realizing that businesses like their local bank needed their rugs cleaned. Over the years, they have developed purification formulas, solutions, and a patented hot water recirculation method. In 1974, their Lambrite dry cleaning machine received a US patent, later the LAMBRITE® cleaning process was patented.
---
Duraclean
Founded in: 1930
Franchising since: 1945
Franchise units: 251
Initial investment: $81,600 - $131,900
Franchise Fee: $24,500
Royalty Fees: 2% - 8%
DuraClean is a specialist in fabrics, professional care and cleaning of carpets and upholstery, and cleaning and restoration, service business for professional care and cleaning of carpets and upholstery, tiles and mortar, cleaning channels and repairing water damage, as in residential, and in commercial service centers. Today Duraclean has expanded its services to include drapery cleaning, ceiling cleaning, fire and water damage repair, deodorization, fabric protection and cleaning services.
---
Rainbow International Restoration
Founded in: 1981
Franchising since: 1981
Franchise units: 410
Initial investment: $193,670 - $287,295
Franchise Fee: $40,000
Royalty Fees: 2% - 8%
The Rainbow International Restoration franchise is one of the most well-known and respected names in the restoration and renovation industry, including fire, smoke, mold, water damage and disaster recovery. Franchisees offer a wide range of damage restoration services from around the world. Rainbow Int'l. is a subsidiary of the Dwyer Group. The company was founded in 1981 and has been a franchisee since then, and in recent years the number of outlets has grown from 198 in 2009 to 410 (up from 419 previously reported), of which none are owned by the company and 116 are located outside the United States.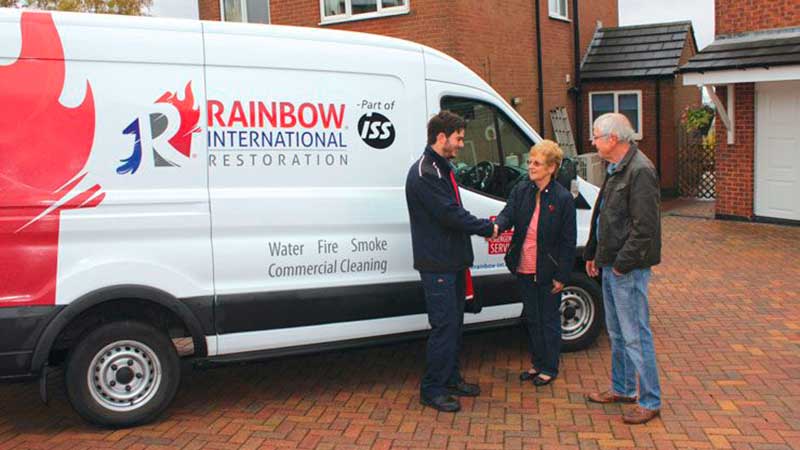 ---
ServiceMaster Clean/ServiceMaster Restore
Founded in: 1947
Franchising since: 1952
Franchise units: 4,926
Initial investment: $76,500 - $274,500
Franchise Fee: $31,500 - $69,500
Royalty Fees: 4% - 10%
ServiceMaster Global Holdings, Inc., is a public company that provides residential and commercial services. The core services of the company include termite and pest control, home warranties, disaster response and restoration, janitorial service, professional home cleaning, furniture repair, and home inspections.
---
Paul Davis Restoration
Founded in: 1966
Franchising since: 1970
Franchise units: 169
Initial investment: $186,390 - $510,700
Franchise Fee: $100,000 - $130,000
Royalty Fees: 4%
Paul Davis is North America's leading insurance restoration network. As a provider of complete property damage emergency services and restoration for 50 years that has restored millions of properties, the Paul Davis franchise network is uniquely qualified to provide the best service to your customer. Paul Davis franchisees must meet and maintain stringent standards in order to participate in insurance clients' national vendor programs and represent the Paul Davis brand. Paul Davis has a company-owned, state-of-the-art training center where new and existing franchisees earn IICRC-approved certifications in property damage related courses.
---
Coit Cleaning & Restoration Services (COIT)
Founded in: 1950
Franchising since: 1966
Franchise units: 40
Initial investment: $39,750 - $164,350
Franchise Fee: $24,000 - $40,000
Royalty Fees: 6%
COIT draws on its 70 years of experience in specialized cleaning and restorations and a strong franchise system that includes a well-recognized brand image, compelling marketing campaigns, a steady stream of income, and an outstanding support system. Fifty years ago, while working in a dry cleaner, Lou Kirn noticed that most cleaners were reluctant to take the risk of cleaning draperies. Realizing that this would be a valuable service, Kirn created special equipment for cleaning fabrics. Starting his business in San Francisco, Kirn named his new company after one of the city's landmarks, Coit Tower. Since founding Coit in 1950, the company has expanded into many areas of residential cleaning, including carpet, upholstery and duct cleaning. The company recently started offering maintenance services for wood and stone floors, tiles and countertops.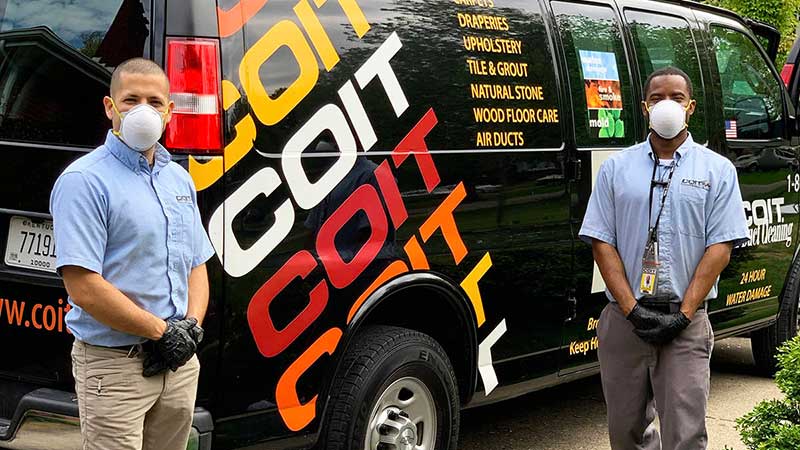 ---
Conclusion
To summarize, we can say any of the listed above restoration franchises is worth buying. But there is a lot to consider while choosing the best one for you. Pay attention to the reputation of the brand, what training and support are offered, check if the other franchisees are successful. But the main thing you need to do is to align your budget with investment requirements of the brand. In order to ease the challenge, we have made the comparison flowchart of the best restoration franchises in the USA for you. It shows the minimum estimated initial investment and initial franchise fee of each brand. By using it, you can figure out the difference in financial requirements for each franchise, and decide which one fits you the most.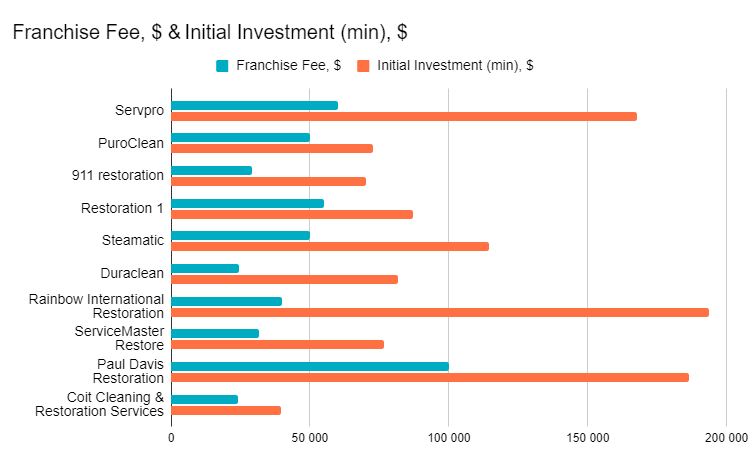 View all franchises
Want to advertise your franchise with us and successfully boost your business?
Please send us your request and we will get back to you shortly!
DIDN'T FIND WHAT YOU WANT?
ASK THE EXPERTS