10 Best Low-Cost Franchises to Start in the USA for 2023
If you are looking for the most affordable franchises to start, then you need to consider not only initial investments, but also royalty fees, advertising, and other recurring costs to make up your mind. It is also important to investigate how reliable a franchisor is, what profit the business may bring, and what way it can be scalable later on. There are a lot of reasons to buy the best low-cost franchises. Firstly, you risk less at the start as you don`t take huge loans. Secondly, such a concept does not require a full-time commitment, so you can go on with your day job. Thirdly, low-cost franchises offer an opportunity to work from home. The best franchises to start with low investment may be found in various industries. There are real estate, advertising, travel agency, photography, fitness, repair, and event organizing businesses. The range of initial investments varies from $5K to $50K. The majority of businesses don't require high rental, labor force, and equipment expenses. Check out our selection of reliable low-cost franchises here.
Here is the top 10 low-cost franchise business opportunities in the US
Rhea Lana's
Founded in: 1997
Franchising since: 2008
Franchise units: 103
Initial investment: $20,550 - $39,950
Franchise Fee: $11,900 - $14,900
Royalty Fees: 1 - 3%
Rhea Lana's is an upscale children's consignment pop-up event. As a Rhea Lana's franchise owner, you will be able to benefit from a flexible lifestyle while earning income for your family. Rhea Lana's can fit into your family, whether you are a full-time working mom or a stay-at-home mom. As a current Rhea Lana's franchise owner, you will have the opportunity to purchase additional territories. There are numerous advantages to owning more than one franchise, which we would love to talk about in more detail with you. This is an affordable franchise opportunity you don't want to miss!
---
NextHome
Founded in: 2014
Franchising since: 2014
Franchise units: 500
Initial investment: $15,250 - $214,095
Franchise Fee: $4,250 - $8,500
Royalty Fees: Varies
NextHome is a progressive real estate franchise with consumer-focused branding, technology and marketing. Our flexible pricing model and competitive programs, empower our brokers and agents to provide excellent service without compromise. We are the only low investment franchise that gives agents the choice on how fees are paid—and they can even switch plans during the year. Every office, local market and team is unique. Select what works best and adjust to meet ever-changing internal and external factors as we discover together what suits your business best.
---
Town Money Saver
Founded in: 1992
Franchising since: 2005
Franchise units: 39
Initial investment: $15,700 - $27,000
Franchise Fee: $10,000
Royalty Fees: None
Town Money Saver (TMS) offers local businesses quality advertising that attracts repeat customers and maximizes their return on investment. TMS has been structured to provide you with the tools and management knowledge to effectively and profitably produce a monthly community publication. There is no storefront, inventory, or employees required to start a TMS franchise. Town Money Saver offers you a low-risk franchise opportunity with low start-up costs and no need for employees or inventory. Start your local marketing franchise today!
---
Dream Vacations
Founded in: 1991
Franchising since: 1992
Franchise units: 1,500
Initial investment: $1,795 - $21,000
Franchise Fee: $495 - $10,500
Royalty Fees: 1,5 - 3%
With a low-cost franchise that has low overhead and no inventory, the world is your oyster when you start a travel agency franchise with us. Pursue your dreams of running your own home-based travel business and seeing the world by helping others plan the vacations they've always dreamed about. Our home-based franchise opportunity has changed the lives of our 1,500 franchisees, and it could change yours too. What we hear most from our franchise owners is, "I wish I did this sooner!" So, what are you waiting for? Become your own boss with Dream Vacations. Become part of the Dream Vacations family and position yourself to be on the receiving end of the greatest rebuild the leisure travel industry has ever seen. You'll become part of a travel industry powerhouse where you can.
---
Jazzercise
Founded in: 1969
Franchising since: 1982
Franchise units: 8,001
Initial investment: $2,415 - $21,750
Franchise Fee: $1,250
Royalty Fees: 20%
Have you ever wanted to own a business in the fitness industry? Jazzercise offers you the low cost franchise opportunity to own your own business while staying fit and enhancing the lives of others through exercise and dance. You don't have to be an Instructor to own a Jazzercise Franchise! Jazzercise has been the world's dance-fitness leader for nearly 40 years with classes in more than 32 countries. A Jazzercise Franchise is the perfect fit for you! As independent business people, Jazzercise franchisees can directly affect their own income levels while enhancing the lives of others through fitness and dance.
See more Franchises in USA in the catalog →
TSS Photography
Founded in: 1983
Franchising since: 1984
Franchise units: 176
Initial investment: $20,415 - $74,725
Franchise Fee: $8,500
Royalty Fees: None
Flexible, fun, and low investment – if you are looking for photography franchise opportunities, TSS may be the perfect fit. Whether you want to expand your existing photography business or begin a new venture you can be passionate about, a TSS photography franchise can help you achieve your goals. If you love sports, working with kids, capturing images at exciting events or helping people create memories, a TSS photography franchise can make a career out of your passion. And, you can enjoy flexible hours, being your own boss and creating your own working environment. Join America's leading photography franchise with low startup cost!
---
Stratus Building Solutions
Founded in: 2004
Franchising since: 2006
Franchise units: 2,418
Initial investment: $4,450 - $79,750
Franchise Fee: $3,600 - $69,000
Royalty Fees: 5%
Stratus Building Solutions is leading the way in health and environmentally conscious commercial cleaning services provided by expert-level franchisees. As an innovative commercial cleaning company, Stratus franchisees provide businesses like yours with the most comprehensive green janitorial service options in the industry, allowing you to provide a healthier environment for your customers and employees. Join the thousands of individuals discovering the benefits are owning your own small business with the support of a proven business model. A franchise provides you with the management expertise, sales models, marketing support, and the affordable opportunity to grow!
---
Fit4Mom
Founded in: 2001
Franchising since: 2005
Franchise units: 255
Initial investment: $6,905 - $26,385
Franchise Fee: $6,495 - $12,395
Royalty Fees: 4%
FIT4MOM is the nation's leading company for pre and postnatal health, wellness, and fitness programs for every stage of motherhood. Our mission is to create community leaders and provide Strength in Motherhood to every mom in every neighborhood nationwide, as we believe healthy moms equal healthy societies. Owning a Fit4Mom franchise allows you to have the best of both worlds - to become a successful owner of an affordable franchise and have a career that is supportive of motherhood. As a small business owner, you have the power to change the lives of women in your community every single day.
---
United Country Real Estate
Founded in: 1925
Franchising since: 1997
Franchise units: 401
Initial investment: $10,875 - $50,380
Franchise Fee: $8,000 - $20,000
Royalty Fees: 6 - 12%
A real estate franchise with United Country offers the only national real estate brand with a unique and proven marketing, technology and training platform specifically designed for specialty lifestyle properties across the United States, Panama, Costa Rica, Honduras, Australia and resort areas of Mexico. Our highly specialized team of real estate franchise owners consists of brokers, agents and auctioneers that live and work in the small cities, towns and most desirable lifestyle markets nationwide. As a real estate franchise owner you join a team that consists of experts in a variety of specialized property types ranging from country homes, weekend and vacation homes, land, ranches, farms, hunting properties, waterfront properties, recreational properties and over 40 more.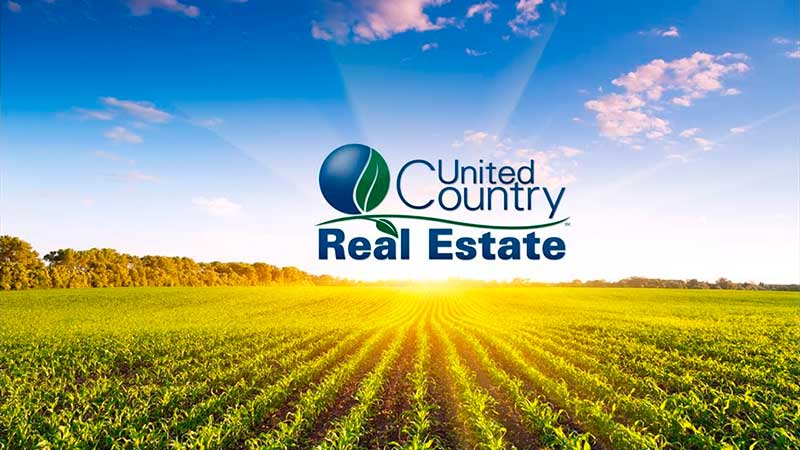 ---
SuperGlass Windshield Repair
Founded in: 1992
Franchising since: 1993
Franchise units: 336
Initial investment: $18,685 - $84,205
Franchise Fee: $5,000 - $17,500
Royalty Fees: 4%
Windshield repair is a dynamic low investment franchise opportunity with a thirty-year history of servicing the commercial and insurance industry for the repair of rock-damaged and cracked windshields. When you start out with a franchise with SuperGlass Windshield Repair, you won't have to wonder if you have all the tools you need, if you are approaching the market correctly or if you can repair the damaged glass properly. You won't have to wonder if you'll have customers to service either. SuperGlass incorporates the most comprehensive windshield repair training and franchise setup system in the industry to ensure that you start your business with everything you need, including uniforms, printed literature and solid commercial accounts.
---
Conclusion
To summarize, we can say any of the listed above low-cost franchises is worth buying. But there is a lot to consider while choosing the best one for you. Pay attention to the reputation of the brand, what training and support are offered, check if the other franchisees are successful. But the main thing you need to do is to align your budget with investment requirements of the brand. In order to ease the challenge, we have made the comparison flowchart of the best franchises to start with low investment in the USA for you. It shows the minimum estimated initial investment and initial franchise fee of each brand. By using it, you can figure out the difference in financial requirements for each franchise, and decide which one fits you the most.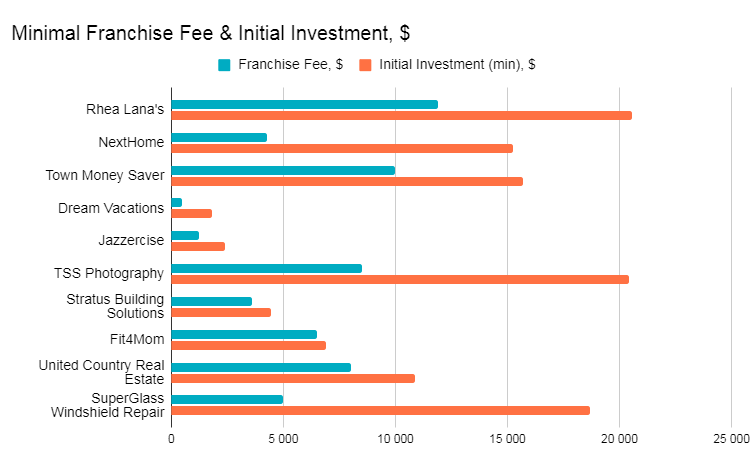 View all low-cost franchises
Want to advertise your franchise with us and successfully boost your business?
Please send us your request and we will get back to you shortly!
DIDN'T FIND WHAT YOU WANT?
ASK THE EXPERTS