Best 10 Nail Salon Franchise Business Opportunities in USA for 2023
Update: 04.11.2021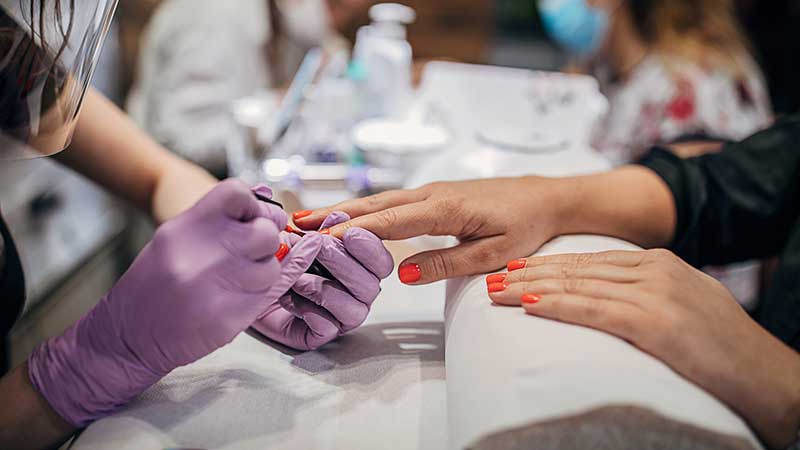 Nail salon franchise services will always be in demand in the USA. As manicure, pedicure and nail treatment are of a prior necessity for Americans despite any economic conditions. Surveys show that 70% of US citizens visit nail salons at least once or twice a month. A manicures franchise is also good for an entrepreneur who is looking for a low cost yet scalable business. Though the Nail salon franchise cost varies from 100k to 500k on average, it can quickly pay back. As an owner can have a lot of revenue streams from selling nail accessories as well as can grow the business by adding other beauty services like waxing, massage, wellness, etc. It is also worth considering the reputation of the franchise chain. If the brand is well-recognized, has good marketing and advertising strategies, and involves a lot of successful franchisees it will stand a new owner in good stead. They will not face the risk of losing in tight competition in the market.
Here is the top 10 best nail salon franchise business in USA
MiniLuxe
Founded in: 2006
Franchising since: 2010
Initial investment: $250,000 - $350,000
Net Worth Required: $500,000
Liquid Capital Required: $100,000
MiniLuxe Nail Salon was created in 2006 by Tony Tjan. Today it is one of the most famous nail bar brands in USA. Miniluxe specialists specialize in natural nail care. Since its inception, more than 2 million services have been performed. The company is the industry standard for sustainable, ultra-hygienic and sustainable manicure and pedicure practices. MiniLuxe nail salon is more than just manicure, pedicure and quality products. They always care about the convenience of customer service. MiniLuxe offers: a full range of spa quality nail services, unique retail products, depilation services and gift cards.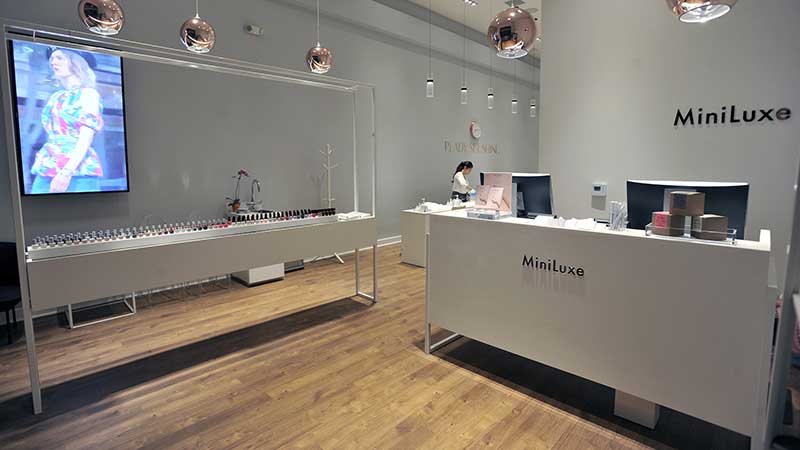 ---
Regal Nails Salon & Spa
Founded in: 1997
Franchising since: 2005
Franchise units: 800+
Initial investment: $170,525 - $748,470
Royalty Fees: $25,000
Regal Nails Salon & Spa was founded in 1997, in Baton Rouge, Louisiana. The very first Regal Nails salon opened its doors in October of that year inside of a Kmart in Brooklyn, OH. Today Regal Nails Salon is the largest nail salon franchisor in the United States. This Nails Salon & Spa is the undisputed industry leader in setting the standard for customer service, innovation and salon hygiene. All stages of work are monitored and all franchised salons meet specifications and operate efficiently and effectively. Regal Nails uses quality hospital-grade disinfectants for all instruments and whirlpools and special autoclaves to sterilize their equipment.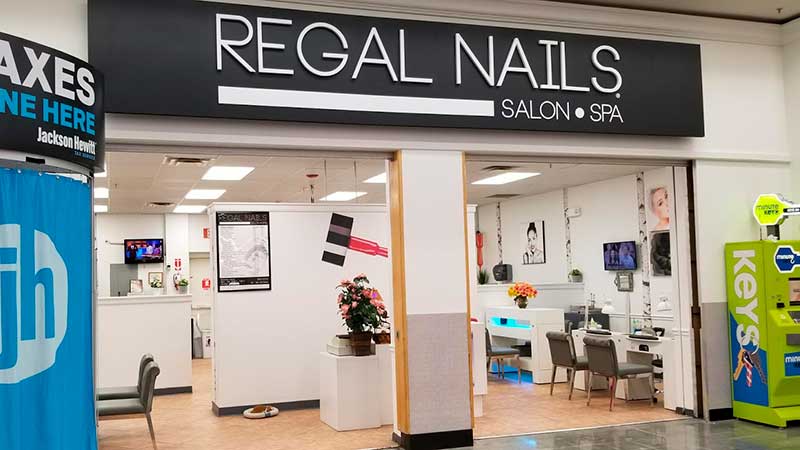 ---
PROSE
Founded in: 2017
Franchising since: 2018
Franchise units: 10
Initial investment: $430,853 - $680,183
Franchise Fee: $45,000
Royalty Fees: 6%
PROSE is first-of-its kind national nail boutique brand. It was founded in 2017 in Phoenix, Arizona. This business is developing rapidly. PROSE was founded by mother and daughter Andrea Fascinetto and Dolores Novak with the firm belief that every client deserves healthy and beautiful hands and feet every day. Andrea and Dolores are fantastic partners. They enthusiastically launched the first of many PROSE wellness centers for Texans. PROSE Nails Salon offers world-class products and impeccable service, ensuring consistency in a sterile clean environment using advanced sanitation practices. Each salon service is enriched with world-class products and attentive artists.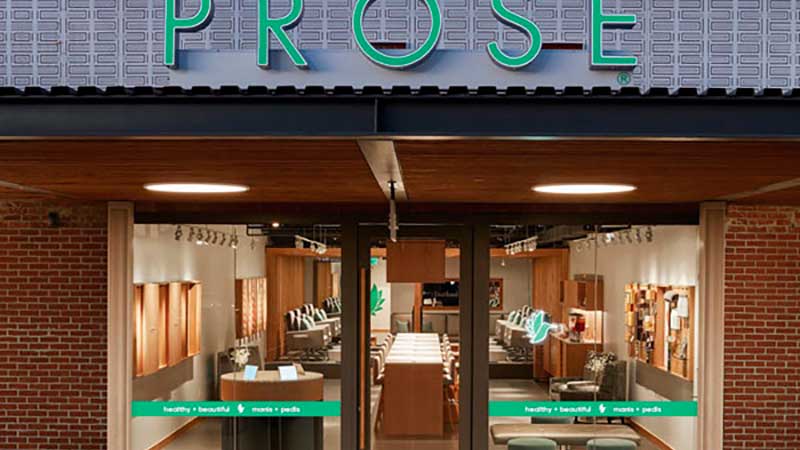 ---
Modern Nail Care
Founded in: 2014
Franchising since: 2015
Franchise units: 23
Initial investment: $243,524 - $418,310
Franchise Fee: $49,500
Royalty Fees: 5,5%
Modern Nails Studio located conveniently in Grand Rapids, Michigan. It was founded in 2014. Modern Nails Studio provides the best services to their clients at a reasonable price. The studio specialists use professional technicians with vast experience to always provide exceptional attention to detail. It is definitely the ideal place to escape stress and fatigue and enjoy the most comfortable nail care and design services. Modern Nail Care doesn't look like your typical nail salon. The studios are bright, open and airy, with no specific chemical odor. An excellent choice for franchising.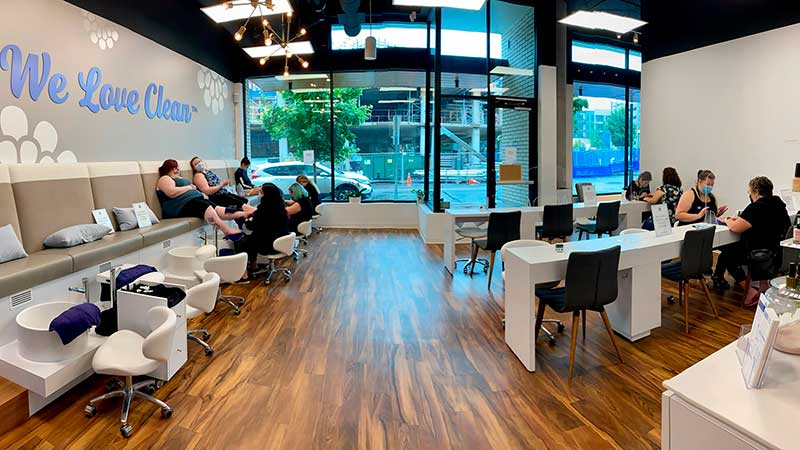 See more Franchise in USA in the catalog →
Namaste Nail Sanctuary
Founded in: 2016
Franchising since: 2017
Franchise units: 6
Initial investment: $230,595 - $480,295
Franchise Fee: $39,000
Royalty Fees: 1%
Namaste Nail Sanctuary was founded by Michael Elliot and Mecca Elliot. Namaste Nail Sanctuary does not market itself as a nail salon. The main focus of their activities is aimed at providing the client with the opportunity to relax, meditate, recuperate, and at the same time receive quality services. For the maximum comfort of their clients, manicure and pedicure are carried out in a completely enclosed soundproof room, which is separate from our reception areas. Relaxation and self-care has a huge impact on your quality of life. Therefore, the services of Namaste nail salon are more in demand now than ever.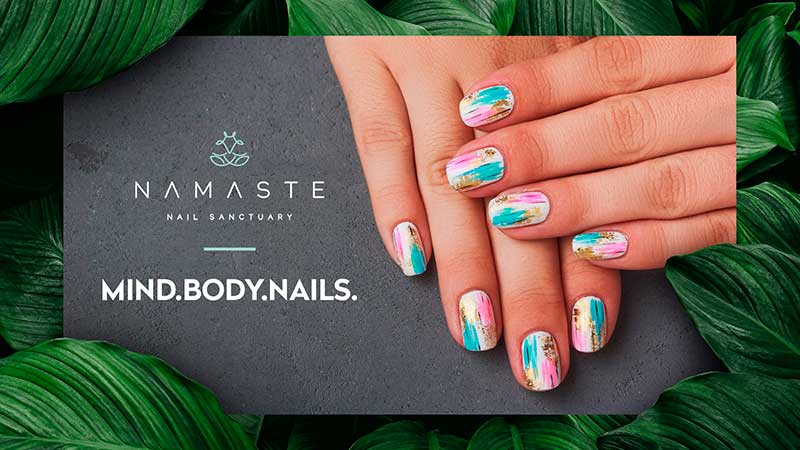 ---
Herbal Nail Bar
Founded in: 2016
Franchising since: 2019
Initial investment: $233,100 - $292,700
Franchise Fee: $29,900
Royalty Fees: 5%
Herbal Nail Bar is an organic herbal nail spa. It was founded by Don and Sophia Nguyen in 2016. This manicure bar is an environment where guests can relax, socialize and find peace of mind. In addition to classic manicure and pedicure, they offer quality treatments and first-class customer service. They have a very strict sanitation schedule and use the finest natural and organic cleaning products available. In the salon, there is always the smell of natural high-quality herbal ingredients. The main motto is a cozy and welcoming atmosphere.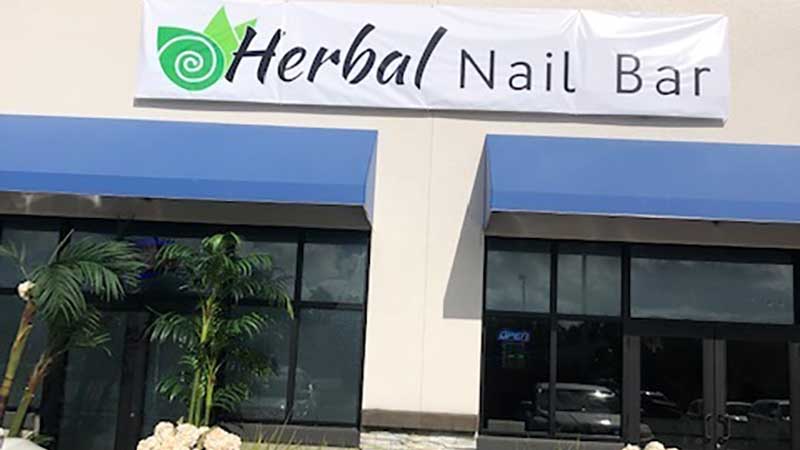 ---
Bellacures Nail Salons
Founded in: 2006
Franchising since: 2010
Franchise units: 7
Initial investment: $133,300 - $285,417
Franchise Fee: $40,000 - $95,000
Royalty Fees: 6%
Bellacures hand and foot salon was founded in Los Angeles in 2006. Bellacures has been ahead of the trend and has always been committed to a core mission of providing safety, cleanliness and fair and decent wages to nail artists. Customers entering any of the 8 Bellacures locations feel like they are in for a real treat. Each Bellacures establishment offers professional customer service, a wide selection of high quality polishes, comfortable plush chairs, and an extensive menu of unique services. The salon takes cleanliness very seriously. All metal instruments are sterilized in an autoclave.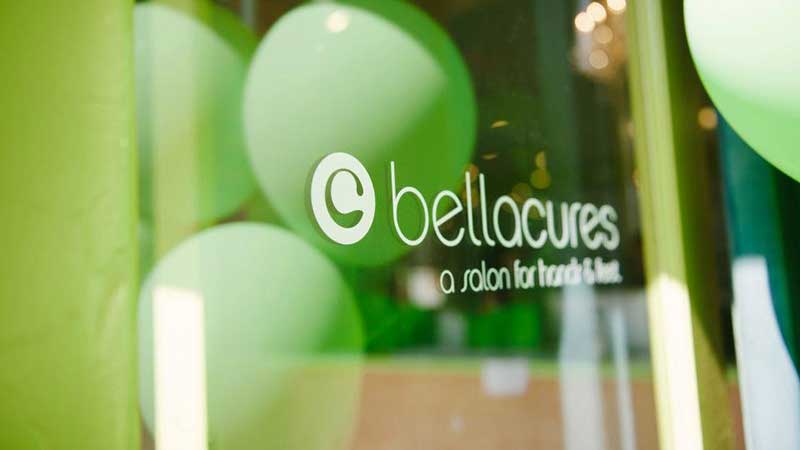 ---
Nail Garden
Founded in: 2005
Franchising since: 2006
Franchise units: 14
Initial investment: $530,000 - $560,000
Franchise Fee: $45,000
Royalty Fees: 6%
The Nail Garden is located in Flower Park, New York, USA. It was founded in 2005 by Rahem. At that time, Rahem was a student at the University of Southern California and an aspiring entrepreneur. Now Nail Garden has grown into a national franchise with branches throughout California and Texas. The Nail Garden offers customers particularly enjoyable nail care while maintaining the highest levels of cleanliness and sterilization in the industry. He is one of the first nail salon brands to offer professional experience and culture. The salons provide services: waxing, facials, make-up, hair-drying and other cosmetic services.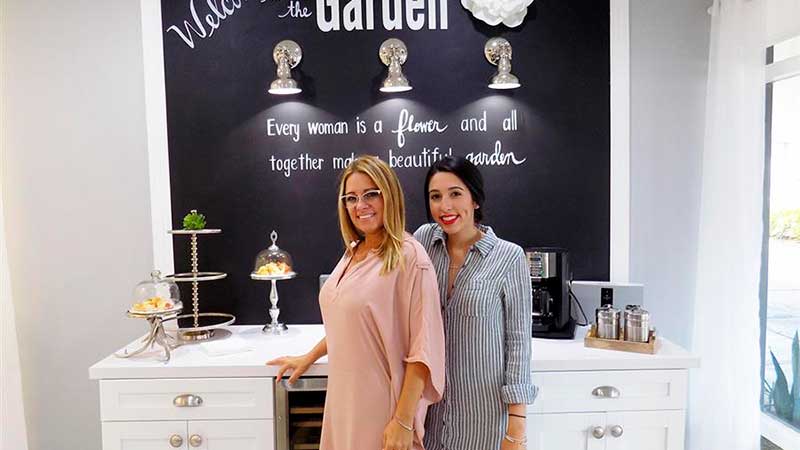 ---
Camille Albane
Founded in: 1954
Franchising since: 1954
Franchise units: 269
Initial investment: $245,900 - $424,800
Franchise Fee: $40,000
Royalty Fees: 5%
The Camille Albane network created in 1994 comprises more than 250 salons in 40 countries with a high-end market. A well-known French brand creates cohesion and reliability, thereby strengthening consumer confidence and brand loyalty. Camille Albane it is part of the larger Dessange International network that also includes the luxury Dessange Paris and value-oriented Fantastic Sams salon brands. A leading hairdressing and nail services franchise brings French beauty to American clients. High-end franchise salons focus on the unique beauty of each client through hair, makeup, nail services and retail products.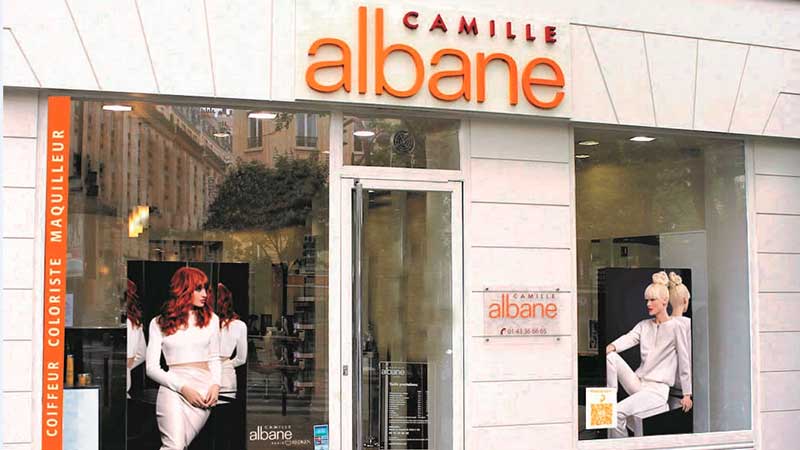 ---
Hammer and Nails
Founded in: 2013
Franchising since: 2015
Initial investment: $248,200 - $526,950
Franchise Fee: $49,950
Royalty Fees: 6,5%
Hammer and Nails are marketed as a groom's club. It offers hand and foot treatments, haircuts and shaving at Relaxed Man Care. Hammer and Nails Studio was founded in 2013. Michael Flyugge is the owner of other successful franchise ideas such as The Joint, and he owns the development rights for Hammer & Nails in the south-east. Each Hammer and Nails service has been designed with unique elements to ensure a relaxing and memorable visit to every customer every time. It should be noted that the members of the closed club have a number of privileges over other clients of the nail salon.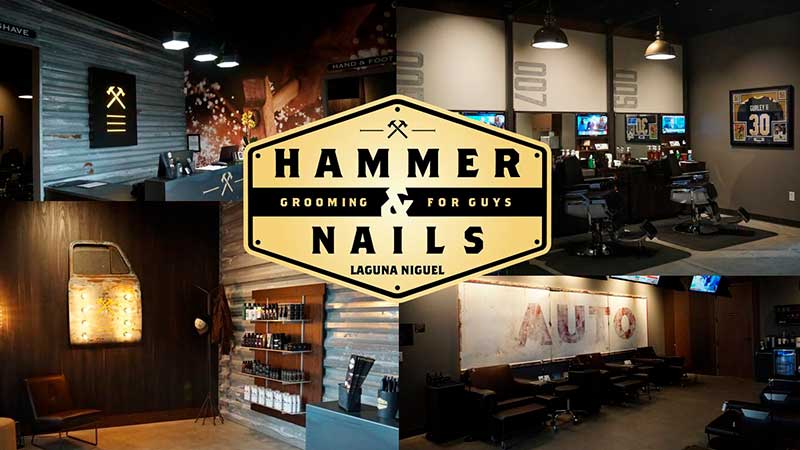 Conclusion
To summarize, we can say any of the listed above nail salon franchises is worth buying. But there is a lot to consider while choosing the best one for you. Pay attention to the reputation of the brand, what training and support are offered, check if the other franchisees are successful. But the main thing you need to do is to align your budget with investment requirements of the brand. In order to ease the challenge, we have made the comparison flowchart of the best nail salon franchises in the USA for you. It shows the minimum estimated initial investment and initial franchise fee of each brand. By using it, you can figure out the difference in financial requirements for each franchise, and decide which one fits you the most.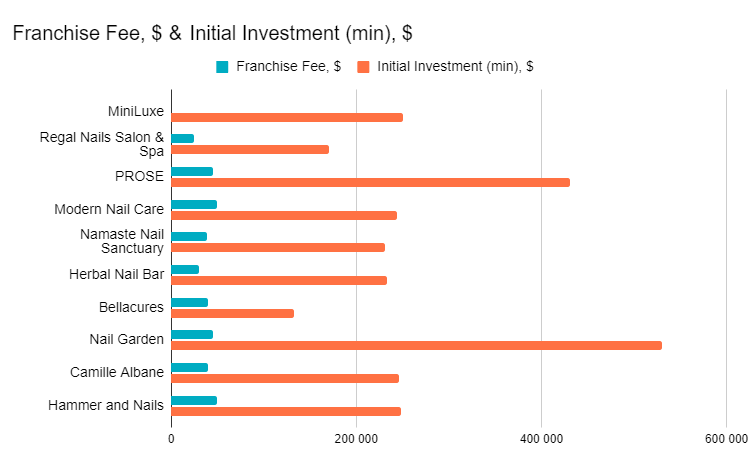 View all Beauty Salon & Cosmetic franchises
Browse franchises by countries

USA

India

Canada

The UK

Indonesia

The Philippines

Australia

The UAE

Saudi Arabia

South Africa

Germany

Pakistan

Singapore

Malaysia
Other countries
Want to advertise your franchise with us and successfully boost your business?
Please send us your request and we will get back to you shortly!
DIDN'T FIND WHAT YOU WANT?
ASK THE EXPERTS