The Best 10 Cleaning Franchise Businesses to Buy & Own in the USA for 2023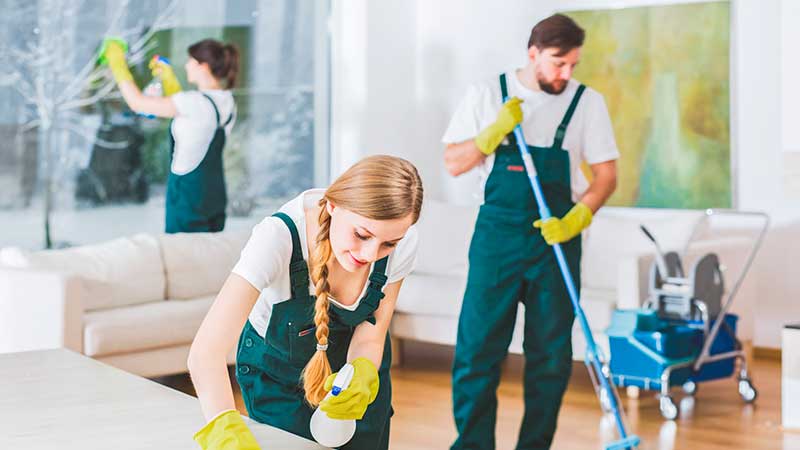 Cleaning franchise opportunities in the USA are vast. The industry offers plenty of concepts. A business person may invest into a commercial cleaning company, start a cleaning franchise which provides carpet washing, or launch a pressure washing and outdoor surface renewal company. In 2022 the most successful brands operating within the industry are those which follow cleaning trends. These are automation of processes including online booking, task scheduling, and accounting software; and sustainability which means eco-friendly operations, less water consumption, minimizing the waste. A list of top 10 cleaning franchise companies consists of only reputable brands with years of experience on the market which follow the trends. The mature franchisors have established proven business processes, marketing, management; hence know how to provide the services efficiently. Joining one of the brands out of the list below, you will get the opportunity to learn their best practices by means of their extensive training and consistent support.
Here is the top 10 cleaning company franchise opportunities in the USA
You've Got Maids
Founded in: 2005
Franchising since: 2010
Franchise units: 84
Initial investment: $36,390 - $107,440
Franchise Fee: $7,000
Royalty Fees: 3 - 5%
Nationwide, You've Got Maids is helping entrepreneurs just like you live the American Dream of business ownership. When you own your own business, you own your future. Our proven system for success is based upon years of franchise excellence. You've Got Maids has consistently been distinguished by Entrepreneur magazine and Franchise Business Review as a leader in the residential cleaning industry, a top low-cost cleaning franchise, a top cleaning company franchise opportunity, and a top franchise for franchisee satisfaction. Many variables contribute to success, but an important part of that is aligning with the culture. These characteristics are at the core of our brand.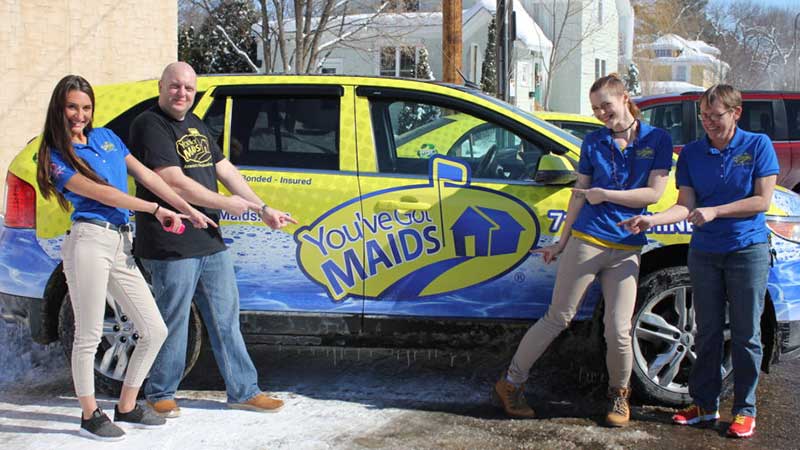 ---
Maid Brigade
Founded in: 1979
Franchising since: 1985
Franchise units: 397
Initial investment: $110,066 - $127,400
Franchise Fee: $39,500
Royalty Fees: 3,5 - 7%
For over three decades, Maid Brigade has helped people just like you become successful entrepreneurs, achieving the quality of life you've been seeking while making an immediate difference in the lives of those around you. We are a flagship brand with an exceptional reputation in over 365 house cleaning franchise territories throughout the US and Canada. Maid Brigade is the only cleaning service that offers PUREcleaning® maid service. Maid Brigade offers PUREcleaning to protect our customers and employees from the health risks associated with traditional house cleaning products and methods. We clean with electrolyzed water and disinfect using our electrostatic sprayers.
---
The Cleaning Authority
Founded in: 1977
Franchising since: 1996
Franchise units: 218
Initial investment: $76,011 - $121,021
Franchise Fee: $15,000 - $15,000
Royalty Fees: 4 - 6%
The Cleaning Authority provides house cleaning services for clients across the United States and Canada. Success with our franchise is possible because we combine simple business fundamentals with sophisticated systems and a solid support infrastructure to help our house cleaning franchise owners achieve their goals. More than half of our franchisees hold MBAs, illustrating how our home cleaning franchise opportunity has been vetted and chosen by knowledgeable business owners nationwide. Your success is our success. That's why we offer all of our franchisees a variety of support options, including a highly experienced operations staff.
---
Chem-Dry
Founded in: 1977
Franchising since: 1978
Franchise units: 2,616
Initial investment: $68,145 - $191,196
Franchise Fee: $23,500
Royalty Fees: $414 per month
Chem-Dry is the world's largest carpet cleaning franchise — and one of the most economical, multi-unit franchise opportunities you can own. The Chem-Dry investment model results in a franchise with tremendous scalability and earning potential. Many entrepreneurs can secure multiple licenses and lock down more territories, depending on their financial situation, level of ambition, and commitment to growing their business. Our unique Hot Carbonating Extraction cleaning process involves the use of 80% less water than other cleaning services to eliminate dust, dirt, oils and allergens in carpet fibers, as well as other types of surfaces. This process allows carpets to dry more quickly and remain cleaner and healthier for longer than any other method.
---
Molly Maid
Founded in: 1979
Franchising since: 1979
Franchise units: 496
Initial investment: $110,200 - $160,200
Franchise Fee: $14,900
Royalty Fees: 3 - 6,5%
Our cleaning franchise opportunities help owners attract repeat customers, contributing to our 97% average customer retention rate nationwide. Molly Maid® makes it easier to hit the ground running in the house cleaning industry. From built-in national brand recognition to comprehensive business support, the advantages of owning a Molly Maid cleaning franchise are unique and unbeatable. As a Molly Maid owner, you are supported by a dedicated franchise business coach and the resources you need to grow your business.
---
MaidPro
Founded in: 1991
Franchising since: 1997
Franchise units: 283
Initial investment: $77,560 - $171,610
Franchise Fee: $20,000 - $80,000
Royalty Fees: 4 - 7%
A MaidPro franchise is truly unique—and not in just the home cleaning industry. We've tossed out those outdated franchise rules that have given franchising a bad name. We value creativity, knowledge and good, old-fashioned friendliness. From our years of experience, we've put together tools that make running a home cleaning business much simpler. No other franchisor in our industry comes close to providing you with such sophisticated technology and a well-designed and executed brand. MaidPro's Home Office staff is committed to the happiness and success of our franchise owners. We believe in personalized support, tailored to each owner's goals and needs.
---
Stratus Building Solutions
Founded in: 2004
Franchising since: 2006
Franchise units: 2,418
Initial investment: $4,450 - $79,750
Franchise Fee: $3,600 - $69,000
Royalty Fees: 5%
Stratus Building Solutions is the industry-leading franchise in green commercial cleaning. As a standard, Stratus franchisees utilize state-of-the-art cleaning equipment, sustainable processes, and Green Seal Certified, biodegradable and non-toxic branded cleaning chemicals; Stratus Building Solutions is second to none in green commercial cleaning. With customizable cleaning options and competitive rates, Stratus Building Solutions franchisees provide services to a large range of clients, from schools, medical offices, shopping centers, warehouses, dealerships, religious centers, professional offices, daycares, retail stores, gyms and more.
---
Hoodz
Founded in: 2008
Franchising since: 2009
Franchise units: 129
Initial investment: $74,221 - $179,840
Franchise Fee: $59,900
Royalty Fees: 8 - 10%
HOODZ is the top-ranked commercial hood cleaning franchise. As part of BELFOR Franchise Group, the largest network of cleaning and restoration brands in the nation, HOODZ offers a level of service and professionalism unlike anything else in the industry. By focusing on providing an exceptional customer experience that is reliable and transparent, HOODZ excels at helping restaurants and other foodservice providers remain compliant and safe. HOODZ is an affordable business to own and there is an ongoing need for it in almost every sizeable market. If you want to work with restaurant owners, owning a HOODZ is a smart decision!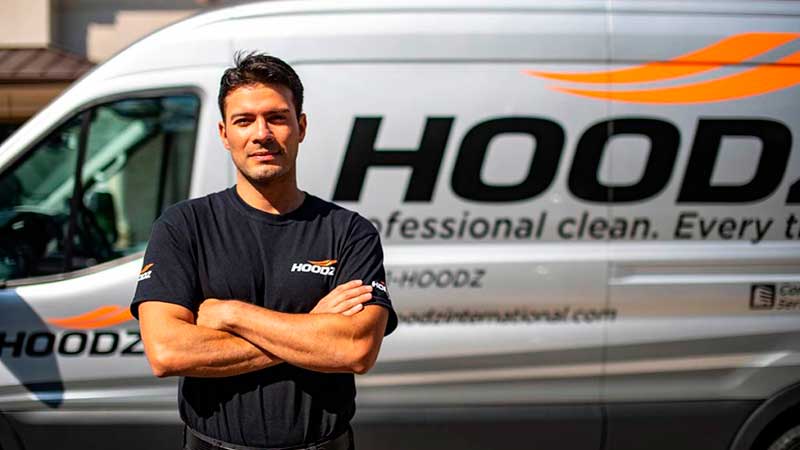 ---
Renew Crew
Founded in: 1993
Franchising since: 2001
Franchise units: 17
Initial investment: $108,200 - $148,600
Franchise Fee: $65,000
Royalty Fees: 6%
Are you looking to take control of your future and become your own boss? Renew Crew offers a unique and exciting opportunity to do just that. We are a pressure washing and outdoor surface renewal company franchise that specializes in cleaning, sealing, and protecting the outdoor surfaces of residential and commercial properties – and we are looking for motivated individuals to help us bring our brand into communities across the country. Our system is built off of strong individual franchisees and businesses – that's why we invest in your foundations. We offer extensive training and support to not only help you hit the ground running but to ensure that you can continually grow your business.
---
Merry Maids
Founded in: 1979
Franchising since: 1980
Franchise units: 1,684
Initial investment: $89,480 - $129,410
Franchise Fee: $37,500 - $51,500
Royalty Fees: 5 - 7%
We are entrepreneurial enthusiasts, natural caregivers, innovative problem solvers—we are Merry Maids®, one of the largest house cleaning franchises in the United States! As a Merry Maids® franchise owner, you'll have the support and dedication of our knowledgeable team every step of the way. We provide marketing, operations, and technical support as well as training to ensure you have everything to help you build your home cleaning business. With exclusive territories and proprietary cleaning systems, you can take charge of your future while being a part of a rewarding industry that is always in demand.
---
Conclusion
To summarize, we can say any of the listed above cleaning franchises is worth buying. But there is a lot to consider while choosing the best one for you. Pay attention to the reputation of the brand, what training and support are offered, check if the other franchisees are successful. But the main thing you need to do is to align your budget with the investment requirements of the brand. In order to ease the challenge, we have made the comparison flowchart of the best cleaning franchises in the USA for you. It shows the minimum estimated initial investment and an initial franchise fee of each brand. By using it, you can figure out the difference in financial requirements for each franchise, and decide which one fits you the most.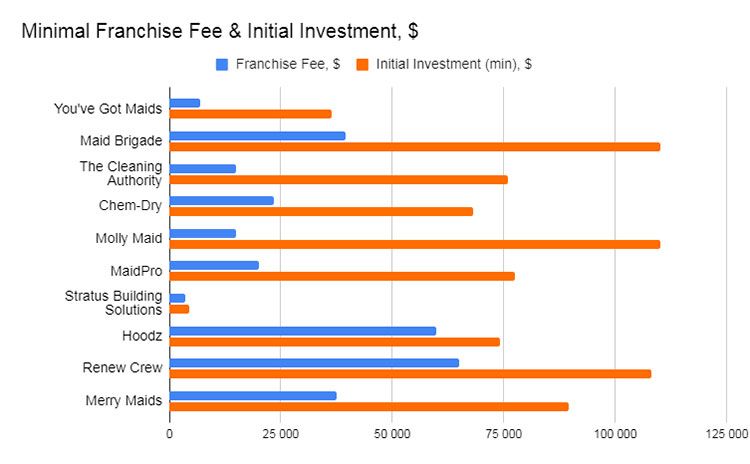 View all Cleaning franchises
Want to advertise your franchise with us and successfully boost your business?
Please send us your request and we will get back to you shortly!
DIDN'T FIND WHAT YOU WANT?
ASK THE EXPERTS