The Best 10 Bakery Franchise Businesses in The UAE for 2022
Update: 12.11.2021
Bakery franchise business is considered to be among the most stable within the conditions created by the pandemic. Thus, 2022 is expected to be pretty successful for the brands operating in the industry in UAE. It is worth admitting that the list of the Best 10 Bakery franchises shows no changes in comparison to previous years.
The interest in baking is growing day-by-day and we can't imagine our breakfast without backed delicacies as well as any celebration without a bespoke cake. Bakery products are popular in the UAE which motivates smart entrepreneurs to start their own businesses within the sector. Three trends have impacted the bakery market in the UAE for the the last year. The first one is the growth of consumer wish for healthy food which made whole wheat and reduced-sugar products popular. The second one is the increase in the consumption of on-the-go items. And lastly, consumers are choosing fresh over packaged products nowadays. Here are the Best 10 Bakery franchises which offer the trendiest concepts.
Here is The Best 10 Bakery Franchise Businesses in the UAE
Magnolia Bakery
Founded in: 1996
Franchising since: 2010
Franchise units: 170
Initial investment:1,724,400 - 3,434,200 AED
Royalty Fees: 3%
Magnolia Bakery is a chain of bakeries founded in New York City. From its inception, Magnolia Bakery has been cherished for its classic American baked goods, vintage decor and warm, inviting atmosphere. The cupcake is one of the biggest sellers for Magnolia; 40 percent of corporate sales come from this specific line. The chain offers a variety of baked goods including a breakfast line, mini cheesecakes, and specialty cakes. Magnolia Bakery is seeking experienced multi-unit franchisees to acquire and develop select locations and cities around the world in shopping districts, airports, colleges and more.
---
Auntie Anne's Hand-Rolled Soft Pretzels
Founded in: 1988
Franchising since: 1989
Franchise units: 1900+ worldwide
Initial investment: 732,700 - 1,414,400 AED
Royalty Fees: 7%
Auntie Anne's is an American chain of pretzel shops founded by Anne F. Beiler and her husband, Jonas, in 1988. Auntie Anne's serves products such as pretzels, dips, and beverages. They also offer Pretzels & More Homemade Baking Mix. Today, Auntie Anne's locations serve a variety of pretzels, dipping sauces and drinks. Stores can be found in shopping centers, airports and train stations across the United States, Asia and the Middle East, as well as the United Kingdom and Venezuela.
---
Great American Cookies
Founded in: 1977
Franchising since: 1978
Franchise units: More Than 360 Worldwide
Initial investment: 747,000 - 1,392,600 AED
Royalty Fees: 6%
Founded in: 1977 on the strength of an old family chocolate chip cookie recipe, Great American Cookies@ has set the standard for gourmet cookie sales in a fun, celebratory environment. From one family chocolate cookie recipe, it added a complete line of cookies and brownies and began franchising in 1978. In addition to regular cookies, most stores feature large plate- or pan-sized cookies with personalized messages for parties or special occasions. Great American Cookies is part of Global Franchise Group, which also franchises Pretzelmaker, Marble Slab Creamery, and MaggieMoo's.
---
Bakeria
Founded in: 2004
Initial investment: From 1,836,500 AED
Royalty Fees: 5%
Bakeria is a first of its kind concept across the Middle East. It is a takeaway bakery-café providing a variety of fresh products at affordable prices. Catering to a wide range of customers, Bakeria's uniqueness has evolved from the wide variety of bakery products, from freshly baked breads and pastries to sandwiches made to order. It's the perfect place for customers 'on the go'.Bakeria is a takeaway bakery café concept designed initially to increase the sales of petrol at Emarat Service Stations. The main strengths of Bakeria are: large range of fresh bakery items, fresh coffee, and quick service Bakeria's customers are from all nationalities and ages.
---
Chocolate Injection Cafe
Initial investment: From 918,200 AED
Royalty Fees: 10%
Chocolate Injection Cafe is a unique concept with a wide range of most of the latest and creative desserts from around the world with speciality coffee to compliment sweetness. Chocolate Injection Cafe promises to be the most profitable and fastest growing franchise in UAE.
---
Saadeddin Pastry
Founded in: 1976
Franchising since: 1998
Branches: 145
Established in 1976, Saadeddin Pastry has been leading the pastry, sweets & treats business in the Kingdom of Saudi Arabia by offering a wide range of delectable sweet and savoury products in more than 150 retail stores and through banqueting and catering services. Saadeddin Pastry management is seeking franchise partners who have faith in its business values & integrity and who have retail knowledge, adequate funds and managerial skills.
---
French Bakery
Founded in: 1997
Franchise units: 14
Initial investment: From 1,652,800 AED
Royalty Fees: 6%
Established in 1997, French Bakery is a part of La Marquise Group – one of the professionally managed Companies in the UAE, which cater to the specialized markets, has grown from strength to strength and today it becomes a well-known name comprising following companies. French Bakery recreates the unique experience of traditional French Village Life. An innovative place lets you to discover the rich offer of tasty French pastry specialties, snacks, sandwich, savories etc., in a cozy gourmet ambiance. With a mission to regularly provide, hospitality experience to customers, French Bakery is always innovating and exploring new opportunities, and will continue to expand in line.
---
Bostani Chocolatier
Founded in: 1879
Franchising since: 1962
Bostani Chocolatier offers an array of ready-made rich and tantalizing plain or filled dark, milk and bittersweet chocolates filled with biscuits, nuts, caramel, praline, almonds and many other variations all of which are available in lose or wrapped format or in an attractive gift box. Bostani Chocolatier is looking for franchise partners who believe in its brand value, business integrity and potential financial success and who have business experience, sufficient funds and managerial resources for establishing the business successfully in the target country/area.
---
Cinnabon
Founded in: 1985
Franchising since: 1986
Franchise units: 1500+ Worldwide
Initial investment: 680,000 - 1,214,600 AED
Royalty Fees: 6%
Cinnabon is an American chain of baked goods stores and kiosks, normally found in areas with high pedestrian traffic such as malls, airports and rest stops which malls throughout the world have been filled with the scent of Cinnabon. Each bakery serves fresh and prepackaged cinnamon rolls, Pecanbons (cinnamon rolls topped with pecans and caramel frosting), coffees and other drinks. Cinnabon has franchise operations in 48 countries which also include The United Arab Emirates.
---
Clinton Street Baking Company
Founded in: 2001
Franchising since: 2013
Individual Unit Franchise Fee: 293,800 AED
Royalty Fees: 6%
Clinton Street Baking Company began as a simple bakery in the Lower East Side in 2001 by husband and wife team Dede Lahman and Neil Kleinberg. Over the years word spread of the restaurant's amazing pancakes, biscuits, burgers and more which quickly had New Yorkers lining up around the block.
---
Conclusion
To summarize, we can say any of the listed above bakery franchises is worth buying. But there is a lot to consider while choosing the best one for you. Pay attention to the reputation of the brand, what training and support are offered, check if the other franchisees are successful. But the main thing you need to do is to align your budget with investment requirements of the brand. In order to ease the challenge, we have made the comparison flowchart of the best bakery franchises in the UAE for you. It shows the minimum estimated initial investment of each brand. By using it, you can figure out the difference in financial requirements for each franchise, and decide which one fits you the most.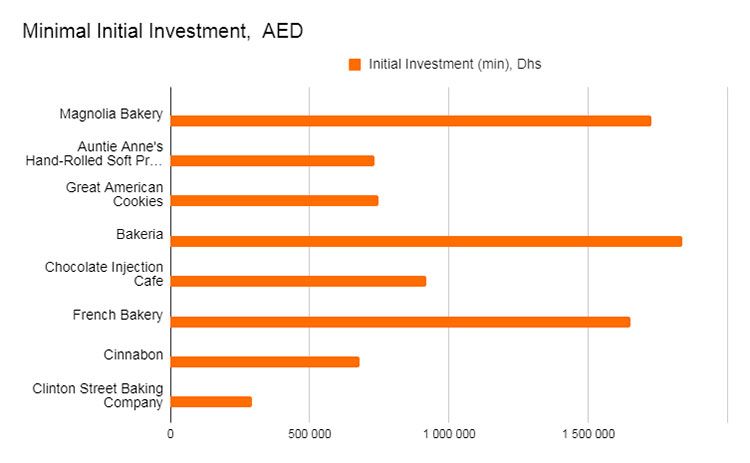 View all Bakery Franchises
Want to advertise your franchise with us and successfully boost your business?
Please send us your request and we will get back to you shortly!
DIDN'T FIND WHAT YOU WANT?
ASK THE EXPERTS