Most Popular 10 Gym Franchises in the UAE for 2023
Update: 08.01.2023
Hopefully, in 2023 gym franchises will recover from issues caused by the pandemic. However, the industry will experience changes including partial shift to online workouts or more focus on personal training. The good news is that the majority of the most popular gym franchises in the UAE have been adapting to the changes.
Fitness, strong and beautiful body and a healthy lifestyle are being promoted in social media all over the world. The UAE is also influenced by the tendency. There are over 800 gyms in the UAE and the industry is supposed to be worth $380 m. Although fitness franchise business in the UAE offers many various concepts which cater to different preferences, nowadays there is still a huge demand for services which help lose weight. The Reports by the World Health Organisation show that up to 70 percent of adult people in the country are overweight. It means further growth of fitness industry there. Catch the chance to own the business until someone else does it. Find the clues for you below.
Here is Most Popular 10 Gym Franchises in the UAE
Snap Fitness 24/7
Founded in: 2003
Franchising since: 2004
Franchise units: 1300+ worldwide
Investment Range: 587,680 - 1,175,360 AED
Royalty Fees: 1,900 AED/mo.
Snap Fitness is the world's fastest growing health club chain with a global presence of 2500 + clubs spread across US, Canada, Mexico, Australia, New Zealand, England, Egypt and India. Snap offers a more sustainable alternative to traditional `big box` health clubs with lower investment (operational) costs and much better returns. With a focus on providing members with the best equipment, guidance, and value-added services to help them achieve results, Snap Fitness is a global leader in fitness franchises.
---
Body Building India
Founded in: 2015
Franchising since: 2017
Franchise units: 20 - 50
Investment Range: 183,645 - 367,290 AED
Royalty Fees: N/A
Body Building India is a well-known name in bodybuilding and fitness landscape of the origin country. The brand started its operations online, through an online portal, Body Building India for fitness enthusiasts where the brand offers exclusive fitness products and services. The brand envisions opening fitness stores across India, which would serve as a unique center for sourcing exclusive fitness products and supplements for a fitness freak. BBI is expanding aggressively and looking for expansion in other countries.
---
Club Pilates
Founded in: 2007
Franchising since: 2012
Franchise units: 360+ Worldwide
Initial investment: 809,100 - 1,141,400 AED
Royalty Fees: 7%
The Club Pilates is the largest premium network of group Pilates studios in the world. Club Pilates is providing best-in-class Pilates equipment, instructors and education while incorporating sophisticated digital technology platforms to enhance the member experience and deliver an engaging, impactful workout. Club Pilates is breaking down the traditional barriers to Pilates by offering franchise opportunities to make the method accessible to more people, both financially and geographically.
---
Target Gym
Founded in: 2008
Franchising since: 2018
Target Gym is the largest low cost chain in the UAE with 6 clubs and growing. Target Gym is looking for self motivated entrepreneurs who believe in fitness and how it can have impact in people's lives. Owning a Target gym franchise is one of the best ways to do so, because their business model had proven to be very successful in engaging more people into fitness.
---
UFC Gym
Founded in: 1992
Franchising since: 2004
Franchise units: 100+ worldwide
Initial investment: 554,600 - 15,489,000 AED
Royalty Fees: 4 - 6%
UFC GYM is the first to combine mixed martial arts, functional training, and traditional fitness. UFC GYM's Train Different techniques create an experience that delivers immediate lasting results in a safe and fun environment. Franchise models are Signature Club, Core by UFC Gym and Class by UFC Gym. Franchise locations offer group fitness classes, private training, group training and MMA-style youth programs. Most facilities feature a functional training area, heavy bags, cardio and strength equipment, and a retail section.
---
Viva Fit
Founded in: 2002
Franchising since: 2004
Franchise units: 10 - 20
Investment Range: 157,900 - 263,700 AED
Viva Fit is a Ladies Only fitness Boutique founded 2002 in Portugal, currently operating in Dubai and Abu Dhabi. Viva fit is a truly international business perspective. Anyone can join the success of the European health and fitness franchise with a low-cost business opportunity in his/her country with a "European Boutique Studio" well branded concept that is determined to be the world's best provider of fitness for women with nutrition for real weight loss results.
---
CycleBar
Founded in: 2014
Franchising since: 2015
Franchise units: 150
Initial investment: 1,044,390 - 1,826,000 AED
Royalty Fees: 7%
CycleBar is the largest network of Premium Indoor Cycle Studios in the world, with more than 200 locations slated to open throughout 2020. As the FIRST and ONLY premium indoor cycling fitness concept offered as a franchise opportunity, CycleBar was built to LEVERAGE this existing awareness and demand in every market and provide a business opportunity for entrepreneurs to enjoy an exceptionally high margin business that is relatively simple to operate. CycleBar is the first and only truly premium experiential fitness concept offered in franchising. CycleBar leverages current markets to capitalize on a proven industry for exceptional success worldwide.
---
Gym99
Founded in: 2017
Franchising since: 2017
Franchise units: 10 - 20
Initial investment: 367,290 - 1,836,450 AED
Gym99 is a unique and one-of-its-kind gym concept, introduced for the first time in India by Body Building india, a dedicated pay-as-you-go gym concept. Gym99 would operate as a complete fitness destination for enthusiasts where one can walk-in, buy per-hour fitness sessions and workout, right away.
---
YFC - Your Fitness Club
Founded in: 2009
Franchising since: 2013
Franchise units: 12
Investment Range: 124,900 - 1,028,400 AED
Royalty Fees: 7 - 10%
Your Fitness Club (YFC) is a Mumbai-based health and fitness services provider and a pioneer in the 'Integrated Health Club Management Solutions' equipped with state-of-the-art infrastructure. YFC has an unbeatable model when it comes to making commercial gyms a success with proven records. YFC gyms are all Express Club models that are State of The Art when it comes to the gym floor, but with very limited add on facilities. This creates No-Nonsense, Result & service Oriented, affordable facilities for the huge middle to upper middle class segment of consumers. YFC is open for franchising since 2013.
---
Anytime Fitness
Founded in: 2001
Franchising since: 2002
Franchise units: More Than 4000 worldwide
Investment Range: 394,900 - 2,654,800 AED
Royalty Fees: 1,650 - 2,000 AED/mo.
Anytime Fitness is the innovator of 24 hrs, co-ed fitness and the world's fastest growing fitness chain. Anytime Fitness operates more than 2000 clubs throughout the world. In fact, Anytime Fitness is the fastest growing co-ed fitness franchise in the world. And, for the 5th consecutive year, Anytime Fitness received a "Top 50 Franchisee Satisfaction Award", presented by Franchise Business Review. Anytime Fitness clubs are open 24 hours a day every day of the year, thanks to security systems that allow members to access the clubs during unstaffed hours.
---
Conclusion
To summarize, we can say any of the listed above gym franchises is worth buying. But there is a lot to consider while choosing the best one for you. Pay attention to the reputation of the brand, what training and support are offered, check if the other franchisees are successful. But the main thing you need to do is to align your budget with investment requirements of the brand. In order to ease the challenge, we have made the comparison flowchart of the best gym franchises in the UAE for you. It shows the minimum estimated initial investment of each brand. By using it, you can figure out the difference in financial requirements for each franchise, and decide which one fits you the most.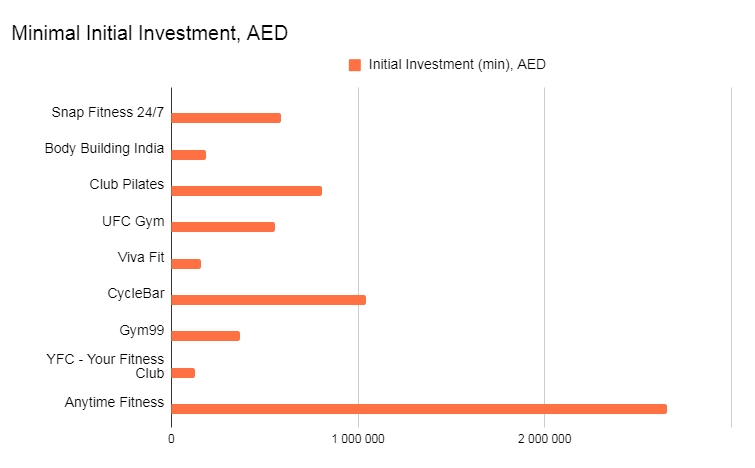 ---
View all Gym Franchises
Want to advertise your franchise with us and successfully boost your business?
Please send us your request and we will get back to you shortly!
DIDN'T FIND WHAT YOU WANT?
ASK THE EXPERTS