TOP 10 Pizza Franchises in The UAE for 2023
Update: 04.12.2021
A Pizza franchise is always a profitable idea for a business. Even the pandemic which was devastating for many businesses had no drastic influence on this one. The world-famous pizza brands that have been on the market for years will keep on evolving in the UAE in 2022. The unchangeable Top 10 list below is good proof of it.
Pizza is one of the most favourite dishes all over the world. And the UAE is not an exception. There are many well-performing pizza-related businesses on the market offering various services. They are pizza restaurants, pizza delivery services, carry-outs, healthy menu concepts and many others. Pizza franchise is the best option to start own business within the industry. The franchises in the UAE are represented by worldwide famous brands which don't need to be much advertised. Besides, such franchises suggest a proven business model which a newbie just needs to follow. If you choose to own a pizza business in the UAE, here's our list of the best options for you.
Here is TOP 10 Pizza Franchises in The UAE:
Itzza Pizza
Founded in: 2006
Franchising since: 2014
Franchise units: 5 - 10
Initial investment: From Dh918,000
Royalty Fees: 5%
Itzza Pizza is the preferred dining neighborhood pizzeria serving signature Brick oven wood fried pizza. Itzza Pizza's mission is to consistently serve fresh product in a casual non-traditional atmosphere while upholding the promise of quality and good taste. Itzza Pizza's goal is to be one of the leading pizza concepts, and intend to spread the concept in the GCC, MENA Region and beyond. Itzza Pizza aims to achieve optimal return on investment and value growth in the industry.
---
Papa John's
Founded in: 1985
Franchising since: 1986
Franchise units: 4000+
Initial investment: from 477,000 AED - 3,100,000 AED
Royalty Fees: 5%
John Schnatter dreamed of opening his own pizza restaurant from the time he was a high school student working at a local pizza parlor. Today, Schnatter's dream has resulted in thousands of Papa John's restaurants worldwide. There are more than 4400 Papa John's stores Worldwide. Each Papa John's pizza is carefully crafted with flavorful, superior-quality ingredients and toppings. Papa John's is a proven franchise model with excellent profit potential and offers world-class franchise support.
---
Freedom Pizza
Founded in: 2015
Franchising since: 2015
Franchise units: 10 - 20
Initial investment: From Dh1,102,000
Royalty Fees: 7%
Freedom Pizza is a good-for-you, carry-out, delivery and fast casual pizza company - super fast delivery, best-in-class online ordering, a healthy menu, cool & engaging brand and is thoughtful in action. Freedom Pizza is ready to expand its national footprint under the 'Freedom is Going Places Franchise Programme', which is aimed at exploring regional and international partnership opportunities.
---
Pezzo
Founded in: 2012
Country of Origin: Singapore
Franchise units: 74
Franchise Fee: from Dh460,000
Royalty Fees: 5%
Pezzo is about living life with exuberance, with their Carnival theme encouraging fun and food togetherness. Pezzo's vision is to identify with their customers through being available at locations that are highly accessible and service that is impeccable. Pezzo promises great -tasting, value for money pizzas. All interested in franchisees will get shared the recipe for success and Pezzo are determined to empower any partner with knowledge resources and support needed to be a member of the PEZZO family.
---
800 Pizza
Founded in: 2007
Franchising since: 2016
Initial investment: 550,000 AED - 1,470,000 AED
Individual Unit Franchisee Fee: Dh73,000
Royalty Fees: 4%
The Italian brand has branched out across the ever-changing UAE landscape, with multiple branches serving millions of customers. The mission of 800 PIZZA, since the start of its journey, is to constantly serve an exceptional Italian pizza that is light, thin and crispy, made with superior ingredients in the traditional, wood-fired Roman way. 800 Pizza offers their franchisees a range of services, training and support.
---
Pizza Hut
Founded in: 1958
Franchising since: 1959
Franchise units: More than 400
Initial investment: 1,090,000 AED - 7,746,000 AED
Royalty Fees: 6%
Pizza Hut is an American restaurant chain and international franchise which is known for its Italian-American cuisine menu, including pizza and pasta, as well as side dishes and desserts. It is a subsidiary of Yum! Brands, Inc., one of the world's largest restaurant companies. Pizza hut takes pride in offering a wide range of veg and non-veg pizzas.
---
Broccoli - Pizza & Pasta
Founded in: 2011
Franchise units: 50+
Initial investment: 588,000 AED - 1,322,000 AED
Royalty Fees: 6%
Broccoli Pizza & Pasta is a specialized pizza and pasta concept where food is prepared fresh on the spot. The pizza dough, pasta along with their sauces is freshly made in the store. The menu presents a wide selection of pizza, pasta and salads inspired from all around the globe. The company had put years into researching the markets around the world with the aid of PICO International. Broccoli's business model allows for expansion by directly operating the business or via managing staff.
---
Little Caesars Pizza
Founded in: 1959
Franchising since: 1962
Franchise units: 3500 worldwide
Initial investment: 812,000 AED - 2,402,000 AED
Royalty Fees: 6%
Little Caesars Pizza is the third largest pizza chain in the world and is currently operating in 24 countries and territories worldwide, including all 50 U.S. states, all 32 states in Mexico, and from coast-to-coast in all 10 of Canada's provinces. With aggressive expansion plans to bring the iconic pizza brand to more countries within the Middle East and beyond, Little Caesars Pizza is seeking multi-franchise unit area developers. The franchisor does not offer direct or indirect financing and does not guarantee a franchisee's note, lease or obligation.
---
Sbarro
Founded in: 1956
Franchising since: 1977
Franchise units: 600+ Worldwide
Initial investment: 1,145,000 AED - 2,204,000 AED
Royalty Fees: 5 - 7%
Sbarro is one of the world's largest pizza restaurant chains with a proven 60+ year track record operates over 600 restaurants in the U.S. and abroad. The Sbarro menu offers pizza, pasta, hot and cold Italian entrees, salads, sandwiches, cheesecake, and other desserts at a modest price with fast service. Sbarro, LLC, owns, operates, and franchises a Domestic and International chain of family-oriented Italian restaurants under the "Sbarro" and "Sbarro The Italian Eatery" names. Most of these are buffet and cafeteria-style restaurants located in food courts in shopping malls. Others are found in airports, toll-road rest areas, sports arenas, hospitals, universities, casinos, and downtown locations.
---
Domino's Pizza
Founded in: 1960
Franchising since: 1967
Franchise units: 8000+ Worldwide
Initial investment: 440,000 AED - 1,695,000 AED
Royalty Fees: 5,5%
International franchise company that sells pizza with a delivery system. Until 2006, Domino's Pizza had almost 8,000 service centers owned by companies and franchise owners in more than 54 countries. Franchisees at Domino's Pizza fall into one of two categories: internal or external. Internal franchisees have already worked within Domino's as a general manager for at least one year. External franchisees have not previously worked with Domino's as a general manager, but do bring outside business or other management experience to the table.
---
Conclusion
To summarize, we can say any of the listed above pizza franchises is worth buying. But there is a lot to consider while choosing the best one for you. Pay attention to the reputation of the brand, what training and support are offered, check if the other franchisees are successful. But the main thing you need to do is to align your budget with investment requirements of the brand. In order to ease the challenge, we have made the comparison flowchart of the best pizza franchises in the UAE for you. It shows the minimum estimated initial investment of each brand. By using it, you can figure out the difference in financial requirements for each franchise, and decide which one fits you the most.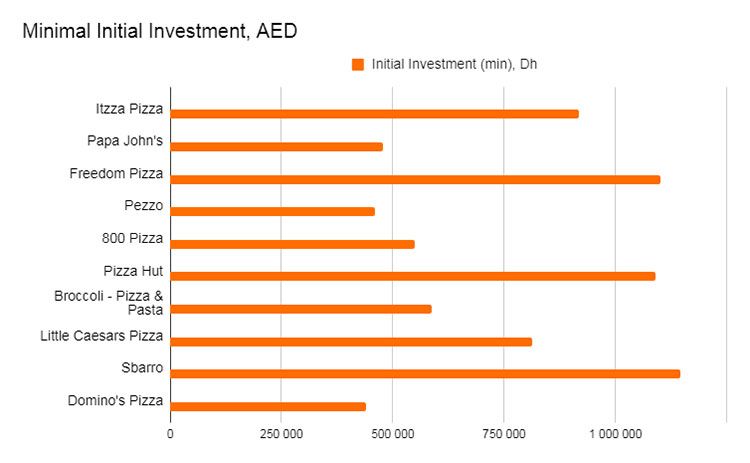 View all Pizza Franchises
Want to advertise your franchise with us and successfully boost your business?
Please send us your request and we will get back to you shortly!
DIDN'T FIND WHAT YOU WANT?
ASK THE EXPERTS