Top 11 Child Care Franchise Opportunities in the UAE for 2023
Update: 06.07.2023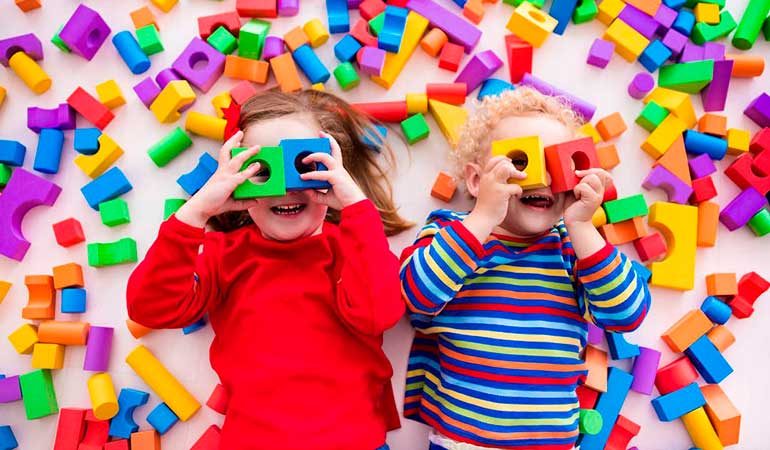 Family and kids are the main values of Emiratis. They cherish their children and invest in their education and future. The tendency encourages the development of various businesses related to kids care. The list of popular child care opportunities of franchising in the UAE includes both traditional and unique concepts; starting from kindergartens and finishing with kids academies which provide an individual approach to every child. If you are interested in a profitable business which can contribute to a promising future, choose one of top 11 child care franchises for 2022for you to own. Become a part of a successful chain and get a quick return on investment with the constant support of a franchisor.
Here are the top 11 Child Care franchises in The UAE
«woo-hoo!»
Founded in: 2020
Franchise Fee: $50,000
«woo-hoo!» is a state-of-the-art experiential edutainment center that focuses on creating meaningful experiences and offers hands-on opportunities for children and their families to explore and learn through play.
«woo-hoo!» creates environments in its galleries, programs and events that cultivates meaningful bonds by offering experiences that are pertinent to families and promote community engagement.
Request free info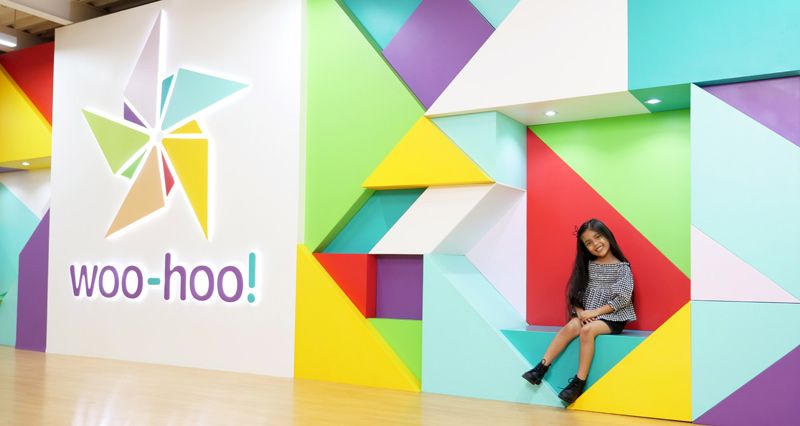 ---
Kids Academy Nursery Group
Kids Academy Nursery is a UK based daycare and preschool providing fun and interactive education for preschool children. Kindergartens have well-equipped classrooms with age-appropriate toys and learning resources, spacious indoor and outdoor areas, and a dedicated room for parents to relax while watching their child through video surveillance. Kids Academy Kindergarten follows the Early Years Foundation Stage (EYFS) program for children aged 45 days to 4 years. EYFS is a play-based curriculum that offers your child a wide range of knowledge and skills with a focus on 7 interrelated areas of learning and development.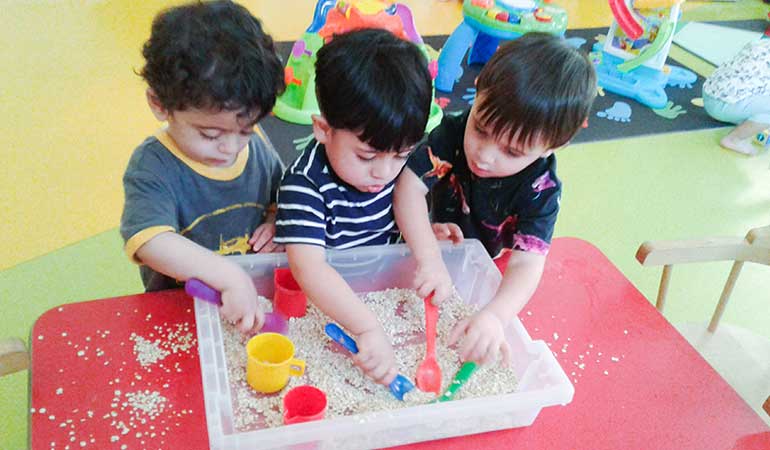 ---
Kangaroo Kids Nursery
Founded in: 2005
Franchise Fee: $5,500 - $11,000
UK-based Kangaroo Kids Nursery was founded in Dubai in 2005 and has been providing ongoing premium care and education for children aged 0-4 years since then. Kangaroo Kids fully adheres to the UK-based EYFS curriculum with a child-centered approach that draws on a variety of early learning theorists to support one-to-one practice.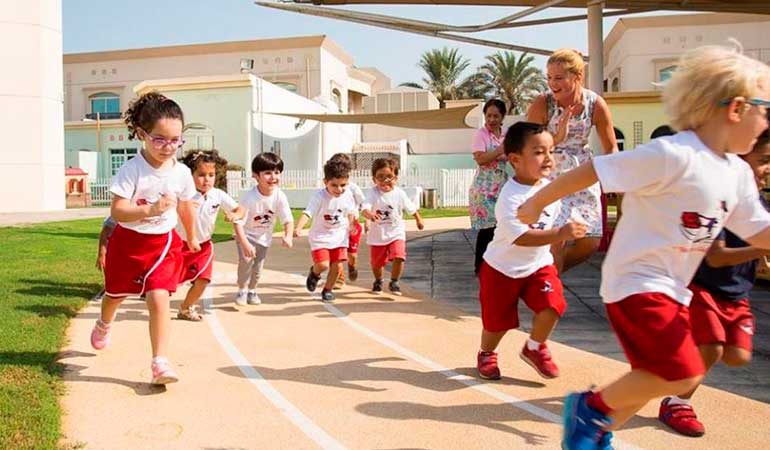 ---
Kids Spot Nursery
Founded in: 2013
Franchise Fee: $6,300 - $11,200
Kids Spot kindergarten has been specially designed, developed and designed with your child in mind. At Kids Spot Kindergarten, rooms, equipment, resources, and outdoor play areas provide children with constant access to a wide range of activities and areas that support their development and learning. Kids Spot Kindergarten is staffed by experienced, fully qualified professionals with a range of qualifications related to childcare. Each team member is also qualified in child first aid and food hygiene. Kids Spot Nursery offers an EYFS curriculum that is not only extensive, but also tailored to the individual needs of each child, allowing them to develop at their own pace.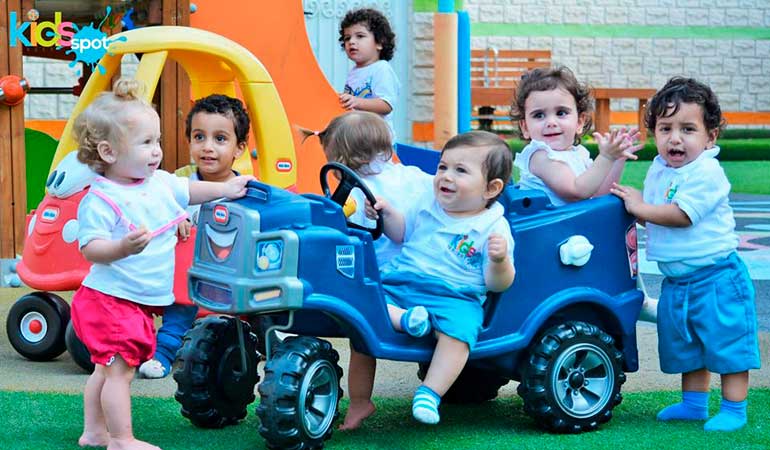 ---
Little Sprouts
Founded in: 2014
Initial investment: $700,000
Franchise Fees: $2,000
Little Sprouts was founded by the Little Sprouts promoters after significant research with the sole purpose of providing quality education and care comparable to the best in the world. Little Sprouts prides itself on providing excellent care and education. At Little Sprouts, we strive to develop every child into a level-headed person with an engaging environment that supports children's curiosity and wonder. Little Sprouts loves a caring and safe environment coupled with a focus on fun, play and learning.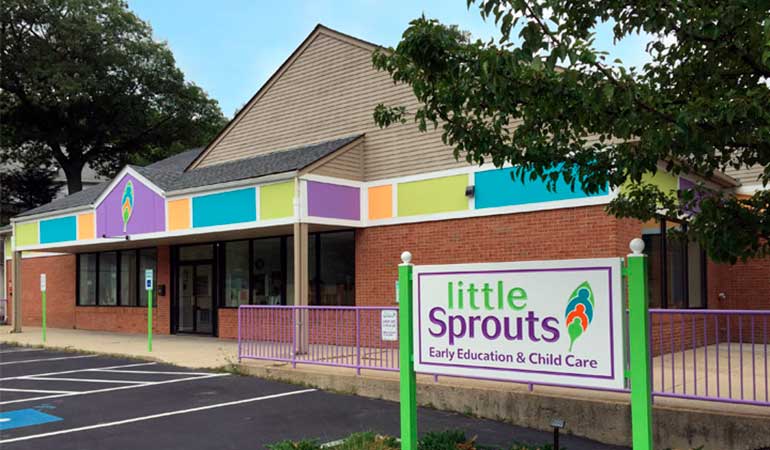 ---
Kids Academy
Founded in: 2012
Initial investment: $480,000 - $926,000
Franchise Fee: $32,700
Royalty Fees: 6%
Kids Academy has a rich heritage in the UK, where it was founded over 16 years ago. The first Kids Academy nursery opened its doors for operation in Khalifa City A, Abu Dhabi in January 2012. Three more branches were established within the last 3 years including a first-class workplace nursery facility for Etihad Airways. The British Early Years Foundation Stage (EYFS) is a play-based curriculum. It promotes teaching and learning to provide the correct foundations so children are prepared and ready for school success. It gives children a broad range of knowledge and skills.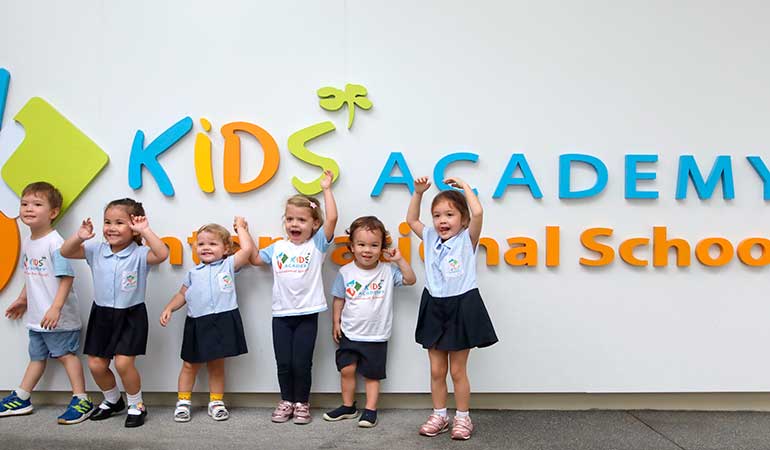 ---
Canadian Kids Nursery
The Canadian Kids Nursery curriculum focuses on an individual approach, keeping in mind that each child is unique. Children who are fully engaged and supported in everyday life will develop a lifelong learning pattern and be prepared for every stage of life. The Canadian Kids Nursery concept adheres to the beliefs and teachings of many child development theorists such as Maria Montessori, Jean Piaget, John Dewey, Eric Erickson, Lev Vygotsky, and the early childhood movement of Reggio Emilia, Italy. Play-based learning practices challenge children to explore their environment in and outside the classroom.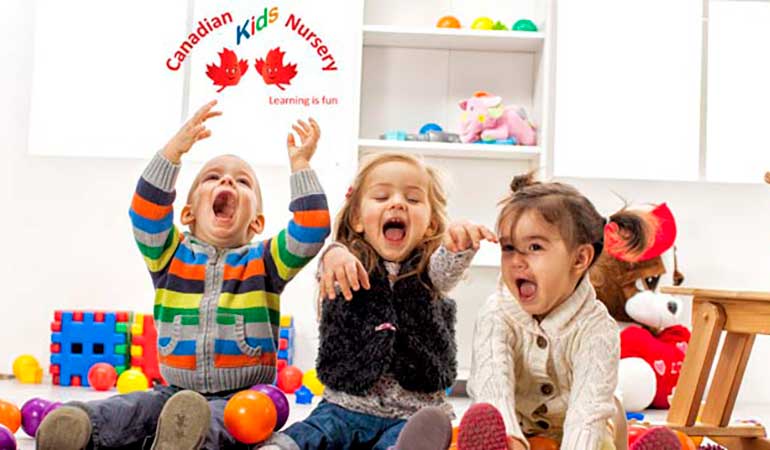 ---
Step by Step Nursery
Founded in: 2010
Franchise Fee: $4,100 - $8,200
At Step by Step Nursery, we educate and inspire children to become creative, confident and independent. Here children learn through play in a safe and secure environment. Large and bright indoor and outdoor play areas and spacious classrooms make the children's ideal environment for mental and physical development. With 3 affiliates and over 10 years of experience in delivering quality early childhood education, Step by Step understands the need to provide each child with a unique learning experience based on their individual needs.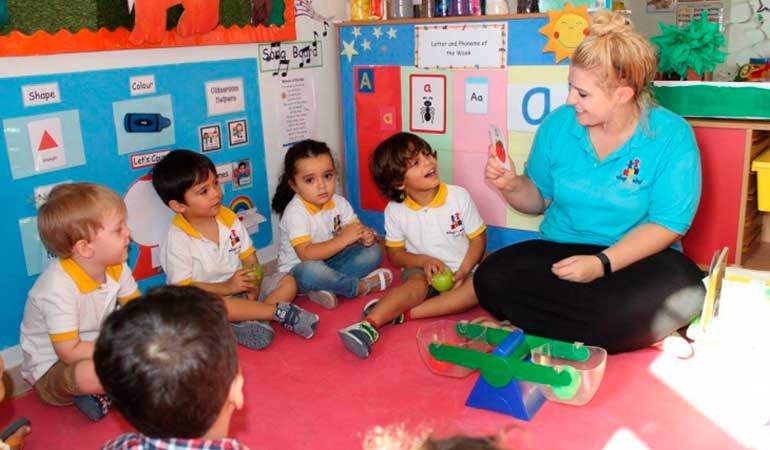 ---
Art Village Nursery
Founded in: 2015
Franchise Fee: $8,200 - $10,900
Art Village Kindergarten is a branch of the award-winning Amadeus preschool group in Stockholm, Sweden. A kindergarten inspired by Reggio Emilia, dominated by a pedagogical approach deeply rooted in the humanistic philosophy of life. Creches for all children should be fun, safe and educational. Therefore, Art Village works with four parallel profiles: song music, dance movement, theatrical drama, art design. Arts education programs provide children with the tools to develop their educational, emotional, social, and creative abilities. All children from 12 months to 4 years old can take part in the safe, harmonious and creative environment that Art Village Nursery offers.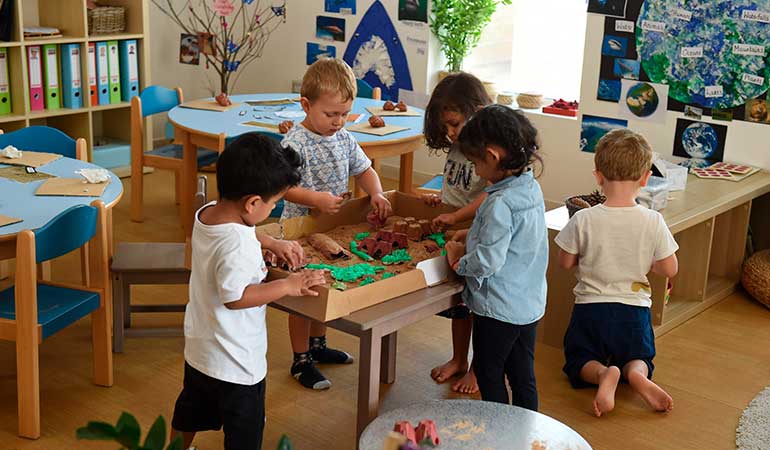 ---
Falcon British Nursery
Founded in: 2014
Franchise Fee: $6,000 - $9,000
Falcon British Nursery is the only UK accredited kindergarten in Abu Dhabi. Accreditation number: eQC10569. Kindergarten, provides high standards of teaching methods and play materials in an environmentally friendly environment. At British Nursery, we believe in fostering development through regular assessment and parent-teacher partnerships to ensure that your child develops in an enriched, active and safe learning environment. The garden has an outdoor playground, which is the largest on the island of Abu Dhabi (2200 sqm).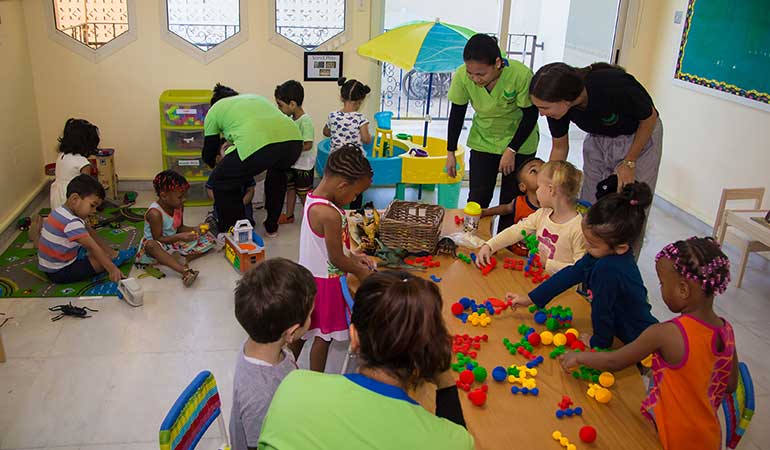 ---
Ladybird Nursery Abu Dhabi
Founded in: 2014
Franchise Fee: $7,300
Ladybug Nursery is a well-established and one of the oldest nurseries in Abu Dhabi. It has been in the heart of the city for 15 years and has maintained a homely and welcoming learning environment all this time. Ladybird incorporates the best of the British System (EYFS) as well as the principles and techniques of Montessori. Following the best British tradition, Ladybird is ready to incorporate new practices and early years of research into our existing program. Curriculum and materials include the EYFS and Montessori areas of study. The first three are important for all children's learning and develop in all other areas.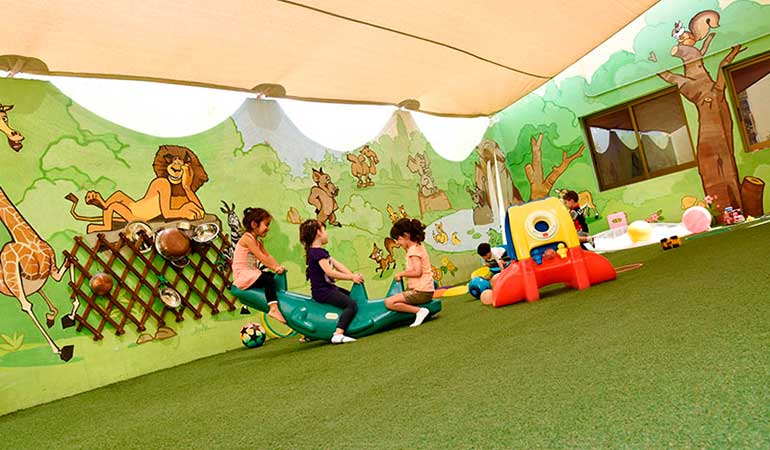 ---
View all child care franchises
Browse franchises by countries

USA

India

Canada

The UK

Indonesia

The Philippines

Australia

The UAE

Saudi Arabia

South Africa

Germany

Pakistan

Singapore

Malaysia
Other countries
Want to advertise your franchise with us and successfully boost your business?
Please send us your request and we will get back to you shortly!
DIDN'T FIND WHAT YOU WANT?
ASK THE EXPERTS