The Best 10 Fast Food Franchises in USA in 2023
Update: 07.06.2021
Fast food industry in the USA is evolving. According to Market Research Report it has more than 239 K businesses and employs more than 4.5 mln employees. A lot of successful companies have grown to fast food franchises that are expanding throughout the world. McDonald's, KFC, Burger King, Domino`s Pizza and other flagmans on the market came from the USA. Fast food opportunities of franchising are diverse in terms of format, menu, service and price. There are cheaper concepts like grill & bar, cafes, kiosks, and more expensive businesses like quick service, casual dining, and fast casual restaurants. They serve anything from sandwiches, burgers, chicken, donuts to tacos and nachos. The segment offers drive-thru, take away, delivery, walk-up window and other services. Fast food franchise cost varies from $150K to up to $ 2 mln. There is an abundant choice of businesses in the USA. In order to help you find the right concept quickly, we have made a list of the best fast food franchises to open.
Here are the most popular 10 fast food franchises in the USA
McDonald's
Founded in: 1955
Franchising since: 1955
Franchise units: 37,000+
Initial investment: $1,058,000 - $2,230,000
Ongoing Royalty Fee: 4%
McDonald's is the world's largest restaurant chain by revenue, serving over 69 million customers daily in over 100 countries. A new McDonald's restaurant is opened in every 14.5 hours. McDonald's sells over 75 burgers every single second. Approximately 7% of the potatoes grown in the U.S. are turned into McDonald's fries. The McDonald's franchise is recognized as one of the premier franchising companies so buying franchise is a sure way to break into the fast food industry.
---
BURGER KING
Founded in: 1954
Franchising since: 1967
Franchise units: 16000+ Worldwide
Initial investment: $316,100 - $2,660,600
Royalty Fees: 4,5%
Burger King (BK) is an American global chain of hamburger fast food restaurants which menu consists from a basic offering of burgers, French fries, sodas, and milkshakes to a larger and more diverse set of products. To get started, you are required to attend a two week Franchisee Orientation and log up to 440 hours of in-restaurant training. Burger King offers meetings, evaluations, a grand opening event, and a toll-free phone number to call for problems to its franchise owners.
---
SUBWAY
Founded in: 1965
Franchising since: 1974
Franchise units: 42,000+
Initial investment: $150,050 - $328,700
Royalty Fees: 8%
Subway is an American privately held fast food restaurant franchise that primarily sells submarine sandwiches and salads. Subway is one of the fastest-growing franchises in the world and is one of the cheapest major fast food restaurants to franchise. Subway offers regular free seminars where those interested in becoming a franchisee can meet Subway representatives and is also a regular attendee at franchising trade shows and events.
---
KFC
Founded in: 1930
Franchising since: 1952
Franchise units: 23,000+
Initial investment: $1,442,550 - $2,771,500
Ongoing Royalty Fee: 5%
KFC, also known as Kentucky Fried Chicken, is an American fast food restaurant chain that specializes in fried chicken. KFC's original product is pressure-fried chicken pieces, seasoned with Sanders' recipe of 11 herbs and spices. The constituents of the recipe represent a notable trade secret. KFC offers value and a strong brand that has proven economic stability.
---
Checkers and Rally's
Founded in: 1986
Franchising since: 1989
Franchise units: 605
Initial investment: $254,000 - $1,431,000
Ongoing Royalty Fee: 4%
After the merger of separate brands Checkers (founded in 1986) and Rally's (founded in 1985) in 1999 Checkers Drive-In Restaurants, Inc. became one of the largest chains of double drive-thru restaurants in the United States. The company operates Checkers and Rally's restaurants in 28 states, and the District of Columbia and specializes in hot dogs, hamburgers, french fries, and milkshakes. The company is looking for multi-unit franchisees, food operators, and entrepreneurs with prior restaurant/business experience who are seeking a financial investment.
---
DAIRY QUEEN
Founded in: 1940
Franchising since: 1944
Franchise units: More Than 6800 Worldwide
Initial investment: $1,083,525 - $1,850,425
Royalty Fees: 4%
Dairy Queen (DQ) is a chain of soft serve ice cream and fast-food restaurants which menu includes Grillburgers, Cheesburgers, Chicken Sandwiches, Ice Creams and other delicious desserts. Dairy Queen is looking for qualified individuals or groups to help company continue their story and help DQ delight their fans with the refreshing atmosphere, delectable food, and chocolate-dipped happiness. When franchisees enter into a franchise agreement they are granted the right to operate a Store at an authorized location that the franchisor has consented to in writing.
---
DOMINO'S PIZZA
Founded in: 1960
Franchising since: 1967
Franchise units: 5000+
Initial investment: $119,950 - $461,700
Royalty Fees: 5,5%
DOMINO'S PIZZA is an international franchise company that sells pizza with a delivery system and is the second biggest pizza chain in the U.S. with restaurants in every single state. The franchisor offers Domino's Pizza Store concepts under which the franchisee will operate a Domino's Pizza Store selling pizza and other authorized products through delivery and carry-out services. Domino's Pizza franchise has many benefits.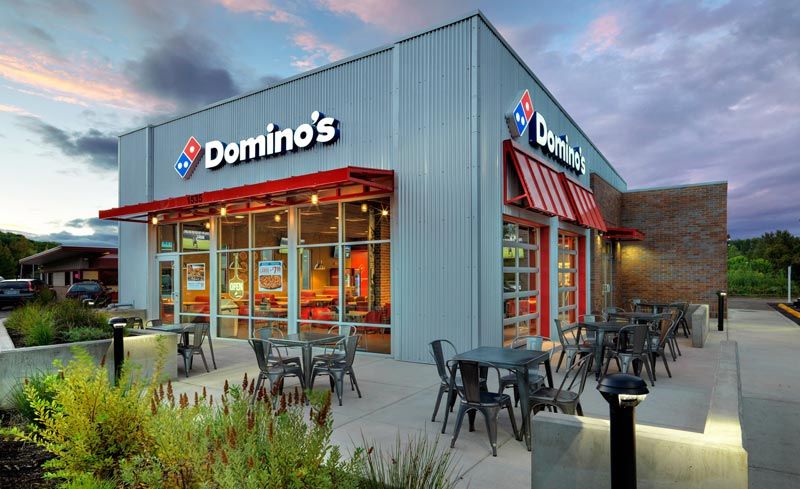 ---
Dunkin' Donuts
Founded in: 1954
Franchising since: 1955
Franchise units: More Than 9000 Worldwide
Initial investment: $30,000
Royalty Fees: 5,9%
Dunkin' Donuts, currently rebranding its stores as Dunkin', is an American multinational coffee company and quick service restaurant. Dunkin' Donuts offers some of the industry's best field support experts covering franchising, development, construction, and marketing. Dunkin' Donuts has deep expertise in providing franchise opportunities by offering assistance that ranges from site selection through the development process to providing ongoing new product training.
---
Taco Bell
Founded in: 1962
Franchising since: 1964
Franchise units: 6300+ Worldwide
Initial investment: $525,000 - $2,622,000
Royalty Fees: 5,5%
Taco Bell is an American chain of fast food restaurants which serve a variety of Tex-Mex foods that include tacos, burritos, quesadillas, nachos, novelty and specialty items, and a variety of "value menu" items. If you have a passion for operations, excellence, and team building and you can commit to building at least 3 restaurants over 3 years Taco Bell wants you.
---
Wendy's
Founded in: 1969
Franchising since: 1972
Franchise units: 6700+
Initial investment: $2,000,000 - $3,5000,000
Royalty Fees: 4%
Wendy's, founded by Dave Thomas on November 15, 1969, in Columbus, Ohio, is an American international fast food restaurant chain and the world's third-largest hamburger fast-food chain, following Burger King and McDonald's. The chain is known for its square hamburgers, sea salt fries, and Frosty, a form of soft-serve ice cream mixed with starches. Wendy's requires $2 million in liquid assets with $5 million net worth for new multi unit franchisees or franchise groups. Franchisees receive on-going direct support from their skilled operators at the field level.
---
View all fast food franchises
Want to advertise your franchise with us and successfully boost your business?
Please send us your request and we will get back to you shortly!
DIDN'T FIND WHAT YOU WANT?
ASK THE EXPERTS