The Top 10 Franchise Businesses For Sale in California Of 2023
Update: 08.03.2023
Despite a complex set of rules and rather high taxes, California is a very tempting state for different businesses. There are more than 4 mln companies operating in the state. Franchises for sale in California are absolutely various in terms of scope, franchise segment, concept and costs. They deal with coffee, fast food, car care, fitness, home improvement and many other businesses. The Top 10 franchises in California offer the opportunity to build a strong and successful business with the assistance and support of a franchisor. Read the information about the requirements, business concepts, costs and trainings; and choose the best franchise to own in California.
Here are the 10 best franchises to own in California
Gloria Jean's Coffees
Founded in: 1979
Franchising since: 1986
Franchise units: 854
Initial investment: from $173,150
Royalty Fees: 6%
With over 25 years of franchising experience and nearly 900 locations worldwide, Gloria Jean's Coffees provides you with an opportunity to succeed in the specialty coffee industry. Gloria jean's coffees' passion for quality has made us a leader in gourmet flavored coffees, varietals and blends. Opportunities available for street-front, drive thru, kiosk and non-traditional locations. Strong ongoing operations and training support from day one. We have a vested interest in your success.
---
Checkers Drive-In Restaurants
Founded in: 1986
Franchising since: 1989
Franchise units: 623
Initial investment: from $96,414
Royalty Fees: 4%
Checkers franchise is known for having great tasting "hand-seasoned" burgers and fries combined with fast service because the double drive-thru allows service twice as fast as big competitors. Checkers is a proud supporter of the International Franchise Association's VetFran program. We are looking for both individuals with prior restaurant/business experience and those who are seeking a financial investment.
---
Meineke Car Care Centers
Founded in: 1972
Franchising since: 1972
Franchise units: 879
Initial investment: from $122,760
Royalty Fees: From $20,800 per year
Meineke gives you the unbeatable combination of experience, brand strength, and industry-leading technology. Customers come to our one-stop centers for everything from oil changes to tire replacement, transmission work and general auto repair. No other brand even comes close to providing their Franchise Owners with the information and the metrics they need to succeed. Our industry-leading proprietary platform includes: Meineke eInspection, workflow/scheduling, ordering/procurement, and accounting. You'll have at your fingertips all the data you need to track business KPIs, improve performance, and meet — or exceed — your goals.
---
Firehouse Subs
Founded in: 1994
Franchising since: 1995
Franchise units: 1098
Initial investment: from $92,255
Royalty Fees: 6%
Firehouse Subs franchise restaurants offer and serve large-portion hot submarine style this is a taste test/review of the firehouse subs italian sub sandwich. Become part of our Firehouse Subs family.Open a franchise with one of the restaurant industries' most exciting fast casual brands. We offer extensive training programs and operating systems to help build your business. Our support team of experts — all work together to streamline operations for businesses that are simple to run.
---
Pearle Vision
Founded in: 1961
Franchising since: 1980
Franchise units: 416
Initial investment: from $399,439
Royalty Fees: 7%
If you want to be part of a healthcare brand that has built its success by putting patients first, explore the Pearle Vision franchise opportunity. The brand has more than 30 years' experience in franchising, and although Pearle Vision is a healthcare franchise, you do not need a medical background to own a franchise. Pearle Vision's proven business model is designed to provide franchise owners with the tools to simplify management of an EyeCare Center. In addition to training and support from business coaches, Pearle Vision offers new franchise owners real estate support and back-end operating systems.
---
PuroClean
Founded in: 1990
Franchising since: 1991
Franchise units: 263
Initial investment: from $72,732
Royalty Fees: 3-10%
Recognized as one of the fastest-growing franchises, PuroClean is a leader in emergency services, helping families and businesses overcome the devastating setbacks caused by water, fire, mold, and other conditions resulting in property damage. Our franchise owners follow a business-to-business and business-to-consumer sales model that paves a pathway to success in the recession-proof, multimillion dollar property damage restoration industry. As a new PuroClean franchise owner, you will receive three weeks of intensive training during New Franchise Training (NFT) at the PuroClean Academy.
---
Retro Fitness
Founded in: 2002
Franchising since: 2006
Franchise units: 146
Initial investment: from $944,000
Royalty Fees: 5%
Retro Fitness is a rapidly growing, full-service gym franchise that offers members an extensive variety of features and equipment at an affordable price. Many of our franchisees come from diverse industries and backgrounds with little to no previous industry experience. We will help you hire and train a qualified, knowledgeable team of fitness professionals to best manage club operations. We provide training for opening and ongoing operation of your Retro Fitness club.
---
Kiddie Academy
Founded in: 1981
Franchising since: 1992
Franchise units: 205
Initial investment: from $400,000
Royalty Fees: 7%
Investing in a Kiddie Academy franchise is more than a business venture. It's a life-changing decision serving the growing educational needs of young families nationwide. As a Kiddie Academy Franchisee, you'll have the dedicated support of our full-time subject matter experts. Our experienced team will help you establish goals and give you the tools needed to achieve them. We're here for you every step of the way—from site selection to Grand Opening and beyond.
---
Kona Ice
Founded in: 2007
Franchising since: 2008
Franchise units: 1048
Initial investment: from $124,750
Royalty Fees: $3,000-$4,000 per year
Kona Ice businesses provide flavored shaved ice, ice cream, and related products to the general public in a mobile environment. With 8 years in the industry and representation all across the country, and even internationally, Kona Ice is a well-developed and respected brand. We have over a thousand touch points across the country. We have an online platform that's full of training videos for you and future employees. All of our Kona Coaches are current franchisees that act as mentors to give you advice in every day, real life situations.
---
Red Mango
Founded in: 2006
Franchising since: 2007
Franchise units: 315
Initial investment: from $193,500
Royalty Fees: 6%
Red Mango Yogurt Cafe is an established leader among frozen yogurt franchises and looks to do the same with the recent expansion into healthy cafes. With more and more consumers realizing the importance of a healthy diet and lifestyle, there's never been a better time to own a frozen yogurt franchise. We truly enjoy helping our franchisees build strong, successful businesses and make a positive impact in their local communities. We provide training and support every step of the way for your frozen yogurt franchise, including marketing assistance.
---
Handyman Connection
Founded in: 1990
Franchising since: 1991
Franchise units: 68
Initial investment: from $99,525
Royalty Fees: 5%
Handyman Connection is a handyman and home improvement franchise concept that serves the repair, restoration and maintenance needs of residential and commercial properties. The Handyman Connection home improvement franchise employs and utilizes a network of qualified craftsmen and tradesmen to offer small to medium size residential and commercial renovations, repairs and remodeling jobs. As a franchisee, you will not perform handyman services yourself. You will utilize craftsmen and service advisors, after the initial start up period, to quote and sell jobs and provide customer service follow up.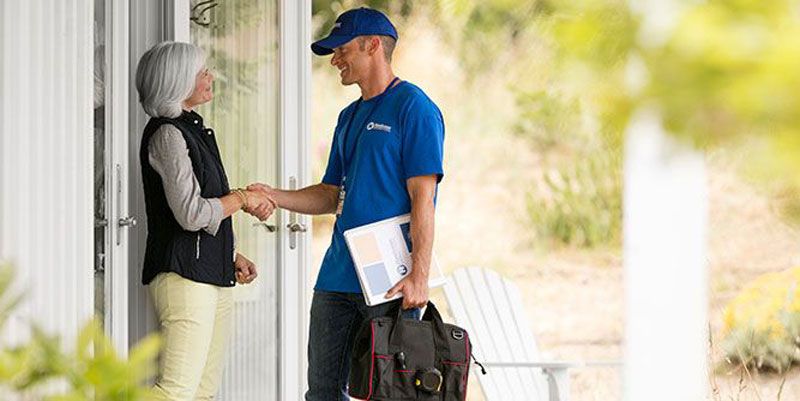 ---
View all franchise opportunities
Want to advertise your franchise with us and successfully boost your business?
Please send us your request and we will get back to you shortly!
DIDN'T FIND WHAT YOU WANT?
ASK THE EXPERTS