Top 10 Gutter Cleaning Franchise Opportunities in USA in 2023
Update: 04.11.2021
Gutter cleaning franchise business is a nontrivial concept which will always be in demand. It provides good opportunities for entrepreneurs who start their first franchise company and the ones who want to add one more cleaning service to the existing business. It could be a good add-on to pest control, lawn mow, janitorial and other cleaning services. If a business person wants to run an exceptionally gutter cleaning business, they will benefit a lot from an easy, simple and low cost concept. If they would like to grow their business by means of a new service, they will not only increase the revenue of their company but also make their brand famous. As a lot of top gutter cleaning franchises have a well-known brand name and a well-established business model. Find your own gutter cleaning franchise opportunities on our list of top 10 businesses operating in the USA. They offer really good conditions for their franchisees and are ready to teach them how to build a successful brand.
Here is the top 10 best Gutter Cleaning franchise business in USA
Gutter PRO
Founded in: 2014
Franchising since: 2016
Initial investment: $20,000 - $50,000
Gutter Pro was founded in 2014. The company started working on a franchise in 2016. Gutter Pro USA is the leading gutter protection company. The main goal of the company is to help get rid of the foliage in the gutters. The Gutter PRO features the patented ProBracket ™ system that provides unmatched support and strength, making the GutterPro USA Water Management System ™ the most reliable and durable gutter protection available. No need for scaffolding, ladders or cherry pickers when using GutterPRO for gutter cleaning. The company gives its franchisees a choice: pay a commission or, as a rule, a low fixed monthly fee.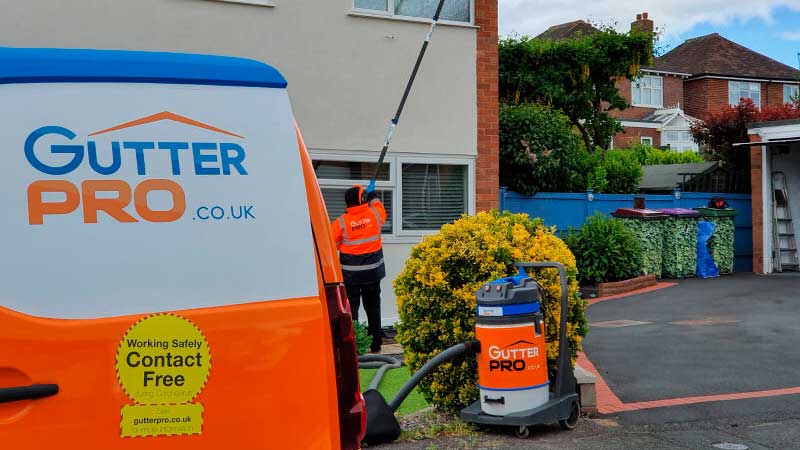 ---
Window Genie
Founded in: 1994
Franchising since: 1998
Franchise units: 130
Initial investment: $104,500 - $190,000
Franchise Fee: $36,500 - $85,500
Royalty Fees: 7%
Window Genie was founded by Richard Nonell in 1994 in Cincinnati, Ohio. Nonell had experience in sales and management, as well as degrees in marketing and finance. Initially, he knew nothing about the window cleaning industry. Initially, the business was focused solely on window cleaning services, but Nonelle soon added a full range of pressure washers, house cleaning and concrete washing, terrace cleaning and gutter cleaning to Window Genie. The company started franchising in 1998. A significant advantage of doing business with Window Genie is the limited national competition.
---
Fish Window Cleaning
Founded in: 1978
Franchising since: 1998
Franchise units: 280
Initial investment: $87,300 - $151,600
Franchise Fee: $39,900 - $64,900
Royalty Fees: 8 - 6%
Fish Window Cleaning is the world's largest window cleaning company with over 275 franchisees in 45 states. Mike Merrick founded Fish Window Cleaning with his wife in 1978. With 20 years of successful experience, he created the Fish Window Cleaning franchise system. In 1998, the first Fish franchise opened in Tampa, Florida. The main specialization of the company is cleaning: shop windows on the ground floor, office buildings (up to 3 floors), churches, restaurants; banks, schools and private homes. The company also provides services for cleaning gutters. An experienced development team will guide the franchisee through the entire process from start to finish, making it much easier to start a business.
---
Window Gang
Founded in: 1986
Franchising since: 1996
Franchise units: 223
Initial investment: $80,900 - $118,300
Franchise Fee: $60,000
Royalty Fees: 7%
Window Gang was founded in 1986 in the township of Rightsville Beach, North Carolina. Among the range of services offered by the company: cleaning windows, gutters, washing various surfaces under pressure, cleaning the ventilation openings of the dryer, cleaning chimneys for both private houses and commercial organizations. Founded by Tim McCullen as a summer job. When the company acquired a significant number of regular customers, McCullen decided to start a franchise. The company has been providing franchise opportunities since 1996.
---
Squeegee Squad
Founded in: 1999
Franchising since: 2005
Franchise units: 54
Initial investment: $58,975 - $145,450
Franchise Fee: $45,000 - $60,000
Royalty Fees: 7 - 4%
In order to increase his own income, Jack Rügsegger, an intern as a stockbroker, began cleaning windows on weekends. In 1999 he decided to work as a window cleaner on a full-time basis. He took his brother Joe as his partner to help him, and they named the company Jack & Joe's Window Cleaning Inc. In 2005 they decided to start a franchise and it was also decided to change the name of the company to Squeegee Squad. The advantage of the company is to provide its franchisees with a proven business management system supported by patented turnkey business management software.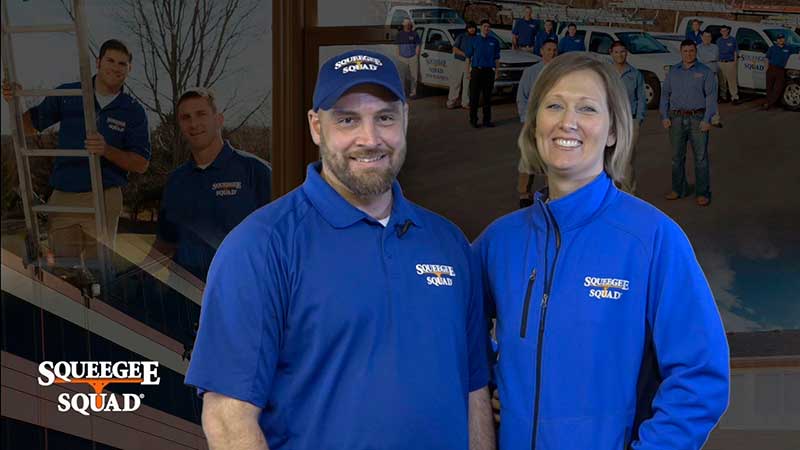 ---
Glide Force Gutter Cleaning
Founded in: 2017
Franchising since: 2020
Franchise units: 1
Initial investment: $31,820 - $52,345
Franchise Fee: $18,500 - $29,500
Royalty Fees: 8% - 10%
The company Glide Force Gutter Cleaning was formed by its co-owners, Executive Directors Jim Lindl and Don Dodge in 2017. GLIDE-FORCE's unique gutter cleaning tools are entirely designed and manufactured in America using the most advanced world class technology. With these tools, gutters are cleaned on the ground without the need for ladders. Since 2020, Don and Jim, along with a team of professionals, have been bringing GLIDE-FORCE gutter cleaning service to various locations through a network of independent franchise partners.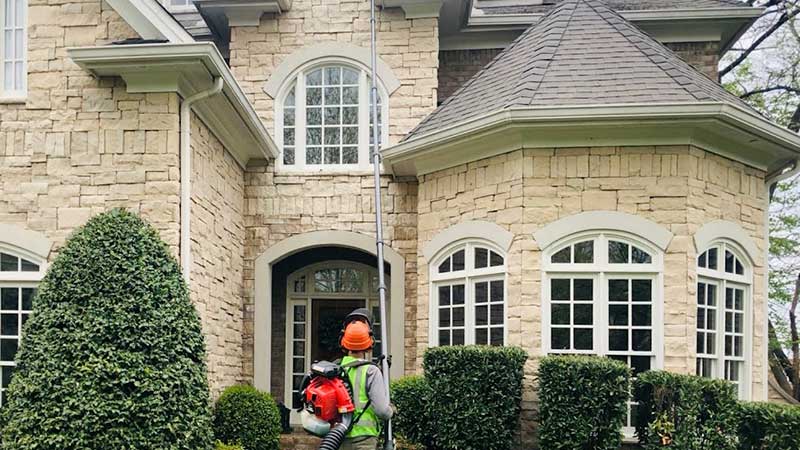 ---
Shine Window Care and Holiday Lighting
Founded in: 2000
Franchising since: 2012
Franchise units: 46
Initial investment: $106,900 - $181,600
Franchise Fee: $49,900
Royalty Fees: 7%
Shine Window Care and Holiday Lighting was founded in 2000. Since 2012, the company has also provided franchise opportunities. Among the main services offered by Shine are window cleaning, gutter cleaning, pressure washing, roof cleaning and installation of a holiday lighting. With 20 years of experience in the industry, the company is ranked in the top 50 national franchise companies and is one of the most trusted popular home services companies. The Shine Window Care & Holiday Lighting franchise offers window and gutter cleaning services for both residential and commercial premises.
---
Storm Guard Roofing & Construction
Founded in: 2003
Franchising since: 2011
Franchise units: 36
Initial investment: $185,400 - $221,600
Franchise Fee: $65,000
Royalty Fees: 6,25%
Storm Guard offers a wide range of in-home services. These include helping with home renovations, from remodeling to storm recovery, including refurbishing roofs, windows, siding, gutters, painting, and emergency tarpaulin coverage. In addition, the company provides gutter and window cleaning services. Storm Guard Roofing & Construction was founded in 2003. The company has been offering franchising opportunities since 2011. Unlike flood and fire-laden water recovery franchises, Storm Guard is the country's first exterior restoration franchise with major operating areas and pricing available.
---
Men In Kilts
Founded in: 2002
Franchising since: 2010
Initial investment: $47,500 – $108,000
Franchise Fee: $20,000 – $67,500
Royalty Fees: 7%
Men In Kilts Window Cleaning is a window and facade cleaning service company based in the United States of America. Nicholas Brand, 24, started his business back in 2002. He drew attention to the fact that he attracts customers' attention when he wears a hand-sewn kilt at work. Later, he and his partner set up a franchise company in 2006. The company has ambitious plans to expand into all major metro markets in the US and Canada. Men In Kilts Window Cleaning offers in-house funding to only cover the franchise fee. It also has a relationship with third-party sources that offer funding to cover start-up costs and equipment installation.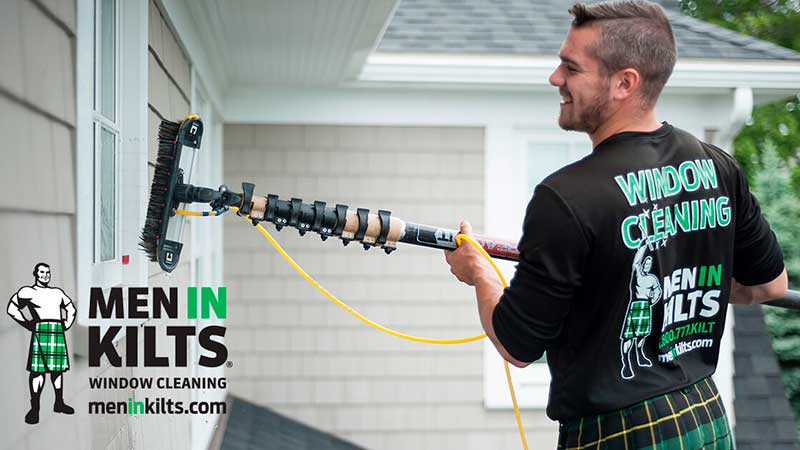 ---
Shack Shine
Founded in: 2013
Franchising since: 2015
Franchise units: 42
Initial investment: $67,600 - $129,050
Franchise Fee: $32,000 - $44,000
Royalty Fees: 8%
Shack Shine provides home cleaning services that include electric washing, gutter cleaning, roof cleaning, window cleaning, facade cleaning, and more. The company was founded in 2013 and has been involved in franchising since 2015.. The Parent Company of Shack Shine is 02E Brands. The company offers in-house financing to cover only franchise fee, but they also have relationships with third-party sources which offer financing to cover franchise fee, startup costs, and equipment. By opening the Shack Shine home franchise, the newcomer gains access to the company's proven business approaches and existing customer base.
---
Conclusion
To summarize, we can say any of the listed above gutter cleaning franchises is worth buying. But there is a lot to consider while choosing the best one for you. Pay attention to the reputation of the brand, what training and support are offered, check if the other franchisees are successful. But the main thing you need to do is to align your budget with investment requirements of the brand. In order to ease the challenge, we have made the comparison flowchart of the best gutter cleaning franchises in the USA for you. It shows the minimum estimated initial investment and initial franchise fee of each brand. By using it, you can figure out the difference in financial requirements for each franchise, and decide which one fits you the most.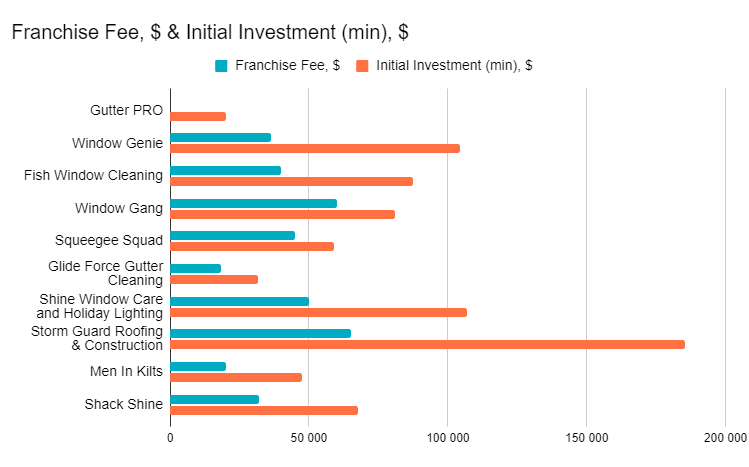 View all Gutter Cleaning franchises
Want to advertise your franchise with us and successfully boost your business?
Please send us your request and we will get back to you shortly!
DIDN'T FIND WHAT YOU WANT?
ASK THE EXPERTS