Top 10 Property Restoration Franchise Opportunities in USA for 2023
Update: 04.11.2021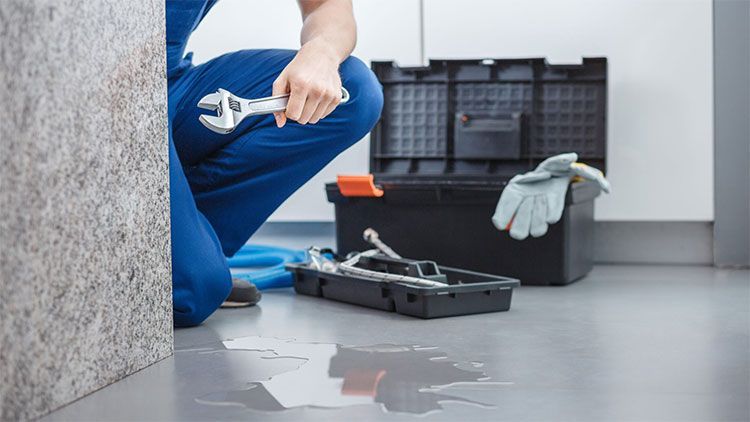 If you would like to have a business that will always have clients, choose a property restoration franchise to own. As problems with a property are inevitable, your company will operate as long as you would like. Moreover, helping people is rewarding both morally and financially. To start with, we suggest looking through a list of property restoration franchise businesses. Here you can find a lot of various concepts. How about having a company that provides commercial restoration services or would you like to deal with private matters of residents? Would you like to provide a wide range of restoration services or some specific ones, such as water and mold removal or cleaning services? Since you have chosen the concept, think about the franchisor you will deal with. Here is our selection of top property restoration franchises for sale. We ensure you that they are the best in the segment. They have already built their successful network and are ready to share their hacks and best practices with you.
Here is the best 10 Property Restoration franchise businesses in USA
1-800 Water Damage
Founded in: 1988
Franchising since: 2002
Franchise units: 151
Initial investment: $57,610 - $191,990
Franchise Fee: $24,000 - $59,000
Royalty Fees: 8-10%
As a leading name in the restoration services industry, 1-800 WATER DAMAGE is focused on providing high-quality restoration solutions with excellent customer service. When a home or property owner calls 1-800 WATER DAMAGE, they're often in immediate need of help. As their communities' trusted experts in water, mold, and fire damage restoration services, our franchise owners are there for others when they need it most. We're proudly helping home and business owners safely return to professionally restored homes and properties. When you franchise with 1-800 WATER DAMAGE, you're also partnering with an established company that has the industry-leading resources and expertise to support you every step of the way. As part of BELFOR Franchise Group, one of the leading service-based franchisors, we are committed to helping you learn, grow, and thrive as a business owner.
---
AdvantaClean
Founded in: 1994
Franchising since: 2006
Franchise units: +200
Initial investment: $166,180 - $260,100
Franchise Fee: $19,950
Royalty Fees: 5-9%
AdvantaClean is one of the leading brands in the water and mold restoration industry. While most of our competitors are chasing emergency situations, AdvantaClean stands out; our business model is designed to produce regular, scheduled work and sustainability, delivering not only water damage and clean up services needed by almost every home in America, but also moisture control services, air duct, and coil cleaning, sanitizing services, radon removal, and fire & smoke damage & clean up services. Our success for more than 25 years and in over 200 locations across the country is the result of our radically different approach to franchising: we help our franchisees grow their businesses by helping them win and retain new customers, and by keeping the ongoing costs of running a successful business low.
---
Best Option Restoration
Founded in: 2016
Franchising since: 2018
Franchise units: 22
Initial investment: $119,920 - $165,970
Franchise Fee: $39,000
Royalty Fees: 7%
With an extensive franchise presence across the country, B.O.R. is a leader in the restoration industry. We hold our technicians to the highest standards in the field. From mold and sewage remediation, to fire damage restoration or debris removal, our certified technicians combine courtesy with professionalism to make your property look and feel like home again. B.O.R. Restoration is committed to helping those in need after a disaster. Our experienced team has the knowledge and equipment necessary to make sure that we leave every home as it was before the incident or what we call "pre-loss" condition.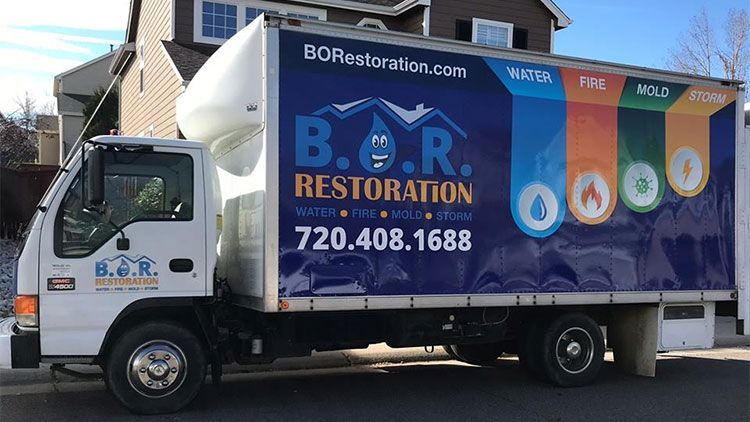 ---
Restoration 1
Founded in: 2008
Franchising since: 2009
Franchise units: 259
Initial investment: $87,000 - $195,625
Franchise Fee: $54,900 - $59,275
Royalty Fees: 7%
Restoration 1 franchise is one of the fastest-growing restoration franchises in the nation. With hundreds of locations open or in development, Restoration 1 is poised to become the leading brand in the $210 billion restoration services industry. Restoration 1 is a low-cost opportunity with a proven, recession-resistant business model that is easy to scale and easy to own. Founded in 2008, Restoration 1 is led by a passionate executive team with decades of experience in growing franchise systems and helping entrepreneurs live their dreams of owning a successful business.
---
ServiceMaster Restore
Founded in: 1947
Franchising since: 1952
Franchise units: 4,975
Initial investment: $81,320 - $303,810
Franchise Fee: $32,500 - $72,500
Royalty Fees: 4-10%
For more than 65 years, ServiceMaster Restore has provided the highest level of service to commercial and residential customers of disaster restoration services. We've drastically exceeded expectations and have helped our customers get their lives back to normal as quickly as possible. When you choose to provide these indispensable services to clients at their time of need, you join a long legacy of passion for excellence and superior customer service. Backed by the tools, resources and ongoing support of this award-winning brand, you'll have everything you need to run a successful business and achieve your goals.
---
Disaster Kleenup International (DKI)
Founded in: 1974
Franchising since: 1994
Franchise units: 305
Initial investment: $22,145 - $94,750
Franchise Fee: $20,000 - $50,000
Royalty Fees: $625-$2,100 per month
DKI's mission is deeply rooted in our passion for helping others through fast, efficient response methods. We're proud to be one of the largest property restoration organizations in North America with nearly a half-century of experience. We are dedicated to provide solutions for a quick recovery when disaster strikes to our clients, including property owners, insurance professionals, risk managers, and more. If you provide professional restoration services, consider joining DKI. As one of the leading disaster restoration organizations in North America, we not only provide exceptional services to our clients and customers, but also our member partner companies.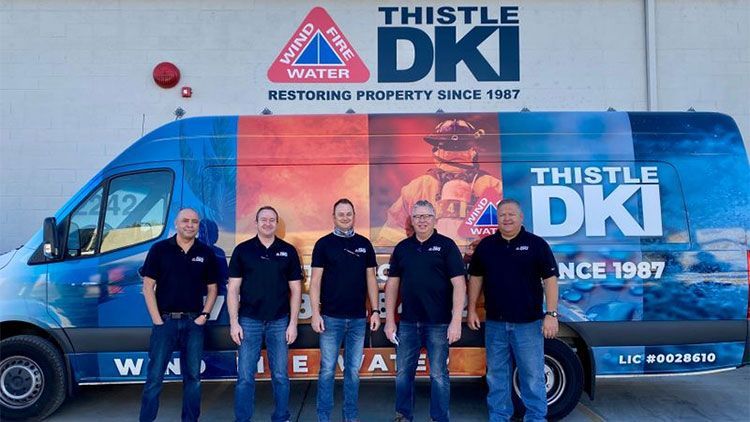 ---
Green Restoration
Founded in: 2014
Franchising since: 2020
Franchise units: 2
Initial investment: $30,000 - $275,250
Franchise Fee: $15,000 - $35,000
Royalty Fees: 9%
Green Restoration is a proven leader in property damage, restoration and cleaning services. Everything we do is done with excellence and integrity. We have a simple mission; provide safe, innovative solutions for safe cleaning and restorations and make the earth better. You can be on the ground floor of our franchise which is set up for some amazing growth. This means there are many territories available, and our discounts for additional units there will be tremendous opportunities for growth! We provide the best support and training for our franchisees to assure you get the help you need when you need it. Our team is dedicated to you and your success, which is our primary focus.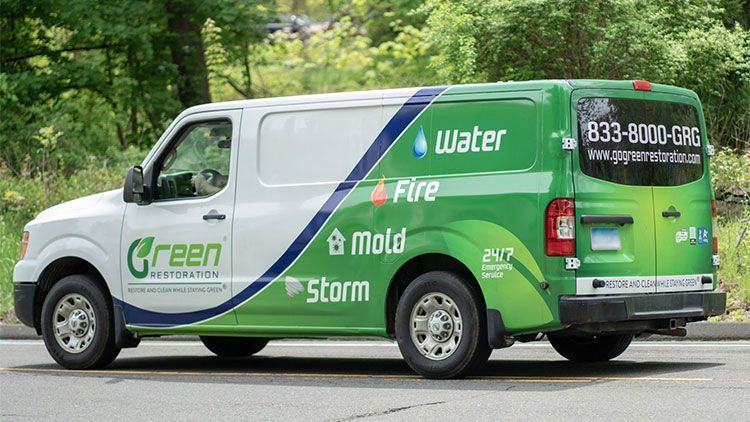 ---
Rytech
Founded in: 1995
Franchising since: 1996
Franchise units: 73
Initial investment: $135,330 - $170,760
Franchise Fee: $39,000
Royalty Fees: 8%
Rytech is a family owned business that specializes in water damage and mold removal. This multi-billion dollar industry offers potential franchisees the opportunity to build a successful business. Rytech franchisees are hands-on, dedicated business men and women who are passionate about expertly serving their customers and ensuring that their franchise is running at optimum performance. Rytech provides the software and training to run and manage your business and provides the benefits of a full turnkey customer service program with billing and payment organization, accounting and payroll services. We actively support our franchisees with initial and ongoing local marketing/sales training.
---
Servpro
Founded in: 1967
Franchising since: 1969
Franchise units: 1,930
Initial investment: $191,825 - $245,700
Franchise Fee: $70,000
Royalty Fees: 3-10%
Since 1967, SERVPRO has been helping individuals realize their dreams of business ownership. Our tried-and-true brand, system and support allow people from diverse educational, vocational and financial backgrounds to take control of their own futures, building a business molded around personal goals and lifestyle. Owning a SERVPRO Franchise is an opportunity to take advantage of our proven track record while being in business for yourself, but never by yourself. We offer a 15-day, in-house, experiential training program at our Corporate training facility. The program was initially designed for new Franchise Owners but proves to be a valuable course for Franchise Employees alike.
---
Steamatic
Founded in: 1948
Franchising since: 1967
Franchise units: 133
Initial investment: $213,360 - $411,470
Franchise Fee: $50,000 - $80,000
Royalty Fees: 1-8%
For the past 50 years, Steamatic has led the industry in the fields of Restoration and Indoor Air Quality. Steamatic is proud to have pioneered many of the techniques now used within the industry. These techniques include water and fire restoration, mold remediation, and air duct cleaning. Plus, we offer a full suite of recession-resistant cleaning services. Join an American-born institution with a global presence and the resources to help you scale your business to meet your ambitions. Once in, we are committed to ensuring you have the tools and skills to operate a successful business.
---
Conclusion
To summarize, we can say any of the listed above property restoration franchises is worth buying. But there is a lot to consider while choosing the best one for you. Pay attention to the reputation of the brand, what training and support are offered, check if the other franchisees are successful. But the main thing you need to do is to align your budget with investment requirements of the brand. In order to ease the challenge, we have made the comparison flowchart of the best property restoration franchises in the USA for you. It shows the minimum estimated initial investment and initial franchise fee of each brand. By using it, you can figure out the difference in financial requirements for each franchise, and decide which one fits you the most.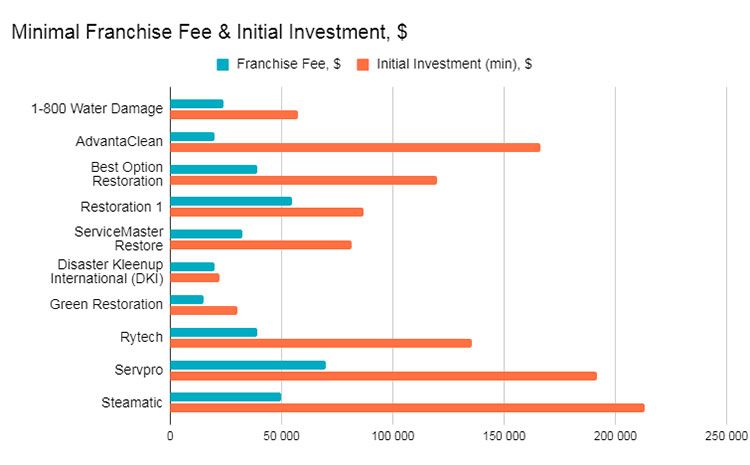 View all Property Restoration franchises
Want to advertise your franchise with us and successfully boost your business?
Please send us your request and we will get back to you shortly!
DIDN'T FIND WHAT YOU WANT?
ASK THE EXPERTS