5 Best Dental Franchise Opportunities in USA of 2023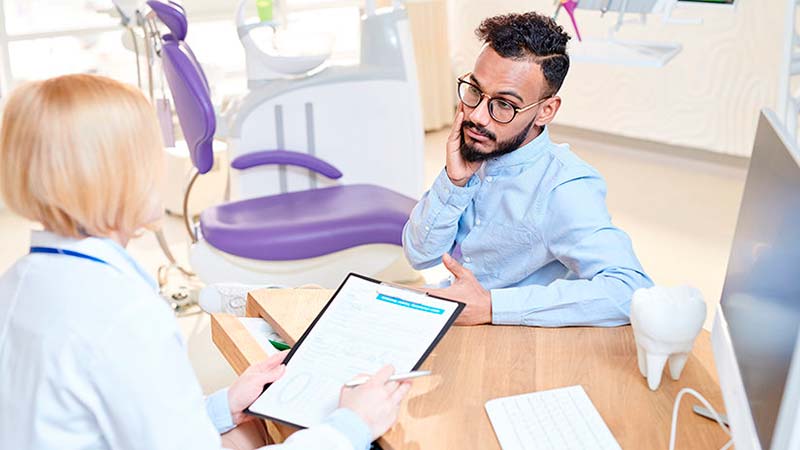 A growing population, the aging population, and the rising tendency to take care of their health create the best dental clinic franchise opportunities. The business involves oral health-related services to treat and take care of teeth, gums, and mouth. As the market in the USA is quite saturated and competitive, it is really important to choose the brand that is well-recognized, has a powerful marketing campaign, and has well-established business processes. We have prepared a list of the best 5 dental franchises to own in 2022. The concepts vary offering different business approaches, the scope of services, and financial benefits, but the brands are trustworthy and successful on the market. Choosing one of the top 5 dental franchises to buy recommended here, you will receive assistance and support from a franchise team, including training programs, access to the latest technologies and tools, and appropriate treatment approaches.
Here are the top 5 dental clinic franchise businesses in the USA
FLOSS Dental
Founded in: 2007
Franchising since: 2007
Franchise units: 10
Initial investment: $491,000 - $713,000
Franchise Fee: $35,000
Royalty Fee: 5%
For so many dentists, the FLOSS brand is an easy investment. Although FLOSS dental franchise owners all lean on the corporation on varying levels, the company provides a full service to help ensure the success of every unit carrying the brand name. Our turnkey suite includes finding office location(s), lease negotiation, office build out (according to brand standards and design requirements), equipping offices and equipment training. When you are a part of the FLOSS network you enjoy the buying power of the larger group so that you can implement the latest technology sooner, and always keep your services fresh and new.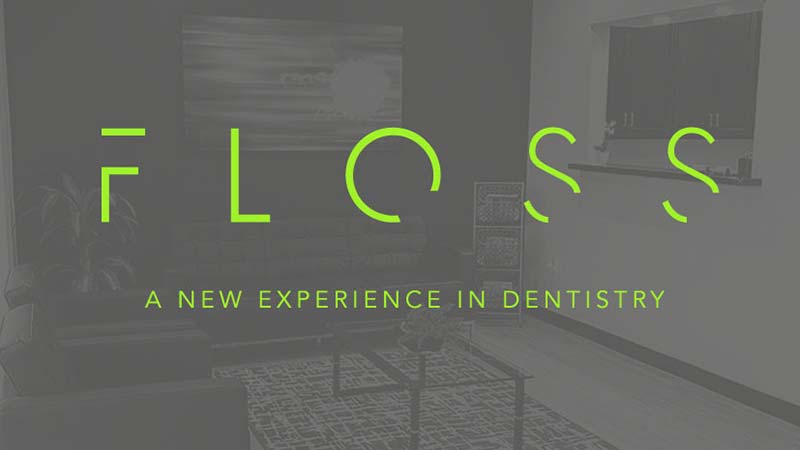 ---
The Dentist's Choice
Founded in: 1992
Franchising since: 1994
Franchise units: 143
Initial investment: from $55,000 - $60,000
Franchise Fee: $45,000
Royalty Fee: 3 - 5%
The Dentist's Choice offers the franchisee a complete complement of support services to ensure the success of every owner. The course curriculum includes instruction in all types of handpieces. Training includes education in the mechanical principles of handpiece operation, as well as detailed repair procedures for all major brands. The Dentist's Choice provides a Marketing & Sales Manual, complete with illustrative how-to examples for marketing our service. In fact, we have the largest protected territories of any dental franchises. You, as a franchise owner, operate in a large protected territory under a franchise agreement that promotes uniformity and consistency of personalized quality service, fast turnaround time, affordable prices and a 90-day parts and service guarantee.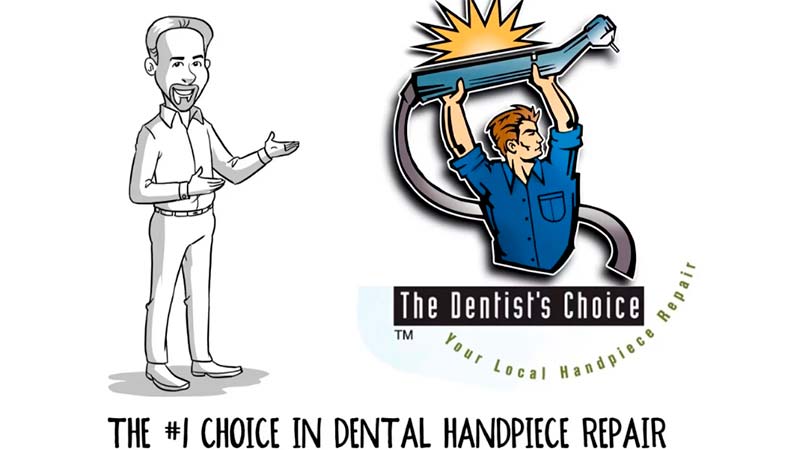 ---
Dr. Razumenko`s Dental Clinic
Founded in: 2006
Franchising since: 2019
Franchise units: 2
Initial investment: from $350,940
Franchise Fee: $68,670
Royalty Fee: 5%
Dr. Razumenko`s Dental Clinic are private clinics of a new generation which provide a full range of dental services by using the author`s method! Highly professional dentists with their own author`s methods of treatment and prosthetics of teeth, who got education in Germany and constantly improve their skills in European clinics known internationally, use the latest innovative technologies for effective, gentle and painless dental treatment of our patients. The doctors of our dentistry successfully restore teeth even in the most difficult cases, accurately choosing the most appropriate treatment approach for each patient considering diagnosis, demands, and budget.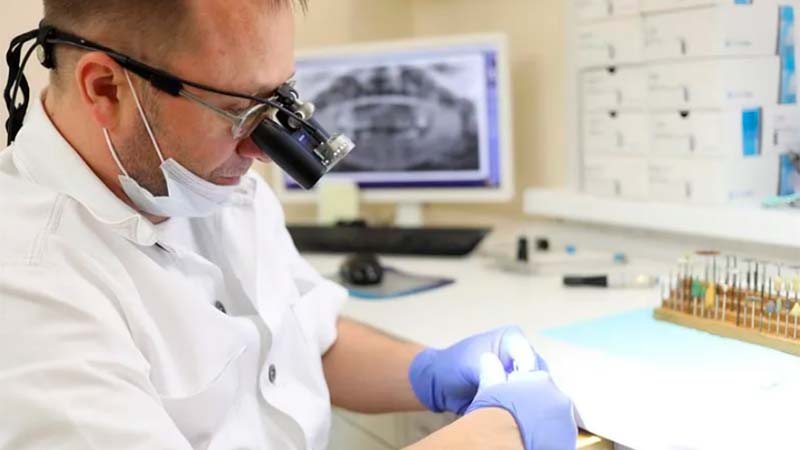 See more Healthcare Franchises in the catalog →
Comfort Dental
Founded in: 1977
Franchising since: 1984
Franchise units: over 150
Initial investment: $121,000 - $162,000
Franchise Fee: $50,000
Royalty Fee: 5%
We combine the old-style neighborhood dental practice with today's modern group practice. Equity ownership, autonomy, management of your own business, and long-lasting relationships with your patients are combined with our economies of scale, prime locations, mass marketing, and overhead control. It truly is the best of both worlds. Comfort Dental offers more than jobs – we offer careers with full equity ownership from day one. Franchisees recapture their equity upon retirement or departure with substantial tax benefits. Dentists purchasing interests in existing franchises can generally expect avery affordable purchase price and up to a one-year, fully-refundable franchisee trial period.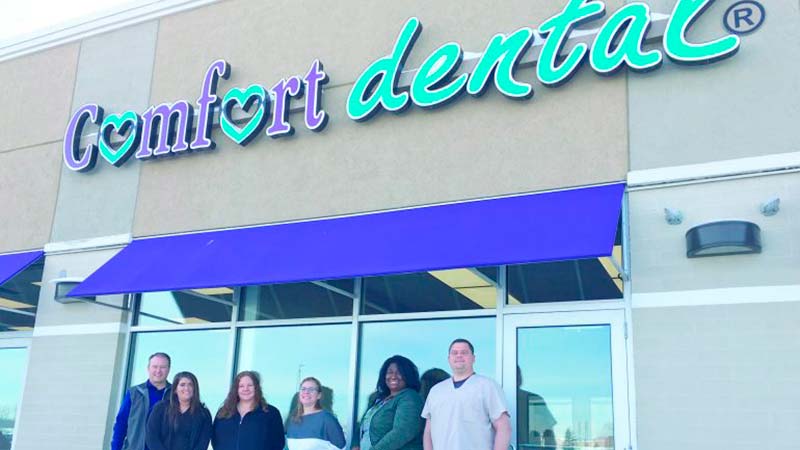 ---
Koala® Center for Sleep and TMJ Disorders
Founded in: 2012
Franchising since: 2012
Franchise units: 13
Initial investment: $275,000 - $495,000
Franchise Fee: $60,000
Royalty Fee: Varies
Koala Center for Sleep and TMJ Disorders is a comprehensive dental sleep medicine franchise. Our team of fully trained dentists, doctors, medical technicians and staff provide comfortable treatment options for patients suffering from sleep and TMJ disorders. Leverage the most integrated Dental Sleep Medicine franchise in the United States to create the practice of your dreams. Dental entrepreneurs have a chance to embrace a larger vision and scale their business. We are excited to share our strengths, expertise, experience and advanced protocols which has positioned the Koala Centers for Sleep Disorders at the mountaintop of Dental Sleep Medicine franchising.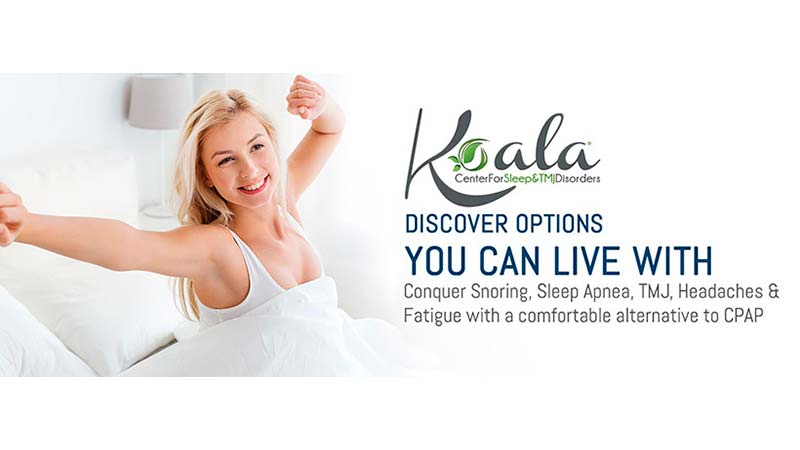 ---
Conclusion
To summarize, we can say any of the listed above dental franchises is worth buying. But there is a lot to consider while choosing the best one for you. Pay attention to the reputation of the brand, what training and support are offered, check if the other franchisees are successful. But the main thing you need to do is to align your budget with the investment requirements of the brand. In order to ease the challenge, we have made the comparison flowchart of the best dental clinic franchises to own in the USA for you. It shows the minimum estimated initial investment and an initial franchise fee for each brand. By using it, you can figure out the difference in financial requirements for each franchise, and decide which one fits you the most.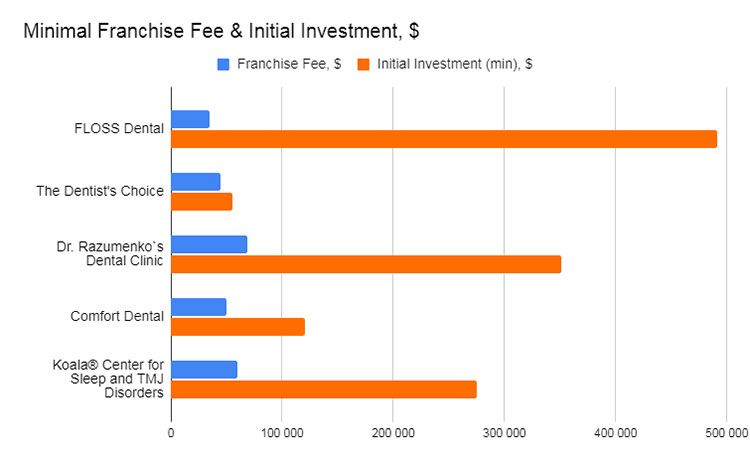 View all Dental franchises
Browse franchises by countries

USA

India

Canada

The UK

Indonesia

The Philippines

Australia

The UAE

Saudi Arabia

South Africa

Germany

Pakistan

Singapore

Malaysia
Other countries
Want to advertise your franchise with us and successfully boost your business?
Please send us your request and we will get back to you shortly!
DIDN'T FIND WHAT YOU WANT?
ASK THE EXPERTS