12 Best Printing Franchise Business Opportunities in USA for 2022
Update: 04.11.2021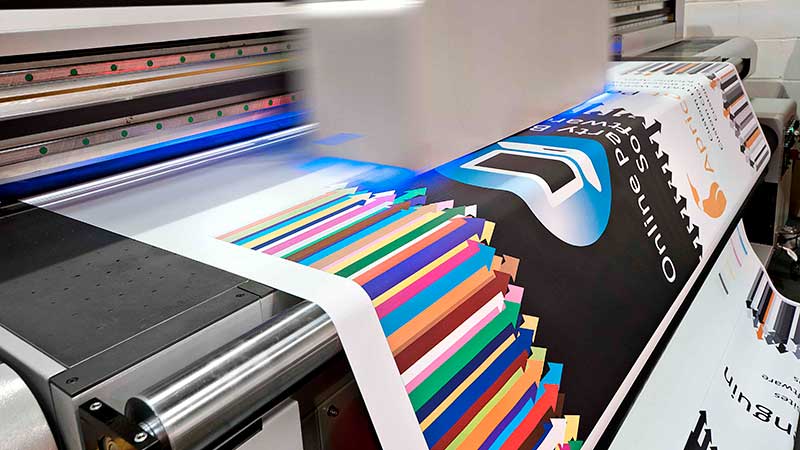 There is no business which can successfully operate without printed items such as business cards, brochures, signages, banners, catalogs and other promo materials. Therefore, printing franchises are popular all over the world including US. They also have several benefits over other businesses such as low cost initial investments, no special experience in running it, and constant demand for such kind of services.The best printing franchises in USA listed below offer their franchisees a well-known brand name, high quality production, a proven business model and even support at regional level. If you find printing business to be attractive for you, check out the top opportunities of franchising here.
Here is TOP 12 Printing Franchise Business Opportunities in USA:
AlphaGraphics
Founded in: 1970
Franchising since: 1980
Franchise units: 270
Initial investment: $267,953 - $359,864
Royalty Fees: 3-7%
AlphaGraphics is an international franchised chain of more than 270 independently owned and operated marketing service providers with full-service print shops. The franchise offered is to operate an AlphaGraphics business center, which offers customized print and marketing solutions to businesses using data-driven, multi-channel communications that may require a blend of design, print, web, mobile and social media services.
---
Allegra
Founded in: 1976
Franchising since: 1977
Franchise units: 277
Initial investment: $29,772 - $369,206
Royalty Fees: 1.5-6%
Allegra is a full-service marketing, mailing, and printing company. Allegra Centers provide graphic design, printing, mailing, promotional products, and marketing services needed by virtually every local business and institution. The company offers a program that helps franchisees acquire existing independent printing businesses and convert them to Allegra-branded centers. Fourteen Allegra franchise locations have been named among the Top 100 Quick & Small Commercial Printers in annual rankings compiled by WhatTheyThink and Printing News.
---
Signarama
Founded in: 1986
Franchising since: 1987
Franchise units: 727
Initial investment: $200,000 - $215,000
Royalty Fees: 2-6%
Signarama, founded in the US in 1986, is an international sign and advertising franchise working under the United Franchise Group which now has franchises in 13 countries, including France, French Guiana, and Australia. The company offers design business signs, banners, decals, vinyl lettering, yard & political signs, trade show displays & more. Signarama has territories available for purchase across the world and their programs are so comprehensive so franchisees don't need any industry experience to open their own Signarama franchise!
---
Minuteman Press
Founded in: 1973
Franchising since: 1975
Franchise units: 967
Initial investment: $74,904 - $180,053
Royalty Fees: 6%
Minuteman Press locations are a full-service design, print, and marketing centers serving the entire business community from small businesses to Fortune 500 companies. Every local MP center has the unique ability to hone in on every specific business and give every business a professional image. Minuteman Press is the world's largest & #1 rated printing, marketing, and design franchise that was established over 45 years ago. The company offers its franchisees a business that provides high demand products and services, a proven business model, and regional support offices.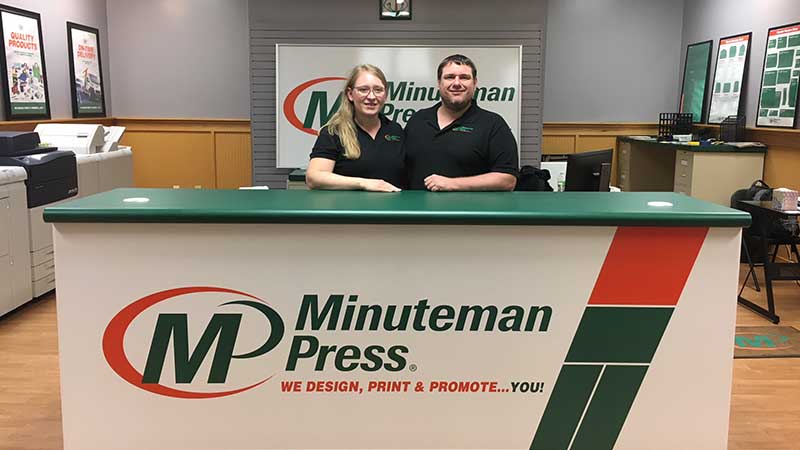 ---
Sir Speedy
Founded in: 1968
Franchising since: 1968
Franchise units: 211
Initial investment: $279,975 - $304,975
Royalty Fees: 4-6%
Sir Speedy is a printing and marketing services company headquartered in Mission Viejo, California, United States. From website design and integrated marketing to the more traditional direct mail, Sir Speedy's services can help clients achieve their business goals today. Founded in 1968, the company has nearly 600 franchises in 13 countries and is seeking new franchise units worldwide. Each center is owned and operated by independent franchisees who are independent employers and set their own employment policies and practices and operations.
---
FastSigns
Founded in: 1985
Franchising since: 1986
Franchise units: 710
Initial investment: $218,596 - $298,679
Royalty Fees: 6%
Fastsigns International Inc. is the franchisor of Fastsigns centers which provide custom sign and graphics products and have currently over 700 Fastsigns locations worldwide in the United States, Canada, the U.K., the Cayman Islands, Mexico, Saudi Arabia, the UAE, Chile, and Australia. Fastsigns is a franchise that stands apart from the rest of the sign and graphics industry. They provide effective franchisee training, support from the Fastsigns franchisee community, and a mutually-beneficial structure between Fastsigns and their franchisees - the three signs of a world-class franchise.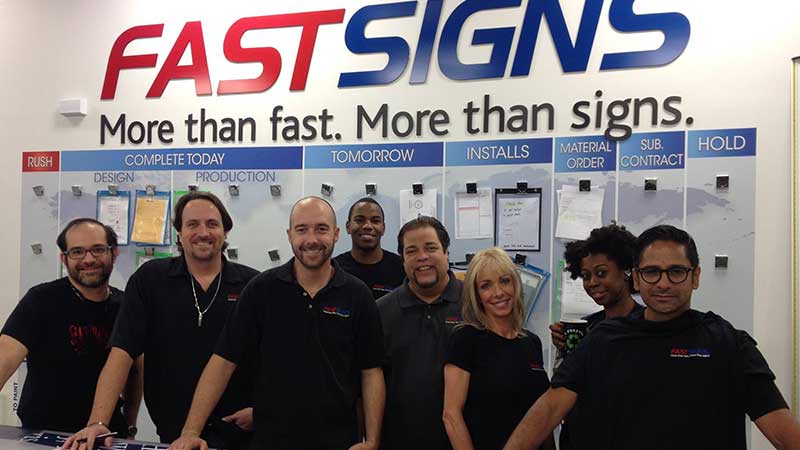 ---
PostNet
Founded in: 1985
Franchising since: 1993
Franchise units: 681
Initial investment: $185,617 - $227,550
Royalty Fees: 5%
PostNet International is the franchisor of PostNet centers. PostNet Neighborhood Business Centers provide a wide range of convenient and high-quality design and printing, from custom business cards, brochures, and flyers to eye-catching posters, banners, and signs for home-based and small- to medium-sized businesses, as well as consumers. PostNet franchises also offer professional packing services and shipping with UPS, FedEx, DHL and the U.S. Postal Service.
---
Proforma
Founded in: 1978
Franchising since: 1985
Franchise units: 627
Initial investment: $5,030 - $59,695
Royalty Fees: 5-8%
Proforma applies creativity and innovation to business challenges, from the development of brochures and promotional items to the execution of marketing campaigns and ecommerce solutions, making them the One Source for all brand marketing and graphic communications needs. The company franchisees act as sales agents, helping their clients select the best business forms, promotional products, multimedia and e-commerce solutions for their advertising and business needs. Franchisees then contract the work with a network of preferred wholesale printers and materials suppliers.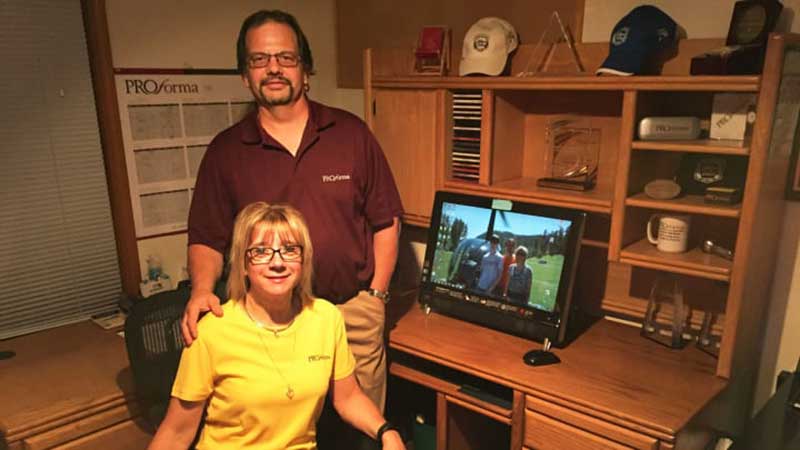 ---
PIP Marketing, Signs, Print
Founded in: 1965
Franchising since: 1968
Franchise units: 62
Initial investment: $252,981 - $277,981
Royalty Fees: 0.5-6.5%
PIP provides comprehensive printing and marketing services all under one roof with focusing on industry best practices, high quality production and customer satisfaction. PIP, Inc. is a printing, signs and marketing services franchisor and its independently owned and operated PIP centers are located nationwide and in select countries around the globe. Like Sir Speedy, PIP is owned by Franchise Services Inc. (FSI), so the range of services and key partners is pretty much the same.
---
Kwik Kopy Business Center
Founded in: 2001
Franchising since: 2001
Franchise units: 34
Initial investment: $219,419 - $245,577
Royalty Fees: 6%
Kwik Kopy Business Center is a commercial printing, marketing, and mailing company that offers high quality print and print related products like brochures, business cards, posters, flyers & so much more. KKBC combines expertise and innovation to help build a professional image for clients' business and share it with the world! As the owner of a Kwik Kopy Business Center franchise, you'll help customers with their projects from Idea, through Production, to Delivery.
---
BizCard Xpress
Founded in: 2006
Franchising since: 2009
Franchise units: 26
Initial investment: $114,346 - $197,475
Royalty Fees: 7%
BizCard Xpress offers business cards & printing, signage, banners, vehicle and storefront graphics, all with super fast service. BizCard Xpress enjoys working with many different industries from small to large businesses for their printed marketing materials. The Fastest Printer on the Planet is looking to expand throughout the United States through area developers and individual store owners. A potential franchisee should meet the minimum financial requirements of 50K in lquid capital for one store.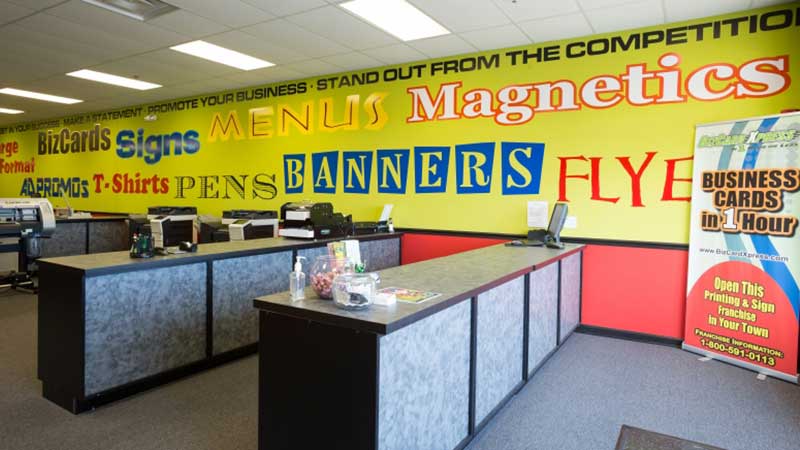 ---
Better Deal Printing
Founded in: 2001
Franchising since: 2015
Franchise units: 3
Initial investment: $5,000 - $79,800
Royalty Fees: 6-7%
Better Deal Printing, LLC was started in 2001 to provide high quality, low cost printing and graphic design services to local clients and now offers franchise opportunities to entrepreneurs in 36 States with plans to continue its expansion throughout the U.S. and Canada. Better Deal Printing franchise owners can enjoy many benefits, including having their franchise listed on the company's industry-leading website.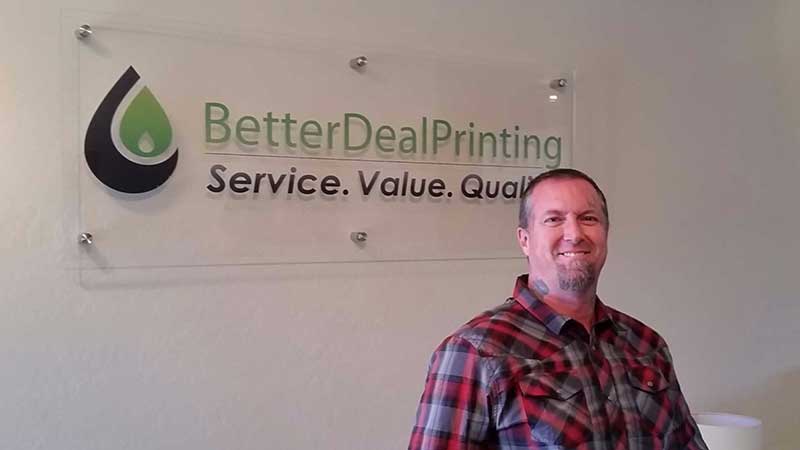 ---
View all printing franchises
Want to advertise your franchise with us and successfully boost your business?
Please send us your request and we will get back to you shortly!
DIDN'T FIND WHAT YOU WANT?
ASK THE EXPERTS