Best 8 Carpet Cleaning Franchise Business Opportunities in USA for 2023
Update: 04.11.2021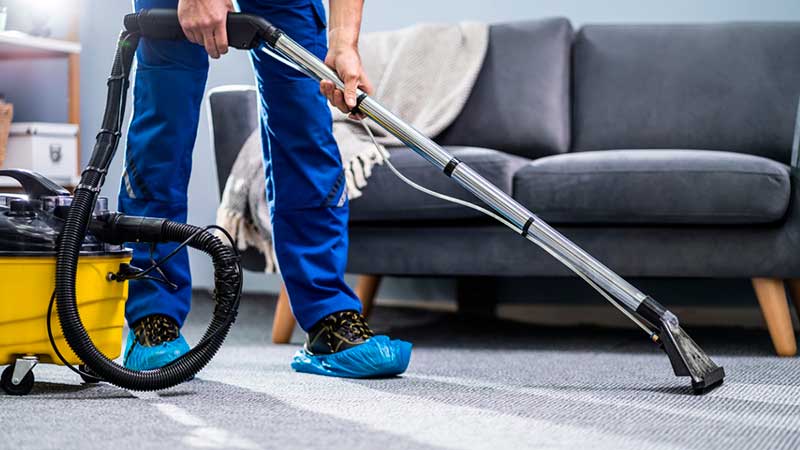 Carpet cleaning franchise industry, which has been a little in decline due to the pandemic, today is reporting the raise of revenue at 2.0% in the USA. It means promising future perspectives for the businesses operating in it. By the way, carpet cleaning franchise opportunities are not only limited by residential services, the segment also involves commercial cleaning. Moreover, the business also includes a lot of related products such as stone, mattresses, leather, upholstery cleaning and others. The best carpet cleaning franchise companies implement the latest technologies and detergents to provide their clients with inexpensive, faster-drying, more environmentally-friendly services. Choosing the right business for you to own, focus on the ones with a reputable brand name as they have a proven marketing campaign. It will help you to receive clients quickly. Here is the list of carpet cleaning franchises for sale which have a recognized name and immense experience in the industry.
Here is the top 8 best Carpet Cleaning franchise businesses in USA
Oxi Fresh
Founded in: 2006
Franchising since: 2006
Franchise units: 432
Initial investment: $46,465 - $76,390
Franchise Fee: $40,900
Royalty Fees: $395/month
Oxi Fresh is the frontrunner in the evolution of the carpet cleaning industry. Oxi Fresh carpet cleaning franchise's innovative technology and non-toxic, but powerful cleaning solutions, has won over hundreds of skeptics. Our rapid growth is due to both the result of providing a fantastic cleaning system and our commitment to our carpet cleaning franchise owners' success – giving you a perfect carpet cleaning franchise opportunity. We also offer tested and proven marketing campaigns that are ready to be used by our new franchise owners.
---
Chem-Dry
Founded in: 1977
Franchising since: 1978
Franchise units: 3,577
Initial investment: $68,145 - $191,196
Franchise Fee: $23,500
Royalty Fees: $414/month
Chem-Dry Carpet Cleaning is the biggest cleaning franchise in the world. It encompasses 3,500 franchises in more than 53 countries. It has been one of the leading carpet and upholstery cleaning franchises for 30 years. The company provides carpet as well as tile and stone, granite countertops, leather and upholstery cleaning. They manage to serve approximately 10,000 homes and businesses every day. The Chem-Dry Hot Carbonating Extraction process makes faster-drying, better and more environmentally-friendly cleaning compared to traditional ones.
---
Stanley Steemer Carpet Cleaner
Founded in: 1947
Franchising since: 1972
Franchise units: 214
Initial investment: $117,215 - $207,200
Franchise Fee: $20,000 - $35,000
Royalty Fees: 7%
Stanley Steemer was founded by Jack A. Bates in 1947. The company has been bringing cleaner, more comfortable homes to America for over 60 years. To serve customers nationwide, they now have over 300 offices across the US and are based in Dublin, Ohio. It all started with a humble one man and one truck in Columbus, Ohio. They are now a thriving company because they strive to deliver the very best and take pride in supporting all services 100%.
---
Zerorez
Founded in: 2001
Franchising since: 2003
Franchise units: 58
Initial investment: $69,115 - $190,155
Franchise Fee: $39,500
Royalty Fees: 6%
Zeroz was conceived by co-founders Gaylord Curren and Johns Hopkins in the early 90s, when they managed several thousand rental properties in Houston and Dallas, Texas. They tried every famous carpet cleaning brand and quickly discovered that there was no reliable and effective cleaning process. Believing that soap attracts and retains dirt like mud magnets, and that you can't rinse off those soap residues from carpets, they continue to attract dirt, making carpets dirtier and eventually wearing out. Armed with this information and knowledge of the techniques used in the oil and gas industry, Gaylord and John developed the Zr ™ Process to properly clean carpets and other surfaces, revolutionizing the industry.
---
milliCare
Founded in: 1967
Franchising since: 1996
Franchise units: 61
Initial investment: $113,800 - $163,000
Franchise Fee: $22,500 - $45,000
Royalty Fees: 6%
milliCare Floor & Textile Care is a franchise providing floor and carpet cleaning services. The company is part of Milliken & Co., a multi-billion dollar company that has been committed to environmental issues for over 140 years. Research shows that the milliCare system can significantly extend the life of carpets and hard surfaces such as tiles, saving millions in floor replacement costs over the life of a commercial facility. At the same time, extending the life of commercial floor coverings has tremendous environmental benefits. More than 4.7 billion pounds of carpets are sent to landfills each year, and this entire carpet has been destroyed in hundreds of years.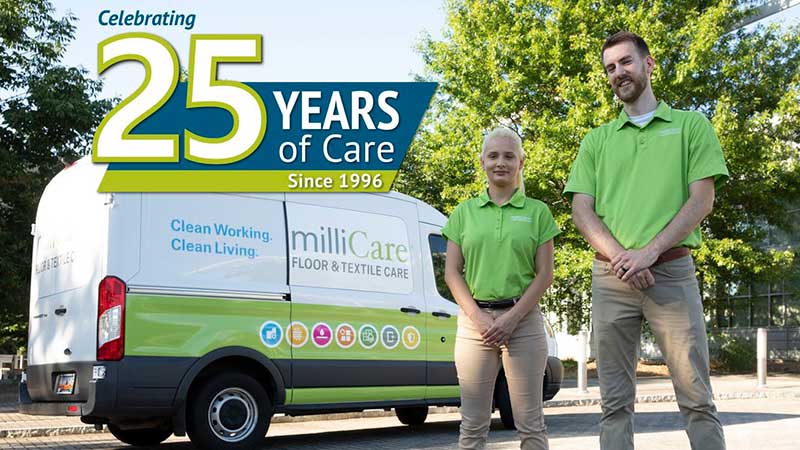 ---
Heaven's Best
Founded in: 1983
Franchising since: 1983
Franchise units: 849
Initial investment: $59,560 - $110,100
Franchise Fee: $39,900
Royalty Fees: $300/month
Cody Howard founded Heaven's Best Carpet Cleaning in the small town of Rexburg, Idaho in 1983. Cody wanted a cleaning method that won't leave your carpets wet through and through for hours. He found the best option for cleaning carpets and the results speak for themselves. Since then, Heaven's Best has grown to hundreds of franchise locations across the country. Heaven's Best offers a unique low moisture carpet cleaning process that will keep your rugs clean, fresh and dry in just 1 hour. The technology eliminates the problem of sticky chemical residues that quickly get the carpet dirty again. Heaven's Best technology and cleaning solutions are suitable for pets and children.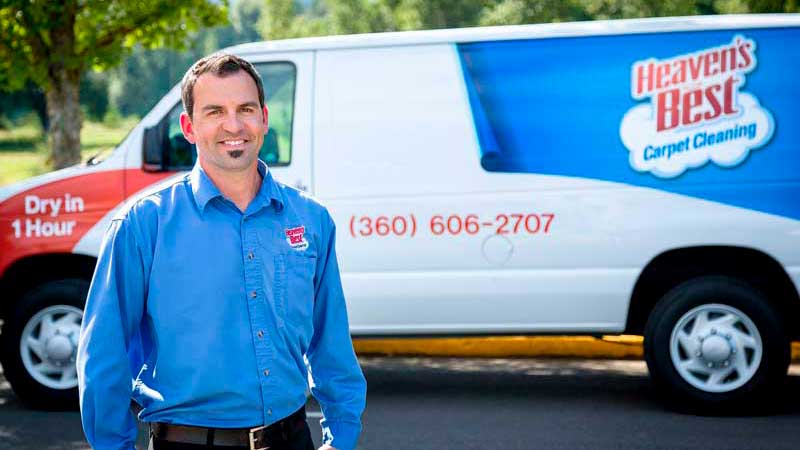 ---
JDOG Carpet Cleaning
Founded in: 2019
Franchising since: 2020
Franchise units: 3
Initial investment: $37,909 - $169,947
Franchise Fee: $10,000 - $25,000
Royalty Fees: 2%
A family of veterans and military personnel owned and operated by Jerry Flanagan, president of JDog and a veteran of the army, opened the first JDog location with his wife Tracy. They recognized the struggles many veterans faced as they returned to civilian life and knew they needed to do something to help other military families as this new phase of life began. It was then that they made a commitment to create entrepreneurial opportunities exclusively for veterans and their families - the JDog franchise.
---
Kwik Dry
Initial investment: $42,000 - $77,000
Franchise Fee: $30,000
Kwik Dry Total Cleaning offers a completely natural, oxygenated cleaning system with a wide range of services such as cleaning carpets, upholstery, tiles and grouting, mattresses, and sand-free restoration for wood and laminate flooring. The patented Kwik Dry method dries in about 1 hour.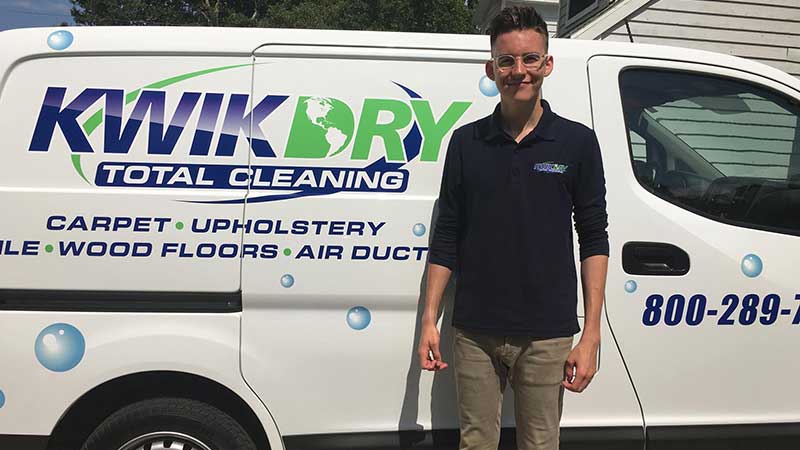 ---
Conclusion
To summarize, we can say any of the listed above carpet cleaning franchises is worth buying. But there is a lot to consider while choosing the best one for you. Pay attention to the reputation of the brand, what training and support are offered, check if the other franchisees are successful. But the main thing you need to do is to align your budget with investment requirements of the brand. In order to ease the challenge, we have made the comparison flowchart of the best carpet cleaning franchises in the USA for you. It shows the minimum estimated initial investment and initial franchise fee of each brand. By using it, you can figure out the difference in financial requirements for each franchise, and decide which one fits you the most.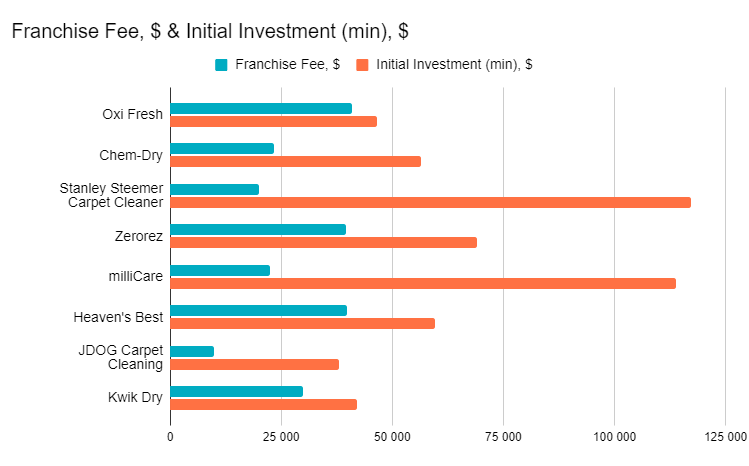 View all Carpet Cleaning franchises
Want to advertise your franchise with us and successfully boost your business?
Please send us your request and we will get back to you shortly!
DIDN'T FIND WHAT YOU WANT?
ASK THE EXPERTS