Best 7 Boat Rental Franchise Opportunities in USA of 2023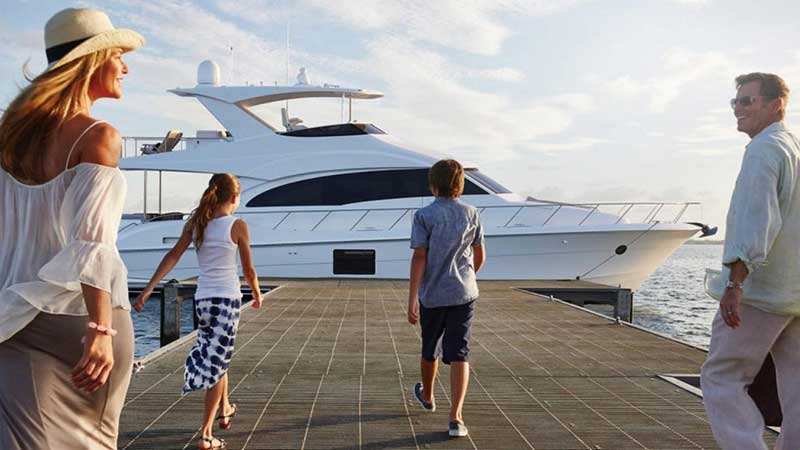 A boat rental franchise is a good choice for entrepreneurs who are looking for a business that can bring them both a good profit and enjoyable adventures. The segment incorporates a lot of interesting ideas to invest into. A list of boat rental franchise businesses includes boat clubs, cruise services, water sport equipment rental, boat maintenance, and other concepts. Regardless of the business concept, the best boat rental franchise opportunities are offered by reputable, experienced brands with successful marketing, well-established management, and other processes. If you browse through our selection of franchises, you will see only proven brands with more than dozens years of experience on the market and a lot of successful franchisees. They will be pleased to invite you to their franchise family, provide you with the necessary education, share their best business practices. Join one of them and you will inevitably receive their support and care!
Here is top 7 Boat Rental franchise businesses in USA
Freedom Boat Club
Founded in: 1989
Franchising since: 2000
Franchise units: 292
Initial investment: $181,000 - $487,500
Franchise Fee: $38,000
Royalty Fees: 6%
If you're passionate about boating, looking for an enjoyable lifestyle and are interested in owning a business with real growth potential, a Freedom Boat Club may just be the perfect fit. We are seeking active owner-operators who have a real passion for the boating lifestyle and share our vision of making the boating life more accessible. With 285+ locations and growing, Freedom Boat Club is the oldest and largest boat club in the world, with a successful business model that works as well in San Diego as it does in Boston. Our recurring revenue model, minimal franchise investment requirements and wholesale boat financing options make Freedom Boat Club an ideal marine business.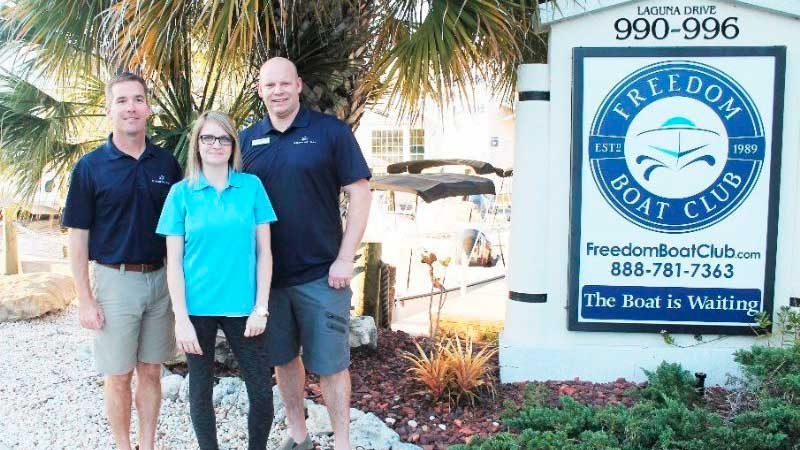 ---
SailTime / PowerTime
Founded in: 2001
Franchising since: 2009
Franchise units: 24
Initial investment: $74,675 - $151,950
Franchise Fee: $25,000 - $35,000
Royalty Fees: 5 - 7%
There are very few reasons for owning a boat in a traditional manner any more. The fact is, even owners with the best intentions only use their boat a fraction of the time. The costs don't go down when you are not using the boat. Instead, when you buy a boat with SailTime, you have a professional partner who will take care of your precious asset for you. In fact, many of the month-to-month costs associated with traditional ownership are not found in the SailTime boat ownership plan. The only stipulation is that you have to be willing to share. We take care of everything else. Many Owners tell us, we take care of their boat for them better than they would for themselves!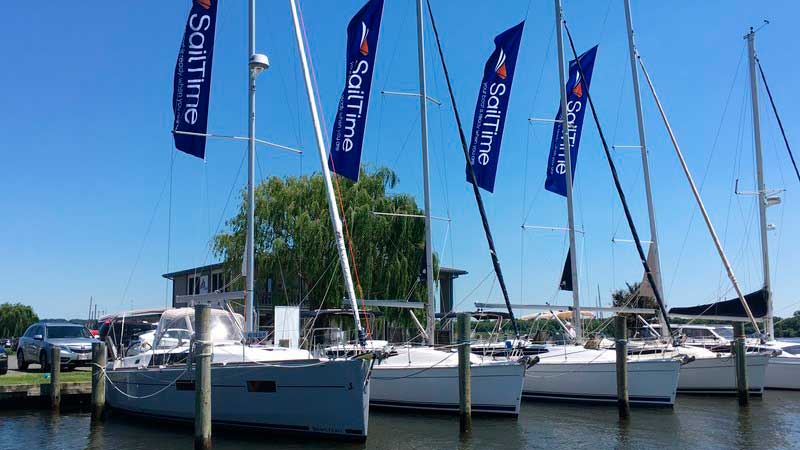 ---
Nautical Boat Club
Founded in: 1992
Franchising since: 1992
Franchise units: 20
Initial investment: $541,400 - $876,800
Franchise Fee: $45,000
Royalty Fees: 6%
Launched more than two decades ago, Nautical Boat Clubs was one of the pioneers of the boat-club business. We bring our members the fun and adventure of the boating lifestyle without the expense and hassle of boat ownership – while bringing our owners opportunity and success as entrepreneurs living the waterside dream! Our business model has proven itself resistant to economic fluctuations. Not only do we offer a simple one-year commitment for members – vs. 10-15 years of payments for a purchased boat – but we're also the only boat-club franchise that buys new boats for our fleets each year. This makes Nautical Boat Clubs prove extremely attractive to prospective members, and therefore, lucrative for franchise owners!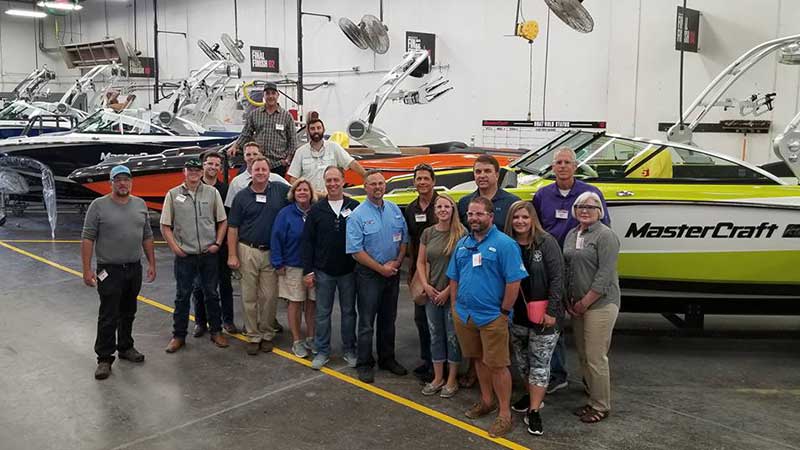 ---
Carefree Boat Club
Founded in: 2002
Franchising since: 2002
Franchise units: 101
Initial investment: $100,000 - $250,000
Franchise Fee: None
Royalty Fees: None
Carefree Boat Club is one of the best franchises to own, because you're actually a licensee, not a franchisee so there are zero franchise fees. Much of our (and our licensee's) success is due to our dedicated support for our licensees and how we function differently than the franchise model. Our licensees receive full support, marketing and sales material, operation systems and tools and everything else you need to make your club a success. Essentially, we provide a turn-key solution and support to owning your own boat club. If you are thinking of starting a business, you need to consider Carefree Boat Club. With all things considered, Carefree Boat Club is an extremely low-cost option to start and is the only option where you get to keep 100% of the profit.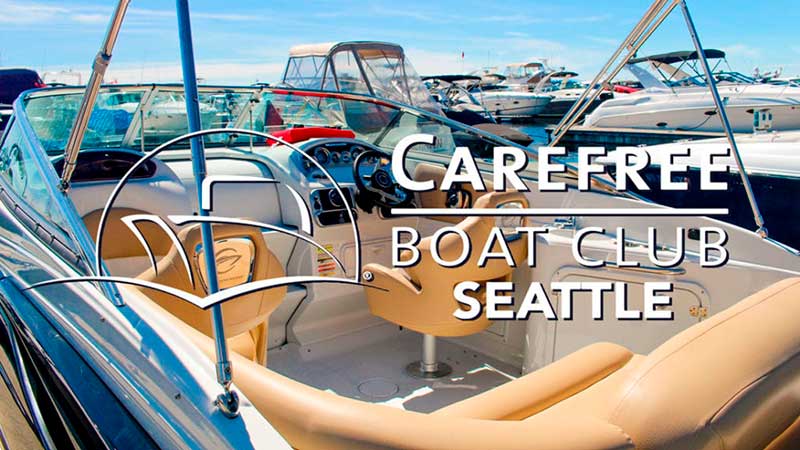 ---
Cruisin' Tikis
Founded in: 2015
Franchising since: 2018
Franchise units: 26
Initial investment: $44,900 - $47,000
Franchise Fee: $20,000
Royalty Fees: 6%
Cruisin' Tikis mission statement is "We build boats that put smiles on people's faces... one cruise at a time!" Cruisin' Tikis franchise opportunities extend our mission statement to each new location, and allow our franchisees the chance to be a part of a fun & growing business. All of our boats are hand crafted of the finest quality materials available, according to ABYC Specifications (American Boat and Yacht Council), and are USCG (US Coast Guard) compliant. Having spent literally thousands of hours addressing everything from booking and customer service to boat maintenance, brand management and staffing best practices, we've mastered the process and offer resources that make running your tiki business simple and effective.
---
Sea Tow
Founded in: 1983
Franchising since: 1983
Franchise units: 100+
Initial investment: $125,000 - $275,00
Franchise Fee: $15,000 - $35,000
Royalty Fees: None
Sea Tow is a way of life. It's a 24/7 commitment to do right by the recreational boating community and to ensure their safety and peace of mind on the water. Those who choose this lifestyle agree that owning a Sea Tow franchise is the most difficult, but most rewarding, career they've ever had. If you prefer water to land, being windblown to being weatherproof and helping others rather than watching others be helped, then I suggest you read on. Chances are you're like the more than 700 captains and crew of the Sea Tow network who believe that any day spent on the water beats a day at the office. When it comes to developing a flourishing membership business, our Sea Tow franchisees are never adrift to sea. Every franchise candidate who is awarded a Sea Tow franchise has the support of Sea Tow Services International Inc. (STSI), as well as the experience and best practices of the entire Sea Tow network.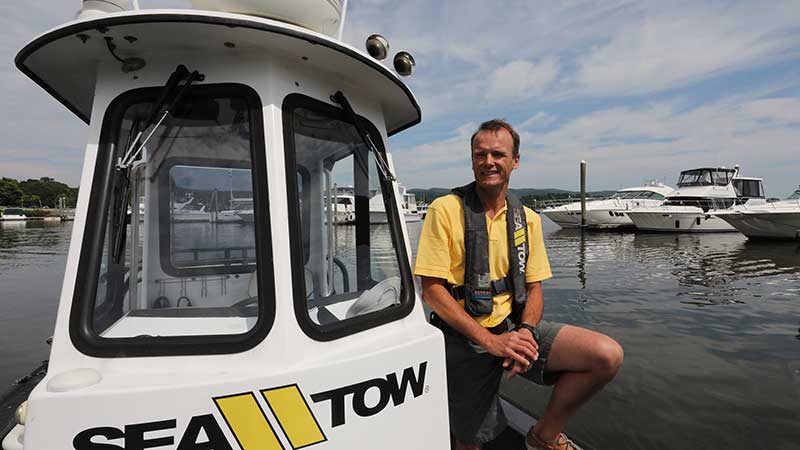 ---
Invert Sports
Founded in: 2002
Franchising since: 2002
Franchise units: 2500+
Initial investment: $120,000 - $300,000
Franchise Fee: None
Royalty Fees: Negotiated
Invert Sports has been providing high-quality recreational equipment rentals and guided tours for over two decades with superior service to it's customers and organizations of all sizes. The combination of quality equipment including; boats, jet skis, ATV, snowmobiles, water sport instruction, private recreational tours of all types with customer service excellence is the reason Invert Sports rental and charter has remained a leader in the industry. Buying a Invert Sports contract rental franchise is a true commitment; It involves dedication, time, money, and most importantly, it involves people and building relationships. The customer experience drives our success and our people are the ones tasked with delivering that experience to our customers. We know how to turn casual, one-time renters into loyal, long-time customers. As a contract or consulted franchise partner, we will share that knowledge with you and your team.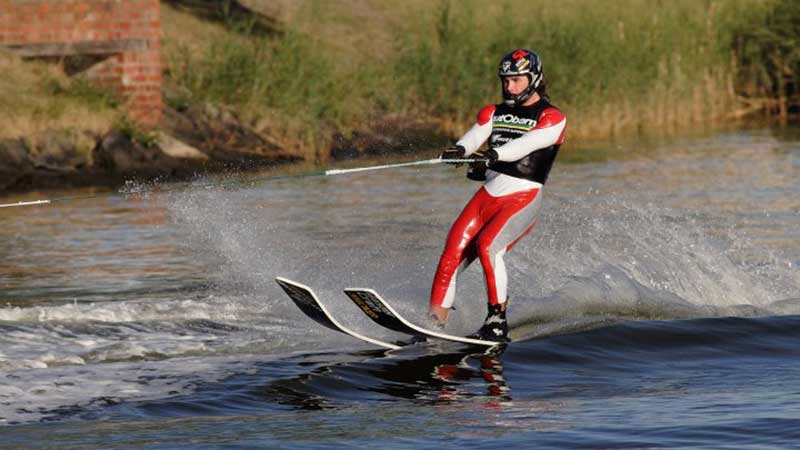 ---
Conclusion
To summarize, we can say any of the listed above boat rental franchises is worth buying. But there is a lot to consider while choosing the best one for you. Pay attention to the reputation of the brand, what training and support are offered, check if the other franchisees are successful. But the main thing you need to do is to align your budget with investment requirements of the brand. In order to ease the challenge, we have made the comparison flowchart of the best boat rental franchises in the USA for you. It shows the minimum estimated initial investment and initial franchise fee of each brand. By using it, you can figure out the difference in financial requirements for each franchise, and decide which one fits you the most.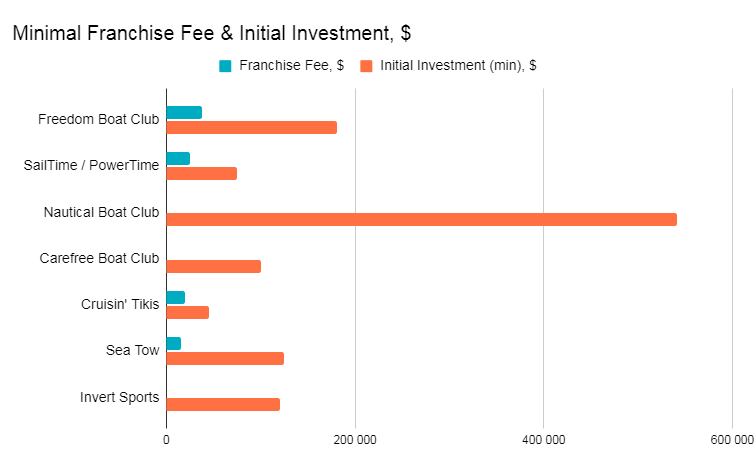 View all Boat Rental franchises
Want to advertise your franchise with us and successfully boost your business?
Please send us your request and we will get back to you shortly!
DIDN'T FIND WHAT YOU WANT?
ASK THE EXPERTS