Best 9 Cookie Dough Shop Franchise Opportunities in USA for 2023
Update: 04.11.2021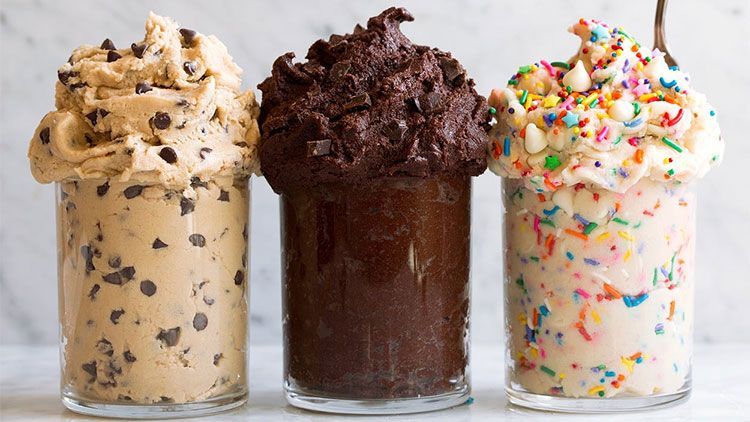 The selling point of a cookie dough shop franchise is a blend of cookie ingredients. Such dough can be either eaten without being baked or can be hardened by heat in order to make it a custom cookie. There are hundreds of recipes businesses use to make the dessert. The list includes cookies with such flavors as oatmeal raisins, peanut butter, white or black chocolate; and other desserts which contain the dough such as milkshakes, ice-creams and candies. In the USA, cookie dough shop franchise brands are very popular and attract thousands of visitors. Such a business also has a lot of other perks for owners. They require quite low start-up costs: an average concept costs $200-300 thousand; low overhead, fun ideas, a small space for rent and others. If you feel convinced that the business is right for you, consider top cookie dough franchise businesses for sale here. The list includes proven recognized brands that are ready to share their valuable experience with new franchisees.
Here is top 9 Cookie Dough Franchise businesses in USA
Scooped Cookie Dough Bar
Founded in: 2017
Franchising since: 2019
Franchise units: 2
Initial investment: $94,300 - $181,500
Franchise Fee: $29,900
Royalty Fees: 5.5%
Everything we do, from using exceptional fresh ingredients to the way that we treat each and every guest is centered around our goal to create a memorable and exciting experience for every guest that visits our store. We've taken that same approach in the way that we've created our Franchise program! Scooped Cookie Dough Bar offers a comprehensive and hands on training program in order to ensure that franchisees are 100% equipped with the knowledge, skills and expertise to successfully operate their own center. Our multi-phase training includes hours of hands on training at one of our already established locations in addition to many hours of ongoing support at your newly established location.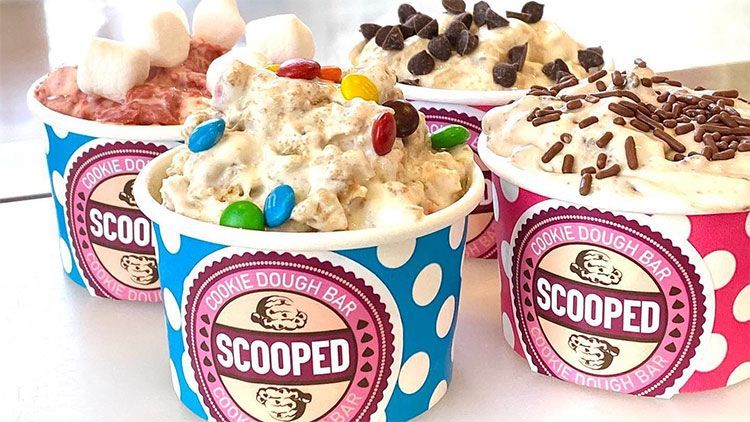 ---
Cookie Dough Bliss & Creamery
Founded in: 2017
Franchising since: 2017
Franchise units: 7
Initial investment: $150,000
Franchise Fee: $16,000
Royalty Fees: None
Cookie Dough Bliss offers so many different ways to enjoy cookie dough, including scoops served in a freshly made waffle cone, as a pie, dough pops and even cookie dough ice cream sandwiches!! We have over 20 flavors and also offer vegan/gluten free options. Even before we opened for business in Charlotte, we received an incredible number of inquiries on franchising, as the cookie dough craze has taken America by storm and there just wasn't a turn key option available - at least not until now! We are proud to be the first Cookie Dough company in the Country to offer franchising.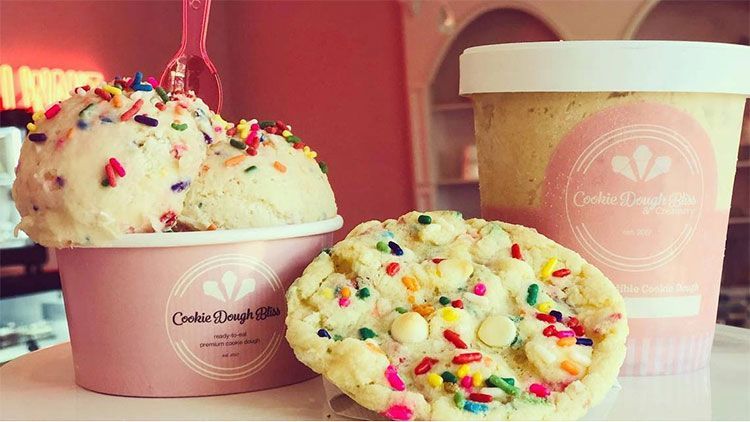 ---
Wonderland Cookie Dough
Founded in: 2018
Franchise units: 3
Initial investment: $40,000 - $175,000
Franchise Fee: None
Royalty Fees: None
Our cookie dough is egg free and made with specially heat-treated flour; this eliminates all possibility of salmonella and other foodborne illnesses related to raw, untreated flour. The benefits of Wonderland's licensing model versus franchising are huge. Unlike typical franchises, we don't charge any royalty or franchise fees. Also, we sell our proprietary and exclusive products only to licensees at bona fide wholesale prices. And finally, our licensees enjoy more flexibility to be their own edible cookie dough boss. However, like the typical franchise, we still provide consulting, training, marketing, and support to help you meet your goals.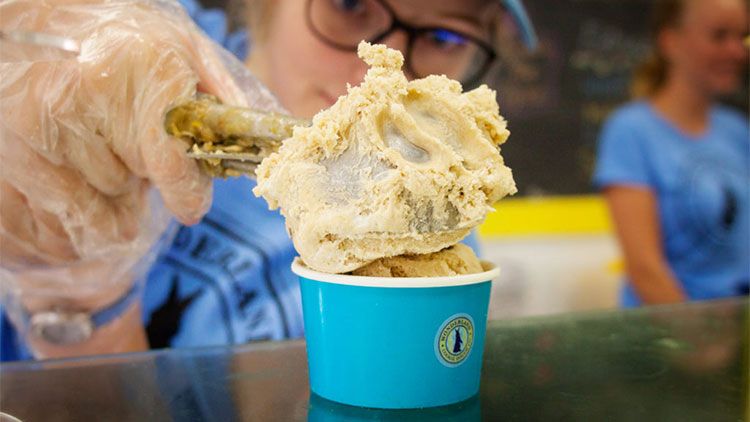 ---
The Dough Dough
Founded in: 2018
Franchising since: 2018
Franchise units: 1
Initial investment: $375,000 - $450,000
Franchise Fee: $40,000
Royalty Fees: 7%
In the Food Industry, The Dough Dough Franchise breaks through with a trendy concept that resonates with many. The Dough Dough is great place to gather families and bring back memories for many, it's a new concept that tastes delicious. The Dough Dough states the following advantages: Newest Dessert Trend, low start-up cost, fun concept, high energy, low overhead, small restaurant space (zoned retail), great margins, unique guest experience, pre-negotiated best prices on some ingredients, uniforms and supplies available. The Dough Dough will provide site selection assistance, lease negotiation assistance, training and marketing support, local and national advertising, pre-opening and ongoing structure support, field operation training and on-site training, pre-opening training, franchisee portal on the website.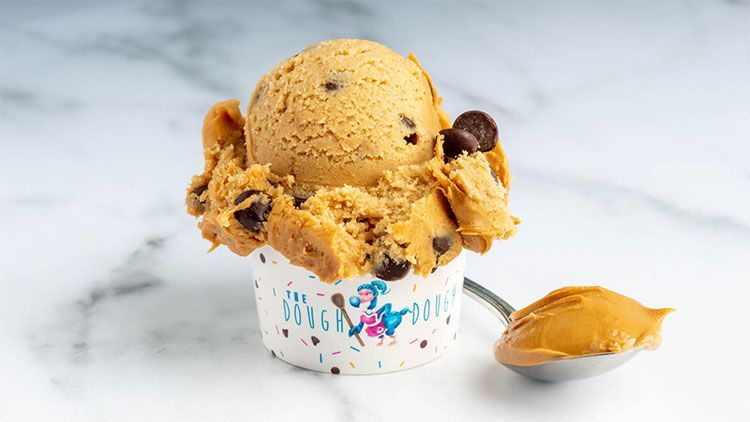 ---
Dough & Arrows
Founded in: 2018
Franchising since: 2018
Franchise units: 2
Initial investment: $140,000 - $200,000
Franchise Fee: $35,000
Royalty Fees: 8%
Dough and Arrows offers delicious, edible cookie dough as well as ice cream, ice cream pies, cheesecakes, toppings, and other baked goods in a motivational and friendly environment. We offer franchises for the right to operate a single Dough & Arrows retail location. You will provide products to customers under the "Dough & Arrows" Marks, using our distinctive operating procedures and standards in a limited protected territory and from a single location. The distinguishing characteristics of a Dough & Arrows Franchised Business include, but are not limited to, the Dough & Arrows distinctive trade dress, proprietary designs and techniques, operations methods, inventory, procedures for management, training, advertising, and promotional programs, all of which may be changed, improved or further developed by us at any time (together referred to as the "System").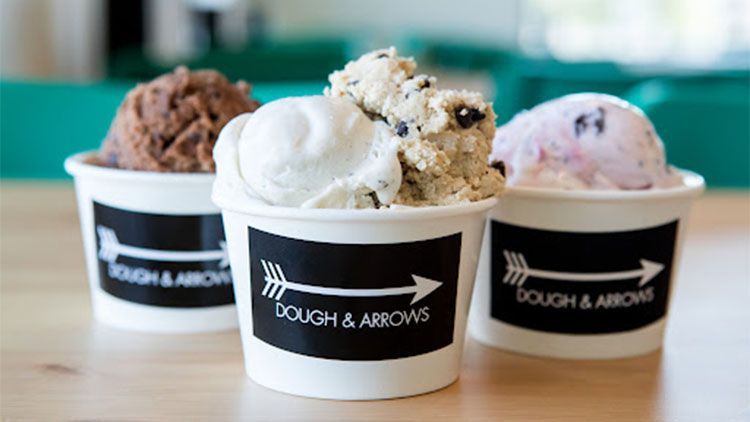 ---
The Cookie Dough Cafe
Founded in: 2016
Franchising since: 2019
Franchise units: 250
Initial investment: $289,000 - $810,000
Franchise Fee: $25,000
Royalty Fees: 5%
Welcome to The Cookie Dough Cafe where incredible and edible unite! Our love of cookie dough started when we were kids. Some of our fondest childhood memories involved baking with our mom. There was something special about being in the kitchen, watching her whip up a batch of homemade chocolate chip cookies while we stood on chairs eagerly waiting to lick the dough off the beaters. To us, the cookie dough has always been the best part! We wanted to share our passion by creating delicious, gourmet edible cookie dough to be enjoyed by everyone.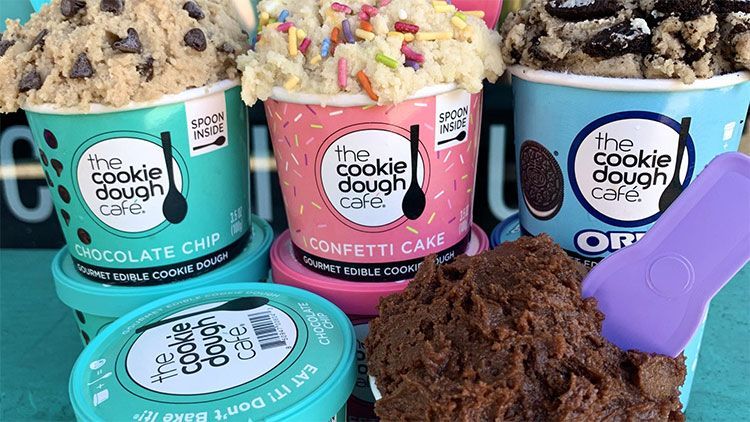 ---
Baked Cookies & Dough
Founded in: 2017
Franchising since: 2019
Franchise units: 2
Initial investment: $113,000 - $207,000
Franchise Fee: $35,000
Royalty Fees: 6%
Baked Cookies & Dough is a unique dessert concept centered around the trendy new food category of gourmet edible cookie dough! Baked offers an amazing opportunity to position yourself as a favorite dessert spot in town offering unique and delicious cookie, cookie dough and ice cream confections. Due to the hugely trendy nature of edible cookie dough right now it's never been a better time to get into the niche. We'll show you how we had a line out the door and down the block for months after opening and support you every step of the way.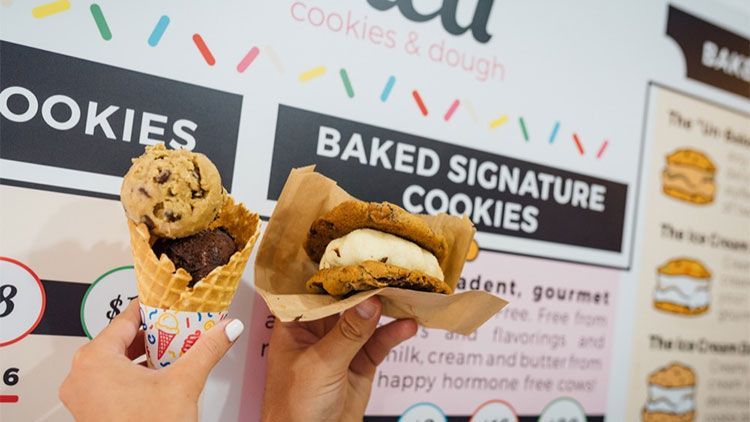 ---
Alumni Cookie Dough
Founded in: 2019
Franchising since: 2020
Franchise units: 2
Initial investment: $123,020 - $184,170
Franchise Fee: $25,000
Royalty Fees: 7%
Opening an Alumni Cookie Dough Cafe is very affordable and realistic! We have learned a lot since opening our very successful original cafe and improved on our process, equipment, designs, and even grand opening efforts. Right now, our initial franchise fee is just 25,000 but will increase as we grow our amazing Alumni Cookie Dough Cafe brand. Cookie dough cafes are currently offered in less than 3% of the cities nationwide! Your opportunity is now to own a fun business with great profit margins and little, to no competition in the market! Make your mark and become part of our Alumni Cookie Dough family today and enjoy the benefits of a small business owner with the backing of family!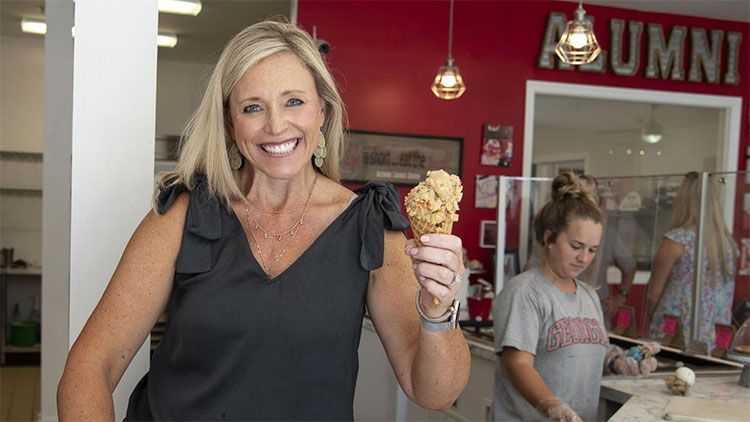 ---
Eddie Bulls Cookie Dough
Founded in: 2017
Franchising since: 2017
Franchise units: 1
Initial investment: $174,150 - $323,500
Franchise Fee: $25,000
Royalty Fees: None
Eddie Bull's offers a diverse array of cookie dough and more, using only the freshest ingredients available. Eddie Bull's is a family-owned and operated business that cares deeply about its customers. Eddie Bull's Cookie Dough achieves a very strong return on investment in comparison to the rest of the dessert industry and the franchise industry in general. With the implementation of a structured and systemized business model, the growth achieved by Eddie Bull's in several markets across the U.S. has been significant and impressive. The Eddie Bull's management team will offer unrivaled training and support to each franchisee as they join the Eddie Bull's family. The company's operating model is simple and has been structured with well-defined processes and reordering systems in place, allowing for ease of replication.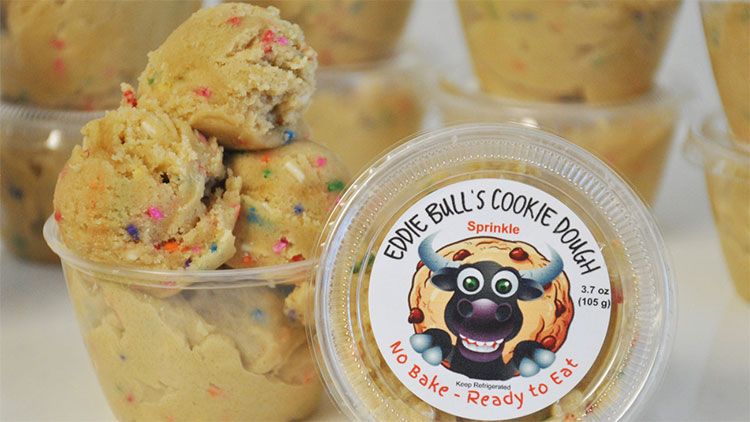 ---
Conclusion
To summarize, we can say any of the listed above cookie dough shop franchises is worth buying. But there is a lot to consider while choosing the best one for you. Pay attention to the reputation of the brand, what training and support are offered, check if the other franchisees are successful. But the main thing you need to do is to align your budget with investment requirements of the brand. In order to ease the challenge, we have made the comparison flowchart of the best cookie dough franchises in the USA for you. It shows the minimum estimated initial investment and initial franchise fee of each brand. By using it, you can figure out the difference in financial requirements for each franchise, and decide which one fits you the most.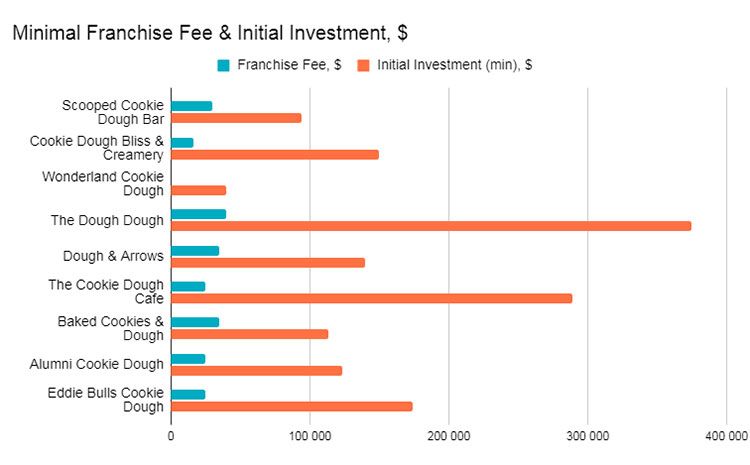 View all Cookie Dough franchises
Browse franchises by countries

USA

India

Canada

The UK

Indonesia

The Philippines

Australia

The UAE

Saudi Arabia

South Africa

Germany

Pakistan

Singapore

Malaysia
Other countries
Want to advertise your franchise with us and successfully boost your business?
Please send us your request and we will get back to you shortly!
DIDN'T FIND WHAT YOU WANT?
ASK THE EXPERTS