8 Best Digital Marketing Franchise Business Opportunities in USA for 2023
Update: 04.11.2021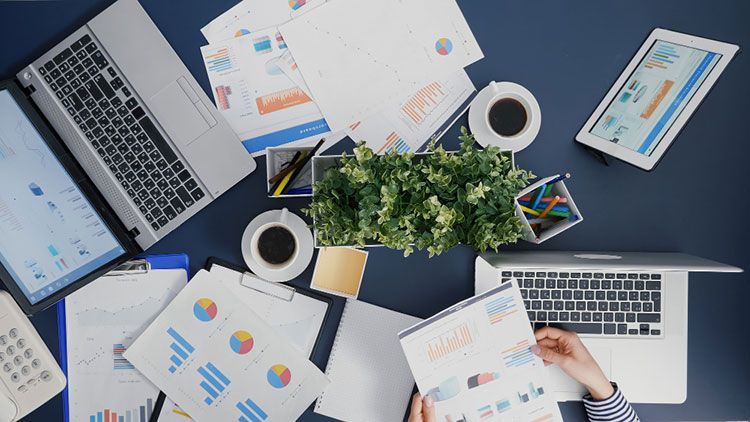 Digital marketing is probably the most effective business promotion strategy today. Advertising is delivered through digital channels such as search engines, websites, mobile apps and social media which are the main sources of information for consumers nowadays. The tendency led to the development of the digital marketing franchise industry in the USA as well as in other countries. If you want to invest into an innovative concept which will be growing and bring a good profit in the future, there is a list of digital marketing agency franchise businesses for you to consider. The selection includes various ideas starting from turnkey mobile marketing company and finishing with a brand which specializes in graphic design, printing, copying and shipping services. It is up to you what concept to choose. But we assure you that by choosing one of our top digital marketing franchises for sale, you will join the team of professionals. They know what they do and teach you how to become a successful franchisee.
Here is top 8 Digital Marketing Services & Agency franchise businesses in USA
WSI Digital Marketing
Founded in: 1995
Franchising since: 1996
Franchise units: 825
Initial investment: $64,900 - $96,500
Franchise Fee: $49,700 - $69,700
Royalty Fees: 10%
WSI has set the standard for white collar franchising and we're proud to be among an elite group of companies in the franchise industry. We also take pride in our knowledge and expertise and love providing digital marketing solutions that get great results for our clients. The WSI network has won more than 115 WMA Awards and has been named Top Agency for the last two years by the Web Marketing Association! Our award tally reaffirms WSI's place among the leading digital marketing agencies in the world. And if you were to join WSI, these awards and accomplishments would become yours—instantly.
---
Valpak Direct Marketing Systems Inc.
Founded in: 1968
Franchising since: 1988
Franchise units: 143
Initial investment: $80,600 - $200,800
Franchise Fee: $15,000 - $17,500
Royalty Fees: None
Valpak is the full-service marketing agency 35,000 businesses trust with their advertising. For more than 50 years, Valpak has supported local businesses with innovative marketing services and introduced millions of consumers to exciting local offers and opportunities. Our Blue Envelope of savings mails to more than 38 million demographically targeted households nationwide and our digital platforms host approximately 8.5 million daily unique visitors, 61% from mobile.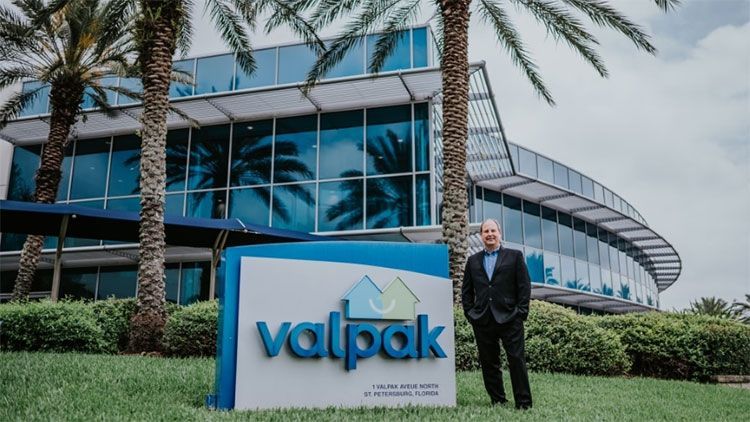 ---
Welcomemat Services
Founded in: 2003
Franchising since: 2010
Franchise units: 55
Initial investment: $60,960 - $89,710
Franchise Fee: $47,000
Royalty Fees: 6%
For over 16 years, Welcomemat has been on the cutting edge of new mover marketing technology and new mover engagement. Headquartered in Atlanta, GA and opening franchises all across the country, Welcomemat Services has over 50 franchisees in over 22 states. The platform has taken hold as the most sophisticated welcoming platform in the nation and has evolved to employ digital, social, big data, and mobile components. Welcomemat has been mentioned everywhere from the Wall Street Journal to CNBC.
---
Proforma
Founded in: 1978
Franchising since: 1985
Franchise units: 601
Initial investment: $5,030 - $59,695
Franchise Fee: $0 - $34,500
Royalty Fees: 5-8%
With over 40 years of experience, Proforma is the $500 Million Technology & Business Success Leader in the Promotional Products and Print Industry. Proforma's recent investment of over $15 million in Technology maximizes Affiliate success. Sales increased over 22% and Gross Profits grew over 18% for Affiliates on the system for over one year. Proforma's record breaking success includes having 24 of its Affiliates named to Inc. Magazine's 2021 list of the 5,000 fastest-growing companies and 193 Affiliates achieving its Million/Multi-Million Dollar Club with sales from $1 million to $38 million.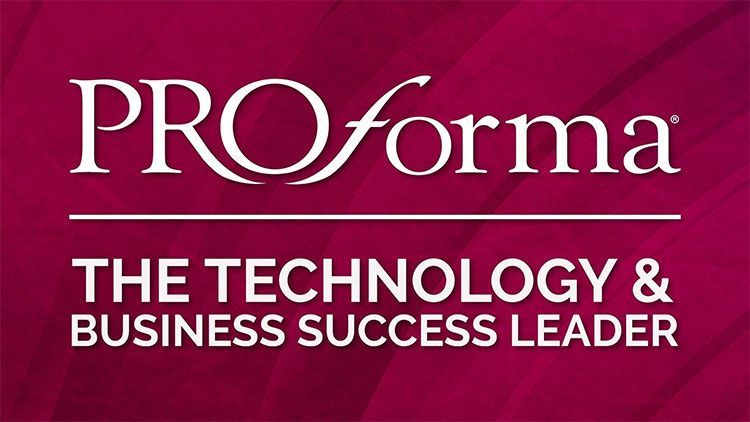 ---
PostNet
Founded in: 1985
Franchising since: 1993
Franchise units: 653
Initial investment: $185,620 - $233,500
Franchise Fee: $35,950
Royalty Fees: 5%
Steven Greenbaum and Brian Spindel founded PostNet in 1985, and began franchising the concept in 1993. PostNet Neighborhood Business Centers offer graphic design, printing, copying and shipping services for home-based and small- to medium-sized businesses, as well as consumers. When you join the PostNet family, you're doing more than starting down a new career path. You're choosing a new lifestyle. A life that provides you with the freedom to be your own boss and control your own future through a proven business model and a twenty-five year old established brand.
---
Fully Promoted
Founded in: 2000
Franchising since: 2001
Franchise units: 271
Initial investment: $122,710 - $285,690
Franchise Fee: $49,500
Royalty Fees: 2-6%
For entrepreneurs who want to make an impact through customized marketing solutions, there is really no better opportunity than Fully Promoted. We are a promotional marketing consulting company that specializes in marketing programs to meet businesses on their level and budget while offering marketing programs that result in growth for their business. We firmly believe that if you have a sound business model and plan, you'll succeed as a franchisee. That's why we put utmost importance on supporting our franchisees in every way we can, from providing initial information to ongoing resources after the location is open. Our franchisees own their own business but will never be alone throughout their franchising journey.
---
The Inside Coup
Founded in: 2011
Franchising since: 2015
Total units: 19
Initial investment: $50,450 - $384,900
Franchise Fee: $39,000 - $366,650
Royalty Fees: 5%
The Inside Coup® is a dynamic magazine with a powerful identity in mailboxes which ensures a favorable ROI for our advertising partners, and in return provides a solid recurring income for our franchisees. We have options for a single franchisees to run a small area on their own or for market developers that hire a sales team and run a market of 30+ zones and 600k+ in circulation. All dependent upon the designated market area. All markets are laser custom to meet the specific needs of each candidate. Meaning, we can carve out a territory that dictates how much of the market you want to control.
---
Money Mailer
Founded in: 1979
Franchising since: 1980
Franchise units: 229
Initial investment: $65,210 - $77,000
Franchise Fee: $49,900 - $59,900
Royalty Fees: $75-$300 per area
Be a part of team Money Mailer which is a recognized leader in the direct marketing industry delivering local deals to neighborhoods since 1979. Money Mailer reaches over 9 million homes per month with our signature red, white, and blue shared mail envelope, and digitally through websites, our coupon mobile app, online advertising, and social media. We help local businesses get and keep more customers every day! As a Money Mailer franchisee you show your clients how to reach their best prospects with compelling offers delivered in the mail, on the Internet, to mobile devices and on social media – all for pennies-per-household.
---
Conclusion
To summarize, we can say any of the listed above digital marketing services & agency franchises is worth buying. But there is a lot to consider while choosing the best one for you. Pay attention to the reputation of the brand, what training and support are offered, check if the other franchisees are successful. But the main thing you need to do is to align your budget with investment requirements of the brand. In order to ease the challenge, we have made the comparison flowchart of the best digital marketing franchises in the USA for you. It shows the minimum estimated initial investment and initial franchise fee of each brand. By using it, you can figure out the difference in financial requirements for each franchise, and decide which one fits you the most.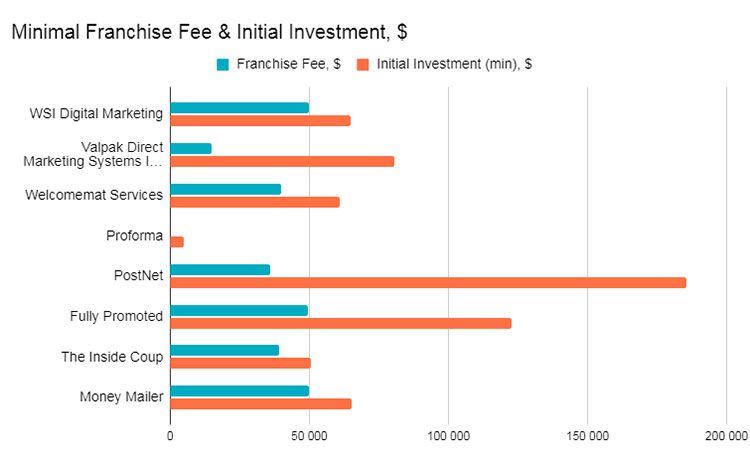 View all Digital Marketing franchises
Want to advertise your franchise with us and successfully boost your business?
Please send us your request and we will get back to you shortly!
DIDN'T FIND WHAT YOU WANT?
ASK THE EXPERTS