Best 10 Domestic Cleaning Franchise Opportunities in USA in 2023
Update: 03.11.2021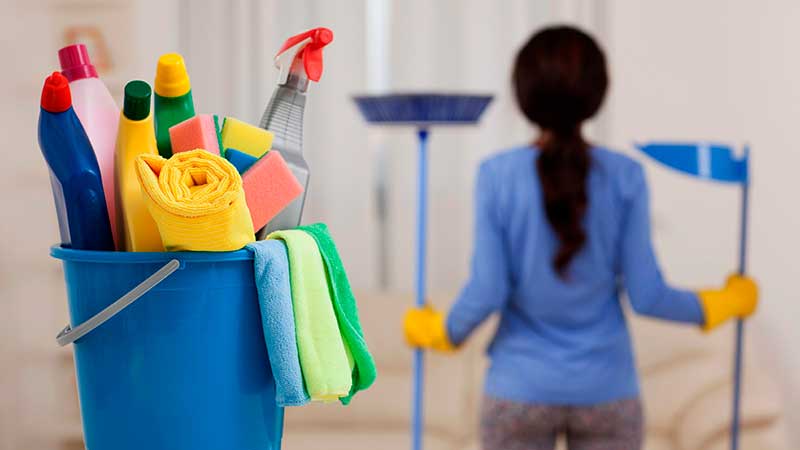 Home cleaning franchise opportunities are really promising in the USA. A lot of families have a busy lifestyle and no time for cleaning their homes. But they want to come to comfortable and clean houses or apartments after work. A lot of Americans are concerned about their security, therefore they are ready to rely their homes only on proven cleaning agencies with clean reputation. Compared to other types of businesses operating within the industry, home cleaning franchises are probably among the most reliable. Moreover, they offer a wider range of services such as cleaning of refrigerators, polishing of silverware, carpet and window cleaning, providing medical protection against germs and bacteria, etc. They use certified detergents and sanitizers which don't cause allergy or have any other harmful effect. If you`d like to turn home cleaning franchise opportunities to your advantage, then choose one of the brands offered on the list here. All the businesses shown here are successful franchises with years of experience on the market.
Here is the top 10 best Domestic Cleaning franchise business in USA
Molly Maid
Founded in: 1979
Franchising since: 1979
Franchise units: 492
Initial investment: $110,200 - $155,200
Franchise Fee: $14,900
Royalty Fees: 3 - 6.5%
Molly Maid is a Neighborly (formerly Dwyer Group) company of 16 different brands that provide a full range of home services. The company was founded by David McKinnon in Canada in 1979. Since its inception, Molly Maid has been involved in franchising. Currently, the number of points is 492. They are all located in the United States. Molly Maid provides cleaning services for bathrooms and kitchens, vacuuming and dusting the customer's home. Professional cleaning teams are ideally staffed and always ready to meet all the needs of the client.
---
Home Clean Heroes
Founded in: 2017
Franchising since: 2018
Franchise units: 5
Initial investment: $97,924 - $120,037
Franchise Fee: $49,500
Royalty Fees: 8%
Home Clean Heroes launched in Spring 2017 in Virginia Beach, VA as part of the Buzz Franchise Brands franchise family. The main goal of the company is to be the best provider of quality home services, enabling people to realize their dreams of owning a business. With a wealth of experience in developing brands that make people talk, the Buzz Franchise Brands franchise family has transformed the company from a single enterprise into an industry leader in 34 states in six years. House cleaning is an important business because people want and need a clean house right now. Now is the perfect time to invest in a cleaning franchise.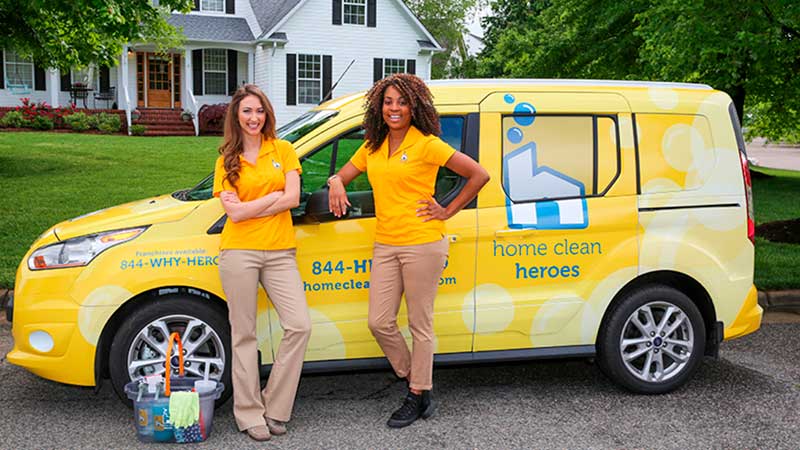 ---
Merry Maids
Founded in: 1979
Franchising since: 1980
Franchise units: 1,708
Initial investment: $89,616 - $125,023
Franchise Fee: $37,500 - $51,500
Royalty Fees: 5 - 7%
Merry Maids is an international franchisor that sells residential cleaning franchises in the US, UK and Canada. The company was founded in 1979. In 1988 she joined ServiceMaster. Merry Maids offers a wide range of home and apartment cleaning services including green cleaning, custom cleaning, maid service, detailed cleaning, holiday cleaning, entry / exit cleaning and various organizational services. The company guarantee is backed up by free re-cleaning. Merry Maids has its own line of grooming products, Shineffective, which have been approved by the US EPA, which means they meet stringent safety standards.
---
Maid Brigade
Founded in: 1979
Franchising since: 1980
Franchise units: 424
Initial investment: $110,300 - $130,300
Franchise Fee: $39,500
Royalty Fees: 3,5-6,9%
Maid Brigade is a cleaning company that has been operating since 1979. The company now serves over 400 franchise territories in the United States and Canada. The company began providing franchising services in 1980. Franchisees offer traditional cleaning services as well as special cleaning services such as autumn and spring, cleaning of refrigerators, internal ovens, fireplaces, polishing of silverware, as well as entry and exit services. Maid Brigade is the only cleaning service that offers PUREcleaning maid service. Employees of the company use electrolysis water in their work and disinfect objects and premises using electrostatic sprayers.
---
MaidPro
Founded in: 1991
Franchising since: 1997
Franchise units: 275
Initial investment: $57,560 - $222,450
Franchise Fee: $20,000 - $80,000
Royalty Fees: 4 - 7%
The first office of Mark Kushinsky and Richard Sparazio MaidPro was opened in Boston in 1991. Shortly before franchising in 1997, Kushinsky developed software to facilitate the service management process. This has increased the efficiency of the business. MaidPro offices were soon established throughout the United States and Canada. A distinctive feature of MaidPro is the lack of a menu of pre-configured cleaning services. A company representative will meet with the client in advance to draw up a customized cleaning plan that suits their needs and budget. The checklist consists of 49 items. The client changes it as needed according to his needs.
---
Maids by Trade
Founded in: 2011
Franchising since: 2016
Franchise units: 3
Initial investment: $8,995 - $109,995
Franchise Fee: $2,995 - $9,995
Royalty Fees: 6 - 12%
Maids by Trade is a Portland, Oregon based Fortino Barajas company and franchise company founded in 1997 and franchised since 2016. Currently, the number of outlets is three, two of which are the property of the company. The company offers three different cleaning plans: Standard, Essential and Premium. Maids by Trade offers home and apartment cleaning services using its proprietary EcoPink system, an approach to sustainable cleaning. This approach was developed by the company in collaboration with the non-profit group Green Seal. EcoPink aims to prevent microbial cross-contamination from bathrooms to kitchens and between homes, reducing the use of water and cleaning agents. We use only products certified by Green Seal, as well as commercial class vacuum cleaners with high-quality filters.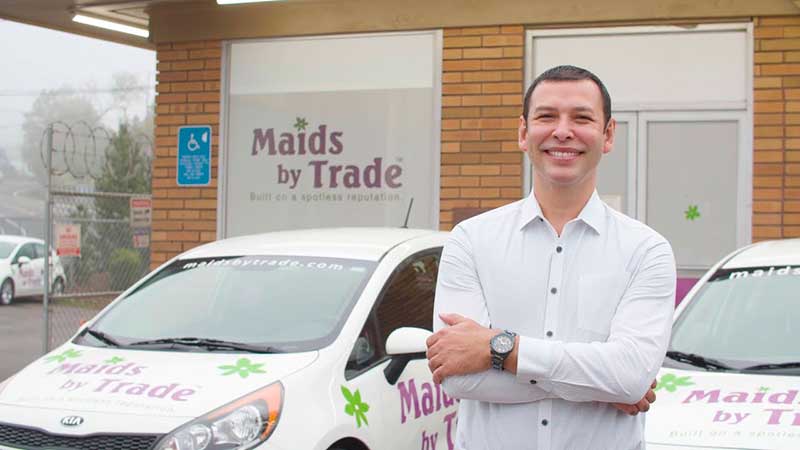 ---
Maid Right
Founded in: 2013
Franchising since: 2013
Franchise units: 6
Initial investment: $99,375 - $141,500
Franchise Fee: $60,000
Royalty Fees: 6%
Maid Right was founded in 2013 and has been a franchisee since then. The Maid Right franchise model is based on the highly successful JAN-PRO commercial cleaning model, which is owner-oriented, while the franchisee is directly involved in the provision of cleaning services. Maid Right provides personalized maid service in homes, apartments and commercial spaces Their services provide non-toxic and environmentally friendly floor-to-ceiling cleaning of your home. The company sends a pre-cleaner home to better understand the needs and desires of customers. The company's Signature Clean program provides comprehensive cleaning and medical protection against various types of germs and bacteria using the patented EnviroShield System.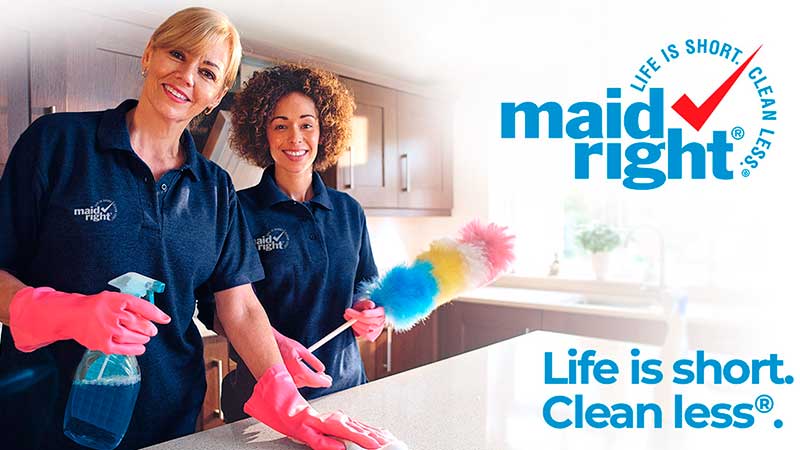 ---
You've Got Maids
Founded in: 2005
Franchising since: 2010
Franchise units: 88
Initial investment: $36,394 - $107,437
Franchise Fee: $6,999
Royalty Fees: 5,9-2,99%
Founded by Frank and Cynthia Berger, You've Got Maids offers residential cleaning services including spring cleaning, 52-point spring cleaning, check-in and check-out cleaning, hourly à la carte services and regular maintenance. Franchisees use environmentally friendly cleaning methods. In particular, reusable items are used, cleaning with microfiber cloths and vacuum cleaners with a HEPA filter, the use of efficient washing machines and much more. You've Got Maids offers cleaning services ranging from deep cleaning to daily cleaning according to the client's schedule.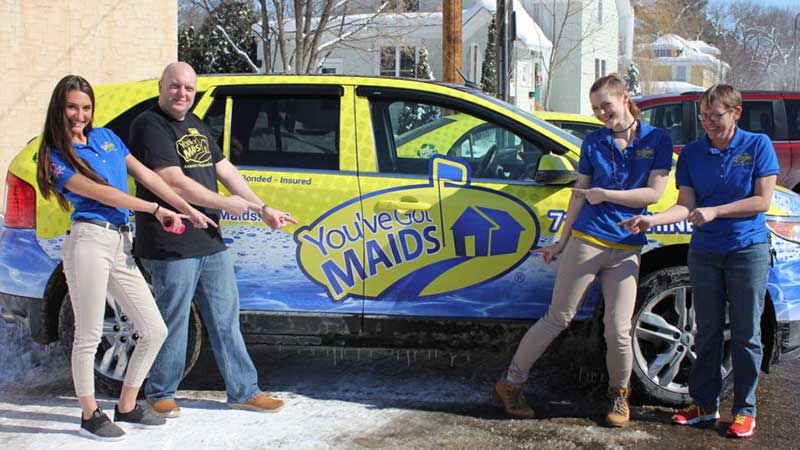 ---
The Cleaning Authority
Founded in: 1977
Franchising since: 1996
Franchise units: 208
Initial investment: $101,572 - $169,044
Franchise Fee: $15,000 - $20,000
Royalty Fees: 4 - 6%
The Cleaning Authority was founded in 1977 in the Baltimore-Washington metro area as one of the first whole house cleaning services in the region. In 1989, Steve Robinson and Tim Evankovich bought the company. Since 1996, the company has been providing franchising services. Currently, the number of points is over 200. Cleaning Authority franchisees offer an environmentally friendly home cleaning service using Green Seal certified cleaning products, HEPA vacuums and microfiber vacuum cleaner. In 2017, The Cleaning Authority became Authority Brands' flagship brand. It is the leading national franchisor in the provision of cleaning services for homes and apartments. Authority Brands is the parent company of The Cleaning Authority.
---
TruBlue Total House Care
Founded in: 2011
Franchising since: 2011
Franchise units: 48
Initial investment: $65,050 - $91,400
Franchise Fee: $44,900
Royalty Fees: 6%
TruBlue Total House Care was founded by Gary Green and other franchise veterans in 2011 and has been franchising ever since. The network currently has 48 points. TruBlue Total House Care provides a range of cleaning services for seniors and busy families, from cleaning the entire house to handyman services such as regular lawn and property maintenance, seasonal work, and pressure washing facades and sidewalls. In addition to a one-time contract, the company offers monthly individual service packages. TruBlue Total House Care is a leader and opens up new opportunities in the fast-growing market for the care of the elderly. This niche has minimal competition and will grow rapidly in the coming years.
---
Conclusion
To summarize, we can say any of the listed above domestic cleaning franchises is worth buying. But there is a lot to consider while choosing the best one for you. Pay attention to the reputation of the brand, what training and support are offered, check if the other franchisees are successful. But the main thing you need to do is to align your budget with investment requirements of the brand. In order to ease the challenge, we have made the comparison flowchart of the best domestic cleaning franchises in the USA for you. It shows the minimum estimated initial investment and initial franchise fee of each brand. By using it, you can figure out the difference in financial requirements for each franchise, and decide which one fits you the most.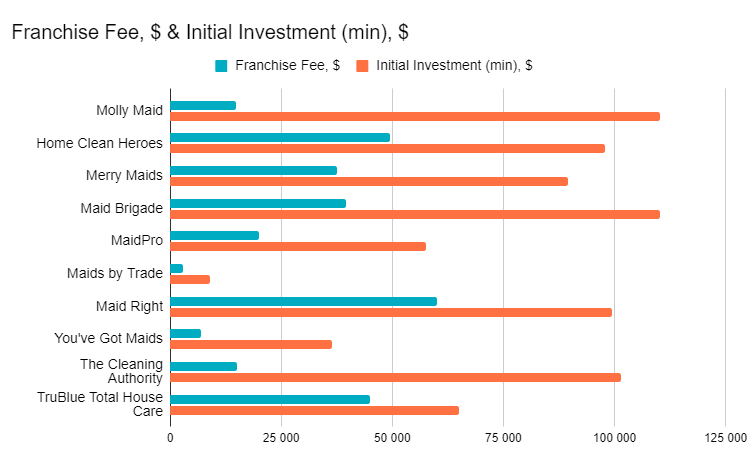 View all Domestic Cleaning franchises
Want to advertise your franchise with us and successfully boost your business?
Please send us your request and we will get back to you shortly!
DIDN'T FIND WHAT YOU WANT?
ASK THE EXPERTS