10 Best Food Truck Franchise Opportunities in USA in 2023
Update: 04.11.2021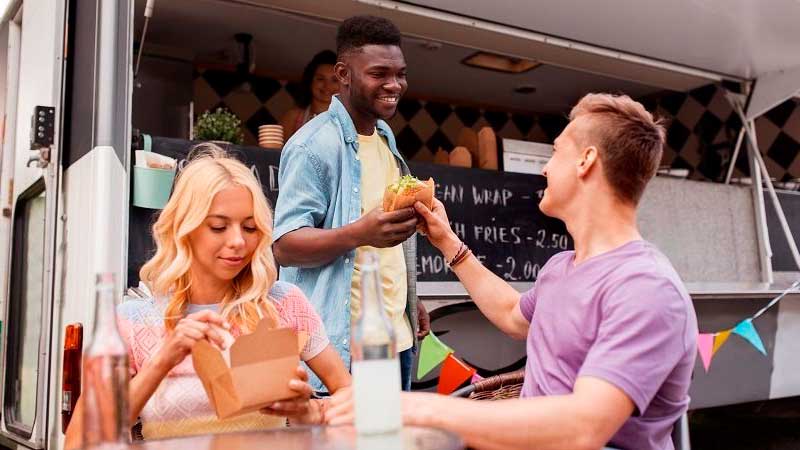 Food truck franchise business makes up a hefty part of the fast food industry in the USA. Americans love buying from food trucks as their meals are cheap, convenient and diverse. There are ice cream truck franchises, hot dog and sandwiches truck businesses, the ones which offer Mexican, Asian or other cuisines. The business has some benefits over cafes or restaurants. It requires less investment, a low overhead and a small payroll. Moreover, the concept can be easily scalable to a restaurant when it becomes popular. What is quite easy to achieve, as food truck services can be advertised in social media which can attract loyal customers quite fast. If you are looking for an interesting concept within the industry for you to own, consider our list of brands which offer favourable food truck franchise opportunities. These companies invite you to join their chains. They are ready to share their valuable experience with you, teach you how to make a fast profit, and provide you with constant support.
Here is the best 10 Food Truck franchise businesses in USA
Kona Ice
Founded in: 2007
Franchising since: 2008
Franchise units: 103
Initial investment: $150,400 - $174,150
Franchise Fee: $15,000
Royalty Fees: $3000 - $4000 per year
Kona Ice provides flavored ice cream, ice cream, and related products to the general public in a mobile environment that includes the franchisor's patented Kona Ice truck, known as the Kona Entertainment Vehicle (KEV), with the FlavorWave patented self-service system. Kona Ice transforms the idea of a friendly neighborhood ice cream truck into a more colorful and fun ice-making experience. The company has over 1,000 tropical-themed ice trucks nationwide and is the 13th fastest growing franchise in the country.
---
Toppers pizza
Founded in: 1991
Franchising since: 2000
Franchise units: 56
Initial investment: $292,146 - $530,652
Franchise Fee: $30,000
Royalty Fees: 5,5%
Toppers Pizza is a pizzeria chain founded by Scott Gittrich in 1991 that initially focused on late night snacks for college bars and dorms. They now offer their visitors a variety of pizzas, snacks, snacks and desserts to choose from. In 2011, the company opened the world's first mobile pizza shop. The truck was mainly intended for late night bars to feed hungry college students, but today, the Toppers mobile pizza truck has expanded its customer base.
---
Captain D's Seafood
Founded in: 1969
Franchising since: 1969
Franchise units: 246
Initial investment: $709,300 - $1,231,400
Franchise Fee: $35,000
Royalty Fees: 4,5%
Captain D's Seafood is a seafood restaurant chain that has over 500 locations across the country. By offering an alternative to burgers, pizza and chicken, Captain D's is positioning itself as a franchise of the future with no fast-casual competition. Captain D's Seafood also has mobile food trucks that sell their products on a mobile basis.
---
Cafe2U
Founded in: 2000
Franchising since: 2005
Franchise units: 241
Initial investment: $109,146 - $154,621
Franchise Fee: $25,000
Royalty Fees: $175 per week
Cafe2U is one of the world's largest mobile coffee companies. The main concept of the company is coffee on wheels. The first prototype of his espresso coffee van was launched in Sydney, Australia back in 2000. Focusing primarily on businesses and special events, Cafe2U serves customers from a van staffed by a barista. Cafe2u offers a mobile coffee shop option that is fairly inexpensive. The Australian company now has hundreds of franchisees around the world. Its coffee shops are short of vans, so franchisees can sell coffee at colleges, fairs, and other events.
---
Gigi's Cupcakes
Founded in: 2007
Franchising since: 2008
Franchise units: 77
Initial investment: $226,700 - $425,500
Franchise Fee: $35,000
Royalty Fees: 5%
Gigi's Cupcakes is a boutique bakery specializing in variations of cupcakes that make an easy and delicious presentation for any occasion. Gigi's has been swirling cupcakes for more than 12 years, growing from the first location in Nashville to more than 50 locations in 21 states. Gigi's offers a low-cost, low-risk, and scalable bakery franchise that features gourmet cupcakes and bakery treats.
---
Little Caesars Mobile Pizza Kitchen
Founded in: 1959
Franchising since: 1962
Initial investment: $221,000 - $654,000
Franchise Fee: $20,000
Royalty Fees: 6%
Little Caesars Mobile Pizza Kitchen was founded in 1959 by Michael and Marian Ilitch in Garden City, Michigan. The restaurant also served Italian staples such as spaghetti and fried chicken, but pizza was their top seller. Their restaurants on wheels served over three million people. Love Kitchen has also been recognized for its philanthropic work, receiving the President's Volunteer Award from former Presidents George W. Bush and Bill Clinton.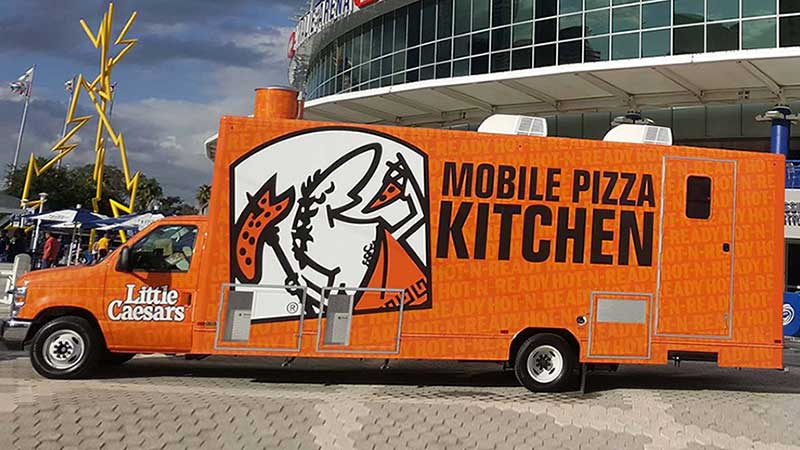 ---
Cousins Maine Lobster
Founded in: 2011
Franchising since: 2014
Franchise units: 33
Initial investment: $187,150 - $815,450
Franchise Fee: $38,500
Royalty Fees: 6 - 8%
Cousins Maine Lobster was founded by two cousins in 2012. Offering flexible models to match the market, they serve fresh crab and lobster as well as unique snacks and family meals. Food vans are renowned the world over and are the perfect way to get lobsters from Maine to any area.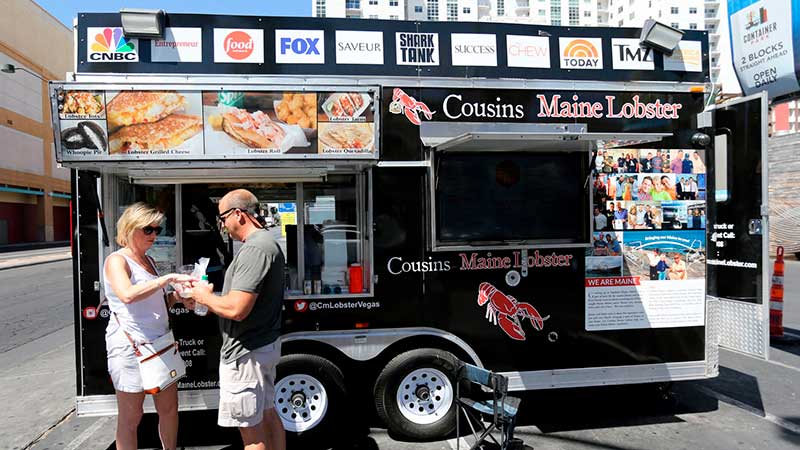 ---
Dairy Queen
Founded in: 1940
Franchising since: 1940
Franchise units: 7058
Initial investment: $1,101,135 - $1,856,655
Franchise Fee: $45,000
Royalty Fees: 4%
Dairy Queen, often abbreviated as DQ, is a chain of soft ice cream and fast food restaurants owned by International Dairy Queen, Inc., a subsidiary of Berkshire Hathaway Inc. International Dairy Queen, Inc. also owns Orange Julius and Karmelkorn. Food franchising didn't exist yet, but the rapid growth potential of the Dairy Queen® product made it easy. Today there are more than 6,800 restaurants in the United States, Canada and 27 other countries. Chill. Dairy Queen launched their mobile food van in 2010.
---
Wayback Burgers
Founded in: 1991
Franchising since: 2006
Franchise units: 143
Initial investment: $209,000 - $524,500
Franchise Fee: $35,000
Royalty Fees: 5%
Wayback Burgers is a fast food chain that uses only fresh, never frozen ground beef and prepares every hamburger to order. This is how great-tasting hamburgers were made in the past, and this is how they still do at Wayback Burgers. In addition to hamburgers, Wayback serves hot dogs, chicken sandwiches, milkshakes and salads, and a variety of regional specialties.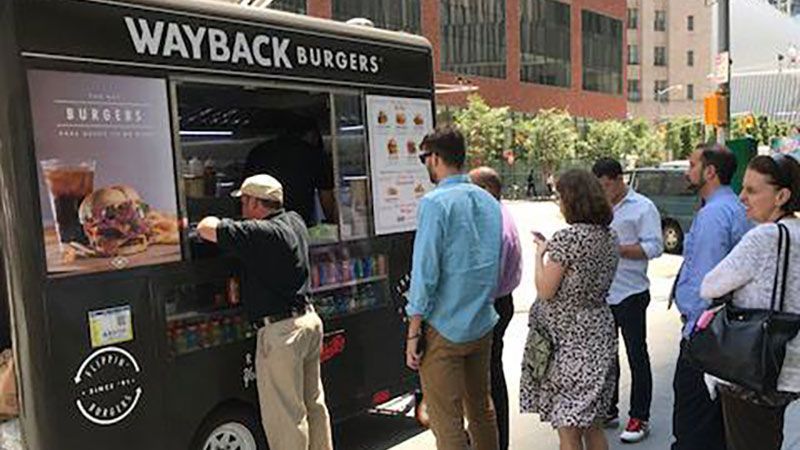 ---
Johnny Rockets
Founded in: 1986
Franchising since: 1987
Franchise units: 401
Initial investment: $597,100 - $1,189,000
Franchise Fee: $50,000
Royalty Fees: 6%
Johnny Rockets franchise invites to join the fast-casual brand chain which has been successfully operating over 30 years in over 30 countries. The chain of restaurants specializes in serving fast food such as hamburgers, salads, and shakes.
---
Conclusion
To summarize, we can say any of the listed above food truck franchises is worth buying. But there is a lot to consider while choosing the best one for you. Pay attention to the reputation of the brand, what training and support are offered, check if the other franchisees are successful. But the main thing you need to do is to align your budget with investment requirements of the brand. In order to ease the challenge, we have made the comparison flowchart of the best food truck franchises in the USA for you. It shows the minimum estimated initial investment and initial franchise fee of each brand. By using it, you can figure out the difference in financial requirements for each franchise, and decide which one fits you the most.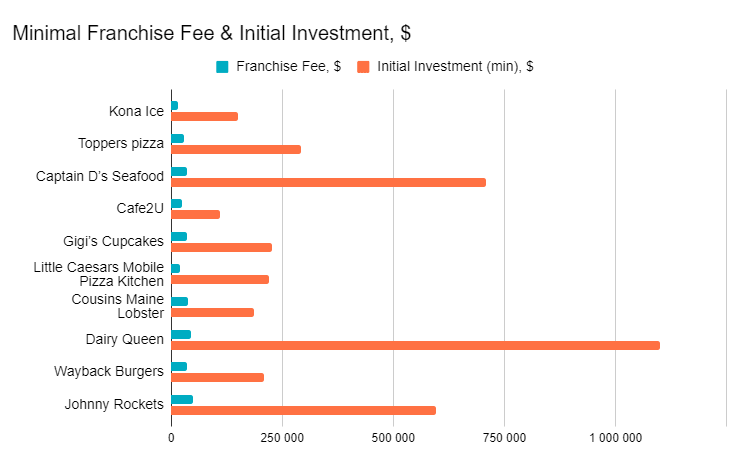 View all Food Truck franchises
Want to advertise your franchise with us and successfully boost your business?
Please send us your request and we will get back to you shortly!
DIDN'T FIND WHAT YOU WANT?
ASK THE EXPERTS