10 Best Home Care Franchise Business Opportunities in USA in 2022
Update: 04.11.2021
Home Care franchise business involves support services of professional people for those patients who do not require hospitalization. According to statistics, more than 90% of people over 65 years old require such type of assistance. It includes companionship, help with everyday activities like bathing and dressing, nursing care, rehabilitative and other services. The business is not only profitable but social which is really rewarding. Even top Home Care franchises require affordable cost and fees to start the business, which creates a good opportunity to become a business owner for entrepreneurs with tight budgets. If you are interested in the concept, have a look at our list of Home Care franchise businesses for sale. It includes reliable franchises that are willing to expand. They promise their franchisees support in all processes of running the business including training, management and marketing approaches, access to brand software and a lot of other things.
Here is top 10 Home Care Services Franchise businesses in USA
Qualicare Family Homecare
Founded in: 2001
Franchising since: 2011
Franchise units: 73
Initial investment: $84,550 - $194,550
Franchise Fee: $49,700
Royalty Fees: 5%
Qualicare's non-medical, medical, and concierge services allow our care experts to provide second to none collaboration and advocacy with physicians, hospitals, social and community organizations, as well as any other needed services. Comprehensive training, one-on-one support, and clinical advisors help franchisees in both start-up and growth phases of their business. Qualicare offers a very affordable start-up model with high returns on investment.
---
Home Care Assistance
Founded in: 2003
Franchising since: 2004
Franchise units: 123
Initial investment: $86,000-$245,250
Franchise Fee: $32,475 - $114,950
Royalty Fees: 5%
Home Care Assistance takes a unique approach to care for seniors. We offer concierge-level services and care management to each and every client; we are able to achieve this by attracting the most innovative, creative, compassionate and committed employees. The Home Care Assistance Buy Back program offers franchisees an immediate exit plan from the start. When you buy a Home Care Assistance franchise, you are given the option to sell your franchise back to the corporate office once you reach a predetermined profit level. This option gives you a safety net, should you decide that you no longer want to run your business down the road.
---
BrightStar Care
Founded in: 2002
Franchising since: 2005
Franchise units: 342
Initial investment: $105,735 - $170,457
Franchise Fee: $50,000
Royalty Fees: 5.25%
BrightStar Care is a home health care franchise dedicated to providing both medical and non-medical assistance for families and individuals in need. With over 10 years of incomparable success, we are setting a higher standard of care in an industry that continues to grow due to the increasing senior population. As a BrightStar Care franchisee, you will have access to multiple revenue streams, including companion care, personal care, skilled care, medical staffing, and national accounts. Our ability to offer our clients virtually all the services they need allows you to keep them for a longer period of time, maximizing revenue potential.
---
Touching Hearts At Home
Founded in: 1996
Franchising since: 2007
Franchise units: 72
Initial investment: $48,900 - $75,600
Franchise Fee: $39,500
Royalty Fees: 3-5%
Purchasing a senior care franchise is not just investing your money. Investing in a Touching Hearts at Home franchise is a life-changing event. This is a truly unique opportunity to be financially successful while serving others. Given the growth of the senior care industry, and the low start-up costs for a Touching Hearts franchise, the timing could not be better. Touching Hearts at Home is rapidly growing and has large, open territories in high-demand markets. Founded in 1996 by our CEO Renae Peterson, we're a highly experienced franchise support team. A Touching Hearts at Home franchise is easier to run than other home care businesses; because we provide non-medical support, no prior medical training is required for our franchisees or their staff members.
---
Visiting Angels
Founded in: 1992
Franchising since: 1998
Franchise units: 578
Initial investment: $123,460 - $161,150
Franchise Fee: $49,950 - $79,950
Royalty Fees: 3.5-3%
Visiting Angels' personal home care services provide companionship to seniors and assistance at home with daily activities. Unlike "home health care," you don't need a doctor's prescription. Services can be provided for a few hours a day up to 24/7 care. We are always looking for compassionate, caring individuals who want to make a difference in their communities by taking advantage of our home care franchise opportunities. Entrepreneurs seeking senior home care franchise opportunities are embarking on a journey of growth and service. Our most successful franchise owners are passionate about caring. If you want to make a difference on a local and personal level, our senior franchise opportunities are ideal for you.
---
FirstLight Home Care
Founded in: 2009
Franchising since: 2010
Franchise units: 202
Initial investment: $113,300 - $197,900
Franchise Fee: $49,500
Royalty Fees: 5%
From extensive experience in franchising and healthcare strategy to a dedicated launch specialist and unprecedented collaboration with peers, FirstLight Home Care has the people, process and systems you need to start your own business. We provide the foundation and proven formula for growing your business so you can focus on what really matters… taking really great care of others in your community. There are so many fulfilling opportunities that go hand-in-hand with being a FirstLight owner. We look forward to sharing them with you.
---
Amada Senior Care
Founded in: 2007
Franchising since: 2012
Franchise units: 111
Initial investment: $82,150 - $240,600
Franchise Fee: $42,000 - $48,000
Royalty Fees: 5%
Amada Senior Care at its core is a trusted provider of non-medical, in-home care. In just eight years since it started franchising, Amada Senior Care is considered the fastest-growing, premiere, in-home care franchise system. On average, in-home care industry competitors offer an initial franchise territory of less than 300,000 people. To ensure our franchise partners can outwork and outgrow the competition, we offer large protected territories of 350,000 or larger. Amada Senior Care's unique, proprietary software streamlines and organizes your business, making it easy to provide industry-leading quality of care for your clients.
---
Homewatch CareGivers
Founded in: 1976
Franchising since: 1996
Franchise units: 215
Initial investment: $91,435 - $163,435
Franchise Fee: $49,500 - $75,750
Royalty Fees: 5%
Since 1980, Homewatch CareGivers® has been a premier provider of home care services, making a positive change in the lives of all those we serve. Through our home care franchise opportunities, entrepreneurs just like you have found a rewarding path to financial security and success by providing seniors and others in need of care with assistance and companionship. As a franchise owner, you will grow a business that delivers professional in-home care to the elderly, people living with developmental or physical conditions, individuals recovering from surgery, and those living with dementia or Alzheimer's.
---
Home Helpers
Founded in: 1997
Franchising since: 1997
Franchise units: 315
Initial investment: $97,100 - $139,250
Franchise Fee: $48,900
Royalty Fees: 3-6%
Home Helpers provides personal care services for seniors, new moms, working parents, those recuperating from illness or surgery and those needing continuing care for lifelong challenges. If you're looking for a professional path that will allow you the freedom of working for yourself with the rewarding return of giving back to those in need, consider the Home Helpers franchise with a mission that matters. We are an in-home care service for people of all ages who need assistance with everyday living. From respite to transitional care, our home care franchise improves the lives of our clients one day at a time by providing exceptional senior care services wherever they call home.
---
Assisted Living Locators
Founded in: 2003
Franchising since: 2006
Franchise units: 141
Initial investment: $74,213 - $94,437
Franchise Fee: $49,500
Royalty Fees: 8%+
Nobody knows more about helping seniors find the right living and care solutions than Assisted Living Locators. After all, we introduced a better solution for senior care placement – at no cost to them – and were the first to introduce a franchise model. As an Assisted Living Locators franchise owner, you can help by simplifying the process and providing the expert guidance seniors and families need – when they need it most. The role you'll play in improving their quality of life is invaluable, yet it won't cost the families a dime. Being an Assisted Living Locators franchise owner is about more than just being your own boss. It's a rewarding experience where you can help families, enhance quality of life for seniors, and make money without charging your clients a thing.
---
Conclusion
To summarize, we can say any of the listed above home care franchises is worth buying. But there is a lot to consider while choosing the best one for you. Pay attention to the reputation of the brand, what training and support are offered, check if the other franchisees are successful. But the main thing you need to do is to align your budget with investment requirements of the brand. In order to ease the challenge, we have made the comparison flowchart of the best home care services franchises in the USA for you. It shows the minimum estimated initial investment and initial franchise fee of each brand. By using it, you can figure out the difference in financial requirements for each franchise, and decide which one fits you the most.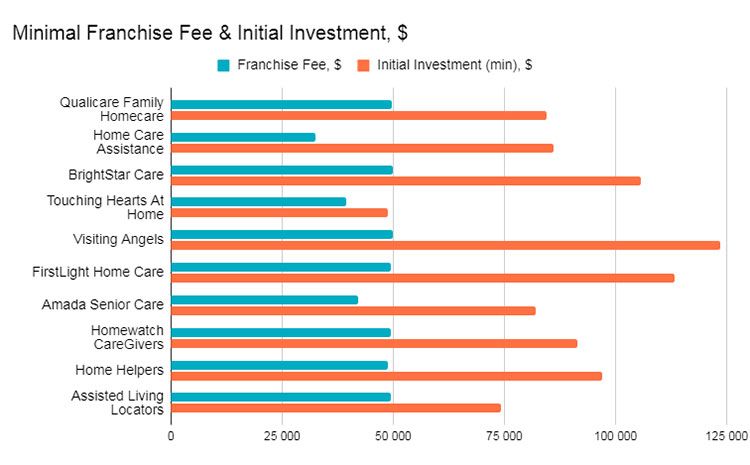 View all Home Care franchises
Want to advertise your franchise with us and successfully boost your business?
Please send us your request and we will get back to you shortly!
DIDN'T FIND WHAT YOU WANT?
ASK THE EXPERTS