The 10 Best Sports Bar & Pub Franchise Businesses in USA for 2022
Update: 04.12.2021
Being tired of lockdown caused by the pandemic, people in the USA strive to spend more time out. Thus, Sport bars and Pub franchises are expanding. In comparison to previous years, our list of leaders for 2022 hasn't changed much. Still the same brand names with just a slight rotation in the ranking.
Sports Bar & Pubs are very popular in the USA as they provide not only food and drinks but a great atmosphere created by sports fans watching a match. Sports bars are not all the same. They vary in concepts and menus. Some of them offer a family atmosphere, the others specialize in craft beer, yet the others have a rich menu of fast food, grille, and seafood dishes. Opening a sports bar could be much easier with a franchise. A new franchisee receives trainings and assistance together with a brand name, a menu and a proven concept. If you are looking for an opportunity to get started with a Sports Bar business, browse through our 10 Best Sports Bar & Pub Franchise Businesses in the USA.
Here are the top 10 best sports bar & pub franchise businesses in the USA
Bar Louie
Founded in: 1990
Franchising since: 2006
Franchise units: 19
Initial investment: from $763,500
Franchise Fee: $50,000
Royalty Fees: 5%
With nearly 140 locations across the country, Bar Louie combines the consistency of a national brand with local appeal. No two Bar Louie restaurants are alike, but each has a modern, relaxed vibe that expresses the brand's identity. We're looking for owners of concepts across all verticals who share our passion for creating a fun, entertaining experience that offers great food and amazing drinks. We understand that a great customer experience starts with the franchisee. While we encourage our franchisees to take ownership and creative control, we also offer extensive support along the way.
---
Buffalo Wings & Rings
Founded in: 1984
Franchising since: 1988
Franchise units: 78
Initial investment: from $1,130,000
Franchise Fee: No
Royalty Fees: 5%
Buffalo Wings & Rings is a restaurant brand where everyone is a VIP, worthy of the ultimate sports restaurant experience. With over 70 locations, we're taking game time to the next level with a bright, inviting dining room, 50+ TVs, elevated fan experiences, a chef-inspired menu and of course our signature wings. Our model combines the simplicity in operations of a QSR kitchen with the revenue of a casual dining restaurant. When you join the Buffalo Wings & Rings team, you truly join a family. Each Buffalo Wings & Rings franchisee is given extensive five-week training at our corporate headquarters in Cincinnati, Ohio.
---
Brass Tap
Founded in: 2008
Franchising since: 2010
Franchise units: 39
Initial investment: from $781,000
Franchise Fee: $37,500
Royalty Fees: 4%
Brass Tap is not just a craft beer bar. We are innovators. Over the past five years The Brass Tap concept has proven its ability to lead a category filled with abundant opportunities. Brass Tap business model is quite nimble. Unlike typical casual dining franchises, you won't have the staffing, space, equipment and inventory demands of a full kitchen. Our franchise offering is priced for success, and you don't need any previous franchise or pub experience. What's more, multi-unit agreements are available for investors with vision.
---
Hooters
Founded in: 1983
Franchising since: 1986
Franchise units: 210
Initial investment: from $956,500
Franchise Fee: $75,000
Royalty Fees: 5%
Hooters of America, LLC is the Atlanta-based operator and franchiser of over 430 restaurants in 28 countries. The casual beach-themed establishments feature music, sports on large flat screens, and a menu that includes seafood, sandwiches, burgers, salads, and of course, Hooters original chicken wings. The Franchise Development Team is your first point of contact with Hooters. They will assist you with the number of restaurants to be developed, your development schedule, territory to be developed, and navigation of the franchise award process. The Franchise Development Team will also provide guidance and support during your site procurement for your Hooters location.
---
Twin Peaks
Founded in: 2005
Franchising since: 2007
Franchise units: 56
Initial investment: from $1,500,000
Franchise Fee: $50,000
Royalty Fees: 5%
Twin Peaks is built upon five brand pillars: the Twin Peaks Girls, made-from-scratch food, 29° draft beer, sports on wall-to-wall TVs, and of course, the local lodge atmosphere. We now have 80+ locations in 26 states, from Florida to California. However, for the right candidates, we still have development opportunities in several additional markets across the country. The quickest way to reach the top is owning a Twin Peaks franchise. Get involved with a clearly defined brand that delivers category leading financial results.
---
Native Grill & Wings
Founded in: 1979
Franchising since: 1993
Franchise units: 23
Initial investment: from $990,000
Franchise Fee: $35,000
Royalty Fees: 6%
Native Grill & Wings has matured over 40 years of uncompromising flavor, food and fun. Native Grill & Wings is still winning awards for its wings, its sauces, its menu and for being the only unique concept where guests can order all 19 flavors by the individual wing. All new Native Grill & Wings franchisees receive the support and training required to open their restaurants quickly and efficiently. Our start-up and ongoing training programs will instruct you and your staff in many aspects of running a Native Grill & Wings franchise.
---
The Greene Turtle Sports Bar & Grille
Founded in: 1976
Franchising since: 2003
Franchise units: 31
Initial investment: from $1,455,000
Franchise Fee: $45,000
Royalty Fees: 4%
The Greene Turtle is more than a sports bar and grille. We believe in being a community hangout for all ages, that serves great food & drinks in a fun, casual atmosphere built on the excitement & unity of sports. The Greene Turtle Franchising Corp. is looking for strategic franchise partners to continue its dynamic growth. We want strong candidates who already have success in multi-unit development and management and who are seeking to leverage their existing resources to expand their business and brand portfolios.
---
Beef O'Brady's Family Sports Pub
Founded in: 1985
Franchising since: 1998
Franchise units: 118
Initial investment: from $807,000
Franchise Fee: $37,500
Royalty Fees: 4%
Beef 'O' Brady's is one of the most enduring "family sports pub" concepts ever created with an unusually loyal following. Beef's is more than just a restaurant. It's a social hub ... a place where every corner of the community always seems to gather. And that legacy lives on with each new Franchisee who adds another chapter to our story. In-depth training is the key to success for any new franchisee. Beef 'O' Brady's franchise support team combines in-restaurant and classroom training to cover all the bases, making things easy to understand. You'll also be invited to attend a new restaurant opening at another Beef's location prior to opening yours so you can see firsthand everything needed for a successful launch.
---
Boston's Pizza Restaurant & Sports Bar
Founded in: 1963
Franchising since: 1968
Franchise units: 421
Initial investment: from $988,000
Franchise Fee: $50,000
Royalty Fees: 5%
Boston's is both a family-friendly restaurant and a lively sports bar, all under one roof. When you join the Boston's family you don't just get comprehensive support and training, you get the invaluable benefit of the brand power that comes with more than 50 years of successful expansion all over North America. As a franchisor, we're committed to helping you build your business, which is why Boston's support services are a pillar of our business model. From training and IT to marketing and operations, you can count on the entire Boston's team to help your location reach its full potential.
---
Buffalo Wild Wings
Founded in: 1982
Franchising since: 1991
Franchise units: 589
Initial investment: from $2,500,000
Franchise Fee: $25,000
Royalty Fees: 5%
Buffalo Wild Wings is the ultimate place to get together with your friends, watch sports, drink beer, and eat wings. The franchisor requires that the U.S. franchise candidates have a minimum of USD 750,000 in liquid assets and a net worth of USD 1.5 million. Additionally, there is a minimum commitment to develop at least 2 restaurants. All new franchisees receive extensive support and training, as well as assistance with site selection, design and construction, guidance in securing liquor licences, grand opening promotions and ongoing operational and management tools.
---
Conclusion
To summarize, we can say any of the listed above sports bar & pub franchises is worth buying. But there is a lot to consider while choosing the best one for you. Pay attention to the reputation of the brand, what training and support are offered, check if the other franchisees are successful. But the main thing you need to do is to align your budget with investment requirements of the brand. In order to ease the challenge, we have made the comparison flowchart of the best sports bar & pub franchises in yhe USA for you. It shows the minimum estimated initial investment and initial franchise fee of each brand. By using it, you can figure out the difference in financial requirements for each franchise, and decide which one fits you the most.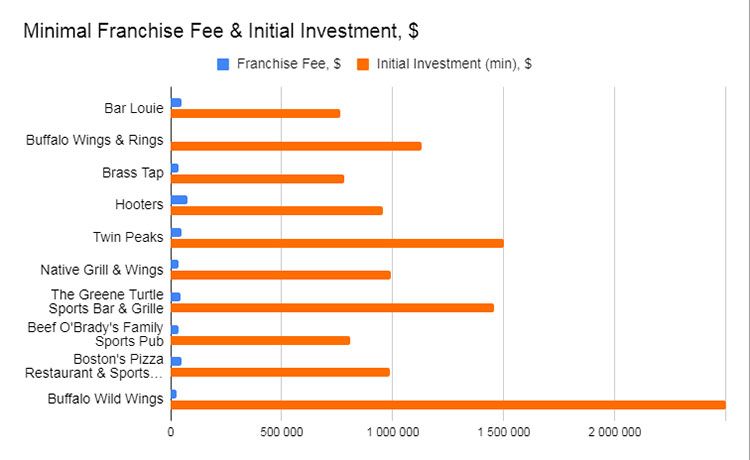 View all Sports Bar & Pub Franchises
Want to advertise your franchise with us and successfully boost your business?
Please send us your request and we will get back to you shortly!
DIDN'T FIND WHAT YOU WANT?
ASK THE EXPERTS