The 10 Best Senior Care Franchise Businesses in USA for 2023
Update: 12.11.2021
Senior Care Franchises are constantly in demand. The best brands are just reinforcing their positions in the USA showing tough competition with one another. There are still the same businesses in our selection of the best for 2022. However, they show insignificant rotation in their rating.
The number of aged citizens is growing, by 2030 20% of United States residents are forecasted to be aged 65 and over, which is more compared to 14% today. This is good news for entrepreneurs who specialize in senior care franchising or those who are looking for the opportunities to start their own business in the area. Senior Care Franchises involve medical and non-medical services to patients such as meal preparation and feeding, companionship, therapy, housekeeping and laundry, nursing intervention, and more. Our list of the Best Senior Care Franchises consists of proven businesses which provide their franchisees with the best training, support and tools for starting a successful company.
Here are the top 10 best senior care franchise businesses to own in the USA
Amada Senior Care
Founded in: 2007
Franchising since: 2012
Franchise units: 105
Initial investment: from $82,150
Franchise Fee: $42,000 - $48,000
Royalty Fees: 5%
With a rapidly expanding senior population, non-medical in-home care franchises are perfectly positioned for huge growth. An Amada Senior Carebusiness, however, has benefits you won't find anywhere else. Amada Senior Care's unique, proprietary software streamlines and organizes your business, making it easy to provide industry-leading quality of care for your clients. Amada Senior Care franchise partners start with an intensive 5-day training course at the corporate support center where dedicated team of experts will take you through each specific function of your business.
---
Touching Hearts at Home
Founded in: 1996
Franchising since: 2007
Franchise units: 66
Initial investment: from $48,900
Franchise Fee: $39,500
Royalty Fees: 3 - 5%
Touching Hearts at Home is a unique, non-medical home care company that began in St. Paul, Minnesota, in 1996. Owning a Touching Hearts franchise can be both financially and personally rewarding. Startup costs make Touching Hearts an affordable business to own. A Touching Hearts business does not just offer a potentially lucrative career for franchise owners, but it also offers personal fulfillment. The franchise owners agree that for entrepreneurs looking for a worthwhile investment for their time, money, and energy, Touching Hearts at Home is an ideal choice for anyone looking to start a home health care business.
---
The Senior's Choice
Founded in: 1994
Franchising since: 2007
Franchise units: 161
Initial investment: from $45,000
Franchise Fee: $29,000
Royalty Fees: 5% off franchise fee
Be a part of one of the greatest growth industries in America by owning your own senior care company. The Senior's Choice built its reputation on training, supporting and connecting our Members to clients and caregivers all around the country. The Senior's Choice enables you to build a business that can create financial independence for you at a fraction of the cost of other business opportunities!
---
Visiting Angels
Founded in: 1992
Franchise since:1998
Franchise units: 620
Initial investments: from $123,460
Franchise Fee: $49,950
Royalty Fees: 3.5 - 3%
Choosing a home care franchise to invest your time and money in is a big decision. Choose a home care franchise that has been providing superior care to seniors and the disabled since 1998. Many entrepreneurs choose Visiting Angels for its comprehensive support system that includes traditional and online marketing strategies; national, regional and one-on-one coaching meetings and conferences; and protected territories and affordable startup costs. Choose a Visiting Angels senior care franchise.
---
Comfort Keepers
Founded in: 1998
Franchising since: 1999
Franchise units: 735
Initial investment: from $91,160
Franchise Fee: $50,000
Royalty Fees: 5%
Comfort Keepers provides in-home care services through independently owned and operated locations. The company has been rated an extraordinary World-Class Franchise Opportunity for ten years in a row. Comfort Keepers offers franchise owners an abundance of resources to learn and grow their home care franchise. Training for our new franchisees includes a five week curriculum and time in an active Comfort Keepers' office observing operations.
---
Synergy HomeCare
Founded in: 2001
Franchising since: 2005
Franchise units: 331
Initial investment: from $39,130
Franchise Fee: $25,000 - $90,000
Royalty Fees: 5%
SYNERGY HomeCare is a national franchise of non-medical home care dedicated to providing exceptional and affordable services to anyone of any age. SYNERGY HomeCare is the most personally and professionally rewarding franchise opportunity for you and others like you who have been wanting to help those in need, while bettering yourselves and your families. SYNERGY HomeCare provides you with a lifetime of tools and knowledge necessary to operate a successful and fulfilling franchise.
---
Homewatch CareGivers
Founded in: 1976
Franchising since: 1996
Franchise units: 179
Initial investment: from $91,435
Franchise Fee: $49,500 - $75,750
Royalty Fees: 5%
Since 1980, Homewatch CareGivers® has been a premier provider of home care services, making a positive change in the lives of all those it serve. As a franchise owner, you will grow a business that delivers professional in-home care to the elderly, people living with developmental or physical conditions, individuals recovering from surgery, and those living with dementia or Alzheimer's. You can trust our corporate team at Homewatch CareGivers to support you with the training and resources needed to assist you in growing your home care agency.
---
Senior Helpers
Founded in: 2001
Franchising since: 2005
Franchise units: 327
Initial investment: from $113,300
Franchise Fee: $52,500
Royalty Fees: 5%
Senior Helpers home care franchises offer a financially competitive solution for you to start a business of your own. Compared to other franchise systems, Senior Helpers is an affordable opportunity with a big upside. Senior Helpers franchisees are surrounded by a world-class team that will walk you through a proven franchise system that has helped hundreds of other franchisees successfully launch and operate their businesses. From training and ongoing support to marketing and sales support, Senior Helpers invests in you as you invest in your elderly care franchise
---
BrightStar Care
Founded in: 2002
Franchising since: 2005
Franchise units: 560
Initial investment: from $105,700
Franchise Fee: $50,000
Royalty Fees: 5.25%
BrightStar Care is a full-service home healthcare franchise organization that provides medical and non-medical homecare to private clients within their homes, ranging from infants to seniors, as well as supplemental healthcare staff to corporate clients. The BrightStar Care Home Care franchise system is the most robust and best home healthcare franchise / senior care franchise because of our dedication to providing our franchisees the best training, ongoing support and tools for them to grow their franchise businesses.
---
Interim HealthCare
Founded in: 1966
Franchising since: 1966
Franchise units: 560
Initial investment: from $125,500
Franchise Fee: $50,000
Royalty Fees: 3.5 - 5.5%
Interim HealthCare Inc., founded in 1966, is a leading national franchisor of home care, hospice and healthcare staffing. The Interim HealthCare mission of improving lives means you have the opportunity to do well by doing good; it's rare to find a franchise that offers the combination of both financial and personal rewards. Interim HealthCare provides the training and support you will need to successfully operate your Interim HealthCare franchise, regardless of your background or experience.
---
Conclusion
To summarize, we can say any of the listed above senior care franchises is worth buying. But there is a lot to consider while choosing the best one for you. Pay attention to the reputation of the brand, what training and support are offered, check if the other franchisees are successful. But the main thing you need to do is to align your budget with investment requirements of the brand. In order to ease the challenge, we have made the comparison flowchart of the best senior care franchises in the USA for you. It shows the minimum estimated initial investment and initial franchise fee of each brand. By using it, you can figure out the difference in financial requirements for each franchise, and decide which one fits you the most.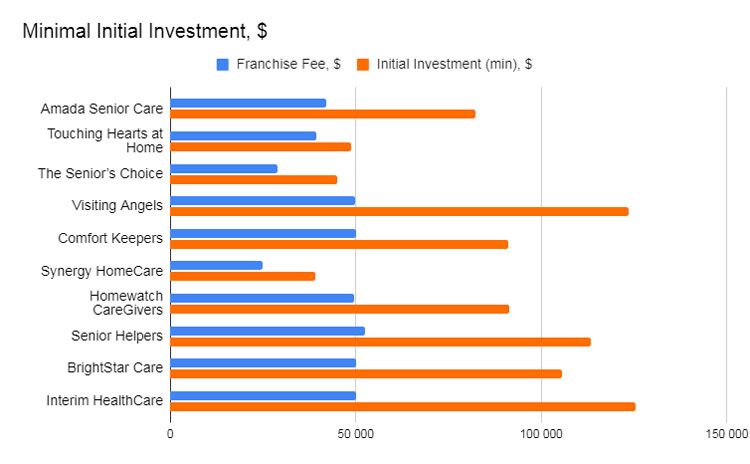 View all Senior Care Franchises
To know more about all stages of franchise development read our article Franchise development. How to develop a franchise.
Want to advertise your franchise with us and successfully boost your business?
Please send us your request and we will get back to you shortly!
DIDN'T FIND WHAT YOU WANT?
ASK THE EXPERTS