The 10 Best Urgent Care Franchise Business Opportunities in USA for 2023
Update: 04.11.2021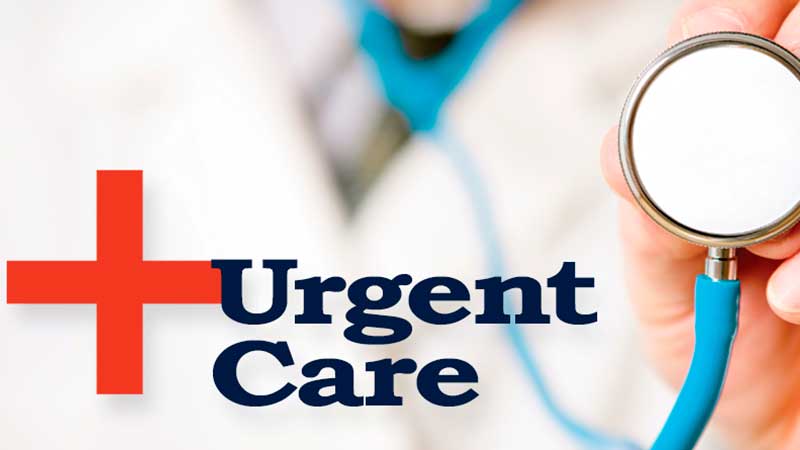 Nowadays the medical business is probably one of the most flourishing worldwide. Therefore, it is really a good idea to start an urgent care franchise. In comparison to other medical businesses like own practice for example, a franchise one is less complicated to start and run. That is because health care franchises offer a proven business model and training for their franchisees. Moreover, within a large franchise chain marketing cost will be lower as well as tools, medicines and other stuff could be bought from medical suppliers for much cheaper price. Today urgent care franchise opportunities became even wider with several new trends such as telehealth services which enable online consultations, selling medicines online, etc. It means that the industry offers an abundant choice of business models for an entrepreneur. If you feel interested in the opportunities, have a look at the best healthcare franchises listed below.
Here is the top 10 best Urgent Care franchise business in USA
American Family Care
Founded in: 1982
Franchising since: 2008
Franchise units: 168
Initial investment: $1,008,000 - $1,441,500
Franchise Fee: $60,000
Royalty Fees: 6%
American Family Care was founded by Bruce Irwin in 1982. Irwin was working as an emergency room physician at Brookwood Medical Center when he founded the company. He believed that it was necessary to establish clinics that could provide emergency care for non-critical medical problems more efficiently than hospital emergency departments. Such clinics need to accommodate more equipment than in a conventional therapist's office. American Family Care became one of the first emergency clinics in the country. Over the next thirty years, the number was expanded to 27 clinics in Alabama and Tennessee. Today, there are already more than 225 locations.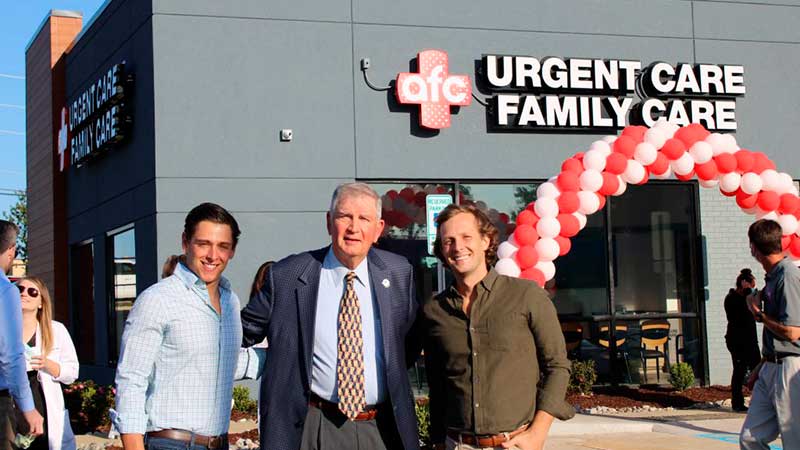 ---
MedExpress
Founded in: 2013
Franchising since: 2015
Initial investment: $664,000 - $903,000
Franchise Fee: $55,000
MedExpress is an pharmacy & online doctor founded in December 2013. In 2015, MedExpress was bought by the largest payer UnitedHealth Group, the country's largest insurance company, and its Optum healthcare division. MedExpress provides quality and affordable medical care. It has a staffed medical staff. MedExpress offers a wide range of services, including emergency medical care, basic wellness and prevention, and a range of employer health services. It offers prescription-only medications (POMs).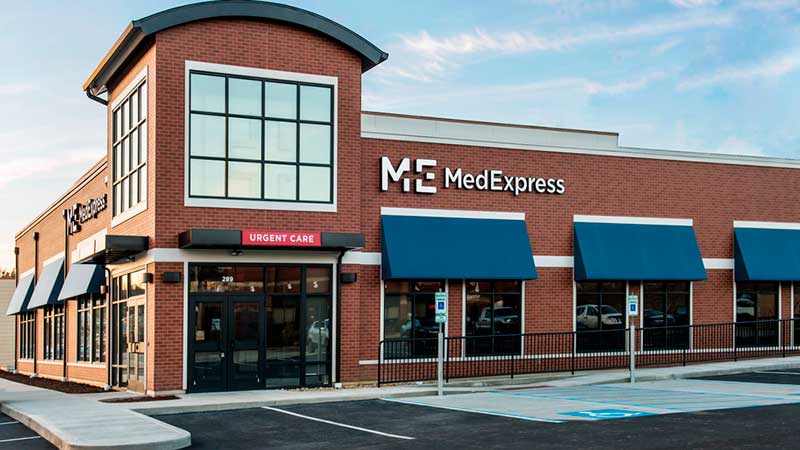 ---
ATC Healthcare Services
Founded in: 1983
Franchising since: 1996
Franchise units: 44
Initial investment: $129,400 - $217,400
Franchise Fee: $50,000
Royalty Fees: Varies
David and Stephen Sawicki are the founders of ATC Healthcare Services. For nearly 40 years, their team has provided 24/7 healthcare recruitment solutions. The first small staffing company was established in Queens, NY in 1983. Through a network of franchise centers, ATC focuses on the needs of healthcare professionals across the country. Quality service provides the support and expertise of a long-term national company. Today ATC is the national leader in recruiting healthcare personnel for hospitals, nursing homes, clinics and other healthcare facilities.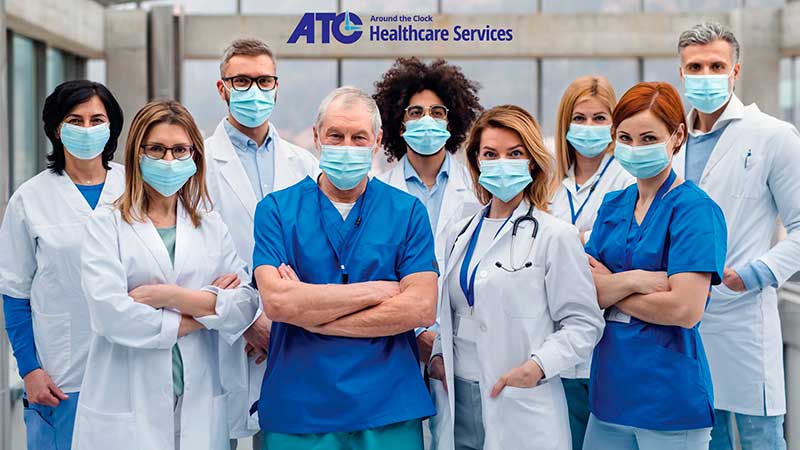 ---
ARCpoint Labs
Founded in: 1998
Franchising since: 2005
Franchise units: 104
Initial investment: $156,650 - $252,325
Franchise Fee: $49,500
Royalty Fees: 7%
ARCpoint Labs was founded in 1998 by Felix Mirando. The laboratory is the national third-party administrator for a complete cycle of reliable, accurate and completely confidential drug and alcohol diagnostic tests. The tests are done for both individuals and companies, as well as for lawyers and medical professionals. ARCpoint Labs has over 18 years of experience in testing and has over 60 years of experience in the industry. The company collaborates with numerous laboratories throughout the United States with a wide network of more than 10,000 locations in localities throughout the country.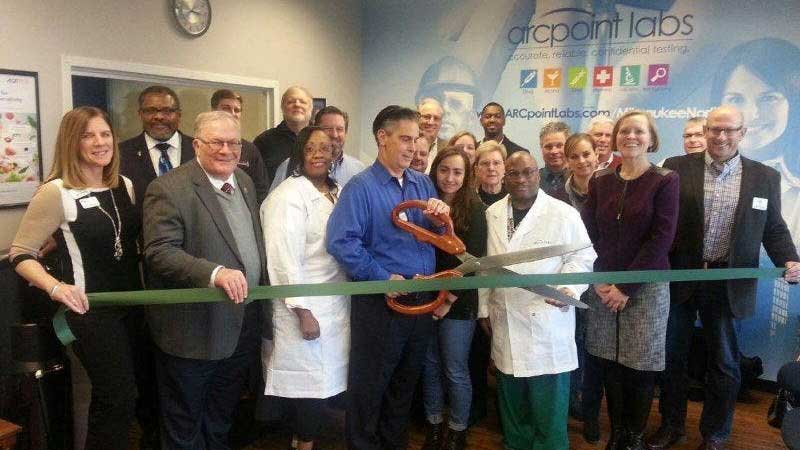 ---
GNC Franchising
Founded in: 1935
Franchising since: 1988
Franchise units: 6,019 (as of 2019)
Initial investment: $149,722 - $388,630
Franchise Fee: $40,000
Royalty Fees: 6%
GNC is the world's leading specialist retailer of health and wellness products, including vitamins, minerals and herbal supplements. The company also offers products for sports nutrition and dietary products. Headquarters GNC Holdings, Inc. located in Pittsburgh, Pennsylvania. Originally in 1935, David Shakarian made his dream come true by opening a small health food store called Lackzoom in Pittsburgh, Pennsylvania. The store specialized in the production and sale of yoghurt, and also sold other healthy products such as cereals and natural honey. GNC has been perfecting the franchise system for over 25 years.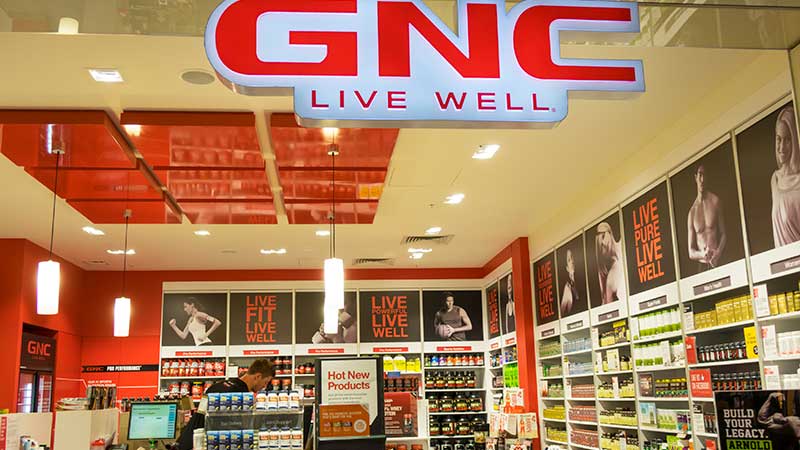 ---
Nurse Next Door Home Care Services
Founded in: 2001
Franchising since: 2007
Franchise units: 172
Initial investment: $105,100 - $199,300
Franchise Fee: $55,000
Royalty Fees: 5%
The founder and owner of the Nurse Next Door Home Care network is Joseph Chiari - Joseph started as a Certified Nursing Assistant and then worked as a Registered Nurse (RN) independently for 12 years. The Nurse Next Door is a specialized home care service for the elderly. Friendly staff enhances customers' lives where they feel most comfortable: at home. The company provides a wide range of services for seniors, from personalized home care to escort and transportation to various meetings and events.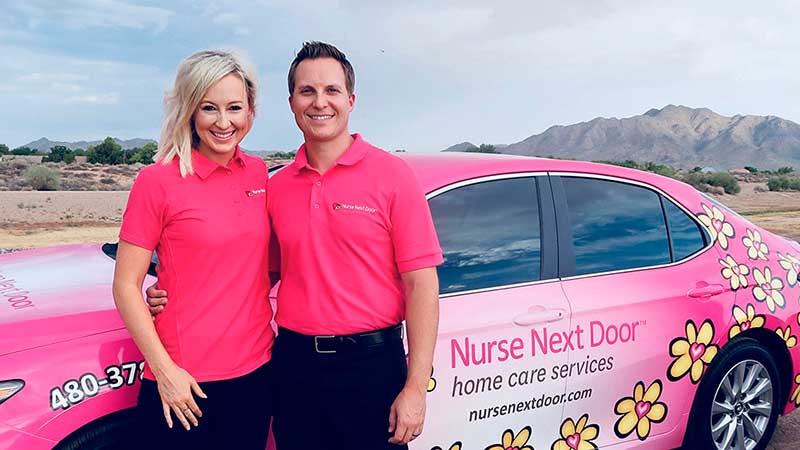 ---
The Joint Chiropractic
Founded in: 1999
Franchising since: 2003
Franchise units: 546
Initial investment: $183,497 - $378,697
Franchise Fee: $39,900
Royalty Fees: 7%
The Joint Chiropractic was originally founded in 1999 by a Doctor of Chiropractic Fred Gerretzen in Tucson, Ariz. with a vision to transform the traditional. The Joint Chiropractic started out as a cash-only franchise model instead of working with insurance companies. Today the company has grown to a nationwide network of over 500 chiropractic offices. The company is a leader in the provision of chiropractic care, performing over four million spine corrections per year. The Joint Chiropractive Franchise is a membership based franchise for chiropractors and investors looking to start their own business.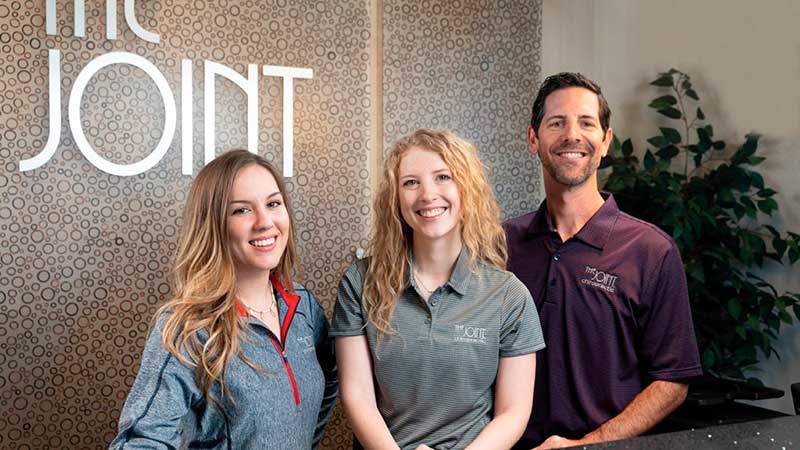 ---
Serasana
Founded in: 2004
Franchising since: 2014
Franchise units: 3
Initial investment: $375,000 - $570,000
Franchise Fee: $35,000
Royalty Fees: 6%
Serasana was founded by Patti McCormick in 2004. Patti McCormick has over 25 years of experience as an acupuncturist and herbalist. She fell in love with oriental medicine while still working as an engineer. Today she also specializes in yoga and healing with herbal teas and elixirs. Patti McCormick holds a national certification and state license. She has been practicing yoga for 23 years and teaching yoga for 20 years. Serasana is a combination of various ancient wellness practices that specialize in rejuvenating the body by relieving stress and pain.
---
Caring Senior Service
Founded in: 1991
Franchising since: 2002
Franchise units: 50
Initial investment: $110,099 - $176,016
Franchise Fee: $41,500
Royalty Fees: 5%
Caring Senior Service is a network of franchises. It provides private home care services for the elderly. This includes non-medical care services such as dressing, bathing, food preparation, personalized errands, and personalized care. Caring Senior Service helps seniors avoid having to move from home when there is no one to care for them. Jeff Salter is the developer of the Caring Senior Service concept. Before coming to this decision, he worked in various fields in different places and found a significant gap in the care of the elderly. Caring Senior Service was founded in 1991.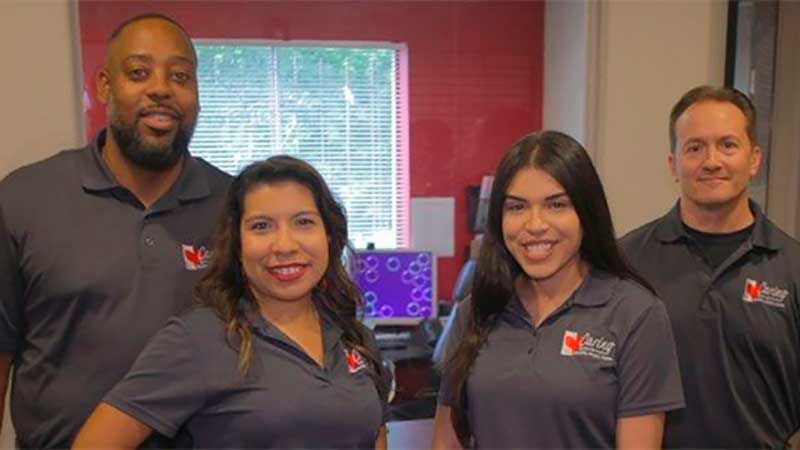 ---
Advance Urgent Care
Founded in: 2006
Initial investment: $100,000 - $500,000
Franchise Fee: $20,000
Royalty Fees: $1000 per month
Dr. Tony Eiser is the owner of Advance Urgent Care. He made the decision to go to medical school when he was 40 years old. Having had experience as a patient during the first 40 years of his life, he gained the impression of how he would like to be treated and how he would like to treat his future patients. After completing his degree from the College of Osteopathic Medicine of the University of Health Sciences in Kansas City, Missouri, Dr. Eiser founded Platte River Medical Clinic, his family practice, in January 2006. Initially, there were three employees, including himself. Today the clinic serves over 30,000 patients and continues to develop.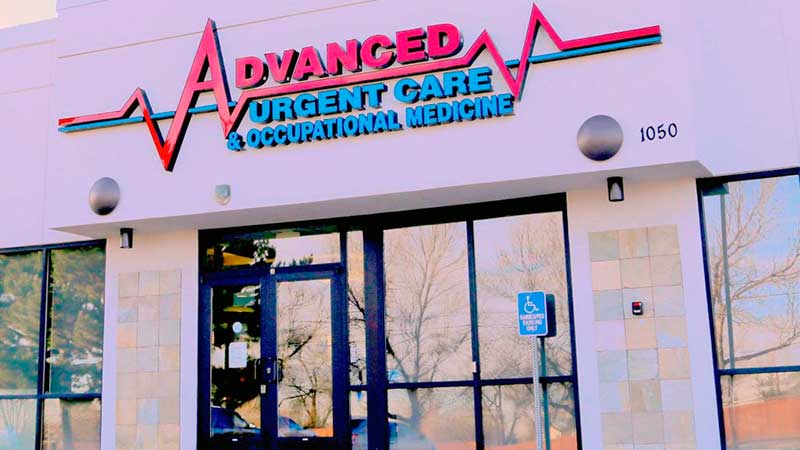 ---
Conclusion
To summarize, we can say any of the listed above urgent care franchises is worth buying. But there is a lot to consider while choosing the best one for you. Pay attention to the reputation of the brand, what training and support are offered, check if the other franchisees are successful. But the main thing you need to do is to align your budget with investment requirements of the brand. In order to ease the challenge, we have made the comparison flowchart of the best urgent care franchises in the USA for you. It shows the minimum estimated initial investment and initial franchise fee of each brand. By using it, you can figure out the difference in financial requirements for each franchise, and decide which one fits you the most.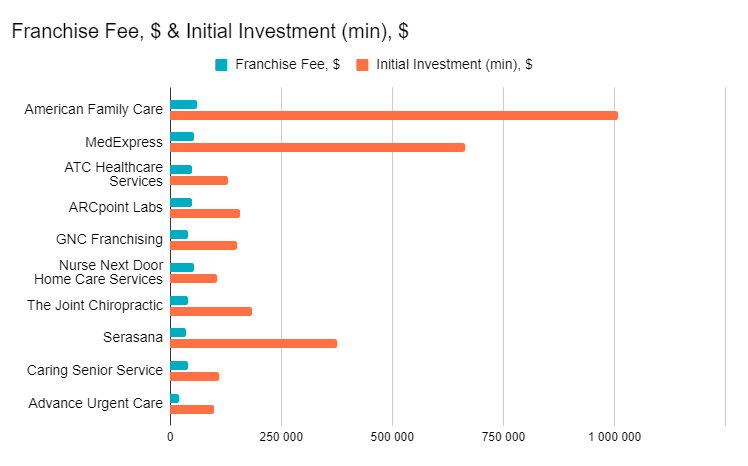 View all Urgent Care franchises
Browse franchises by countries

USA

India

Canada

The UK

Indonesia

The Philippines

Australia

The UAE

Saudi Arabia

South Africa

Germany

Pakistan

Singapore

Malaysia
Other countries
Want to advertise your franchise with us and successfully boost your business?
Please send us your request and we will get back to you shortly!
DIDN'T FIND WHAT YOU WANT?
ASK THE EXPERTS