The 10 Best Tutoring Franchise Opportunities in Australia in 2023
Update: 12.11.2021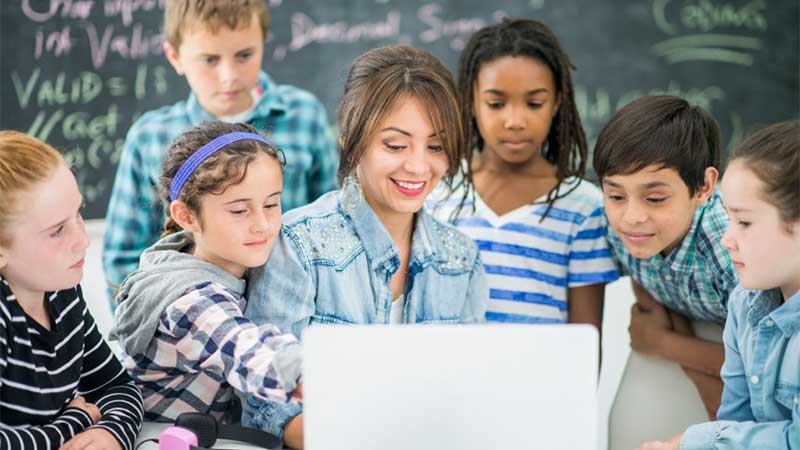 Tutoring franchises have become even more successful within the conditions created by the pandemic. As a number of educational businesses went online, they are accessible for students from any point of the world. Our list of the best Tutoring franchises in Australia for 2022 includes the same names, which suggests the stability and success of the brands.
The best tutoring franchises in Australia incorporate various concepts, approaches and target audiences. There are companies which offer in-home education and the ones which provide online learning. The list of popular tutoring franchise opportunities in Australia includes math, English classes, innovative learning in all subjects, etc. Here you can find businesses which deal with education for kids and the ones for adult trainings. It`s up to you which concept to choose. However, we would recommend you to check out our selection of top 10 tutoring franchises in 2022 below. They are successful brands with years of experience, a chain of profitable franchise units, and a good reputation.
Here is TOP 10 Tutoring Franchise Opportunities in Australia:
TutorBright
Founded in: 2006
Franchising since: 2007
Initial investment: from AU$42,000
Franchise Fee: AU$35,000 - AU$56,000
Royalty Fees: 7%
TutorBright is the most advanced one-to-one, in-home tutoring company in Australia. The company's approach to tutoring is holistic, because they understand the important relationship between education and mentorship. All of the company's tutor-mentors are either tertiary-educated or qualified teachers. TutorBright is always looking for new team-members with the same values and ideals to join their team.
---
Fruition Tuition
Founded in: 1993
Franchising since: 2004
Initial investment: From $115,000 AUD
Fruition is a leader in the tuition industry, setting industry standards. It is an innovative and exciting company that inspires successful learners of all ages, all needs and in all subjects. The company's team is made up of passionate and enthusiastic people, who are precise, innovative, insightful and energetic. Each team player, Corporate, Franchisees, Manager, Assistant and Tutor have excellent communication, administrative and organisational skills.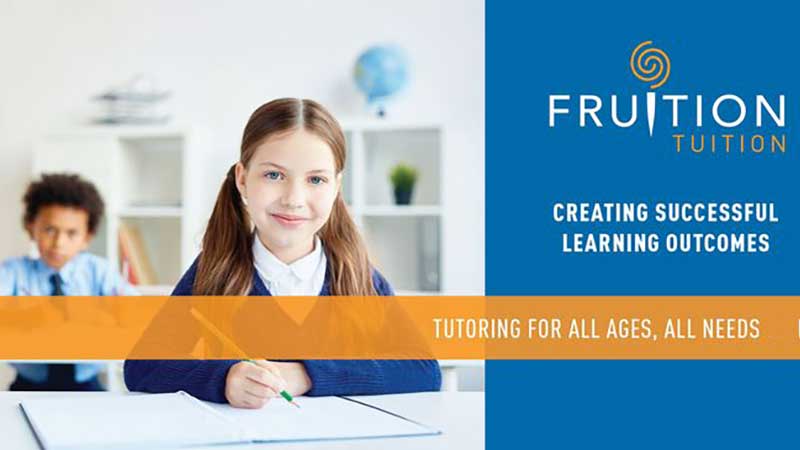 ---
Mathnasium Australia
Founded in: 2002
Franchising since: 2003
Franchise units: 1,068
Initial investment: from $150,000 AUD
Franchise Fee: $60,000 AUD
Royalty Fees: 10%+
Mathnasium Learning Centres offer customised maths tutoring services helping children and students develop maths skills through homework lessons & tutorials. Mathnasium, one of the fastest growing educational franchises that is looking for smart entrepreneurs, enables franchisees to own their own Mathnasium Learning Center in their community to help children from pre-K to pre-calculus boost their math skills.
---
Success Tutoring Australia
Founded in: 2017
Franchising since: 2020
Franchise units: 3
Initial investment: $55,000 – $65,000 AUD
Success Tutoring is one of the fastest growing one-on-one tutoring organisations in Australia. With a proven & simplified franchise model, ST provides franchise investors with the opportunity to run a tutoring company with record low set-up costs with the chance to break even in six months. Along with national marketing campaigns, the company provides the best support to its franchisees within the educational industry.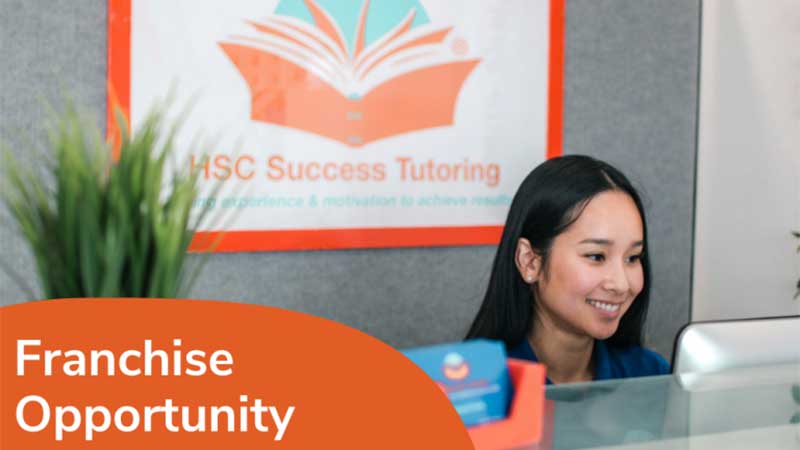 ---
NumberWorks'nWords
Founded in: 1984
Franchising since: 1985
Centers: 70+
Initial investment: from $51,000 AUD
Franchise Fee: $30,000 AUD
Royalty Fees: 12,5%
NumberWorks'nWords is one of the world's longest-running and most successful after school tuition providers centres of which provide English and maths educational support for 11 levels of the school curriculum. Their growing network of 70 successful tuition centres cater to children in Sydney, Melbourne, Brisbane, Adelaide and Perth as well as regional areas in Australian states and throughout New Zealand. Depending on availability and franchisee's preference, the company can offer the territory that's closest to where franchisees live or the territory that offers the most potential for success.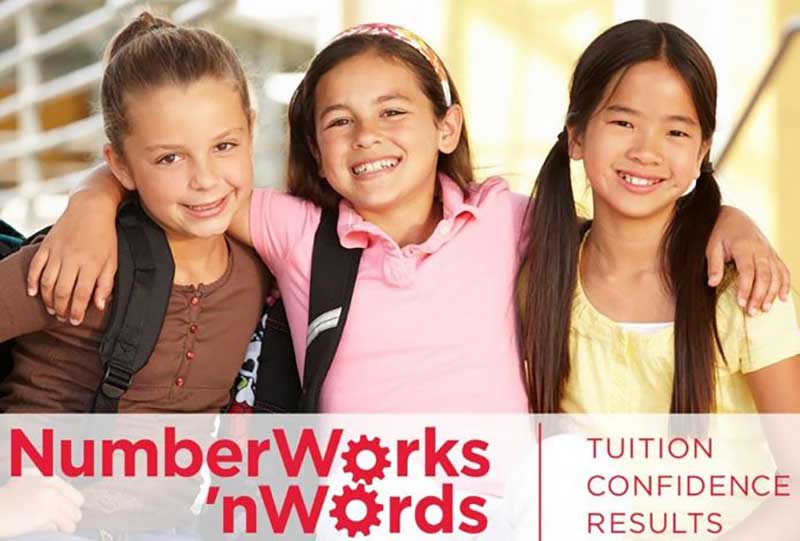 ---
Pre Uni College
Founded in: 1992
Franchising since: 1992
Initial investment: from AU$100,000
Pre Uni College is for parents who are serious about their child's academic performance. PUC has created the perfect environment for children to thrive by speaking with hundreds of parents to find out what was holding their child back. The company's franchisees are intelligent, driven and come from a wide range of backgrounds. They are looking to run a successful business that not only gives them a great return on investment but, critically, they tend to be passionate about helping young people achieve their full potential in English and mathematics.
---
BRAINWORKS
Founded in: 1995
Franchising since: 1995
Initial investment: AU$350 - AU$950
The foundation of Brainworks is built on one to one tuition in a small group environment. Based on cultivating and encouraging improvement the Brainworks philosophy is all about making a difference, meeting student learning needs and helping students achieve their potential. The company franchise was developed out of the desire to meet demand, expand the brand and business as well as share in the success. The Brainworks franchised business is all about running franchisees' own private tuition business that provides them with brand recognition, proven systems as well as access to initial and ongoing training and support.

---
Kip McGrath
Founded in: 1976
Franchising since: 1978
Centers: 560 Globally
Initial investment: from $210,700 AUD
Franchise Fee: $72,000 AUD
Royalty Fees: 20%
Founded in 1976 in Australia, Kip McGrath has been helping primary and secondary school age children all over the world to improve or extend their learning. The company provides specialised tutoring in Reading (Literacy), Phonics, Comprehension, Spelling, English and Mathematics for school-going children between grades R to 12. KMG Franchise partners can focus on helping children who really need support with their learning while the company supports their franchisees to run their own business.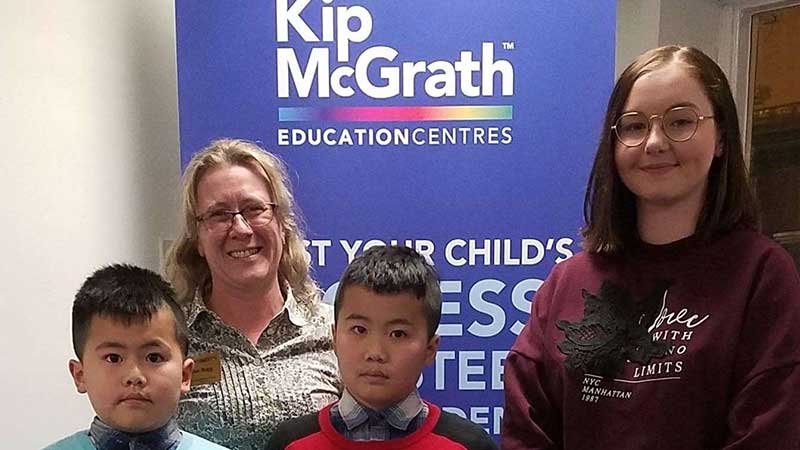 ---
Kumon
Founded in: 1954
Franchising since: 1958
Franchise units: 26,338 Worldwide
Initial investment: from $92,200 AUD
Franchise Fee: $5,000 AUD
Royalty Fees: AU$84 - AU$53/student per month
Kumon with their maths and English programs developed by high school math teacher Toru Kumon in Japan is the world's largest after-school education program that has more than four million students enrolled cross 57 countries and regions. The business has been going since 1984 and there are more than 300 franchisees in Australia alone. Opportunities are available to purchase an existing Kumon Education Centre, or to open a brand new Kumon Education Centre. The company's franchisees must have a Bachelor's degree in any discipline, permanent resident status in Australia and a valid driver's license and their own transport.
---
Tutor Doctor
Founded in: 2000
Franchising since: 2003
Franchise units: 686
Initial investment: from $118,000 AUD
Franchise Fee: $62,500 AUD
Royalty Fees: 8%
Tutor Doctor is the world's #1 in-home tutoring franchise. The Tutor Doctor work-from-home model benefits franchisees by limiting the investment and overhead costs associated with starting their own business. Unlike with traditional learning centers, their franchisees aren't burdened with the high costs and liability that come with brick-and-mortar locations. The company's franchises offer in-home, one-on-one tutoring for students from kindergarten through college.
---
Conclusion
To summarize, we can say any of the listed above tutoring franchises is worth buying. But there is a lot to consider while choosing the best one for you. Pay attention to the reputation of the brand, what training and support are offered, check if the other franchisees are successful. But the main thing you need to do is to align your budget with investment requirements of the brand. In order to ease the challenge, we have made the comparison flowchart of the best tutoring franchises in Australia for you. It shows the minimum estimated initial investment of each brand. By using it, you can figure out the difference in financial requirements for each franchise, and decide which one fits you the most.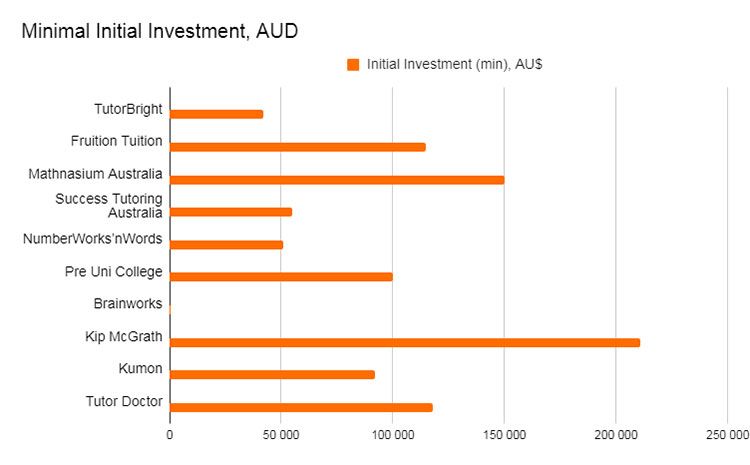 View all Tutoring Franchises
Want to advertise your franchise with us and successfully boost your business?
Please send us your request and we will get back to you shortly!
DIDN'T FIND WHAT YOU WANT?
ASK THE EXPERTS