The Best 10 Juice Bar Franchise Opportunities in Australia for 2023
Update: 12.11.2021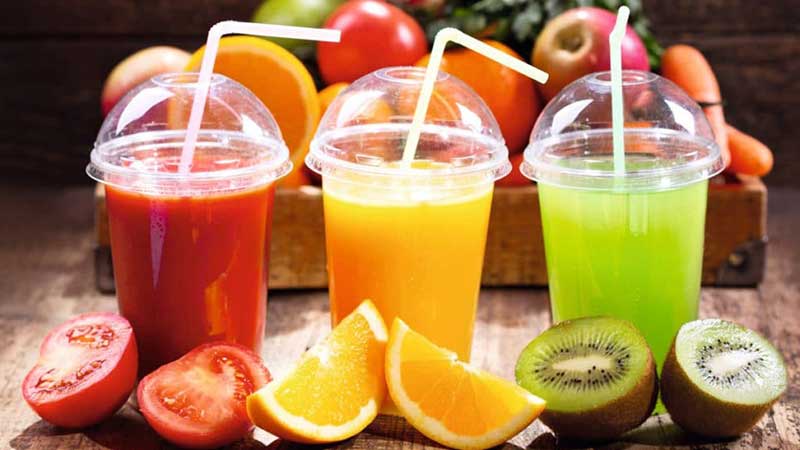 The trends, which 2022 is bringing, are mostly focused on a healthy lifestyle. Thus, the Juice Bar franchise business is going to grow in Australia due to the demand for the products and services. We are also pleased to notice that the best Juice Bar franchise brands have been the same for the last several years.
Dynamic pace and healthy lifestyle boost the growth for juice bar franchises in Australia. The market includes both world known names and local brands which are successfully operating. We have made the list of popular juice bar franchise opportunities in Australia which can help you get some insight into the business in the country. Our selection includes various concepts starting from retailing of fruit juice and smoothies and finishing with cafes which sell fresh ingredients & serve nutritious food. The top 10 juice bar franchises in 2022 offer their partners a known name, proven marketing and management, and constant assistance. Find the best franchise for you here!
Here is TOP 10 Juice Bar Franchise Opportunities in Australia:
Raw Energy
Founded in: 1998
Franchising since: 2008
Franchise units: 15
Initial investment: $330,000 – $370,000 +GST
Royalty Fees: 5%
Raw Energy is an Australia's leading health & lifestyle cafe franchise which uses fresh ingredients & serves nutritious food, juice & smoothies at their local cafes. Unique in its offering, Raw Energy cafes feel nothing like a franchise cafe. Locally owned and operated, passionate about supporting their local communities, with a distinct bohemian flavour, each cafe has a breezy and carefree, yet friendly atmosphere that is reflective of its birth place, the Sunshine Coast.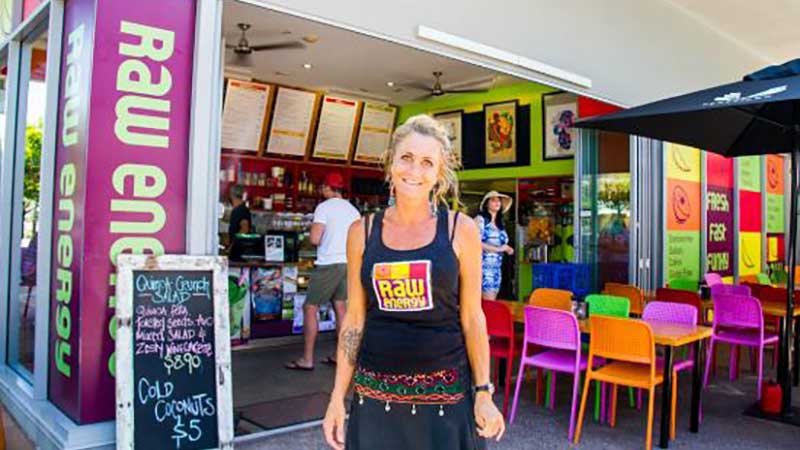 ---
Maui Wowi
Founded in: 1982
Franchising since: 1997
Franchise units: 128
Initial investment: $31,100 – $394,000
Royalty Fees: Varies
Founded in 1982 by Jeff & Jill Summerhays, Maui Wowi® was built to provide their 'ohana (family) with a healthy alternative to the sugary and fat-laden foods that seemed to be everywhere. Just as passionate, the Summerhayses wanted to create a business model that was fun, flexible, and mobile so they could bring their all-natural, fresh fruit smoothies anywhere they felt like traveling. Founding Partner Michael Haith revamped the franchise concept and expanded the product line, which now includes Hawaiian coffees and espresso. Maui Wowi franchises are located throughout the United States and internationally.
---
Jamba
Founded in: 1991
Franchising since: 1993
Franchise units: 850+
Initial investment: $273,600 - $504,300
Royalty Fees: 6%
Jamba Juice is a company that produces blended fruit and vegetable juices, smoothies and similar products. From the beginning, the company has been focused on creating premium, hand-crafted, flavorful blends and became an iconic brand. Jamba is a global brand that is looking for passionate franchise owners worldwide including Australia. Franchising with the company means franchisees will have access to their extensive support structure.
---
Top Juice
Founded in: 2008
Franchising since: 2008
Locations: 75+
Initial investment: From $285,000 + GST
Top Juice is a fully integrated juice bar and fast food chain specialising in healthy premium juices, smoothies, yoghurts, and salads made from fresh natural ingredients. The company stores are designed with high-spec fit outs to engage passersby with attractive displays, bright menu options and a proposition that encourages a loyal and regular customer base. Top Juice is one of the Top 10 fastest growing franchises in Australia, awarded Australia's "TOP FRANCHISE" at Smart Company's Smart 50 Awards.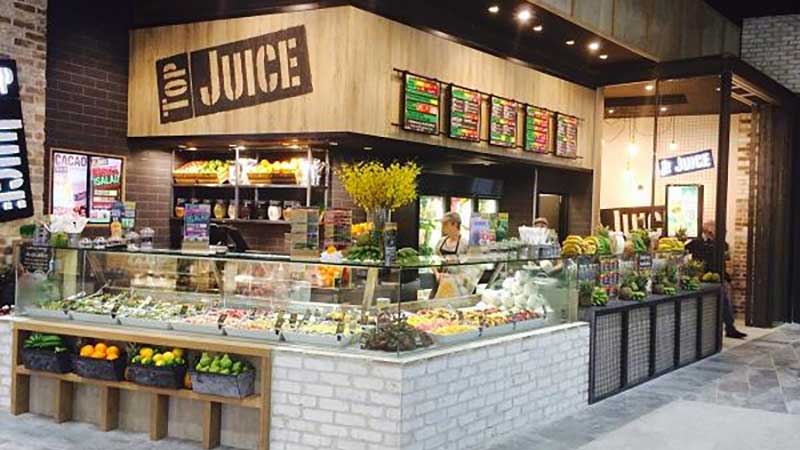 ---
Planet Smoothie
Founded in: 1995
Franchising since: 1998
Franchise units: 144 (US)
Initial investment: $79,650 - $358,500
Royalty Fees: 5%
After Martin Sprock opened the first Planet Smoothie store in Atlanta in 1995 the company has expanded throughout the United States and is seeking new franchise units worldwide. Every Planet Smoothie location serves a variety of fruit juice and smoothies, wrap sandwiches, soups, vitamins, supplements and low-fat snacks. As a franchise opportunity, Planet Smoothie is a low-cost investment and offers an established, simple-to-run business model and exceptional ongoing support from Kahala Brands, one of the largest franchisors in the world.
---
Boost Juice
Founded in: 2000
Franchising since: 2000
Franchise units: 185+
Initial investment: $220,000 - $350,000 + GST
Royalty Fees: 8%
Boost Juice Bars is an Australian retail outlet that specialise in selling fruit juice and smoothies. The company has expanded internationally with stores in Asia, Europe, South Africa, India, South America, and the United Kingdom through franchising. BJ has become the largest juice and smoothie bar in the southern hemisphere largely due to their franchising and international partnership strategy. About 70 percent of Boost Juice outlets are franchised.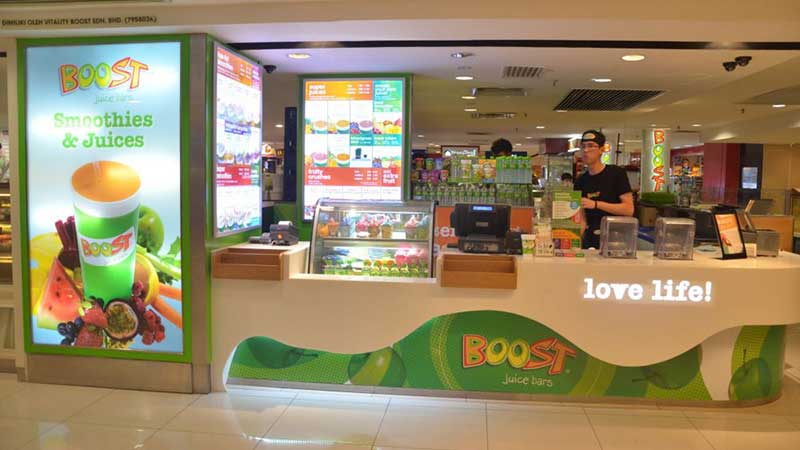 ---
Smoothie Factory
Founded in: 1996
Franchising since: 1997
Franchise units: 33
Initial investment: $80,000 - $220,000
Royalty Fees: 5%
Smoothie Factory is an established, popular, and fast growing international retailer of real fruit smoothies, fresh squeezed juices, authentic frozen yogurt, and healthy lite foods with franchises in over 17 countries around the world. Now in Australia! As a Smoothie Factory franchisee, you're never alone. Their team is constantly working on strategic alliances and brainstorming new ways to help their franchisees succeed – both before and after their grand opening.
---
Kick Juice Bars
Founded in: 2008
Franchising since: 2008
Kick is an Australian owned and operated company passionate about creating great tasting products that are fresh and most importantly good for their customers! Their bars are fully operational with comprehensive systems in place. Giving customers a truly unique shopping experience while purchasing product that is yummy, fresh and good for them. The company has a centralised support office where everything they do is to help their franchisees succeed.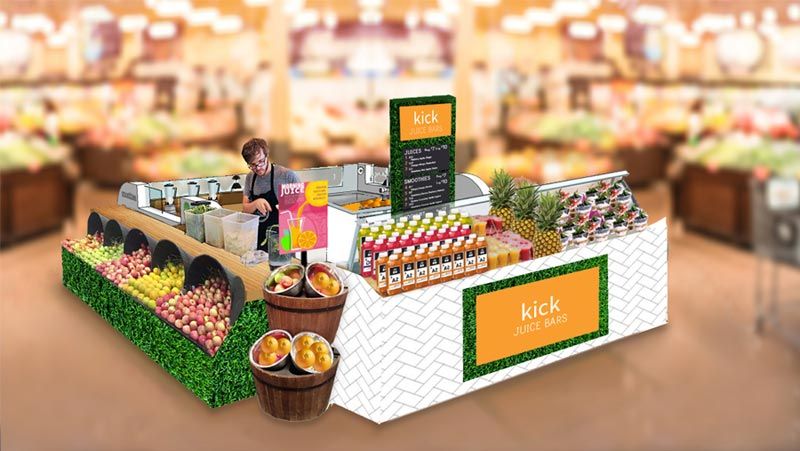 ---
Juiced Life
Founded in: 2015
Franchising since: 2015
Franchise units: 13
Initial investment: $200,000 - 300,000 + GST
Royalty Fees: 5%
Juiced Life is not just a juice bar but also offers a variety of superfood-enriched meals and snacks such as smoothie bowls, chia puddings, yoghurt medleys, salads and protein balls and offers nutrition programs.Their unique business model has been refined and improved over the years since Juiced Life first established. Franchisees can select from kiosk package and cafes or commercial kitchens with shopfronts package.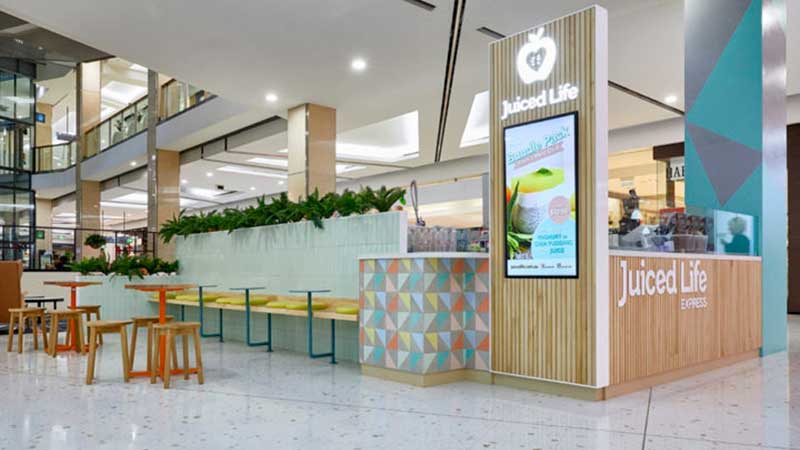 ---
Nekter Juice Bar
Founded in: 2010
Franchising since: 2012
Franchise units: 132
Initial investment: $224,500 - $584,100
Ongoing Royalty Fee: 6%
Nekter, internationally known brand, is a small organic juice bar with acai bowls, smoothies and juices. The company's goal is to create a welcoming space for people who are seeking a chance to become healthier, and give them an accessible, affordable, and delicious way to help them achieve their personal wellness goals. Franchise Owners can enjoy multiple revenue streams by offering an array of exciting new products like Nekter non-dairy frozen treat, Skoop, as well as their signature Nékter Cleanse.
---
Conclusion
To summarize, we can say any of the listed above juice bar franchises is worth buying. But there is a lot to consider while choosing the best one for you. Pay attention to the reputation of the brand, what training and support are offered, check if the other franchisees are successful. But the main thing you need to do is to align your budget with investment requirements of the brand. In order to ease the challenge, we have made the comparison flowchart of the best juice bar franchises in Australia for you. It shows the minimum estimated initial investment of each brand. By using it, you can figure out the difference in financial requirements for each franchise, and decide which one fits you the most.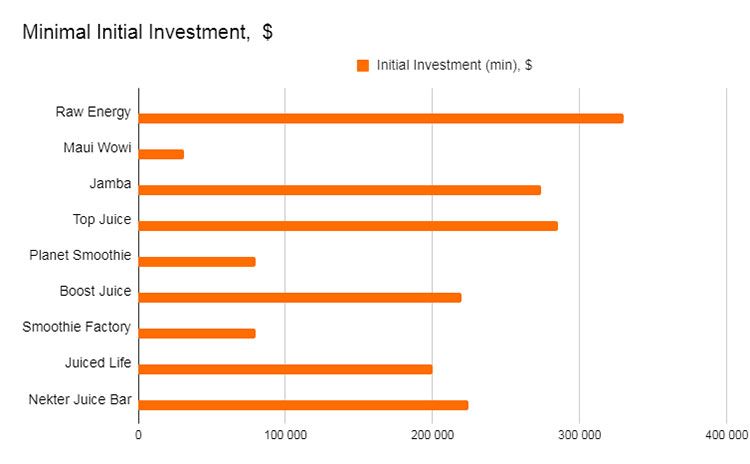 View all Juice Bar Franchises
Want to advertise your franchise with us and successfully boost your business?
Please send us your request and we will get back to you shortly!
DIDN'T FIND WHAT YOU WANT?
ASK THE EXPERTS