The Best 10 Chicken and Wings Franchises in USA for 2022
Update: 03.06.2021
A calling card of the USA is their chicken and wings franchise restaurants. Everybody who visits the country wants to try fried chicken wings, legs, nuggets, twisters and sandwiches. And there are probably not so many people in the world who don't know such top chicken franchises from the USA as KFC, Southern Fried Chicken, Chester's Chicken and many others. While many business segments are suffering job losses and reduction of sales, fast food including chicken restaurants is flourishing. Today the business offers a lot of new options for customers such as on-site, take-out, drive thru, delivery, mobile ordering and other services . Many flagmans on the market use social media and technologies like apps and websites which facilitate advertising and other business processes. No wonder that the best fried chicken franchises in USA are looking for new applicants who will help them expand all over the world. If you find the business to be right for you to own, have a look at our listing of fried chicken franchise opportunities.
Here are the best 10 chicken franchises in the USA
Chick-fil-A
Founded in: 1967
Franchising since: 1987
Number of locations: 2,200+
Initial investment: $265,265 - $2,275,455
Royalty Fees: N/A
Chick-fil-A is an American fast food restaurant chain specializing in chicken sandwiches. The restaurant serves breakfast before transitioning to its lunch and dinner menu and also offers customers catered selections from its menu for special events. Chick-fil-A is one of the most successful and influential fast food chains in America so if you're looking for an awesome investment opportunity, then Chick-fil-A sounds like a home run.
---
KFC
Founded in: 1930
Franchising since: 1952
Franchise units: 350+
Initial investment: $1,262,800 - $2,543,000
Royalty Fees: 5%
KFC, also known as Kentucky Fried Chicken, is an American fast food restaurant chain that specializes in fried chicken but also offers menu of wraps, french fries, soft drinks, salads, desserts, breakfast, krushems (milkshakes). The company has adapted the standard KFC offerings to Indian tastes and the menu options in India include the Hot & Crispy Chicken and Fiery Grilled bucket options, Chicken Zinger Burger, Krushers, Rice Bowlz and the more recently launched 5-in-1 Meal Box.
Chicken Salad Chick
Founded in: 2008
Franchising since: 2012
Franchise units: 117
Initial investment: $562,000 - $740,000
Royalty Fees: 5%
Chicken Salad Chick, founded by Stacy Brown and her husband Kevin (died in 2015) in 2008 in Auburn, Alabama, is a fast casual restaurant chain with presence in 17 different U.S. states. At first Stacy Brown was selling her homemade chicken salad door-to-door in home town but with the health department prohibiting the sale of foods cooked in one's home, the Browns devised a plan to open a restaurant. Under the leadership of CEO Scott Deviney, franchising has taken off in a major way and plans to grow to more than 200 restaurants by the end of 2021.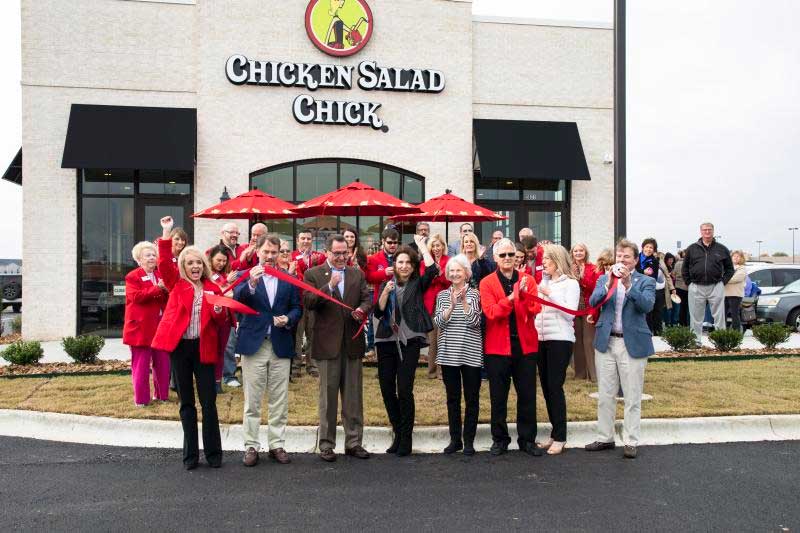 ---
Southern Fried Chicken
Founded in: 1975
Franchising since: 2000
Franchise units: 75
Initial investment: From $322,850
Royalty Fees: $646 per month
Southern Fried Chicken is a British-based fast food outlet which operates a franchise network in the United Kingdom and worldwide. Southern Fried Chicken offers all franchisees who interested in fried chicken business and QSR (quick service restaurant) the opportunity to join a growing family of restaurants offering increasingly popular and famous chicken dishes.
---
Popeyes Louisiana Kitchen
Founded in: 1972
Franchising since: 1976
Franchise units: 2,800+
Initial investment: $383,500 - $2,620,800
Ongoing Royalty Fee: 5%
Popeyes is an American multinational chain of fried chicken fast food restaurants which is famous for their excellent taste. Many of Popeyes franchisees started out as loyal customers for their love to Popeyes's food and got great franchise opportunity and good results. Popeyes maintains a "Hall of Fame" of its franchise holders. Some international franchises, such as the ones located in Germany, France, and Japan, are located only on U.S. military installations and are generally not accessible to the local civilian public.
---
Zaxby's
Founded in: 1990
Franchising since: 1994
Franchise units: 574
Initial investment: $284,000 - $664,300
Ongoing Royalty Fee: 6%
Zaxby's is a chain of fast food restaurants offering chicken wings, chicken fingers, sandwiches, and salads. From the beginning, Zaxby's has been known for having just the right combination of great food, a comfortable vibe, and fun people that care about each other. Most restaurants are owned by franchisees and still actively seeks highly qualified individuals to become Franchisees.
---
Wingstop
Founded in: 1994
Franchising since: 1998
Franchise units: More Than 1000 Worldwide
Initial investment: $346,775 - $733,249
Royalty Fees: 6%
Wingstop is a chain of nostalgic, aviation-themed restaurants specializing in chicken wings which restaurant locations are decorated following a 1930s and 1940s "pre-jet" aviation theme. Wingstop's wings are always cooked to order, hand-sauced and tossed and served with a variety of house-made sides including fresh-cut, seasoned fries. A Wingstop franchise entitles the franchisee to operate one Restaurant at an approved location.
---
Church's Chicken
Founded in: 1952
Franchising since: 1969
Franchise units: More Than 1300 Worldwide
Initial investment: $348,300 - $1,826,300
Royalty Fees: 5%
Church's Chicken is an American chain of fast food restaurants specializing in fried chicken, also trading outside North America as Texas Chicken. It's menu consists from fried chicken, french fries and jalapenos, and other traditional sides such as coleslaw, biscuits, mashed potatoes and fried okra, as well as desserts and dipping sauces. Franchisees will be granted a geographic area (the Protected Area) within which the franchisor will not open, nor license anyone other than the franchisee to open a Church's Restaurant during the term of the Franchise Agreement.
---
Chester's Chicken
Founded in: 1952
Franchising since: 2004
Franchise units: 1100+ Worldwide
Initial investment: $12,000 - $296,600
Chester's Chicken is a fried chicken quick-service restaurant in the United States and has locations in college campuses, airports, convenience stores, truck stops and supermarkets. Chester's offers consumers a high-quality chicken product, cooked to perfection, with a unique taste and style. All partners have great opportunity to enter the QSR industry with flexible locations and store design.
---
Harold's Chicken
Founded in: 1950
Franchising since: 2010
Franchise units: 10+
Initial investment: $75,000 - $150,000
Harold's Chicken was founded in 1950 by Harold Pierce and has now dozens of locations across Chicago and Indiana serving hot and delicious chicken and fish. At the heart of the company's success is their fresh chicken marinated in a signature blend of spices and then prepared in their secret way. If you decide to own a Original Harold's restaurant, you need to know you will be part of a fast growing restaurant chain and one of the most recognized brand names in the country. Original Harold's has developed a highly diverse team to provide marketing support.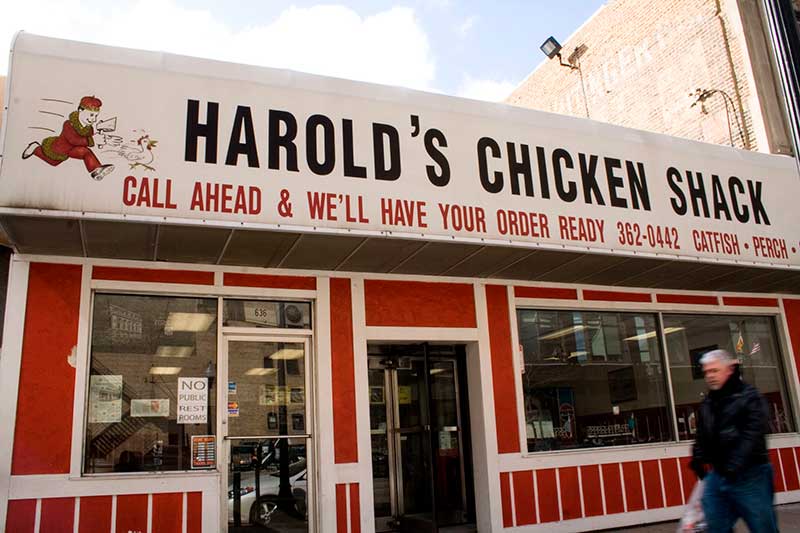 ---
View all Chicken Franchises
DIDN'T FIND WHAT YOU WANT?
ASK THE EXPERTS