The 10 Best Tutoring Franchise Businesses in India for 2023
Update: 12.11.2021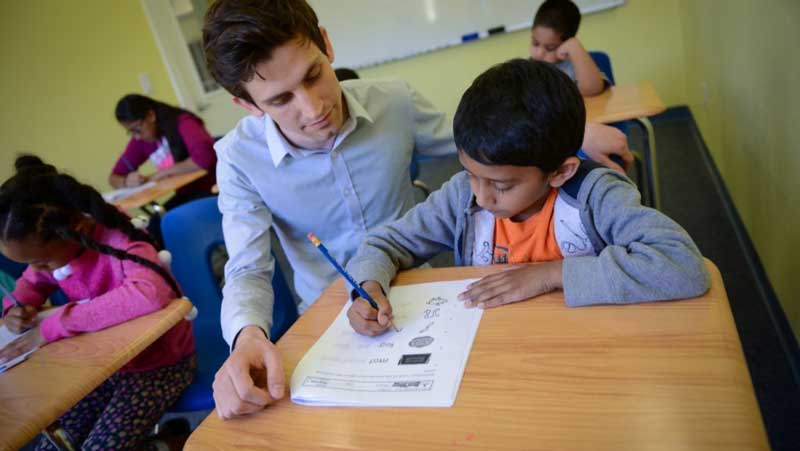 Overcoming a challenge of adding more online services, Tutoring franchise segment shows the tendency for expanding in 2022. Our list of the best companies operating in the field in the country is constantly the same. You may notice just a minor update in our rating of 10 Best Tutoring businesses in India.
The demand for personalized learning in India is growing which impacted the development of tutoring and coaching franchises in the country. Tutoring franchises don't require high start-up costs, however they offer a variety of focus areas. There are companies which prepare students for examinations; schools which teach designing robots; courses which offer supplementary education, etc. If you made a decision to help people to gain knowledge and skills and make a good profit on it, choose a tutoring franchise out of our Top 10 list. The list includes only trustworthy franchises with years of experience and proven business processes.
Here are the top 10 best tutoring franchises in India
Bastion International School
Founded in: 1998
Franchising since: 2011
Franchise units: 12
Initial investment: From Rs 5 Lakhs
Bastion International School's goal of education is to create pupils who are capable of doing new things not to repeat what the generations have done. The school is committed to provide a child with customized studies, operational excellence and the kind of strategic thinking your youngster needs to grow. We are looking for entrepreneurs or professionals who want to start education & training business, a person willing to serve society and help the country to build manpower capacity.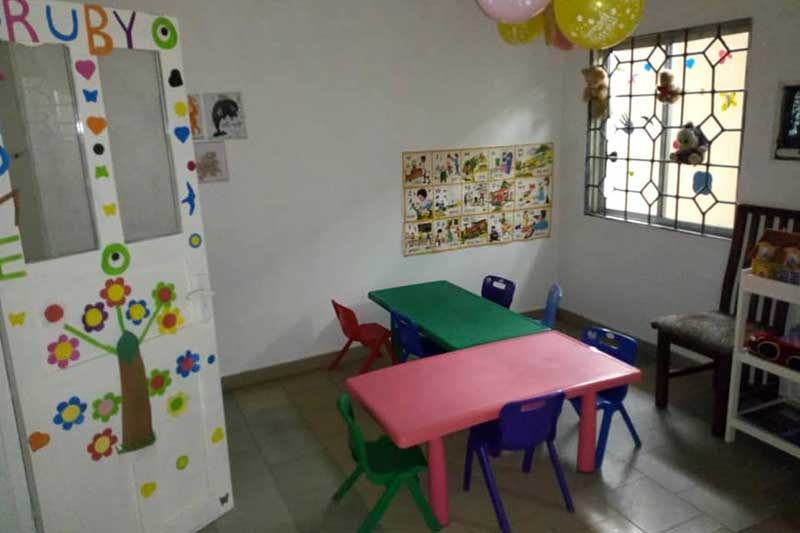 ---
ALS Satellite Education Pvt Ltd
Founded in: 1979
Franchising since: 2016
Franchise units: 50-100
Initial investment: From Rs 10 Lakhs
Royalty Fees: 5%
ALS is one of India's leading learning institutions and was established with an aim to develop as the final destination for all career initiation programs. ALS's unflinching reputation has been built, in large part, by its uncompromising standards and focus on the intellectual and personal development of the individual learner. We want people who question, challenge and think creatively, and those who are prepared to take on new concepts and ideas.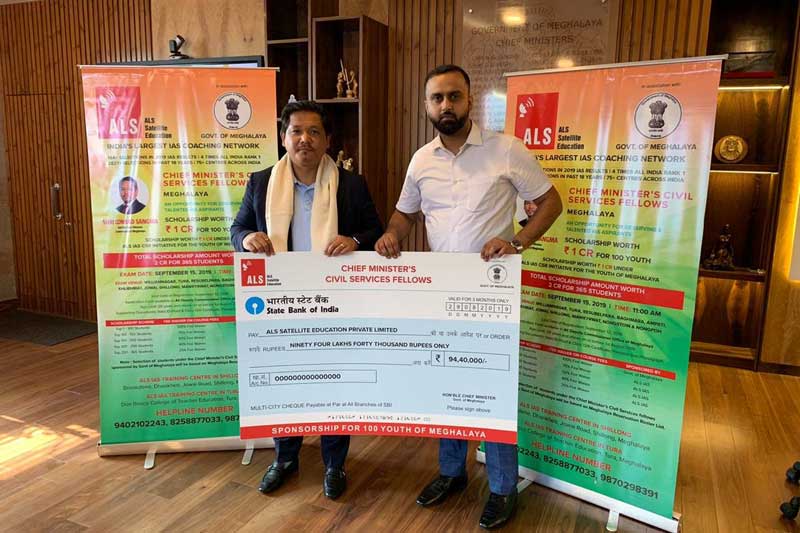 ---
TinyBots
Founded in: 2012
Franchising since: 2019
Franchise units: Less than 10
Initial investment: From Rs 0.1 Lakhs
Royalty Fees: 15%
TinyBots is an initiative of a science-based company "ES Solutions Pvt ltd" which was founded in the year 2012 with a vision to impart practical scientific knowledge to the school kids. Whether the kids become engineers or not, they should know the basic concepts of science. When learning becomes a play, finding science difficult and boring to learn becomes the thing of the past. Based on the rich experience and expertise of our founders, we have planned to expand our wings pan India. We are looking for franchise partners all over India.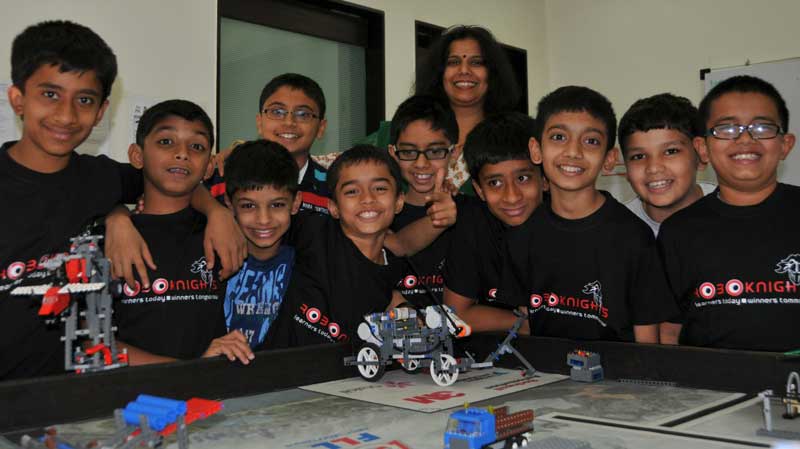 ---
The Gate Coach
Founded in: 1997
Franchising since: 2011
Franchise units: Less than 10
Initial investment: From Rs 5 Lakhs
Royalty Fees: 25%
We are providing coaching in mechanical, electrical, electronics, computer sc, civil, instrumentation, mining, biotechnology, production engineering & chemical engineering. We are having faculty association with Faculty from IIT, IISc, IES qualified background. Our packages include Gate, PSU & IES coaching in regular, weekend, online & postal mode. We also provide online tutorials, online test series & printed study materials for Gate, PSU & IES. We are known for the best success rate. The Gate Coach provides all kinds of support in establishing the franchise.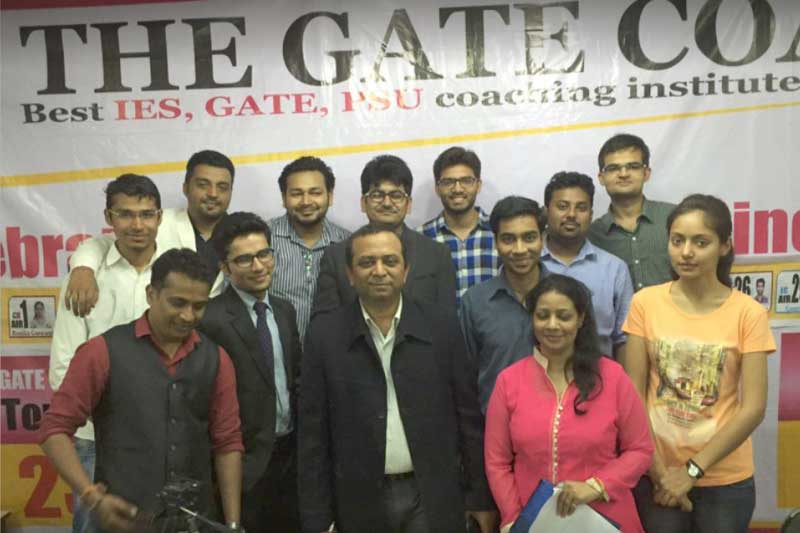 ---
E School
Founded in: 2008
Franchising since: 2018
Franchise units: 10-20
Initial investment: From Rs 30 Lakhs
Royalty Fees: 20%
E SCHOOL is an IELTS education institute providing coaching for PTE, OET, CELPIP, CD IELTS, Basic English, and Spoken English. Our prime focus is to be the definitive voice for all IELTS students in INDIA, providing high-quality education and support students to promote a successful and diverse higher education sector. Our team comprises professionals and experienced tutors who impart knowledge and nurture the minds of young lads so that they can excel in their respective fields. We are looking to expand our footprints in different states across India through the franchising model.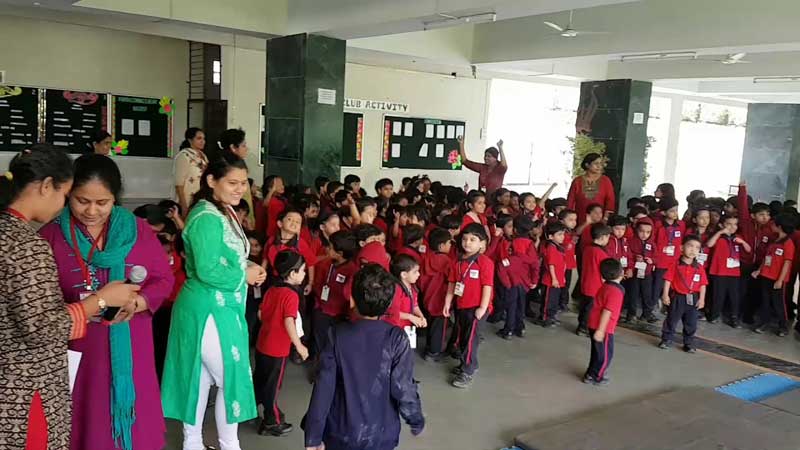 ---
JEI Learning Centers
Founded in: 1977
Franchising since: 1992
Initial investment: From Rs 0.1 Lakhs
Royalty Fees: 1700-2100 Rs/subject/mo.
JEI is a global leader in supplementary education with over a million of students around the world. JEI's internationally acclaimed Self-Learning Method helps develop confidence in children with individually paced, step-by-step learning. Once children gain confidence and begin to enjoy learning independently, their potential grows exponentially. The JEI Self-Learning Method enables all children to learn and reach their full potential with its unique individualized study program.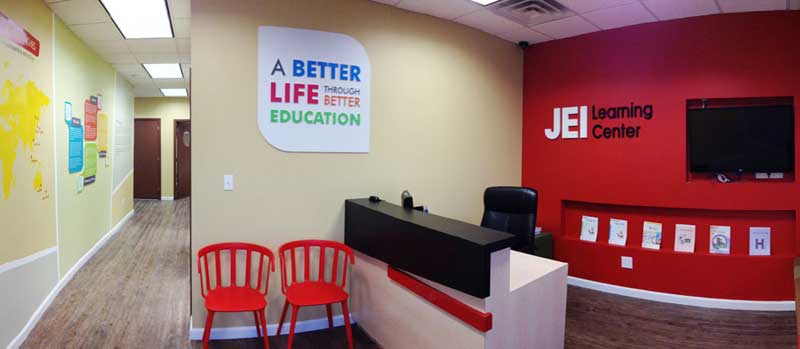 ---
Nava Vision
Founded in: 2015
Franchising since: 2019
Franchise units: 25
Initial investment: From Rs 10 Lakhs
Royalty Fees: 30%
Nava Vision is a company based in Bengaluru, India. Nava Vision is certified by the Government of Karnataka and funded by the Government of India (start-up funds). Nava Vision is an education-related platform that provides excellent knowledge-based learning to all the range of knowledge seekers. We believe that true innovation comes from applying technology solutions to real business problems. We acknowledge that time-to-value is critical to the client's success.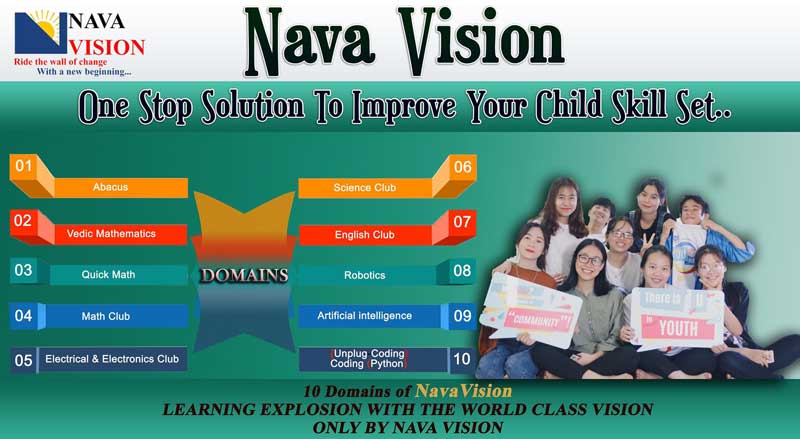 ---
IndiaFIRST® Robotics
Founded in: 2009
Franchising since: 2013
Franchise units: 100-200
Initial investment: From Rs 0.5 Lakhs
Royalty Fees: 10%
IndiaFIRST® Robotics is a robotics training and manufacturing company with 100+ robotics training centers across India, Middle East, Africa, France, and the USA. Our program helps students to think and act like an engineer while being in school. Students shall design user-friendly robots using Creo 3.0 and then further assemble the robots using the appropriate wildfire series robot kit. We invite franchisee applications only for serious professionals who are confident of making a distinguishing mark and genuinely interested in student development through technological intervention.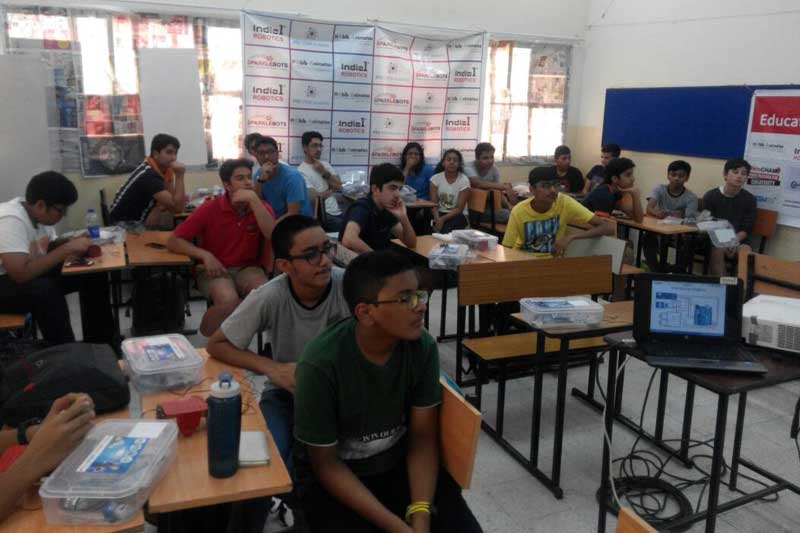 ---
Prerna Education
Founded in: 2011
Franchising since: 2017
Franchise units: Less than 10
Initial investment: From Rs 20 Lakhs
Royalty Fees: 20%
Prerna Education is the most trusted name for imparting quality coaching & guidance to students ranging from average to bright and help to realize their dreams of becoming Doctors and Engineers are discovering and rejuvenating the latent potentialities of students and making them realize their untapped skills and helping them streamline their dynamism towards productive outcomes. Want to start your own institute or coaching? Unite with Prerna Education & become a leader in the education & training sector!

---
IBT Institute Private Limited
Founded in: 2008
Franchising since: 2009
Franchise units: 100-200
Initial investment: From Rs 2 Lakhs
Royalty Fees: 15%
IBT Institute Private Limited is a premier institute with its presence in Pan India and working in the field of preparation of competitive examinations of various kinds – wiz: Bank P.O/Clerk, S.S.C, railways, insurance, CTET, CMAT, CAT, and CLAT, etc. The Institute has given excellent results, particularly in all banking and other competitive exams. Want to be an entrepreneur in the education sector? IBT Institute Private Limited has the franchise model for you. The benefits of IBT are low investment and high returns, complete course material support, low working capital, regular research and development activities.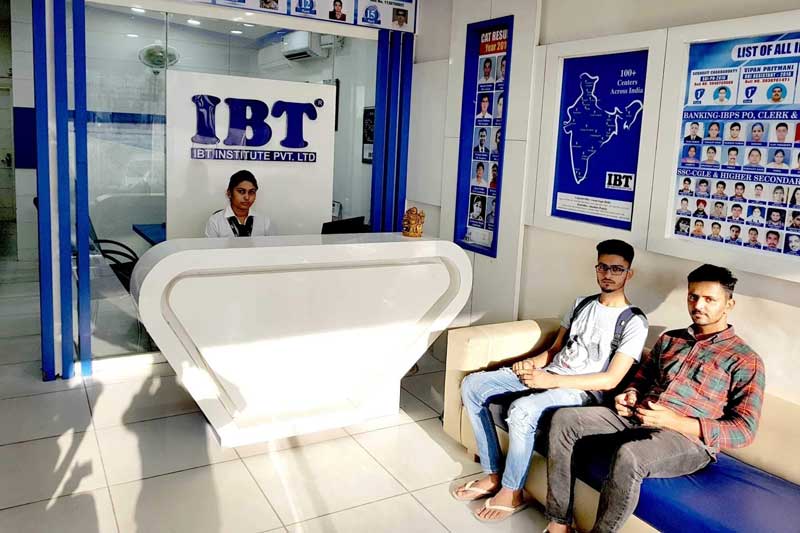 ---
Conclusion
To summarize, we can say any of the listed above tutoring franchises is worth buying. But there is a lot to consider while choosing the best one for you. Pay attention to the reputation of the brand, what training and support are offered, check if the other franchisees are successful. But the main thing you need to do is to align your budget with investment requirements of the brand. In order to ease the challenge, we have made the comparison flowchart of the best tutoring franchises in India for you. It shows the minimum estimated initial investment and initial franchise fee of each brand. By using it, you can figure out the difference in financial requirements for each franchise, and decide which one fits you the most.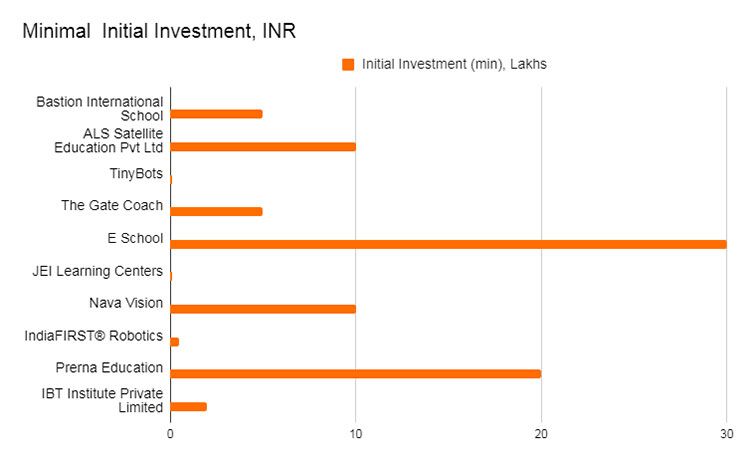 View all Tutoring Franchises
Want to advertise your franchise with us and successfully boost your business?
Please send us your request and we will get back to you shortly!
DIDN'T FIND WHAT YOU WANT?
ASK THE EXPERTS