The 5 Best Travel Agency Franchise Businesses in USA for 2023
Update: 25.02.2023
Travel Franchises have been hit hard over the past few years due to lockdowns caused by the pandemic. But 2023 is expected to be the year when the industry will be restored. Speaking about the best Travel Franchises in the USA market, we noticed that the most successful brands of previous years remain afloat, showing the stability of their businesses.
Traveling is a constant mainstream all over the world. Thus, all travel-related businesses will always be in demand. According to IBISWorld research there are 7,000 businesses which deal with travel agency franchises in the US. And the industry is expected to grow to $17.3 billion in revenue by 2021. Travel agency franchises encompass various businesses from air flight services to cruise planning. The franchises offer different opportunities which include both domestic and international trips and could be operated in an office with hundreds employees or at home within a small team. Our list of the best 5 Travel Agency Franchises is full of concepts to fit any need of our promising partner.
Here are the top 5 best travel agency franchise businesses in the USA
Expedia CruiseShipCenters
Founded in: 1987
Franchising since: 1987
Franchise units: 253
Initial investment: from $165,000
Franchise fee: $39,000
Royalty Fees: 9%
Expedia CruiseShipCenters is a full-service travel agency franchise founded in 1987 that specializes in cruises but offers a full range of travel products. The copmany's proven model has helped achieve an average sales growth of 20% a year for more than two decades. As an Expedia CruiseShipCenters franchise owner, you support your travel agents and earn a share of commissions. So the bigger and more successful your team is, the stronger your financial return. With no limits on sales team size, you can build your travel business as big as your dreams!
---
Travel Leaders
Founded in: 1888
Franchise since: 1984
Franchise units: 353
Initial investments: from $2,270
Franchise fee: $0 - $1,500
Royalty Fees: to $1,000 per month
Travel Leaders is transforming travel with a name that boldly embodies our commitment to our vacation and business travel clients via a progressive approach toward each unique travel experience. Travel Leaders offers potential franchisees effective business tools and strategies, including the unequaled Business Travel Management programs, that helped franchise members attract new business in excess of $100 million just last year. The company's all-inclusive toolbox includes templates and services for everything from prospecting to pricing, sales presentations, RFP responses and much more.

---
Million Air
Founded in: 1984
Franchising since: 1994
Franchise units: 29
Initial investment: from $250,000
Franchise fee: $100,000
Million Air Interlink was founded in 1984 in Dallas, Tx. where the first FBO (Fixed Base Operation), Million Air Dallas, successfully launched one of the most recognized brands in aviation. Today, Million Air is celebrating its 25th Year of providing outstanding FBO, charter and maintenance service through a network of independent franchisees. Million Air's dedication to selecting qualified franchisees along with the strength of our franchise relationships has been a key factor in the growth and the success of the business.

---
Cruise Planners
Founded in: 1994
Franchising since: 1999
Franchise units: 2,658
Initial investment: from $2,295
Franchise fee: $695 - $10,995
Royalty Fees: 3%
Cruise Planners, an American Express Travel Representative, is the nation's largest home-based travel advisor franchise network. As a Cruise Planners® travel franchise owner, you have the flexibility to run your own travel agency business from anywhere. Cruise Planners provides you with access to award-winning, innovative marketing; cutting-edge mobile technology; dynamic, hands-on training; lead-generating tools, as well as professional coaching and development.
---
Dream Vacations
Founded in: 1991
Franchising since: 1992
Franchise units: 1,489
Initial investment: from $1,795
Franchise fee: $495 - $10,500
Royalty Fees: 1.5 - 3%
Celebrating 25 years in business, Dream Vacations has grown to 1400 franchise owners. As part of World Travel Holdings, Dream Vacations is the world's largest seller of cruise vacations and highly regarded as the industry's premier travel franchise. Full training is provided during a 6-day Initial training program - located in the cruise capital of the world, Fort Lauderdale, FL. Plus, dynamic continuing education opportunities educate franchisees on the core components of the travel business while focusing on specific operational tools to ensure their success.
---
Conclusion
To summarize, we can say any of the listed above travel agency franchises is worth buying. But there is a lot to consider while choosing the best one for you. Pay attention to the reputation of the brand, what training and support are offered, check if the other franchisees are successful. But the main thing you need to do is to align your budget with investment requirements of the brand. In order to ease the challenge, we have made the comparison flowchart of the best travel agency franchises in the USA for you. It shows the minimum estimated initial investment and initial franchise fee of each brand. By using it, you can figure out the difference in financial requirements for each franchise, and decide which one fits you the most.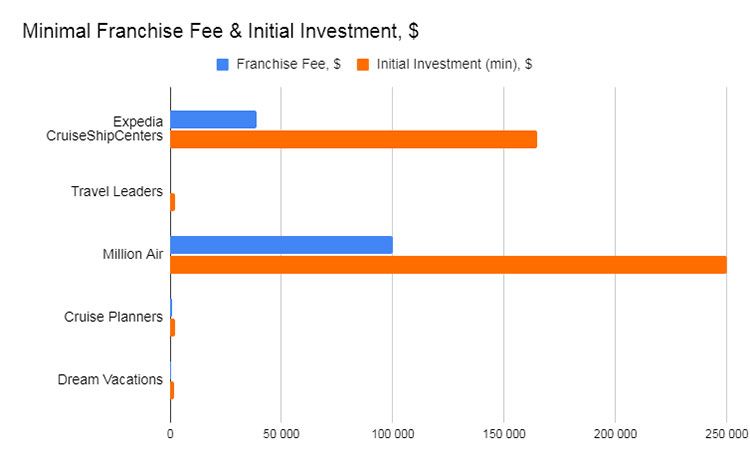 View all Travel Agency Franchises
Want to advertise your franchise with us and successfully boost your business?
Please send us your request and we will get back to you shortly!
DIDN'T FIND WHAT YOU WANT?
ASK THE EXPERTS