The Best 10 Juice Bar Franchises For Sale in The UK in 2021
Update: 03.06.2021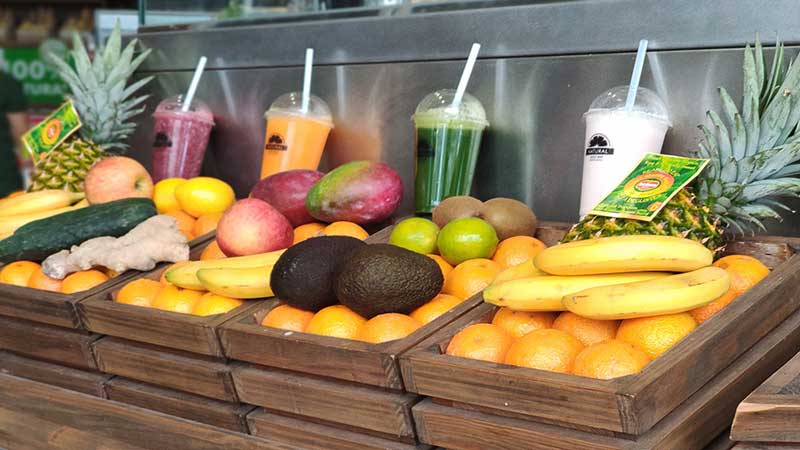 Juice bar franchise business emcompasses a bunch of various concepts. There are juice and smoothie bars, milk shake companies, bubble tea & waffle / gelato brands, finest shak bars, etc. If you are looking for the best juice bar franchise in the UK, you will definitely find something for you in our collection here. The franchisors listed below are successful brands willing to expand locally and internationally. They encourage new entrepreneurs to join and share their values, and promise favourable conditions including fast return on investments. Seize the opportunity to become an owner of one of top 10 juice bar franchises in 2021 now.
Here are the top 10 Juice Bar franchises in UK
Smoothie Factory
Founded in: 1996
Franchising since: 1997
Franchise units: 33
Initial investment: £5,000 - £15,000
Initial Franchise Fee: £22,200
Royalty Fees: 5%
Smoothie Factory is a leader in the modern juice and smoothie bar industry. Founded by an Olympic athlete, Smoothie Factory understands the need for healthier options for traditional fast food. The company believes in the simple concept of providing guests with reasonably priced smoothies, fat-free frozen yogurt and other healthy snacks that are served quickly, in an inviting, clean and pleasant environment every day. Today the Smoothie Factory is expanding rapidly nationally and internationally. The Smoothie Factory brand has been recognized for its high quality service, products and value.
---
Shakeaway
Founded in: 1999
Franchise units: 40
Franchise Fee: £25,000
Initial investment: £40,000
Shakeaway is the world's largest milk shake company. Having created a new and interesting milkshake over 20 years ago, the brand has built a cult following across the UK and around the world. The Shakeaway brand experience can be clearly seen in stores, which is informative, colorful and always interesting. Customers love the staff (shakes) and the ever-changing handmade menu to order reinvented milkshakes, real fruit smoothies with special crispy ice, 100% fat-free frozen yoghurt desserts, real shredded ice and low-fat crisp fries.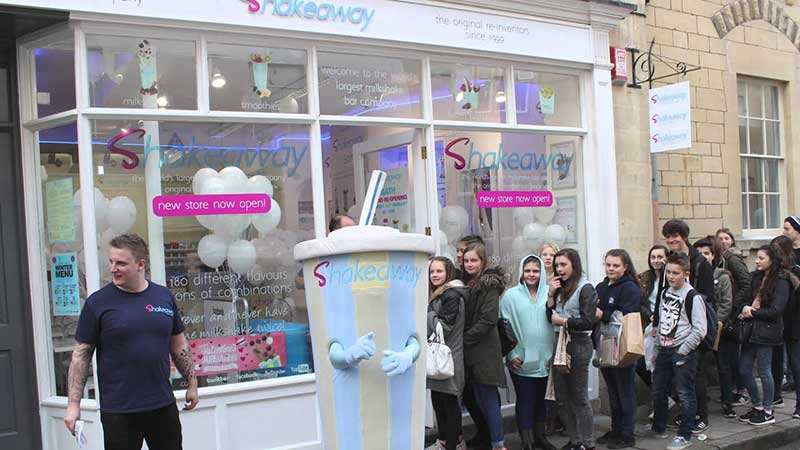 ---
Auntie Anne's
Founded in: 1990
Franchising since: 1991
Franchise units: 1,905
Franchise Fee: £18,000
Initial investment: £40,000
Royalty Fees: 8%
Every day, Auntie Anne's creates hand-rolled freshly baked pretzels that it sells to thousands of loyal customers. The company offers a diverse range of pretzels and is constantly improving the classic pretzel without sacrificing its key elements. The UK recently launched a line of breakfast buns and is working on a concept for pretzel sandwiches. Aunt Anna's shop not only sells pretzels, but also a variety of drinks and juices.
---
Mooboo
Founded in: 2012
Initial investment: £39,950
Royalty Fees: £30,000 per year
Mooboo specializes in bubble teas with a wide variety of flavors, from honeydew, jasmine milk, chocolate, rose guanying and fresh tea. Plus, there are also flavors of a variety of fruits including melon, apple, lychee, passion fruit, peach, pineapple, and more! With over 1000 flavors to choose from, shoppers Mooboo never get tired of coming back and trying new flavors.
---
Booster Juice
Founded in: 1999
Franchising since: 2000
Franchise units: 135
Initial investment: £22,135
Royalty Fees: £22,200
The Booster Juice franchise offers visitors - smoothies, juices, bowls, paninis and rolls. Stores are simple and efficient to operate and take up minimal space. They are architecturally engineered for efficiency, speed and that motivating signature with vibrant colors, great music and talented staff. The Booster Juice franchise features a unique catering concept, premium products, a dedicated team and special store designs.
---
SBlended Shakes
Founded in: 2009
Franchise units: 9
Initial investment: £60,000
The Sblended philosophy has resulted in a leading franchise of the finest shak bars offering a more prestigious and targeted concept to prestigious establishments across the UK and overseas. The SBlended design team has created a cocktail bar with vibrant graphics and designs that simplify customer service and maximize sales. Store concepts are individually designed to suit the environment while maintaining a distinctive brand identity.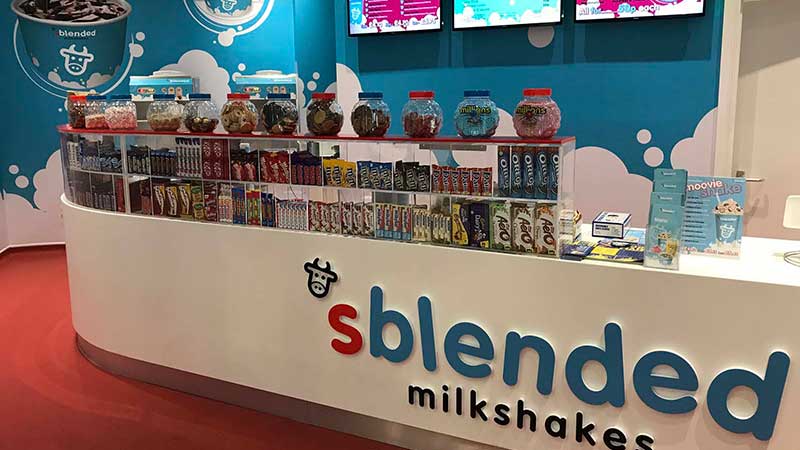 ---
Boost Juice
Founded in: 2000
Franchise units: 500
Initial investment: £163,000
Royalty Fees: £10,300
Back in 2000, a woman with no business experience - but unlimited passion and family support - opened her first juice bar in Adelaide, Australia. The idea was brilliantly simple: make healthy living both tasty and fun. That woman was Australian adventurer and entrepreneur Janine Allis. And the bar was Boost Juice - now one of our most popular and loved juice and smoothie brands, with 500 stores in 13 countries... and counting.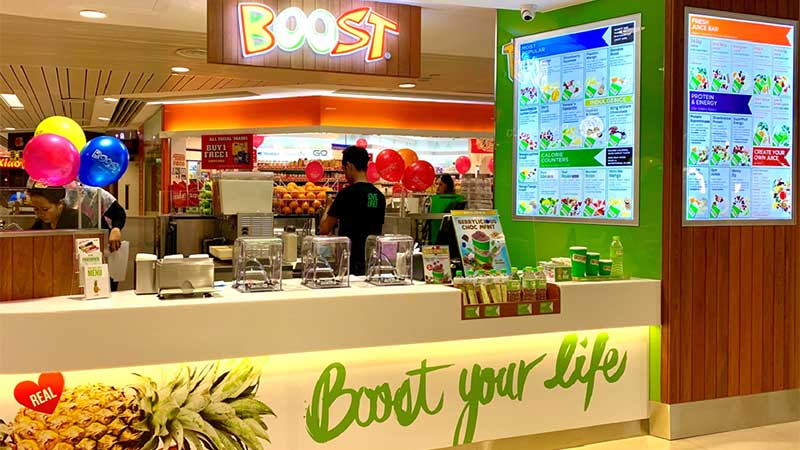 ---
Beleaf
Founded in: 2017
Franchise Fee: 6%
Beleaf became one of the first juice bar in Europe to use completely fresh and natural ingredients sourced from the finest locations including Thailand, Uganda, South America and Costa Rica. The Beleaf franchise and smoothie bar stands out for its exceptional product quality and commitment to outstanding new ideas in the juice and smoothie industry. Beleaf offers not only superior taste and nutritional value, but a completely new approach to retail in this area, with a focus on freshly squeezed juice on demand, where customers can choose their own ingredients to create original combinations.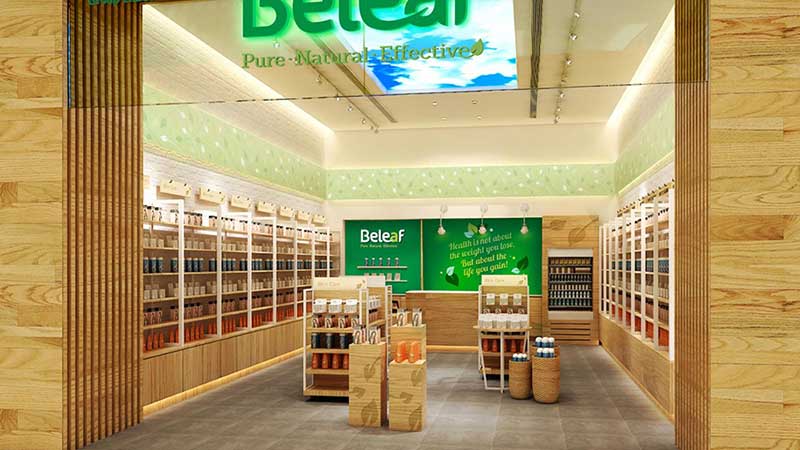 ---
Bubbleology
Founded in: 2011
Franchise Fee: £25,000
Initial investment: £100,000
Bubbleology is a leading Bubble Tea & Waffle / Gelato Bars company with operations in the UK, Continental Europe and the USA. Bubbleology was founded in the heart of London, Soho, in April 2011 and has since expanded across Europe and the Middle East. In December 2015, the company launched its first pemphigus division in the United States, receiving many positive customer reviews.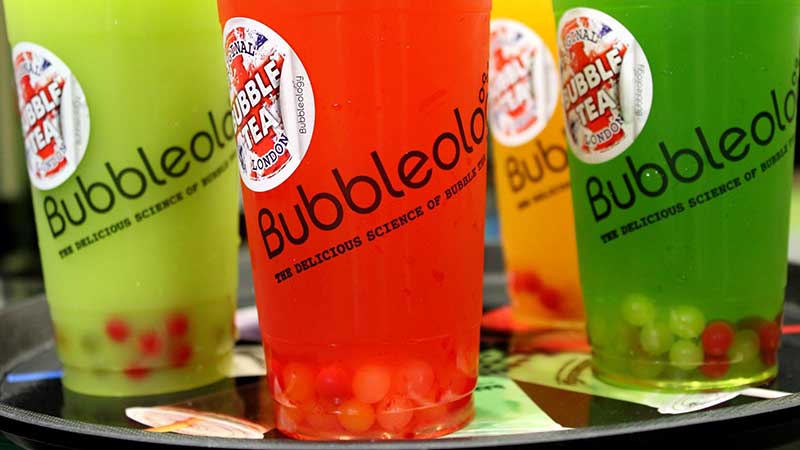 ---
Souper Juice
Founded in: 2018
Initial investment: £14,995 (+VAT)
Founded in 2013, Souper Juice has become an established local brand. The establishments offer visitors fast food and drinks - creative, tasty and healthy in an unusual, friendly and efficient environment. The main mission of the company is to create choice by offering a selection of delicious food and drinks, regardless of dietary requirements, while working to be responsible and sustainable.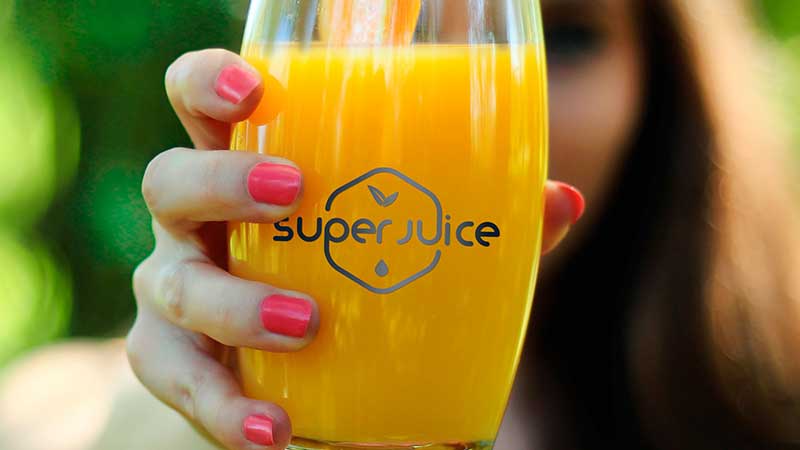 ---
View all all juice bar franchises
DIDN'T FIND WHAT YOU WANT?
ASK THE EXPERTS