The Best 10 Juice Bar & Smoothie Franchise in USA for 2023
Update: 05.02.2023
Smoothie franchise is a good business to own. It offers a wide variety of concepts, caters to a huge customer base, contributes to heathy lifestyle, and can be easily scalable. Speaking about smoothie segment, one should mention a big choice of services, drinks and food which it can offer. There are juice bar franchises, restaurants which serve a full menu of made-to-order wrap sandwiches along with smoothies and other drinks, smoothie factories focused on being truly healthy with their products, and many others. If you face a challenge to choose a business for you to own, have a look at our listing of smoothie bar franchises. The selection includes only reputable brands which provide the most favourable conditions for their franchisees. They offer an easy-to-operate business, which doesn't require any prior experience, for attractive cost & fees. Any of smoothie cafe franchises listed here has a team that helps applicants with choosing location, space design, grand opening, marketing, etc.
Here are the best juice bar & smoothie franchise in the USA
Smoothie King
Founded in: 1973
Franchising since: 1988
Franchise units: 950+ Worldwide
Initial investment: $263,550 - $844,485
Royalty Fees: 6%
ach Smoothie King store sells smoothies and a variety of vitamins, minerals, low fat snacks and nutritional supplements. Smoothie King gives franchisees a chance to inspire people to live healthier, more active lifestyles while also providing a fantastic business opportunity.
---
Tropical Smoothie Cafe
Founded in: 1997
Franchising since: 1997
Franchise units: 700+
Initial investment: $222,095 - $569,335
Franchise Fee: $30,000
Royalty Fees: 6%
Tropical Smoothie Cafe is a fast-casual cafe concept with locations nationwide, offering snack and meal options for any time of the day, including real-fruit smoothies, bowls, wraps, and sandwiches. Our mission is to inspire a healthier lifestyle by serving amazing smoothies and food with a bit of tropical fun. If you play to win, invest well and become a Tropical Smoothie Cafe Franchise Owner now!
---
Nekter Juice Bar
Founded in: 2010
Franchising since: 2012
Franchise units: 69
Initial investment: $211,500 - $462,600
Royalty Fees: 6%
Nekter Juice Bar is a chain of vegan juice bars which offers cold-pressed juices, smoothies and acai bowl. With an Average Unit Volume of $816,741, outstanding training & support, and huge growth potential, Nékter Juice Bar is the ideal franchise opportunity for you.
---
Jamba Juice
Founded in: 1991
Franchising since: 1993
Franchise units: 800+ Worldwide
Initial investment: $238,600 - $504,300
Ongoing Royalty Fee: 6%
Try Jamba Juice fruit smoothies, all-natural baked goods, steel-cut oatmeal, sandwiches and other healthy. Jamba Juice is an iconic brand. Right from the beginning, our juice bar franchise has been focused on creating premium, hand-crafted, flavorful blends. But we've also focused on people. We have grown to 900+ successful smoothie franchise locations by partnering with like-minded entrepreneurs who are driven to spend their days building a juice franchise business that truly helps the people in their communities live a healthier and happier lifestyle.
---
Maui Wowi
Founded in: 1982
Franchising since: 1997
Franchise units: 140
Initial investment: $76,400 - $569,000
Initial Franchise Fee: $42,500 - $65,000
Maui Wowi bringing its delicious smoothies to an even wider audience and offering franchisees and investors a unique, fun business model promoting all-natural, healthy, high quality products. In 2003, Maui Wowi Hawaiian added an exclusive line of Kona espresso and Cappuccino drinks as well as a gourmet line of blended coffees from Maui, Kona, Kauai, and Molokai. We have evolved into a distinct brand that offers the best of the Hawaiian Islands.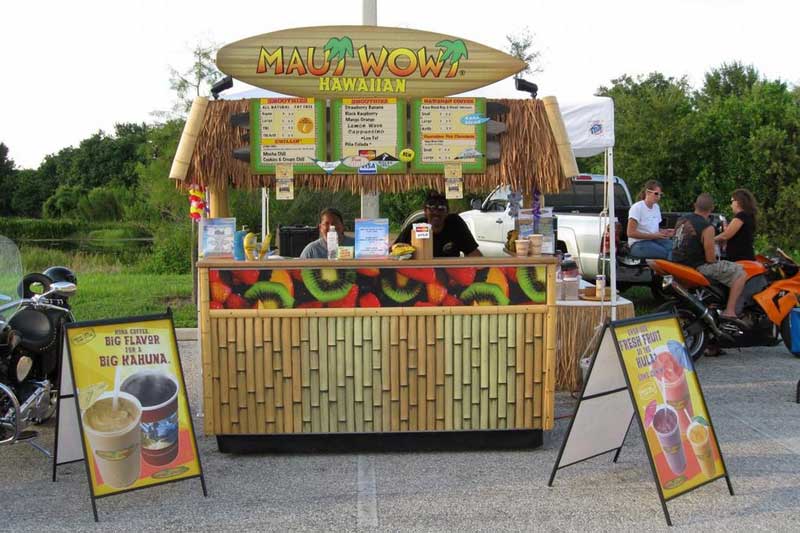 ---
Planet Smoothie
Founded in: 1995
Franchising since: 1998
Franchise units: 144
Initial investment: $190,150 - $358,500
Royalty Fees: 5%
From its first store opening in 1995 in Atlanta, Georgia, Planet Smoothie focused on smoothies that tasted great, and stores that were fun & unique. Each juicy bar serves a variety of fruit smoothies, wrap sandwiches (called Round-A-Bouts), soups, vitamins, supplements and low-fat snacks. Planet Smoothie is a simple, easy-to-operate business that doesn't require any prior food experience and the investment for a PS franchise is significantly less than other juice and smoothie brands.
---
Pulp Juice and Smoothie Bar
Founded in: 2005
Franchising since: 2005
Locations: 30
Initial investment: $74,150 to $214,700
Royalty Fees: 5%
Pulp Juice and Smoothie Bar was created by Thom Knepp in Kent, Ohio in 2005, with the goal to be a better juice and smoothie bar and they focused on being truly healthy with their products and never compromised on quality. PJSB is different from other smoothie shops because they offer more. Each location offers a full menu of made-to-order wrap sandwiches and salads to go with their delicious smoothies. Pulp smoothie franchise is a very attractive business opportunity. Franchise team help applicants with their site selection, preparing their location, and marketing their Pulp Juice and Smoothie Bar.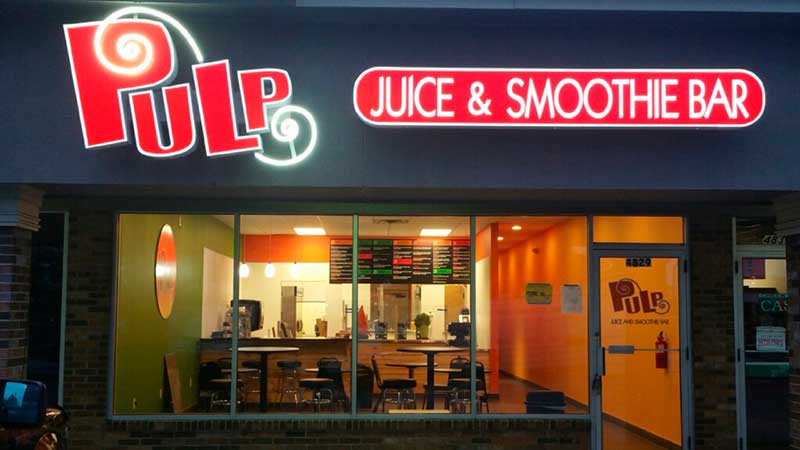 ---
Smoothie Factory
Founded in: 1996
Franchising since: 1997
Franchise units: 33
Initial investment: $226,500 - $343,700
Initial Franchise Fee: $30,000
Ongoing Royalty Fee: 5%
Smoothie Factory is the brand for serious athletes and everyone who is trying to lead a healthier lifestyle, aiming for the cleanest recipes and lowering sugar while giving customers the ability to customize their smoothie to their own preference. Juices are all natural, ice filtered, and pressed fresh to order. As a Smoothie Factory franchisee, you're never alone. Our team is constantly working on strategic alliances and brainstorming new ways to help our franchisees succeed – both before and after your grand opening.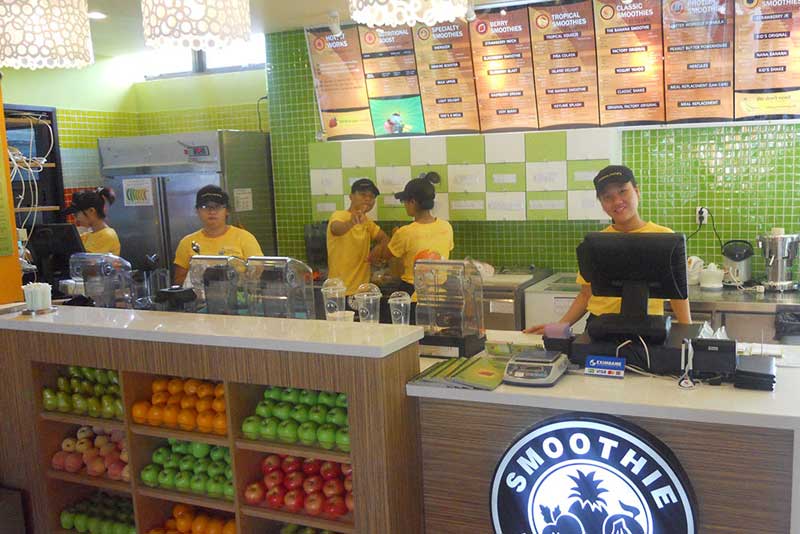 ---
Vitality Bowls
Founded in: 2011
Franchising since: 2014
Franchise units: 50
Initial investment: $154,100 - $563,500
Royalty Fees: 6%
Vitality Bowls specializes in making delicious açaí bowls, which are a thick blend of the açaí berry topped with organic granola and a selection of superfood ingredients. Additional antioxidant-rich menu items include smoothies, fresh juices, soups, salads and panini. All items on the menu are made fresh to order and in a kitchen designed to avoid cross contamination of common food allergens. No ingredient fillers such as ice, frozen yogurt, added sugar or artificial preservatives are used, giving the purest taste possible to each item.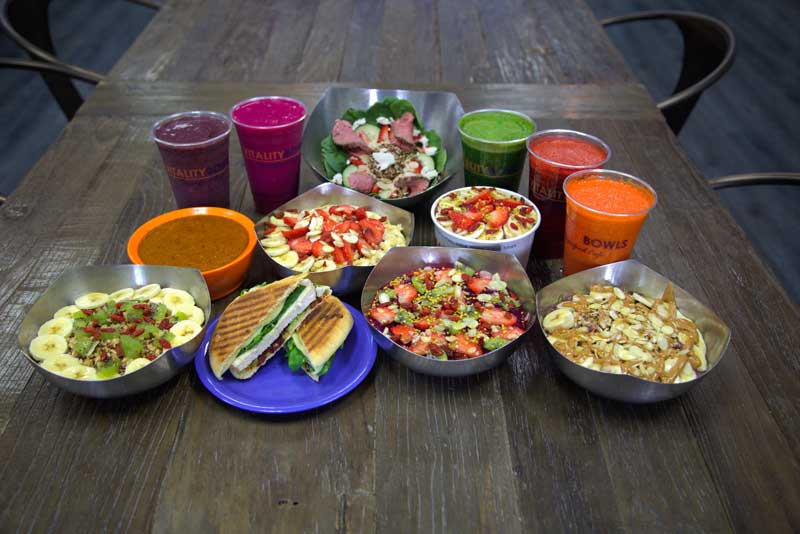 ---
Bahama Buck's
Founded in: 1989
Franchising since: 1993
Franchise units: 110
Initial investment: $233,326 - $832,963
Royalty Fees: 6%
Bahama Buck's menu offers smoothies, sodas, lemonades and limeades, fruit and coffee drinks. Offering an upbeat blend of lifestyle and entrepreneurial opportunities, we've created an attractive franchise package enabling you to capitalize on the Greatest Sno on Earth.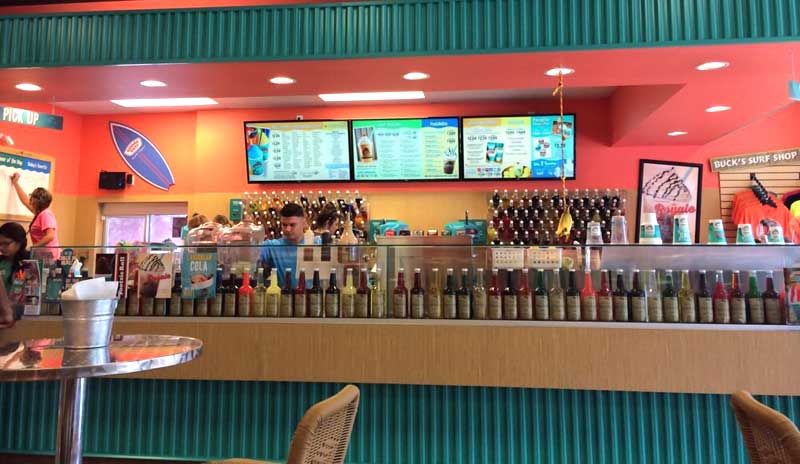 ---
View all juice & smoothie franchises
Want to advertise your franchise with us and successfully boost your business?
Please send us your request and we will get back to you shortly!
DIDN'T FIND WHAT YOU WANT?
ASK THE EXPERTS