The Top 10 Franchise Businesses For Sale in Texas Of 2022
Update: 16.12.2021
As well as several years ago, the top 10 franchises in Texas are operating in food, home improvement, auto and health-related segments. Actually, the market leaders remain on the list of the best for 2022. The only change you can spot for the past several years is a minor rotation in the ranking.
A supportive business environment and simplified regulations make Texas a tempting target for various businesses including franchising. No wonder that there are many franchises for sale in the state. However, a large number of businesses doesn't cover the demand for products and services of ever growing metropolitan areas. It means that franchise opportunities in Texas can be noticed in different segments including restaurant, home improvement, auto repair, health, fitness, coffee, and others. The best franchises to own in Texas offer a nice cost and profit ratio, constant and consistent help, and trainings for franchisees. Take a glance at the Top 10 franchise businesses for sale in Texas.
Here are the 10 best franchises to own in Texas
Pronto Insurance
Founded in: 1997
Franchising since: 2009
Franchise units: 43
Initial investment: from $43,000
Franchise Fee: $10,000 - $30,000

As a Pronto Insurance Franchise Owner, you are partnering with the undisputed leader in non-standard insurance serving a Hispanic community that is poised for growth. By tailoring our service to the Hispanic community, we've created our own unique model different from other insurance companies. We currently have nearly 300 retail locations across Texas, Florida, and California, the three states where more than half of the U.S. Hispanic population resides—with plenty of room to grow! The experts in the Hispanic insurance industry are looking for franchise owners like you.
---
Smoothie Factory
Founded in: 1996
Franchising since: 1997
Franchise units: 33
Initial investment: from $227,000
Franchise Fee: $30,000
Royalty Fees: 5%
Smoothie Factory is the brand for serious athletes and everyone who is trying to lead a healthier lifestyle, aiming for the cleanest recipes and lowering sugar while giving customers the ability to customize their smoothie to their own preference. As a Smoothie Factory franchisee, you're never alone. Our team is constantly working on strategic alliances and brainstorming new ways to help our franchisees succeed – both before and after your grand opening. Before your store opening, you'll receive approximately three weeks of intensive in-person training from experienced Smoothie Factory franchise experts.
---
Scooter's Coffee
Founded in: 1998
Franchising since: 2001
Franchise units: 321
Initial investment: from $512,000
Franchise Fee:$40,000
Royalty Fees: 6%
Join the fastest growing drive-thru coffee franchise! With over 200 locations in the U.S. Scooter's Coffee provides customers with responsibly sourced coffee served up by an amazing team of people. Scooter's Coffee has ownership options to match your business ownership goals. Whether you want to be a single location operator or own multiple units, we can give you the support you need. Scooter's Coffee has two proven drive-thru franchise models: drive-thru coffee kiosk and drive-thru coffeehouse. Choose the model that's right for you.
---
Hard Exercise Works
Founded in: 2008
Franchising since: 2011
Franchise units: 17
Initial investment: from $136,000
Franchise Fee:$49,500
Royalty Fees: 5%
Explore becoming your own boss with a Hard Exercise Works franchise. For 10+ years, Hard Exercise Works (HEW®) has offered a challenging, results-focused group fitness experience like no other with a unique focus on being the most welcoming fitness center in the neighborhood. With nearly 20 locations, we're primed and ready to offer this remarkable franchise opportunity to qualified candidates across the country. Now is the time for you to own a HEW® franchise!
---
Maaco Collision Repair & Auto Painting
Founded in: 1972
Franchising since: 1972
Franchise units: 425
Initial investment: from $302,000
Franchise Fee: $40,000
Royalty Fees: 9%
Maaco is the largest automotive retail paint brand in the U.S. with minimal national competition. We are the undisputed leader, and leadership drives growth. Maaco leads the way in experienced automotive franchises. Our corporate team is well-equipped to guide Franchise Owners down the right path and set them up for success. You just have to take the wheel, not reinvent it. As a Maaco Franchise Owner, you can make a big impact, not only by painting and repairing your neighbors' cars, but by hiring a great local team and becoming a business leader in your own community.
---
Saladworks
Founded in: 1986
Franchising since: 1992
Franchise units: 89
Initial investment: from $200,000
Franchise Fee: $35,000
Royalty Fees: 6%
More people are eating healthy to be healthier. That means less meat and more veggies. That's why nearly half of all Millennial and Gen Z consumers buy 3+ entree salads per week away from home. Saladworks is on trend. Interested in owning a Saladworks franchise? We will assist you with choosing a location and designing your store. We'll also help you with lease negotiations and approve all final lease agreements. Our training and support programs are designed to set your business up for success. Training teaches you the fundamentals and allows you to become proficient in running a Saladworks restaurant.
---
Home Care Assistance
Founded in: 2003
Franchising since: 2004
Franchise units: 123
Initial investment: from $86,000
Franchise Fee: $55,000
Royalty Fees: 5%
One of the things that differentiates our senior home care franchise opportunity from others is our commitment to ensuring our franchisees have access to the rich resources, strong support, and thorough training they need to do their job well and run a successful business. Home Care Assistance franchise model is time-tested and proven. We were named a Top 50 Franchise in the 2018 Franchise Satisfaction Awards by Franchise Business Review™ and rank as a Franchise500 by Entrepreneur Magazine. Consider taking advantage of our senior care franchise opportunity and becoming a part of our team.
---
Hungry Howie's Pizza
Founded in: 1973
Franchising since: 1982
Franchise units: 501
Initial investment: from $313,000
Franchise Fee: $25,000
Royalty Fees: 5.5%
We have perfected pizza, and we have a proven franchise system. One of the key advantages to owning a Hungry Howie's franchise is the access you will have to a proven system developed and maintained by long time industry experts. Our leadership team and field staff have significant experience in QSR and especially the pizza business. All new Hungry Howie's franchisees receive extensive training that consists of classroom and in-store training, supplemented with online training and food safety certification. Our training program covers such topics as food preparation, customer service, management and local store marketing.
---
The Joint Chiropractic
Founded in: 1999
Franchising since: 2003
Franchise units: 561
Initial investment: from $204,000
Franchise Fee: $39,900
Royalty Fees: 7%
The reason why chiropractors choose to franchise with The Joint, outside of wanting a business that avoids the nightmares and pitfalls of dealing with the insurance industry for payment, are much the same as the entrepreneurs who franchise with us. Our proven business model is clean and easy-to-run, simple to operate and the scalability of our model is evident in the fact that more than half of our franchise owners own multiple clinics. Most importantly, The Joint Chiropractic franchise owners desire to own a business that truly helps improve people's' lives.
---
Jimmy John's Gourmet Sandwiches
Founded in: 1983
Franchising since: 1993
Franchise units: 2,714
Initial investment: from $316,000
Franchise Fee: $35,000
Royalty Fees: 6%
Jimmy John's is one of the fastest growing restaurant chains in America. Once you become a Jimmy John's franchise owner, our team is here to help you succeed in opening and running your store by providing support in the areas of Real Estate, Construction, Training, Marketing, Operations, and Purchasing. From helping you find the right location, to visiting your store regularly to offer ongoing support in meeting Jimmy John's Brand Standards, we're here to serve you.
---
Conclusion
To summarize, we can say any of the listed above top 10 franchise businesses is worth buying. But there is a lot to consider while choosing the best one for you. Pay attention to the reputation of the brand, what training and support are offered, check if the other franchisees are successful. But the main thing you need to do is to align your budget with investment requirements of the brand. In order to ease the challenge, we have made the comparison flowchart of the best 10 franchises to own in Texas for you. It shows the minimum estimated initial investment and initial franchise fee of each brand. By using it, you can figure out the difference in financial requirements for each franchise, and decide which one fits you the most.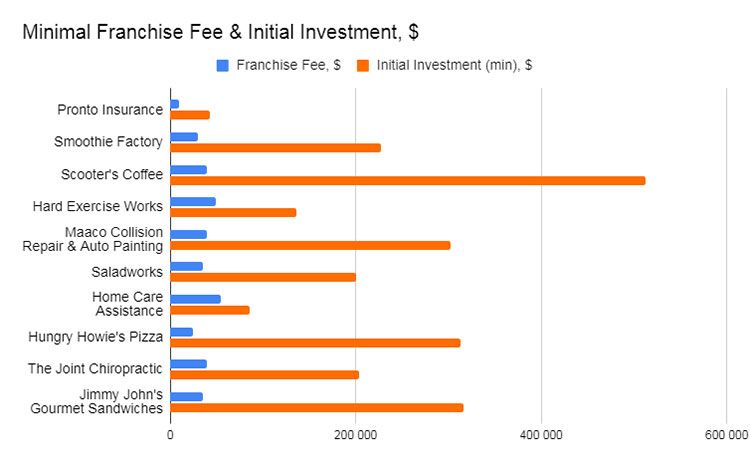 View all Franchise Opportunities
To know more about all stages of franchise development read our article Franchise development. How to develop a franchise.
DIDN'T FIND WHAT YOU WANT?
ASK THE EXPERTS