The Top 7 Pest Control Franchise Businesses in India for 2023
Update: 12.11.2021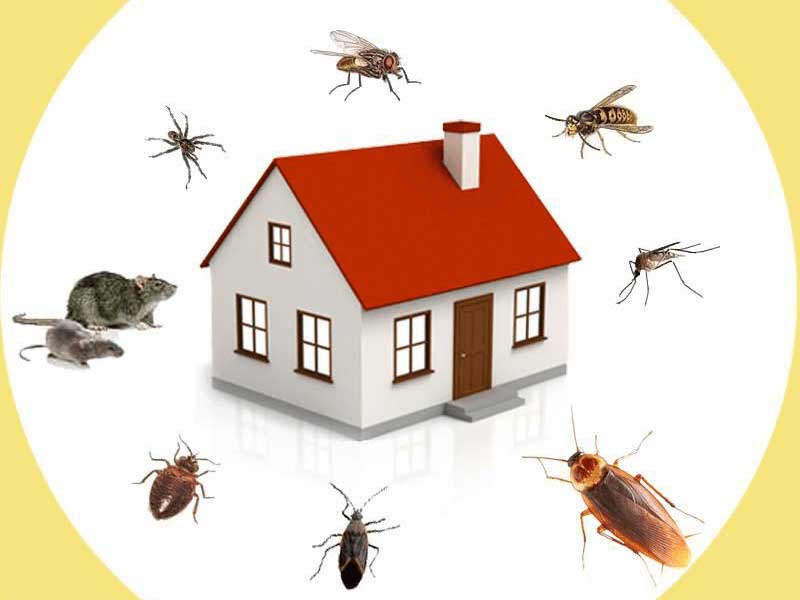 Pest Control franchise services in India are constantly needed. The approaches to providing the services are improving, bringing innovative technologies. New brands are entering the market, however, the top pest control franchise businesses remain on the list of leaders in 2022. The tendency suggests their stability and flexibility to changes.
Due to its climate, rich nature, fields with food grain and numerous population, India has to deal with the problem of pests, termites, insects, etc. Pest control industry in India is growing at almost 15 % per annum. Pest control franchises offer many good and profitable solutions for residential and commercial properties. A business person who has chosen to own a pest control franchise makes a sound decision. The franchises as a rule have professional and dedicated teams who take care of their new franchisees and help them do their business successfully. Check out our list of the most reliable and proven Pest Control Franchise Businesses in India.
Here are the top 7 best pest control franchises in India
Pest Mortem
Founded in: 1987
Franchising since: 2008
Franchise units: 20-40
Initial investment: From Rs 0.5 Lakhs

We are one of the leading fumigation agencies of India, founded by Mr. J.P Shetty, our Managing Director. During the last twenty-five years, Pest Mortem has grown in stature with branches in all major ports in India. At the moment we have branches at Kandla, Jamnagar, Kakinada, Indore, Lucknow, Vishakapatnam, Chennai, Nagpur, New Delhi, Bhavnagar, Ahmadabad, Rajkot, and Mundra. We are in search of investors to promote our business to a larger network.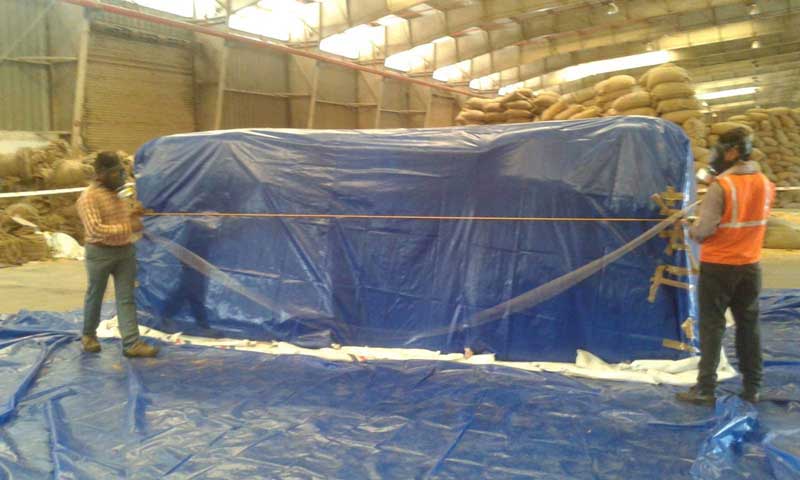 ---
Hicare Services Pvt Ltd
Founded in: 2003
Franchising since: 2003
Initial investment: From Rs 5 Lakhs
Brand Fee: Rs 1 Lakhs
Hicare started with a simple vision of providing a hygienic, pest-free environment to Indian customers, whether they were at home or at work. With the help of a team of highly qualified personnel, we've been successful in changing the face of pest control in India. We are one of the largest organized pest control companies in India with our presence in over 30 cities and 55 service centers. Franchise with Hicare - a pest control company known for providing the best pest management solutions!
---
Debug 360 Degree Pest Control Solutions
Founded in: 1999
Franchising since: 2010
Franchise units: 10-20
Initial investment: From Rs 2 Lakhs
Royalty Fees: 5%
Debug 360 is a well-established domestic and industrial pest management organization. We give effective disinfestations treatment by modern instruments against termite, cockroaches, mosquitoes, ants, flies, spiders, lizards, bed-bugs, rodents, rats & mice, snakes and many other flying and crawling insects. The Debug 360 franchisees get a reputed brand name & logo to use, a trusted business model to follow, marketing support, advertisement assistance, great returns on investment. Join Debug 360 – a perfect franchise opportunity!
---
Spy Fumizix Pest Control
Founded in: 2013
Franchising since: 2014
Initial investment: From Rs 2 Lakhs
We are one of India's pest control, which is headed by ex-officials of Central Govt., Ministry of Agriculture and a pioneer in its field. SFPC has technical experts having vast experience in the field of pest control & fumigation. Our mission is to serve people by offering Pest free and clean environment by using eco-friendly methods and materials to promote sound health, monitor the safety of their property and create prosperity. The franchisor offers support in franchise training at the location, field assistance, expert guidance in setting up a franchise, site selection support.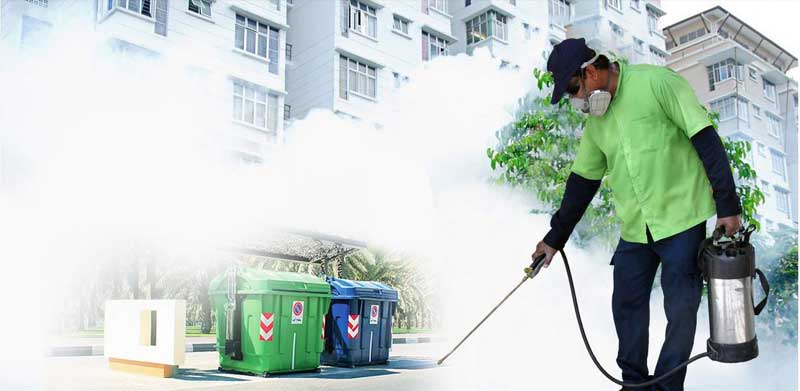 ---
Express Fumigations Pvt Ltd
Founded in: 2014
Franchising since: 2017
Franchise units: Less than 10
Initial investment: From Rs 0.5 Lakhs
Royalty Fees: 25%
Express Fumigations provides a wide range of pest control services for residential and commercial properties. We are known for providing fast, reliable, on-time service for all our valued customers in this market. Our success can be contributed to our dedicated employees who have been committed to giving our clients the best service when they want it. Our team of experts has in-depth knowledge and hands-on experience in their respective domains who execute the operations very effectively within a defined time.
---
IPMS
Founded in: 2013
Franchising since: 2016
Initial investment: From Rs 2 Lakhs
Royalty Fees: 7%
We are pleased to introduce ourselves as Imperial Pest Management Service a company which provides pest management and other service solutions, which has entered the Market with more than 3 years' experience of pest management professionals. We are dedicated to providing the best of services with ultimate satisfaction in domestic as well as commercial pest control services. Our main aim is to be recognized as people who deliver complete and ultimate customer satisfaction.
---
ITEM Secure Private Limited
Founded in: 2001
Franchising since: 2018
Franchise units: 10-20
Initial investment: From Rs 5 Lakhs
Royalty Fees: Rs 2 Lakhs
ITEM Secure Pvt. Ltd. provides the best pest control and termite solutions in Vadodara. We are an independent entity affiliated with Pestcone Pest Control Services and offer long-lasting solutions to pest and insect problems across India. We strongly believe in quality work and always strive to provide our customers with the best possible solution to their pest and termite problems. Our professional and dedicated team is one of the reasons that we are one of the best pest control companies in India.
---
Conclusion
To summarize, we can say any of the listed above pest control franchises is worth buying. But there is a lot to consider while choosing the best one for you. Pay attention to the reputation of the brand, what training and support are offered, check if the other franchisees are successful. But the main thing you need to do is to align your budget with investment requirements of the brand. In order to ease the challenge, we have made the comparison flowchart of the best pest control franchises in India for you. It shows the minimum estimated initial investment of each brand. By using it, you can figure out the difference in financial requirements for each franchise, and decide which one fits you the most.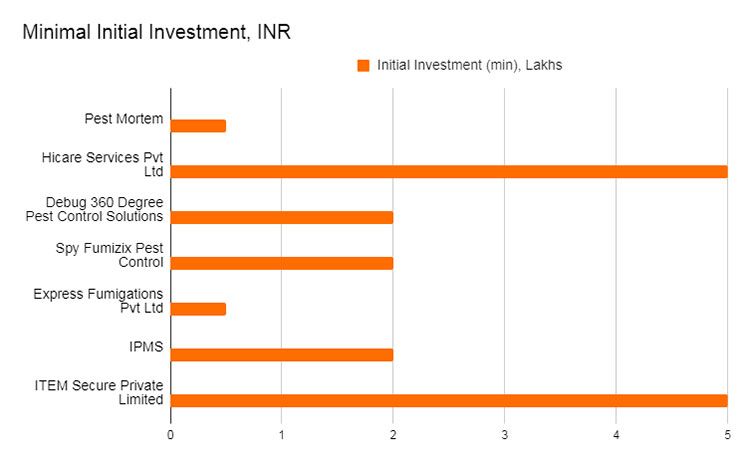 View all Pest Control Franchises
Browse franchises by countries

USA

India

Canada

The UK

Indonesia

The Philippines

Australia

The UAE

Saudi Arabia

South Africa

Germany

Pakistan

Singapore

Malaysia
Other countries
Want to advertise your franchise with us and successfully boost your business?
Please send us your request and we will get back to you shortly!
DIDN'T FIND WHAT YOU WANT?
ASK THE EXPERTS