The Top 7 Tanning Salon Franchise Businesses in USA for 2023
Update: 16.12.2021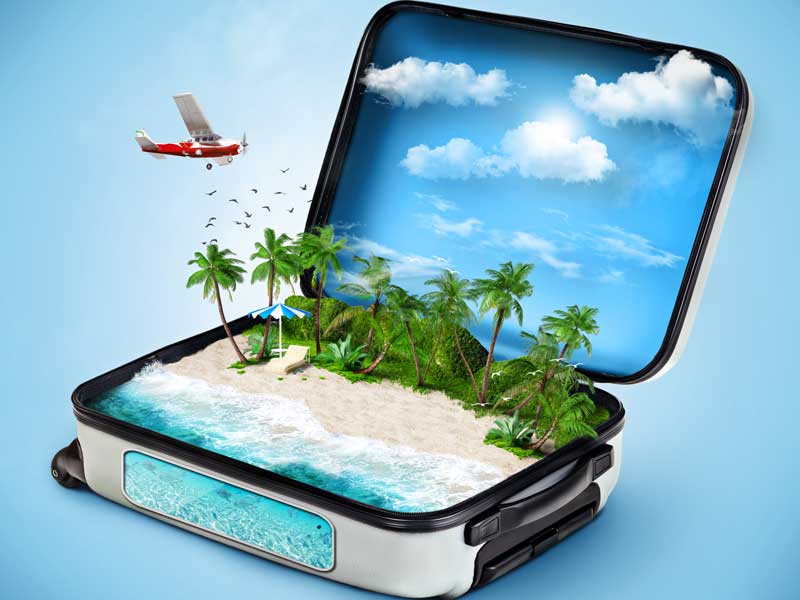 Tanning Salon Franchises as well as other Beauty and Health businesses are forecasted to show an uptick in 2022 in the USA. Despite any obstacles caused by the pandemic, the top brands have remained afloat so far. The list of the best looks very similar to the one of the past year with a small change in the rating.
The demand for Tanning Salon services in the USA has grown for the last five years. The tendency is due to the increased desire of Americans to look good and rising per capita disposable income. Naturally, there are tanning salon franchise brands that have already become popular and gained a big fan base. These are the companies that set the standard for quality, service and value. The list of top 7 best tanning salon franchises in the USA includes well-recognized franchise brands that offer quality products and services for their customers as well as ongoing operational support for their franchisees.
Here are the top 7 best tanning salon franchises in the USA
GloPatrol
Founded in: 2013
Franchising since: 2015
Franchise units: 1
Initial investment: from $9,000
Franchise Fee: $5,000 - $8,500
Royalty Fees: $150 per month
After successfully operating brick & mortar tanning salons, as well as mobile sunless tanning businesses, we've decided to share our secrets with a few select individuals. Without question, mobile airbrush tanning offers substantial opportunities. And, because the equipment is portable, high expenses of commercial locations have been eliminated. As a GloPatrol, you'll receive professional training, discounts on cutting-edge equipment and supplies, national brand recognition, online booking technologies, and marketing support to help make your mobile tanning business a success.
---
The Palms Tanning Resort
Founded in: 2003
Franchising since: 2003
Company owned units: 4
Initial investment: from $490,000
Franchise Fee: $35,000
Royalty Fees: 6%
At The Grand Palms Tanning Resort & Sunless Spa, our 15-year track record of success has come from delivering exactly what health and appearance-conscious customers want. We've built our brand around providing members with convenience, choice, and state-of-the art sunbed and sunless services, all delivered in a relaxing tropical spa-like environment second to none in Colorado. The Grand Palms Tanning Resort & Sunless Spa offers all of our franchisees a top-notch support program that includes training, initial marketing and ongoing operational support.
---
Natura Sugaring Melt & Wax Spa
Founded in: 2010
Franchising since: 2017
Franchise units: 5
Initial investment: from $172,000
Franchise Fee: $35,000
Royalty Fees: 5%
Natura Spa is a full service spa offering body waxing, Brazilian Sugaring, Facials, and Custom Organic Spray Tans. We cater to the growing community of men and women who are health conscious including the beauty products they use on their bodies. For this reason, among many others, our clients know we care about them and we want you to feel just as cared for. Natura is poised to be the best waxing & spray tanning franchise in Florida. With best in class support, training systems, and high quality marketing materials to help you grow your business. All with some of the lowest investment levels in the waxing industry.
---
iTan Franchising
Founded in: 2001
Franchising since: 2009
Franchise units: 22
Initial investment: $326,000
Franchise Fee: $15,000 - $30,000
Royalty Fees: 6%
iTAN offers a fresh approach to franchising in the tanning industry. Today's tanners expect their salon to provide the best in customer service, equipment, memberships and aesthetics. iTAN not only created the programs in place to exceed these expectations, but also developed the foundation for a concept that thrives on minimal infrastructure and décor that's easy to obtain among existing salons. Support is provided from the time you sign your Franchise Agreement to completion of salon buildout.
---
South Beach Tanning Company
Founded in: 2003
Franchising since: 2008
Franchise units: 7
Initial investment: from $164,000
Franchise Fee: $25,000
Royalty Fees: 4-6%
ounded in 2003 and inspired by the art deco look of South Beach Miami our large salons, provide a tanning experience that is unmatched in the industry. South Beach Tanning Company has developed one of the most intensive training programs in the industry for both its franchisees and employees. Our system is easy to follow, easy to use and developed in a way that is easy to train others. Our Franchise Support Team is always available to you and your organization.
---
Tan Republic
Founded in: 2005
Franchising since: 2008
Franchise units: 63
Initial investment: from $96,000
Franchise Fee: $7,500 - $27,500
Royalty Fees: 5%
Tan Republic is the largest tanning salon franchise company on the West Coast, and we are branching out nationwide. We aim to provide our guests with the most luxurious, relaxing, and enjoyable tanning experience possible. And as a business, to lead our franchisees in offering the very best this industry has to offer. Location is a high priority for new salons to be profitable, and tan republic is your key to knowing the perfect amount of traffic flow and placing your business where customers will easily and readily pour through your doors. Ioin with us and become a part of a winning team – a true tan republic!
---
Palm Beach Tan
Founded in: 1990
Franchising since: 2001
Franchise units: 317
Initial investment: from $625,000
Franchise Fee: $30,000
Royalty Fees: 4-6%
No other brand in the indoor tanning industry combines an extraordinary customer experience, sound management practices, unparalleled value and a commitment to tanning wisely like Palm Beach Tan. Our comprehensive franchise support ensures that these standards of excellence are pursued and maintained consistently from market to market, salon to salon, associate to associate. As a Palm Beach Tan franchisee, you have the confidence of being part of the most recognized brand in the industry — a brand that sets the standard for quality, service and value.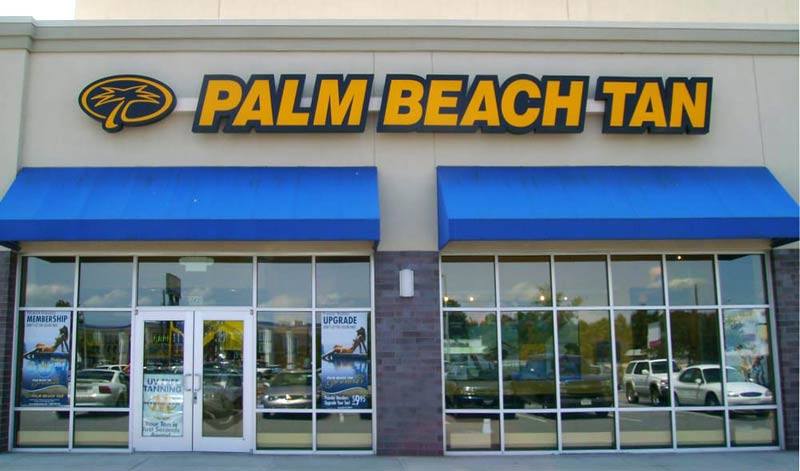 ---
Conclusion
To summarize, we can say any of the listed above tanning salon franchises is worth buying. But there is a lot to consider while choosing the best one for you. Pay attention to the reputation of the brand, what training and support are offered, check if the other franchisees are successful. But the main thing you need to do is to align your budget with investment requirements of the brand. In order to ease the challenge, we have made the comparison flowchart of the best tanning salon franchises in the USA for you. It shows the minimum estimated initial investment and initial franchise fee of each brand. By using it, you can figure out the difference in financial requirements for each franchise, and decide which one fits you the most.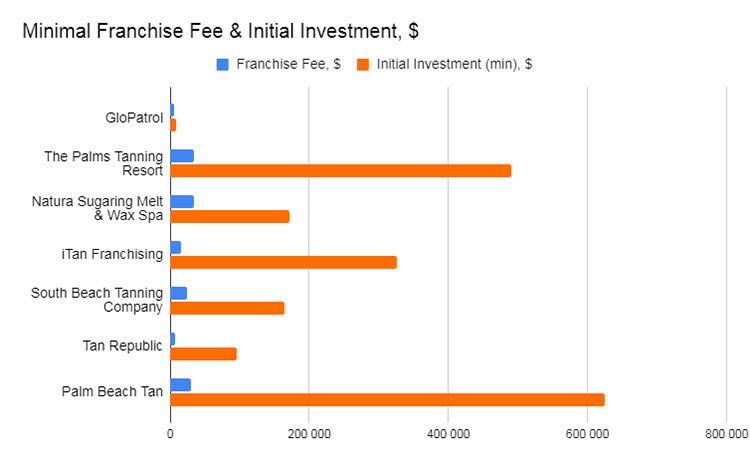 View all Beauty Salon & Cosmetic Franchises
Want to advertise your franchise with us and successfully boost your business?
Please send us your request and we will get back to you shortly!
DIDN'T FIND WHAT YOU WANT?
ASK THE EXPERTS